Archive for the 'Yahoo' tag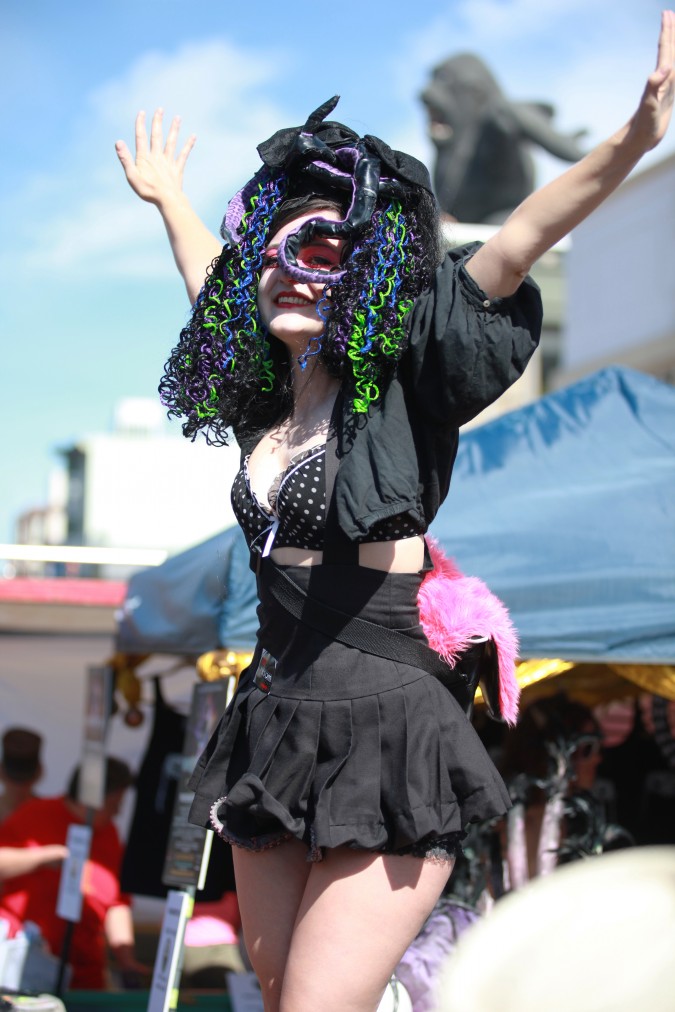 Yesterday afternoon, Sunday, September 23, 2012, I attended the famous Folsom Street Fair in San Francisco, California USA.
The Folsom Street Fair is a BDSM and leather subculture street fair.
The organizer, Folsom Street Events, has a page on Facebook. There is a lengthy article on WikiPediA about the Folsom Street Fair — the largest fair of its type in the world.
This post contains photographs that might be rated PG-13 if this were a Hollywood movie. All nipples are covered in this post, but in some cases just barely, with pasties or adhesive tape. Please skip this post if you are squeamish about nudity or sexuality.
If, however, you want to see more outlandish photographs taken by other photographers, they may be found on Yahoo's Flickr website. The Flickr pictures are by The Golden Gate Express newspaper.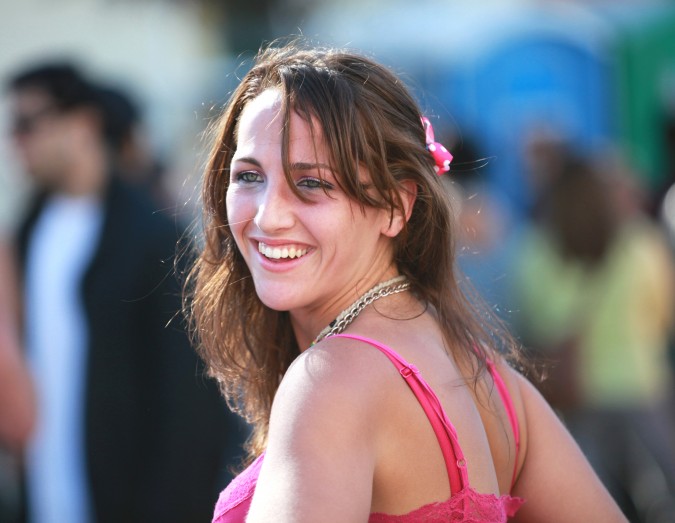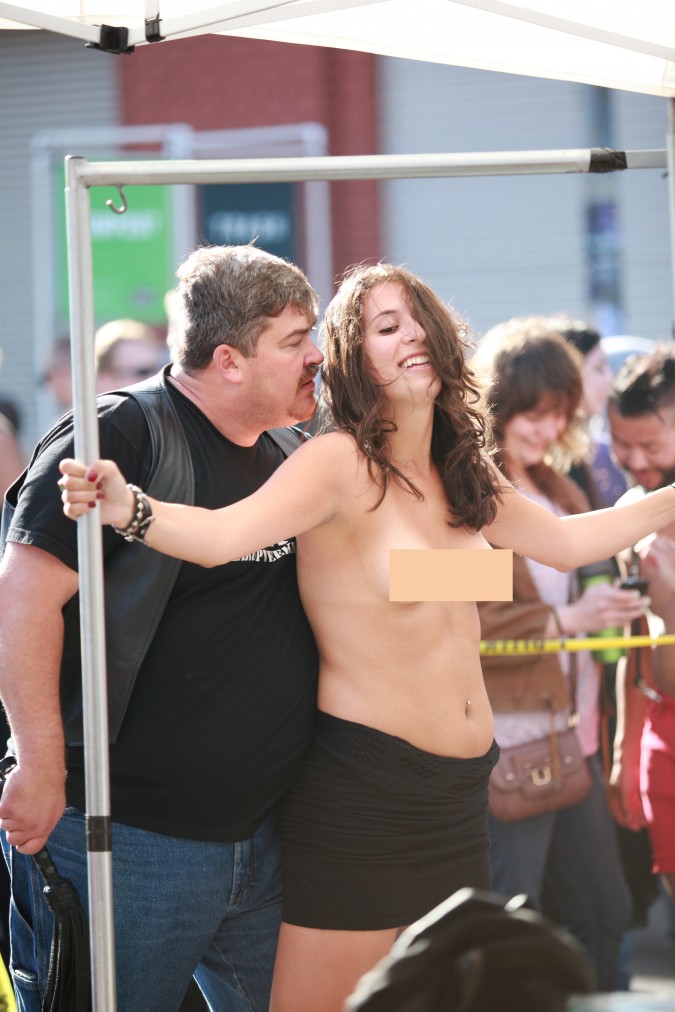 I took the pictures you see on this page with my Canon 5D Mark II. I used a Canon 50mm macro lens for some of the pictures, and a Canon 70-200 F:2.8 L zoom lens for the rest. Click on the pictures twice in delayed succession to see the images at full size. I uploaded the pictures at maximum resolution and maximum JPG quality of 12.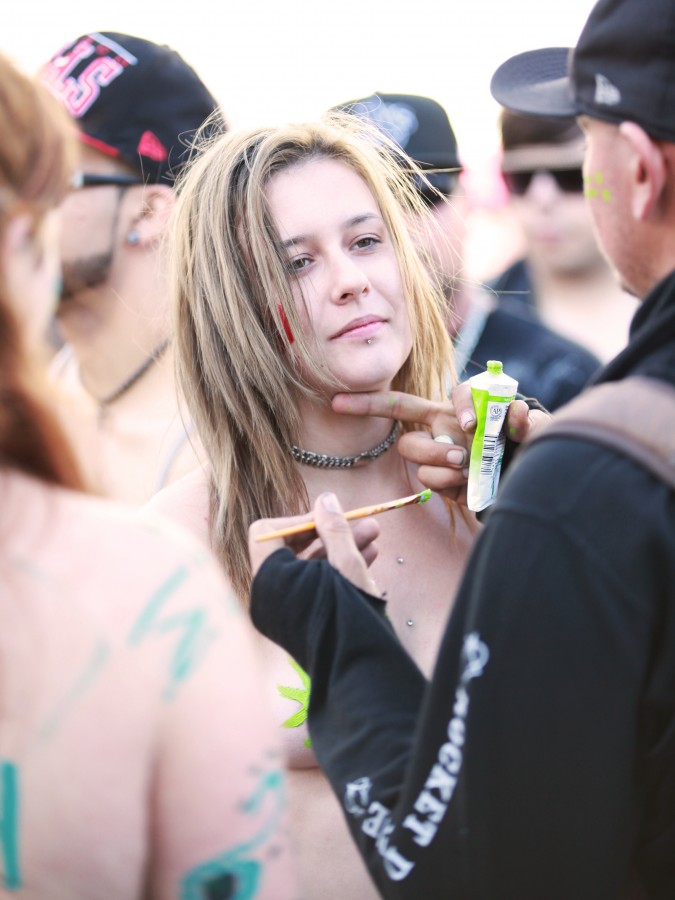 I have attended the Folsom Street Fair three times in my life — yesterday, in 2010, and in the 1990s.
I am not into BDSM or the leather subculture, but I enjoy the fair.
Yesterday was the first time I went alone, and the first time I brought a good camera with me. I was nervous about being a guy with a camera taking a lot of pictures, but there was no need to be. There were thousands of cameras there. I doubt anyone arrived without a camera. In so many instances, the subjects you see here were actively posing for photographers. Some groups had a dozen photographers at a time trying to photograph them.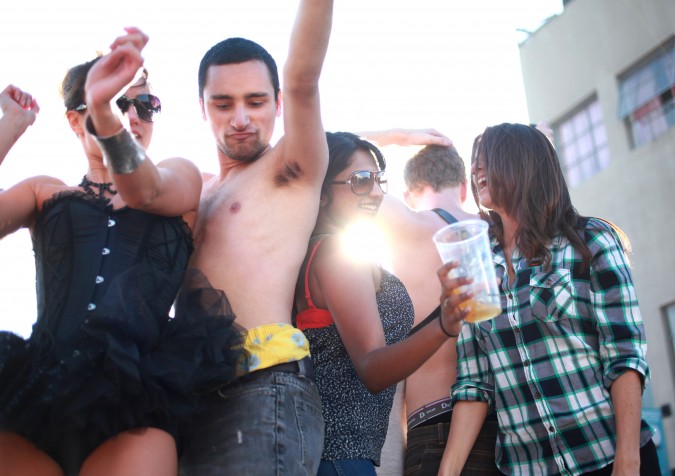 There was a lot of full nudity at the fair, especially among the men. I estimate there were 200 completely nude men walking around. I only saw one completely nude woman walking around. There were dozens of topless women walking around, without pasties or tape over their nipples.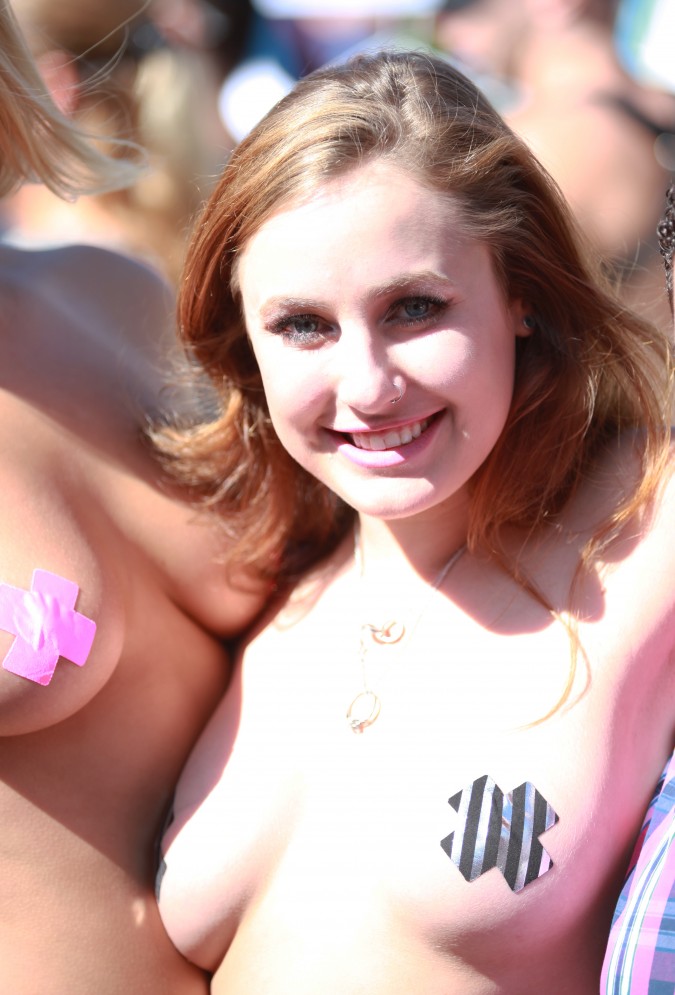 I am straight, so I focused more of my energies towards photographing the many attractive women in attendance. I photographed some men too to capture the ambiance of the event and out of fairness.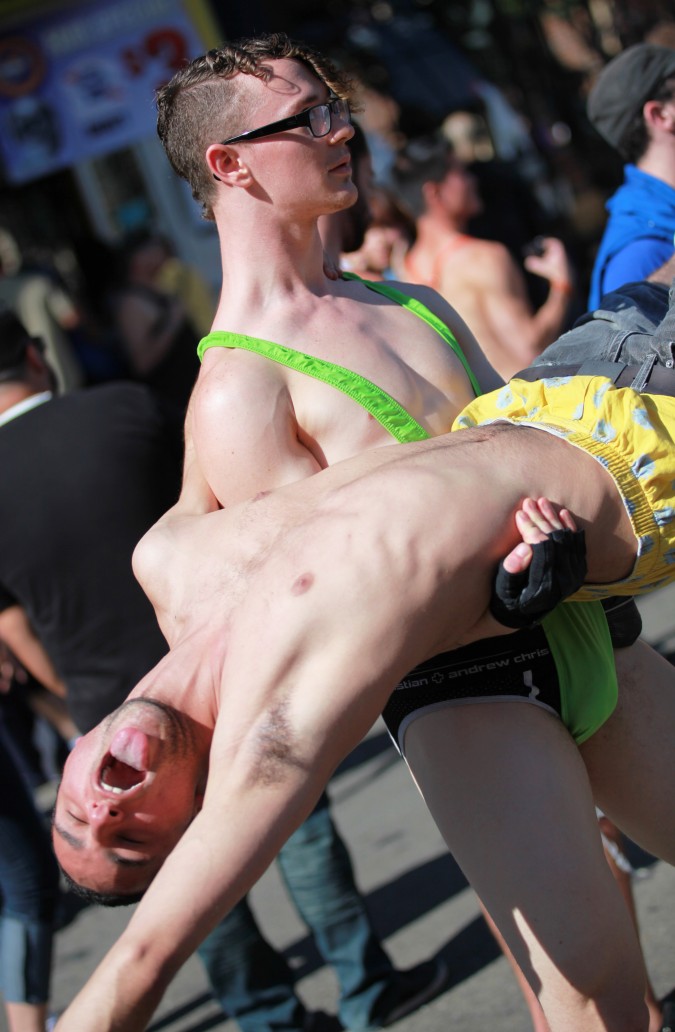 I gave my card to some of my subjects, and to my amazement, fully half the people I gave my card to emailed me and asked me to send them a copy of the picture I took of them. I happily obliged. Next time I go to the fair, I will offer my card to everyone I photograph, instead of waiting to be asked for it like I did yesterday. One of the women I photographed is a model, and I asked her if she would like to do a shoot with me, and she wrote back that yes, she would. For any of the other women that I have included in this post, I would like to schedule a photo shoot with you as well. You may contact me via Facebook. While you're there, consider subscribing to my public posts.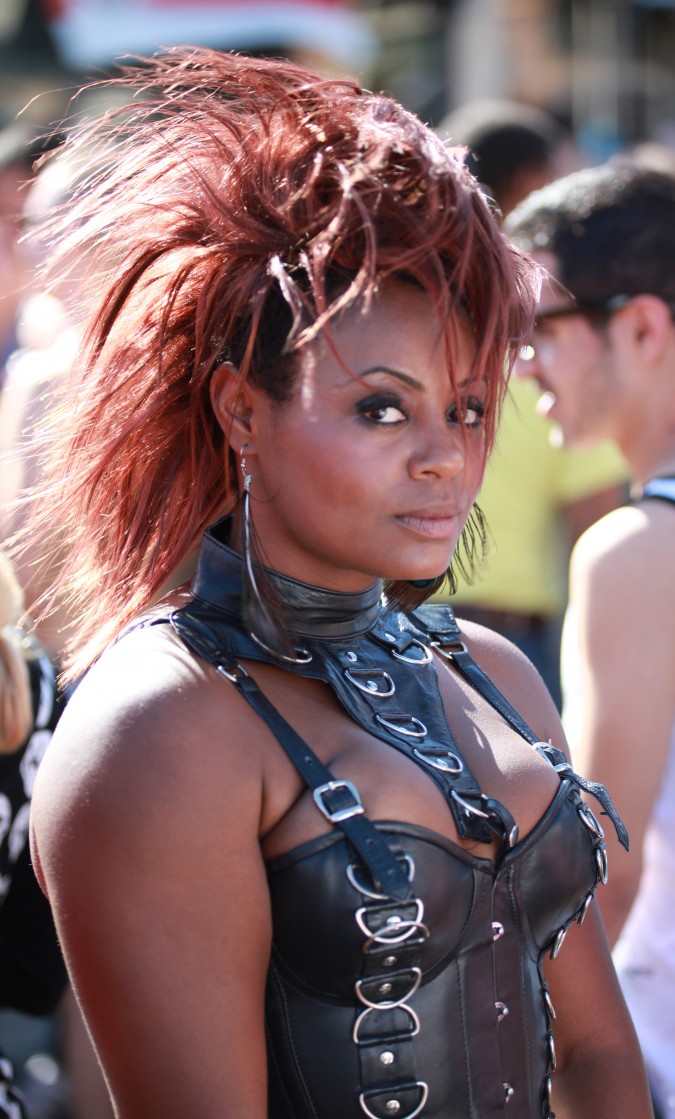 I publish a photography blog in addition to this blog at KevinWarnock.com. I only publish results from my photo shoots to my photography blog, not candid images of strangers like you see here.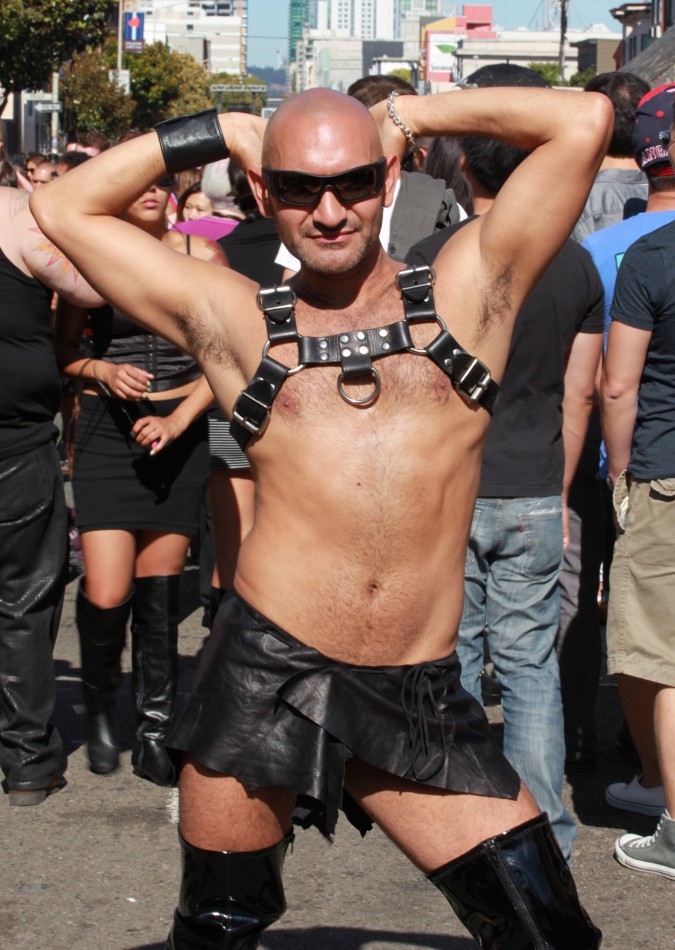 You may see my photography portfolio at the site ModelMayhem. Model Mayhem is like Facebook for models, photographers and related artists.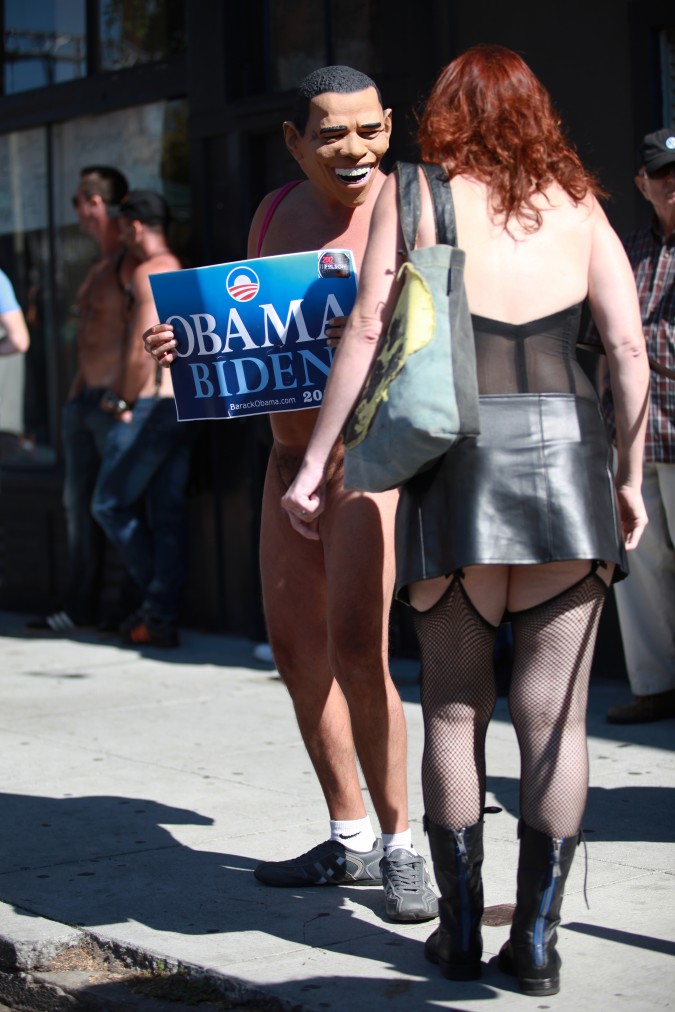 The craziest thing I saw at the Folsom Street Fair this year was a nude African American man wearing a rubber Barack Obama mask and holding an Obama/Biden campaign poster. He stood in the same location for hours, allowing himself to be photographed by hundreds of people. Barack Obama is the current President of the United States of America, and he is running for reelection in November, 2012, later this year.