Archive for the 'Wendy Lim' tag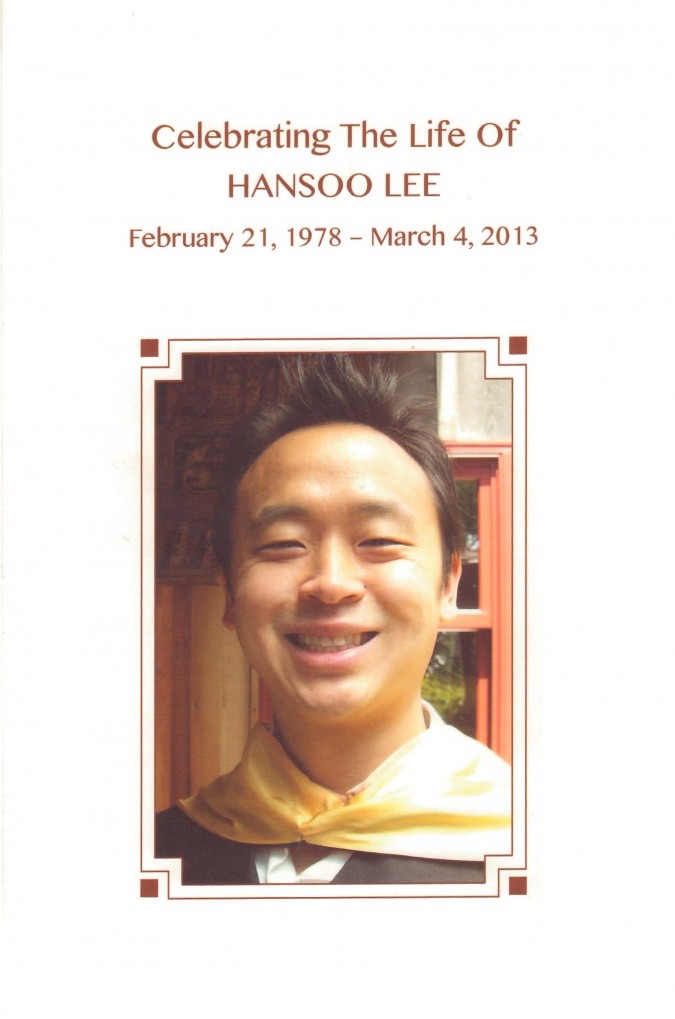 This afternoon, March 18, 2013, I attended the memorial service for Hansoo Lee. Lee died from lung cancer on March 4, 2013 at thirty five years of age. Lee was born February 21, 1978.
I didn't know Lee particularly well because we probably saw each other just a dozen times. Most of those times were at Cal Founders meetings at various venues in the San Francisco Bay Area. Cal Founders meetings are informal monthly gatherings where entrepreneurs discuss their business challenges. The big benefit to these meetings is the wide variety of advice that may be gleaned from the diverse attendees. I like to characterize the meetings as board of directors meetings where one may actually be completely frank about issues, with no worry that what you say may later be used against your company.
Since Cal Founders meetings are designed to encourage sharing of meaningful obstacles and opportunities, I feel like I learned quite a bit about Lee during these meetings. A person's character comes into focus rather quickly when you hear them give and receive advice.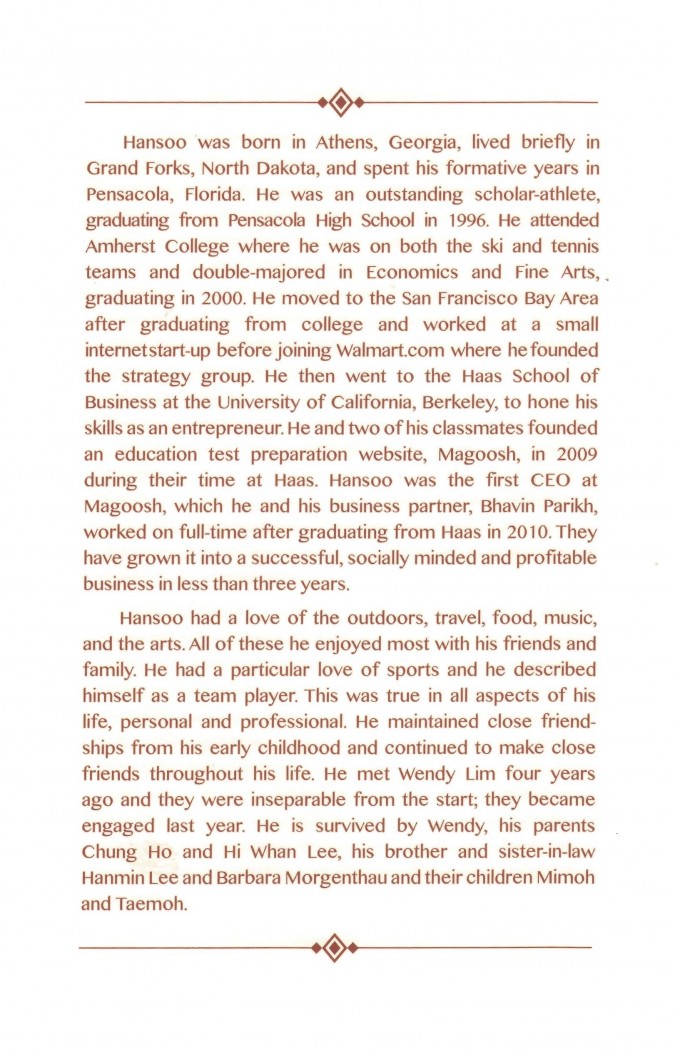 Lee was a standout at Cal Founders meetings, and for good reason. He was a smart, driven, accomplished and capable entrepreneur. Sadly, the majority of entrepreneurs I meet never deliver much in the way of results. Lee stood out because he actually delivered results. He was quick to cite statistics about growth, and he knew exactly how to bring customers to his business, and could specify exactly what results would come from specific steps. This kind of precision is less common than you might imagine.
I recall examples that demonstrate how impressive Lee was as an entrepreneur, but I won't share them with you, since Cal Founders meetings are by design confidential, to encourage open dialogue. I doubt Lee would mind my sharing some examples, given that they paint him in such a favorable light, but I am loath to break confidentiality even in light of the sad circumstance of his too early passing.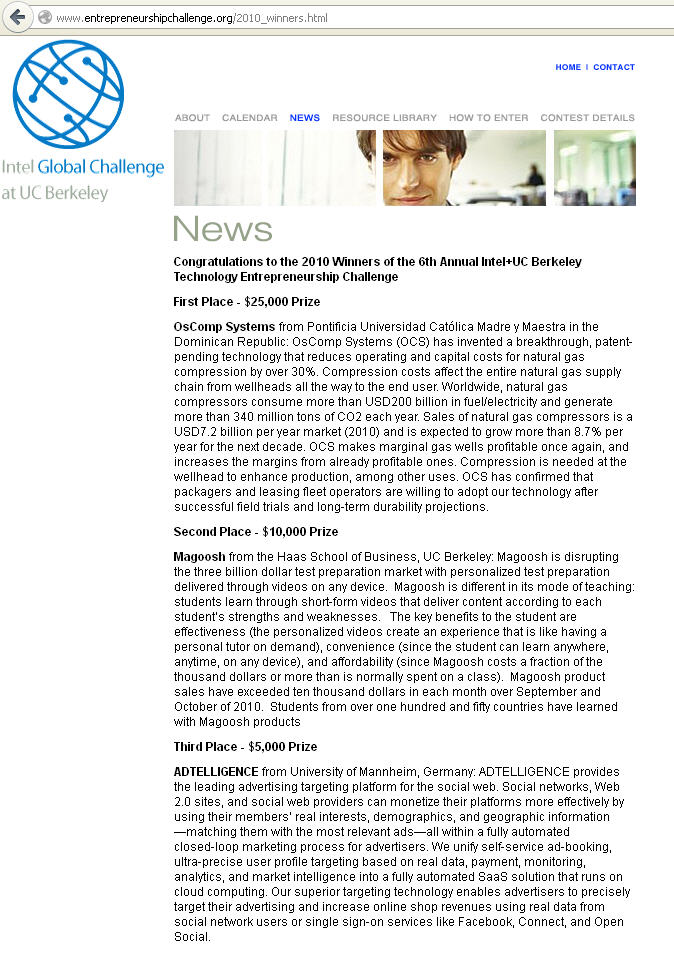 I remember seeing Hansoo Lee the evening his startup Magoosh won USD $10,000 in the 2010 Intel Global Challenge business competition. The Intel Global Challenge is a big deal, and it is very competitive because Intel invites competitors from all over the world to participate. I have watched the finals awards ceremony for years and I conclude the competition is more competitive than the Berkeley Startup Competition, which itself is quite competitive.
I am comfortable sharing some of what I learned this afternoon in a public memorial open to all at the beautiful Golden Gate Club inside The Presidio. Part of the Golden Gate National Recreation Area, The Presidio used to be a United States military base before it was vacated and turned over to visitors to and residents of San Francisco to enjoy.
The Golden Gate Club overlooks the San Francisco Bay through giant windows perhaps two stories tall. These windows showcase the Bay is if it is a work of fine art in a museum.
Here's Lee's biography from the program handed out today at the memorial:
"Hansoo was born in Athens, Georgia [USA], lived briefly in Grand Forks, North Dakota, and spent his formative years in Pensacola, Florida. He was an outstanding scholar-athlete, graduating from Pensacola High School in 1996. He attended Amherst College where he was on both the ski and tennis teams and double-majored in Economics and Fine Arts, graduating in 2000. He moved to the San Francisco Bay Area after graduating from college and worked at a small internet startup before joining Walmart.com where he founded the strategy group. He then went to the Haas School of Business at the University of California, Berkeley, to hone his skills as an entrepreneur. He and two of his classmates founded an education test preparation website, Magoosh, in 2009 during their time at Haas. Hansoo was the first CEO at Magoosh, which he and his business partner, Bhavin Parikh, worked on full-time after graduating from Haas in 2010. They have grown it into a successful, socially minded and profitable business in less than three years.
Hansoo had a love of the outdoors, travel, food, music, and the arts. All of these he enjoyed most with his friends and family. He had a particular love of sports and he described himself as a team player. This was true in all aspects of his life, personal and professional. He maintained close friendships from his early childhood and continued to make close friends throughout his his life. He met Wendy Lim four years ago and they were inseparable from the start; they became engaged last year. He is survived by Wendy, his parents Chung Ho and Hi Whan Lee, his brother and sister-in-law Hanmin Lee and Barbara Morgenthau and their beautiful children Mimoh and Taemoh."
There were over two hundred people at Lee's memorial.
I was impressed with how many people boarded aircraft to attend. The majority of the members from his class that belonged to his fraternity at Amherst were there, and two of them spoke at the podium sharing their memories of Lee. I learned that Amherst had banned fraternities, so fraternities were tiny and presumably somewhat hidden. As a result, when I write 'majority' I mean three fraternity brothers out of a total of five in Lee's class attended Lee's memorial. Counting Lee, four fifths of the entire class was represented. That I believe is a testament to Lee's good spirit. Remember, Lee graduated from Amherst a dozen years ago.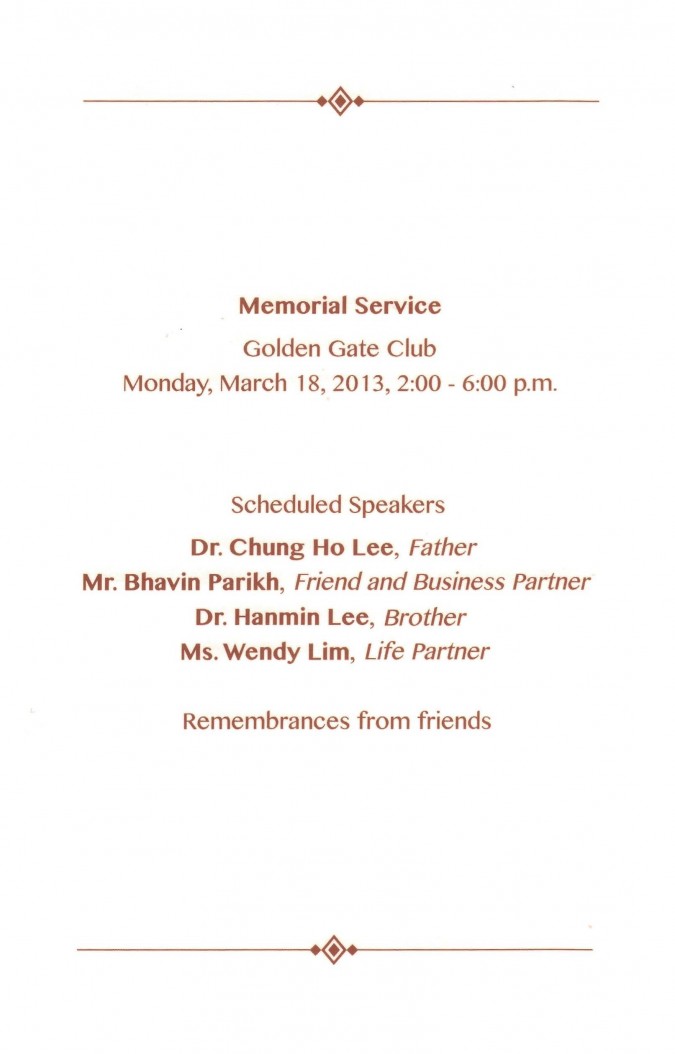 About two dozen of Lee's friends walked to the microphone and shared their memories.
Two of his friends met Lee in the first grade. One of those friends entertained us by explaining Lee's love for business even as an eight year old. Lee was a pro at profitably buying and selling baseball cards. He studied baseball and developed the rare ability to identify future star players while they were still rookies in their careers. This skill allowed Lee to buy the correct rookie cards while they were still low cost, and then sell them years later when the players became stars. I learned Lee joked that he planned to pay for college with his card trading empire begun as a child.
I learned about Lee's first skiing trip as part of a high school engineering club he belonged to, and how his enthusiasm for skiing caused him to wear out a pair of ski pants in just a night of tumbling on a slope covered with inadequate snow and uninvited mud.
Lee's fiancée, Wendy Lim, delivered the most emotionally moving remarks.
I cried.
Wendy Lim is really impressive.
Lim described herself as Lee's opposite, but pointed out how well they each complimented the other.
Wendy Lim described Lee as the love of her life, and told us she had never before known love like that which she shared with Lee. It's so sad Lee was taken from her so early after her lifelong search to locate him.
I introduced myself to Lim and expressed how sorry I am for her loss.
I also had the privilege of expressing the same sentiments to Dr. Chung Ho Lee, Hansoo's father, Hi Whan Lee, Hansoo's mother, and Dr. Hanmin Lee, Hansoo's brother.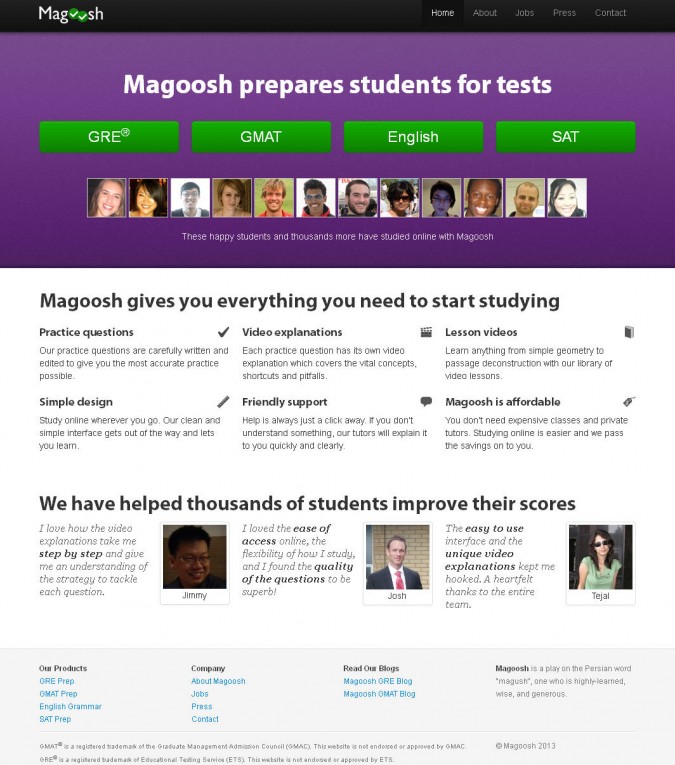 The Hansoo Lee Fellowship has been established at the Haas School of Business at University of California Berkeley. Lee started full time work on his startup Magoosh during the summer break between his first and second year at business school. This concerted several month effort I suspect really accelerated the progress at the company. The idea for the Fellowship is to help other student teams pursue their dreams during that pivotal summer break. The fellowship will provide a cash stipend, office space and advice from mentors to one lucky team each summer. If you are able and would like to give money to fund the Hansoo Lee Fellowship, please do so by following this link to the official UC Berkeley donation page for this fellowship.
Farewell Hansoo Lee. I am glad that I got to know you a bit during your exceptional life.