Archive for the 'UC Berkeley Startup Competition' tag
On Thursday, August 9, 2012 I attended the retail launch party for Modify Industries, Inc.
Modify Industries is the company behind the colorful and fashionable silicone rubber Modify Watches brand watches that feature time pieces that without tools may be interchanged between bands. You can see people wearing Modify Watches in the top three photographs that illustrate this post. The watches come in two sizes. There are dozens of time pieces and dozens of straps (bands) to select from.
Modify Watches was a finalist competitor in the 2012 Berkeley Startup Competition at the University of California. That competition is very competitive, and it's very difficult to become a finalist, as there are only eight per year, while most years more than 100 teams apply to compete.
I am friends with Modify CEO Aaron Schwartz.
Click here to see all my blog posts, past and future, that I have written about Modify Watches.
Modify has focused its attention on eCommerce sales and enterprise sales. It has achieved impressive success in both areas, selling to big companies including Google.
Now Modify is moving into retail by selling to boutique retailers.
One such boutique is Hangr 16 at 3128 16th Street in San Francisco, California USA, near Valencia Street. Hangr 16 carries the Modify line of products. The store's energetic and charismatic buyer, Liddy Parlato, decided to sell Modify's eye catching line after she opened an email targeted to her store from the company. Parlato told me she gets 30 pitches a day by email. Parlato's store is spare and elegant, with a well curated selection. It's not jammed with hundreds of product lines like many boutiques. Thus, Parlato's decision to carry Modify's products is a win for Schwartz and his team. Parlato is one of four owners of Hanger 16. She comes from a background in advertising, not retail.
While researching this blog post, I learned that Hangr 16 was voted the Best Clothing Store for Men by readers of the San Francisco Bay Guardian weekly newspaper. That makes the store's decision to sell Modify Watches all the more special.
Abie Hadjitarkhani and Nathan Dintenfass attended the launch party. I know Dintenfass from the Haas School of Business at the University of California Berkeley. I met him while he was getting his Masters of Business Administration degree. I participate in many events at Haas to help the students and by extension The Lester Center for Entrepreneurship and Innovation.
Dintenfass and Hadjitarkhani run Hotel Delta, a boutique consultancy that helps entrepreneurs create great products.
Hotel Delta produces the Products are Hard conference.
Nathan Dintenfass is one of the smartest entrepreneurs I know. I have spent hours listening to him advise startups, and his wisdom is evident and deep.
Congratulations to Schwartz and his impressive team at Modify Industries. I predict great things to come.
I took the pictures that accompany this post. I uploaded them at full camera resolution of 21 megapixels. Click on them in delayed succession to see the full size versions, which are larger than your screen.
Legal disclosure — Schwartz let me borrow six of his company's watches so that I may photograph them being worn by the female models I photograph. I pursue photography as a hobby, and do not charge for my work, so perhaps this disclosure is not legally required. To cover my bases, I am disclosing this loan. I proposed this arrangement, not Schwartz. I would have written this post even if Schwartz did not let me borrow any watches. I will return the watches to Schwartz once I photograph them with some additional models.
On Tuesday, May 2, 2012, I met with Eliot Sun, co-founder and CEO at Kloudless, Inc., winner of the IT and Web track at the 2012 Berkeley Startup Competition.
Sun and his three co-founders, Timothy Liu, Brian Tang and Vinod Chandru, have built an impressive productivity utility for use with Gmail, Google's web based email service. I didn't get to meet Chandru, which is why he's not pictured here, as I took all of these pictures. Click on them to see them full size.
Liu, Tang and Sun allowed me to photograph them in their corner cubicle of the University of California Startup Accelerator @Skydeck, commonly referred to around campus as simply Skydeck. Have a look at the sweeping view in the photographs here. That's San Francisco's skyline directly behind the heads of Tang and Sun. Click the picture and wait for it to load in a new window. Then click the picture again to see the full size version. You can clearly see the San Francisco Bay Bridge through the glass window.
The Skydeck is located on the penthouse floor of the tallest building in Berkeley, at 2150 Shattuck Avenue, Berkeley, California USA. This building is at the the top of the escalator from the circular exit to the Berkeley BART station.
Kloudless is still in private beta, and I have not personally used the service. But Sun did give me a great demonstration of the working site.
Eliot Sun knew up front that I am a blogger and that I would write this post.
Kloudless is targeted towards users that receive a lot of email with important attachments. Emails that contain attachments fill up email storage far faster than emails without attachments. Search in Gmail does not look inside attachments, according to Sun.
What Kloudless does is hard to believe hasn't been done before, as it's brilliant.
Kloudless has a plugin for Gmail that modifies the user's options. A new option when one receives an email with an attachment is to move the attachment to that user's account at either DropBox or Box, which are popular cloud storage services offered by two different companies.
If a Kloudless user directs the service to move the attachment file to DropBox or Box, the Kloudless service does so. What makes Kloudless deserving of winning competitions is that it remembers where it put the file. The next time the user views that email in Gmail, they won't have the attachment directly available to them from Google. However, there will be a link to the file that is now stored in the cloud at either Box or DropBox. A file can be stored at both services at once, if the user so chooses.
Kloudless is storing the association between original email and the stored attachment now in the cloud outside of Google.
There is a screen in Kloudless where users can review all their attachments in a view that omits all the emails that did not have attachments originally. This condensed view is compelling, for its brevity. If a user finds a file they are interested in, that user can click back to the original email message that brought the file to them in the first place.
There's a lot to like about the Kloudless business model. They are not a cloud storage provider, so they avoid having to store petabytes of data. They're storing metadata, not attachments. Their own hosting costs should be moderate since they still have to pay for the bandwidth to move files around between Google and the cloud storage providers.
Kloudless is likely to be able to charge for this service, because it gives such useful control and quick access to users.
Users that embrace Kloudless are likely to stay customers forever, because if they quit the service, presumably they will lose their ability to associate their attachments with their emails, which could be painful.
Eliot Sun is a smart guy. He holds degrees in Mathematics and Economics as well as minors in Chinese and Latin, all from UC Berkeley. You don't frequently find engineers that seriously studied Latin.
Sun's three co-founders Timothy Liu, Brian Tang and Vinod Chandru also all graduated from UC Berkeley. Liu is CTO, Tang is Chief Scientist and Chandru is Vice President of Engineering.
Sun also had the smarts to get his name as a domain name, which everyone should do if they can. There's no better beach front real estate for your personal brand than your own name followed by .com.
Global Brain Corporation, a venture capital firm in Japan, invited Sun to attend their annual Global Brian Alliance Forum in December, 2011. Sun spent four days meeting with potential partners and one day at the Forum. Sun's Kloudless presentation at the Forum was judged the best pitch of the event.
On September 22, 2011, Kloudless won first place in the Plug and Play EXPO at the Plug and Play Tech Center.
Including the IT and Web track at the Berkeley Startup Competition last month, that's three wins in less than six months, and Kloudless hasn't even launched yet.
Kloudless is a company to watch.
PS – I posted 16 more shots from my photoshoot with three of the four Kloudless co-founders to my Facebook profile, where you can subscribe to my updates. I had my studio lights with me as I was on my way to a photoshoot with model Annika, from my blog post about AlbertMing, an early adopter of Skydeck's services that's since moved to their own office space in Berkeley.
Please participate in the UC Berkeley Startup Competition, formerly known as the UC Berkeley Business Plan Competition. Here's the email notice I received this morning from the competition organizers. Since this link will eventually not work, I prepared a screen capture of the email and I show it below this paragraph.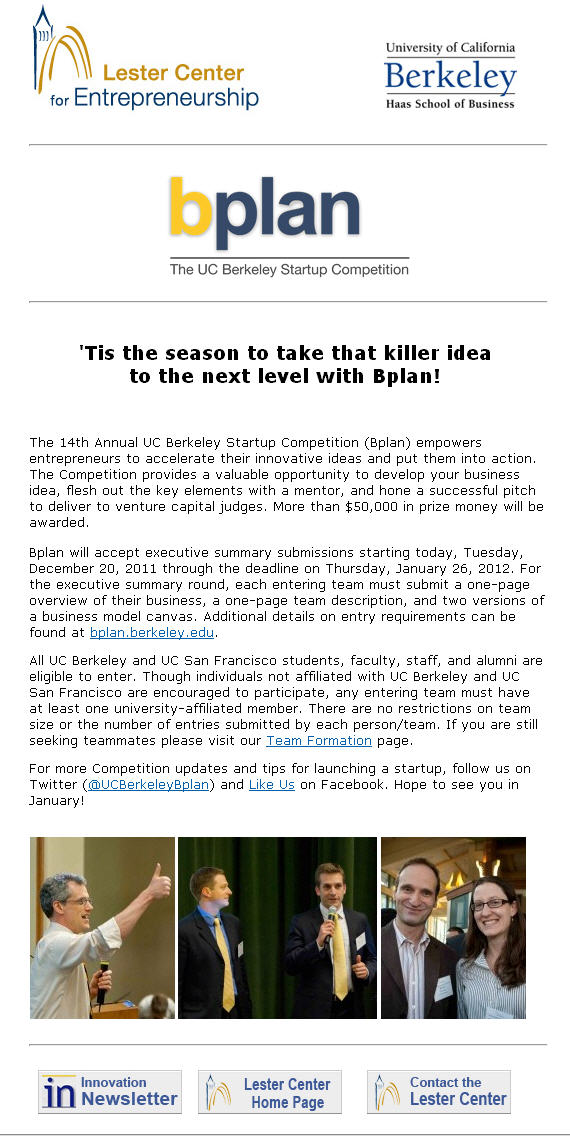 My friend Kelly Karns of  AutoTB is shown in the picture at the lower right of the email screen capture above. That's Andre Marquis, the Executive Director of The Lester Center for Entrepreneurship in the lower left. Marquis is shaking things up and making changes — I wrote to him October 5, 2011 suggesting the name of this event be changed to The Berkeley Startup Competition, and today I open my email and the name has been changed. My suggestion may not have been unique, so I am not trying to take all or even a majority of the credit for renaming the premier entrepreneurial competition at Berkeley. But I will take my earned share, however tiny or substantial that turns out to be.
I made the name change suggestion to take the focus off of writing business plans that few will read or pay attention to. Instead, I want the focus to be on creating viable startups that create jobs and change the world. Achieving this goal will require a lot more than a new name, and I hope to be invited to contribute more of my many ideas to help reach this goal.
I was a finalist in this event in 1999 and my success I trace directly to this competition. I am grateful that the rules allowed me to compete. I am grateful the rules still allow me to compete, should I want to start a new company.
I have donated USD $20,000 to the competition since 2000 — I am that grateful.
The Lester Center has extended to me many perks beyond what I technically 'paid for' with this $20,000, and I thank them for their extraordinary generosity. For example, I've recently concluded a dozen year stint on the Advisory Council of the Berkeley Entrepreneurs Forum. I paid nothing for this membership during this dozen years, despite the Council being a fund raising mechanism for the Lester Center. I enjoyed dozens of fascinating dinners during this period, and I made a lot of smart and interesting friends by my membership, including Jerry Engel, Brian Goncher, Robert Dellenbach, Laura Oliphant, Sam Angus and Tom Kintner and by association his brother Avery Kintner. I will miss these twice yearly dinners, which I never missed unless I was out of California.
I am talking with Marquis to expand and extend my assistance to the competition over the next 14 years. There is so much more I can do to help, and the future looks bright under the stewardship of Andre Marquis and the leadership of the student organizers, who have the responsibility to run and perpetuate the event.