Archive for the 'Tom Kintner' tag
My birthday was yesterday, October 6, 2012.
I will long remember this birthday because I attended the memorial service for Lee Frederic Benton, held at Holy Trinity Church, 330 Ravenswood Avenue, Menlo Park, California, USA.
Benton was born February 18, 1944 and passed away unexpectedly August 24, 2012.
I did not know Mr. Benton well, but he played a major part in my life. I was able in 2007 to tell him the facts that lead to this conclusion, but, sadly, I don't believe I thanked him for his pivotal contribution to my success in life. Thank you Lee Benton.
In about 1991 I went to the offices of Analytic Legal Programs, Inc., founded by Eric Little. Analytic Legal Programs made a document assembly software program called WorkForm. At the time, I worked at Cooley, LLP, then named Cooley Godward Castro Huddleson & Tatum. Cooley had purchased a firm wide license for WorkForm, and had asked me to lead the project. Associate attorney Jeff Zimman was to program the first set of documents, a set of 17 documents to incorporate a company in California.
Since neither of us knew the WorkForm software, we both attended a several day training session at the offices of Analytic Legal Programs in Palo Alto, California USA.
Zimman left a voice mail for Benton during our training, and the subject was Zimman's compensation at Cooley. From that I have guessed Benton supervised Zimman, and gave Zimman his assignments. I have further guessed that Benton authorized Zimman to spend the hundreds of non-billable hours that he would eventually dedicate to the document assembly project. Without Zimman, there would have been no document assembly project, because Zimman was the only attorney at Cooley that showed any interest in document assembly back then. Without Benton letting Zimman stop billing hours to clients for a time, there also would have been no document assembly at Cooley. As a result, without Benton, I would have never become an expert at document assembly, and I would thus have not started Hotpaper.com, Inc., the first Internet document assembly platform, in 1995. Had I not started Hotpaper, I would not have sold it in 2000, and I would not have been able to buy the house I am typing this post in, or to live my life I treasure so much that I write about on this blog.
Starting an Internet company that gets acquired is very difficult. I needed every advantage along the way to get to where I am today, and Lee Benton gave me a huge advantage. He freed up hundreds of hours of time of a rising star attorney, which ended up launching my career in high technology. I simply don't think I would have gotten into the Internet business had it not been for Lee Benton and Jeff Zimman.
When I was at Cooley, Benton had not yet led the entire firm, but I knew that he would, because Helen Gaffney, since passed, told me so. Gaffney ran the firm's Information Technology infrastructure at the time she said this, about half a decade before Benton became Managing Partner, the title the firm then used for its top leader. The firm now uses the title CEO for its top leader, and I learned yesterday that Cooley's current CEO Joe Conroy, joined Cooley while Benton was Managing Partner, and that Conroy greatly admired Benton. Conroy attended Benton's memorial yesterday, but I did not see him.
Lee Benton's memorial service was very touching to me. I recognized some of the attorneys that were at Cooley when I left in 1994, including Frederick Baron, Pam Martinson, Alan Mendelson, Gordon Atkinson, Kenn Geurnsey, Paul Renne, James Gaither, Craig Dauchy and my own current attorney Eric Jensen. That this group attended was amazing to me, because I actually received material help on my project in the 1990s from Baron, Martinson, Mendelson, Guernsey, Renne and Jensen. I hadn't seen Martinson, Dauchy, Atkinson or Gaither since 1994, but I recognized all of them, and they appeared to recognize and remember me when I greeted them. Sadly, Martinson and Mendelson left before I got to say hello to them. I most recently saw Mendelson by chance at Nordstrom in 2008 when I was trying on tuxedos for my wedding.
My friend Tom Kintner was also there, and I learned Kintner worked with Benton and others on the USD $621 book Venture Capital & Public Offering Negotiation. 'This book is the leading authority on the legal aspects of venture capital funds and of private financing and initial public offerings for technology companies,' per Cooley's website. I have known Kintner for over a decade, and I never knew he knew Lee Benton until yesterday.
When I said hello to Paul Renne, I had the great pleasure of meeting his wife, former San Francisco City Attorney Louise Renne.
Benton was revered when I was at Cooley, and although I only spoke with him perhaps half a dozen times in the five years I worked at Cooley, I always knew he was extremely influential. I once had to modify the California Incorporation document set to incorporate his changes, and I vividly remember thinking at the time that they were the most impressive set of edits I had yet seen from any attorney. Even though I am not and have never been an attorney, I had by then developed an ability to identify precise and impressive edits, and Benton's were outstanding. His dozens of edits made the documents more conclusive without being stern.
Frederick Baron spoke at the memorial. His written remarks were poignant and lovely — so much so that I suggested he post them online for posterity. If he finds this post and thinks this is a suitable place for his remarks to live on, I invite him to forward them to me for incorporation into this post, which I am happy to revise.
One of the stories Baron relayed was so sweet that I am going to relay it here.
Baron told the story of how he arrived at Cooley. He moved to the San Francisco Bay Area and knew of Lee Benton's stature. He heard Cooley had just opened an office in Palo Alto, its first branch office. The firm was founded in San Francisco. Lee Benton was part of the first group of Cooley attorneys that opened the Palo Alto office. Baron applied to Cooley and got an interview with Benton himself. The story takes a charming turn when Baron told us yesterday that his son, age 4 at the time, rode in a car pool to school starting the day before Baron's interview with Benton. Using more descriptive language than I will here, Baron described his 4 year old son as a boisterous handful. Baron was alarmed when he learned the night before his big interview with Benton that the driver of his child's car pool was Lee Benton himself.
As you can guess, the interview went well and Baron was hired despite his fears that his rambunctious son might have harmed his chances. Frederick Baron went on to lead a department for decades.
Baron and Benton and their wives all became dear friends.
One of Lee Benton's clients, Bob Plaschke, also spoke. He told a series of stories that elicited hearty laughs from the audience. He also spoke affectionately about Benton's laugh, which he described as infectious, distinctive and highly memorable. I never heard Benton laugh because in total I probably spent no more than 30 minutes speaking with him, the most recent 10 minutes at a party at Cooley in 2007, when I got to have a very nice conversation with him despite the absence of laughing.
Plaschke told a great story about when one of his companies was doing a closing for a transaction. The closing happened on a weekend, and Benton dropped by the Cooley office where other attorneys were completing the work. However, Benton wanted to pitch in and help, and he asked a young associate how he could contribute. Plaschke said this young female associate tried meekly to decline Benton's offer, but Benton persisted. Finally, using her hands that were trembling with fear, she handed a document she had written to Benton and asked him if he would review it for her. Benton enthusiastically attacked the document with his red pen, and when complete, there was red ink on every line of the four pages. Plaschke said Benton was so pleased to be able to help, and that he saw Benton commend the young associate on how well she had handled the delicate representations and warranties section.
This is such touching story for me, so much that it brought tears to my eyes as I wrote it. Benton clearly didn't even need to be at the office for the closing, since there were others there already handing things. But Benton cared for his client's interests, and wanted to make sure things were OK. He insisted on helping, and used the opportunity to do well for his client and to help train a young attorney, who no doubt remembers that weekend encounter with Benton.
We are all here on Earth for such a short time. How well we treat others defines how we will be remembered. How we treat those far below us in rank particularly defines how we will be remembered. All of the speakers yesterday conveyed that Lee Benton was an exceptionally kind, humble and conscientious man. He got a lot done in life while warming the hearts of those around him. Many others get a lot done while trampling over people without remorse. I consider Lee's approach by far to be the gold standard for how to live.
Thank you Lee Benton for all that you accomplished and all the love that you extended during your exceptional time on Earth.
Here is the obituary for Lee Frederic Benton, as published in the San Francisco Chronicle newspaper on September 9, 2012:
Lee Frederic Benton
Lee Benton passed away in Palo Alto on August 24, 2012 at the age of 68 due to complications following surgery.
Born on February 18, 1944 in Springfield, Ohio, Lee was the son of the late Robert and Candice Collins Benton. He was a graduate of Oberlin College and received his J.D. from The University of Chicago, where he served as the Executive Editor of The University of Chicago Law Review. Lee was a teaching fellow at Stanford Law School before joining the San Francisco office of Cooley, LLP in 1970.
Lee was a founder of Cooley's Palo Alto office in 1980 and was managing partner from 1996 to 2001. He was a partner at the firm from 1975 until 2006 and then served as senior counsel. During his distinguished legal career he focused on the formation, financing and growth of high technology companies. While at Cooley he also served as general counsel and a member of the senior management teams of two publicly traded technology companies.
In addition to being an accomplished practitioner, he was a dedicated mentor to a generation of lawyers who value his legacy. Reflecting on what Lee stood for in his life and work, one colleague wrote, "success does not have to come at the expense of decency and humanity or be coupled with the sacrifice of principle or soul."
Lee was a deeply thoughtful, kind, and caring man. In recent years he faced several health challenges with an indomitable spirit. Drawing from these experiences and the expertise he acquired, he was tireless in extending his help to individuals and institutions. He served on the Board of Directors of the National Headache Foundation, as a Strategic Advisor to the California Institute for Quantitative Biosciences (QB3).
He took great pleasure in his unique array of hobbies. Some of his extensive collections and research included commercial aviation, single malt scotch, classical music, and country music. He was, as well, an avid and vocal follower of sports and politics.
Lee was a loving husband and father and is survived by his wife Susan, sons Timothy and Matthew, brothers Marc (wife Trish) and Bruce (wife Andrea), and brother-in-law David Wann.
On Saturday, October 6 at 1:00 pm, a memorial service to celebrate Lee's life will be held at Trinity Church, 330 Ravenswood Ave., Menlo Park. For contributions in his memory, the family suggests the National Headache Foundation, 820 N. Orleans, Suite 411, Chicago, IL 60610.
Here is the August 27, 2012 press release from Cooley's website:
We are saddened to announce that Cooley former Managing Partner and long-time colleague Lee F. Benton passed away last week.
Lee began his career at Cooley in 1970, and was a partner of the firm for more than 30 years.  He served as Chair of the Business Department from 1994 to 1996, and was the Managing Partner of Cooley from 1996 to 2001.  At the time of his death, Lee was Senior Counsel to the firm.
In addition to his formal leadership roles, Lee played a significant part in establishing Cooley as one of Silicon Valley's most respected and important law firms.  Lee was among the first of our lawyers to move from San Francisco to Palo Alto to open our first office there in 1980.
Lee was a brilliant practitioner and a highly regarded speaker on the topics of securities law, venture capital, mergers and acquisitions and strategic partnering.  He took immense pride in his work and was a great teacher of generations of Cooley lawyers.  He devoted himself to the success of his clients, even serving as general counsel and a member of the senior management teams of two publicly traded technology companies.  Lee also served on a volunteer basis as Strategic Advisor to the California Institute for Quantitative Biosciences (QB3) and on the Boards of Directors of Sonim Technologies, Inc. and the National Headache Foundation.
Lee was truly instrumental in building the firm we are today.  His legacy will be a lasting one and he will be deeply missed.
Our thoughts and prayers are with his wife Susan and their family during this difficult time.
Here is Lee Benton's biography from Cooley's website, as of October 7, 2012
Lee F. Benton was a partner in the firm from 1975 until 2006, and then served as senior counsel in the Securities Regulation group until his death in 2012. He was the managing partner of the firm from 1996 to 2001 and chair of the firm's business department from 1994 to 1996. He commenced his career in Cooley's San Francisco office in 1970 and founded the firm's Palo Alto office in 1980. He is listed in The Best Lawyers in America, in "The Best Lawyers in Silicon Valley" in San Jose Magazine, in Marquis Who's Who in America and in Madison Who's Who in the World.
Mr. Benton's practice encompassed a broad spectrum of fields related to the formation, financing and growth of high technology companies. He represented high technology firms from their inception through maturity as publicly-traded corporations. Mr. Benton also represented a large number of venture capital firms. His particular areas of expertise included strategic partnerships, equity incentives, initial public offerings, securities law, mergers and acquisitions, and cross-border transactions.
While at the Firm, Mr. Benton also served as general counsel and a member of the senior management teams of two publicly-traded technology companies.
Mr. Benton was the executive editor of The University of Chicago Law Review from 1968 to 1969 and a teaching fellow at Stanford Law School from 1969 to 1970. Mr. Benton authored numerous articles and lectured extensively for the Practicing Law Institute, California Continuing Education of the Bar and Aspen Law and Business Inc. His topics included securities law, venture capital, M&A and strategic partnering.  He is a co-editor and co-author of Venture Capital and Public Offering Negotiation (Aspen Law and Business, Inc., 2002). This book is the leading authority on the legal aspects of venture capital funds and of private financing and initial public offerings for technology companies.
Mr. Benton served on a volunteer basis as a strategic advisor to the California Institute for Quantitative Biosciences (QB3) and on the boards of directors of Sonim Technologies, Inc. and the National Headache Foundation.
Education
University of Chicago Law School
JD, 1969, Order of the Coif
Oberlin College
BA Government, 1966, magna cum laude
Admissions
Memberships
Here is Lee Benton's obituary published August 28, 2012 in The Recorder newspaper (link):
SAN FRANCISCO — Lee Benton, a former managing partner of Cooley during the heady years of the dot-com boom, died Friday due to complications following surgery. He was 68.
Benton had been with the firm for more than 30 years and held several top leadership positions. He chaired Cooley's business department from 1994 to 1996 and served as managing partner from 1996 to 2001. He was senior counsel at the time of his death.
Benton was a dedicated, meticulous and well-respected attorney who played a key role in establishing and building Cooley's presence and reputation in Silicon Valley, long-time colleagues said. He was among the first group of lawyers who relocated from San Francisco to open the firm's first Palo Alto office in 1980.
"He really is one of a handful of people who reshaped our firm into what it is today," said Frederick Muto, chair of Cooley's business department who's been with the firm since 1980. "He helped establish us as one of the Valley's most important law firms. And he was just a great lawyer and a terrific mentor."
Benton, who helped take Genentech Inc. public in 1980, was considered an expert on securities law, venture capital, mergers and acquisitions and strategic partnering. Thirty years ago, he co-authored a groundbreaking treatise on the legal framework for venture capital financing that's still used today, colleagues said.
"He was regarded as truly a lawyer's lawyer," said Cooley litigation partner Frederick Baron. "He was puckish and brilliant. He was a person of tremendous attention to detail, and clients loved the fact that he turned over every stone to identify and minimize every conceivable risk."
He was also fiercely committed to helping Cooley grow. As head of the business department and managing partner of the firm, Benton not only helped it become a major player in Silicon Valley. His leadership also helped the firm weather the tough times after the dot-com bubble burst and several high-profile attorneys departed, said James Fulton Jr., co-chair of Cooley's clean energy and technologies group.
Benton was devoted to both clients and colleagues alike, Fulton said. He was one of the first lawyers at Cooley to take a leave of absence to serve as a general counsel to his clients, such as Santa Clara-based Ungermann-Bass, one of the earliest large computer networking companies.
"He was a beloved counselor," Fulton said. "People didn't come to Lee time and again just because he was a good lawyer. So many people who worked with him were personally touched by him. There was his willingness and ability to mentor, on nights, weekends."
And Benton always made time to help young lawyers, said Wilmer Cutler Pickering Hale and Dorr corporate partner Daniel Zimmermann. Benton began mentoring Zimmerman when he was a young associate at Cooley, and they've been friends ever since, he said, sharing practical jokes and conversations over breakfast whenever possible.
"He was someone who always took a difficult situation and turned it into a lesson," Zimmermann said. "He was just a very kind person who was incredibly meticulous about his work and his relationships."
A memorial service for Benton will be held Oct. 6 at 1 p.m. at Trinity Church in Menlo Park.
Editorial note: Normally I place many hyperlinks in my posts. I have chosen not to do that for this post, except that I did link the The Recorder article, where I encourage you read the text I copied to this post. I copied the obituaries so that they will be readable for decades, even if the original sources disappear. I hope that the authors of the text I copied do not object. My goal is for this post to endure in its entirety.
Please participate in the UC Berkeley Startup Competition, formerly known as the UC Berkeley Business Plan Competition. Here's the email notice I received this morning from the competition organizers. Since this link will eventually not work, I prepared a screen capture of the email and I show it below this paragraph.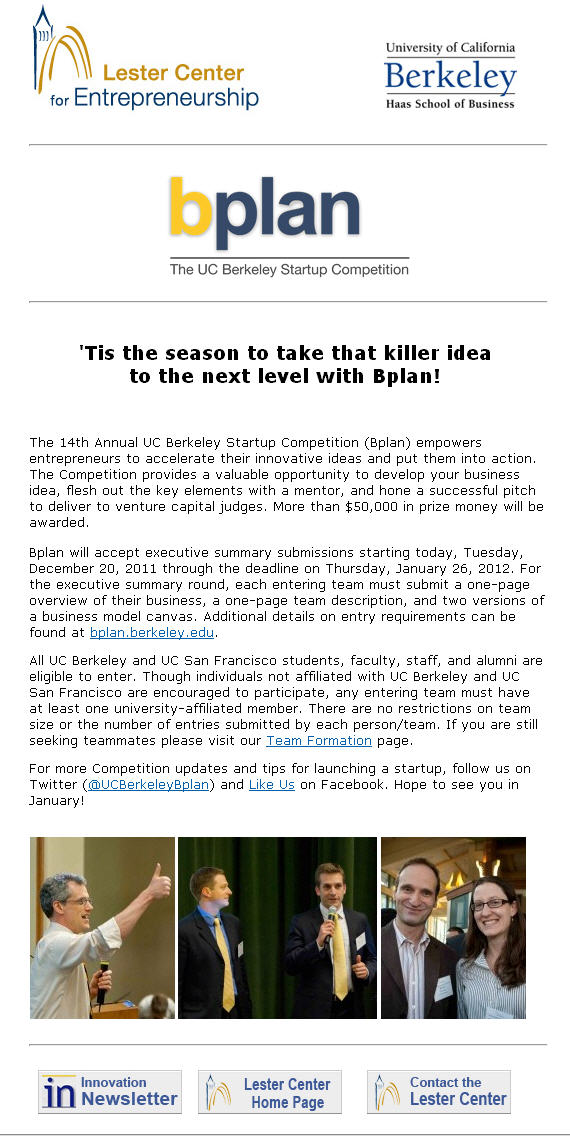 My friend Kelly Karns of  AutoTB is shown in the picture at the lower right of the email screen capture above. That's Andre Marquis, the Executive Director of The Lester Center for Entrepreneurship in the lower left. Marquis is shaking things up and making changes — I wrote to him October 5, 2011 suggesting the name of this event be changed to The Berkeley Startup Competition, and today I open my email and the name has been changed. My suggestion may not have been unique, so I am not trying to take all or even a majority of the credit for renaming the premier entrepreneurial competition at Berkeley. But I will take my earned share, however tiny or substantial that turns out to be.
I made the name change suggestion to take the focus off of writing business plans that few will read or pay attention to. Instead, I want the focus to be on creating viable startups that create jobs and change the world. Achieving this goal will require a lot more than a new name, and I hope to be invited to contribute more of my many ideas to help reach this goal.
I was a finalist in this event in 1999 and my success I trace directly to this competition. I am grateful that the rules allowed me to compete. I am grateful the rules still allow me to compete, should I want to start a new company.
I have donated USD $20,000 to the competition since 2000 — I am that grateful.
The Lester Center has extended to me many perks beyond what I technically 'paid for' with this $20,000, and I thank them for their extraordinary generosity. For example, I've recently concluded a dozen year stint on the Advisory Council of the Berkeley Entrepreneurs Forum. I paid nothing for this membership during this dozen years, despite the Council being a fund raising mechanism for the Lester Center. I enjoyed dozens of fascinating dinners during this period, and I made a lot of smart and interesting friends by my membership, including Jerry Engel, Brian Goncher, Robert Dellenbach, Laura Oliphant, Sam Angus and Tom Kintner and by association his brother Avery Kintner. I will miss these twice yearly dinners, which I never missed unless I was out of California.
I am talking with Marquis to expand and extend my assistance to the competition over the next 14 years. There is so much more I can do to help, and the future looks bright under the stewardship of Andre Marquis and the leadership of the student organizers, who have the responsibility to run and perpetuate the event.