Archive for the 'Laura Oliphant' tag
Please participate in the UC Berkeley Startup Competition, formerly known as the UC Berkeley Business Plan Competition. Here's the email notice I received this morning from the competition organizers. Since this link will eventually not work, I prepared a screen capture of the email and I show it below this paragraph.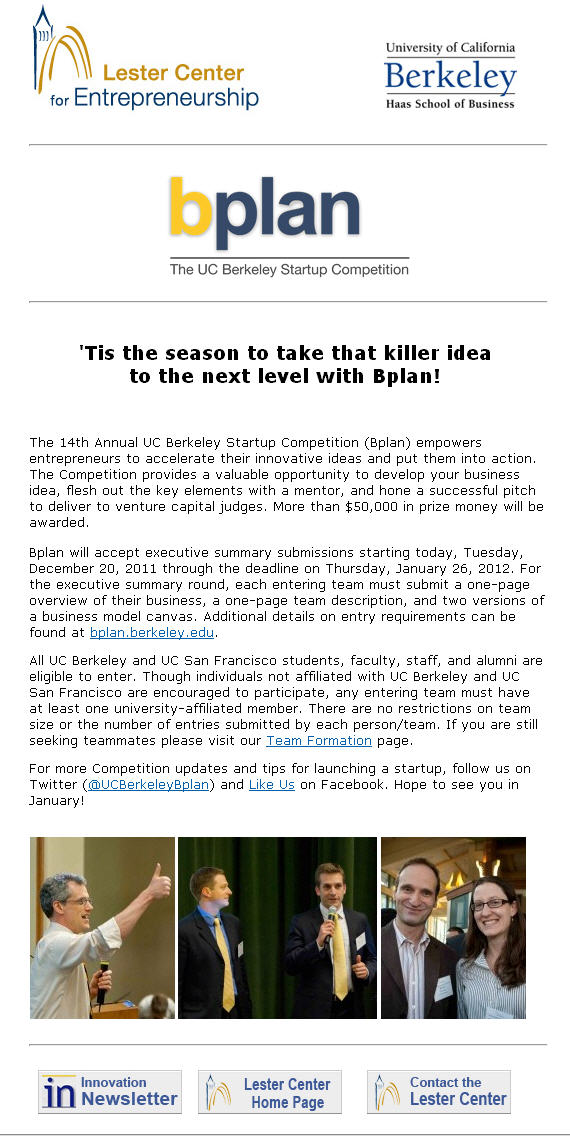 My friend Kelly Karns of  AutoTB is shown in the picture at the lower right of the email screen capture above. That's Andre Marquis, the Executive Director of The Lester Center for Entrepreneurship in the lower left. Marquis is shaking things up and making changes — I wrote to him October 5, 2011 suggesting the name of this event be changed to The Berkeley Startup Competition, and today I open my email and the name has been changed. My suggestion may not have been unique, so I am not trying to take all or even a majority of the credit for renaming the premier entrepreneurial competition at Berkeley. But I will take my earned share, however tiny or substantial that turns out to be.
I made the name change suggestion to take the focus off of writing business plans that few will read or pay attention to. Instead, I want the focus to be on creating viable startups that create jobs and change the world. Achieving this goal will require a lot more than a new name, and I hope to be invited to contribute more of my many ideas to help reach this goal.
I was a finalist in this event in 1999 and my success I trace directly to this competition. I am grateful that the rules allowed me to compete. I am grateful the rules still allow me to compete, should I want to start a new company.
I have donated USD $20,000 to the competition since 2000 — I am that grateful.
The Lester Center has extended to me many perks beyond what I technically 'paid for' with this $20,000, and I thank them for their extraordinary generosity. For example, I've recently concluded a dozen year stint on the Advisory Council of the Berkeley Entrepreneurs Forum. I paid nothing for this membership during this dozen years, despite the Council being a fund raising mechanism for the Lester Center. I enjoyed dozens of fascinating dinners during this period, and I made a lot of smart and interesting friends by my membership, including Jerry Engel, Brian Goncher, Robert Dellenbach, Laura Oliphant, Sam Angus and Tom Kintner and by association his brother Avery Kintner. I will miss these twice yearly dinners, which I never missed unless I was out of California.
I am talking with Marquis to expand and extend my assistance to the competition over the next 14 years. There is so much more I can do to help, and the future looks bright under the stewardship of Andre Marquis and the leadership of the student organizers, who have the responsibility to run and perpetuate the event.