Archive for the 'Intel Global Challenge' tag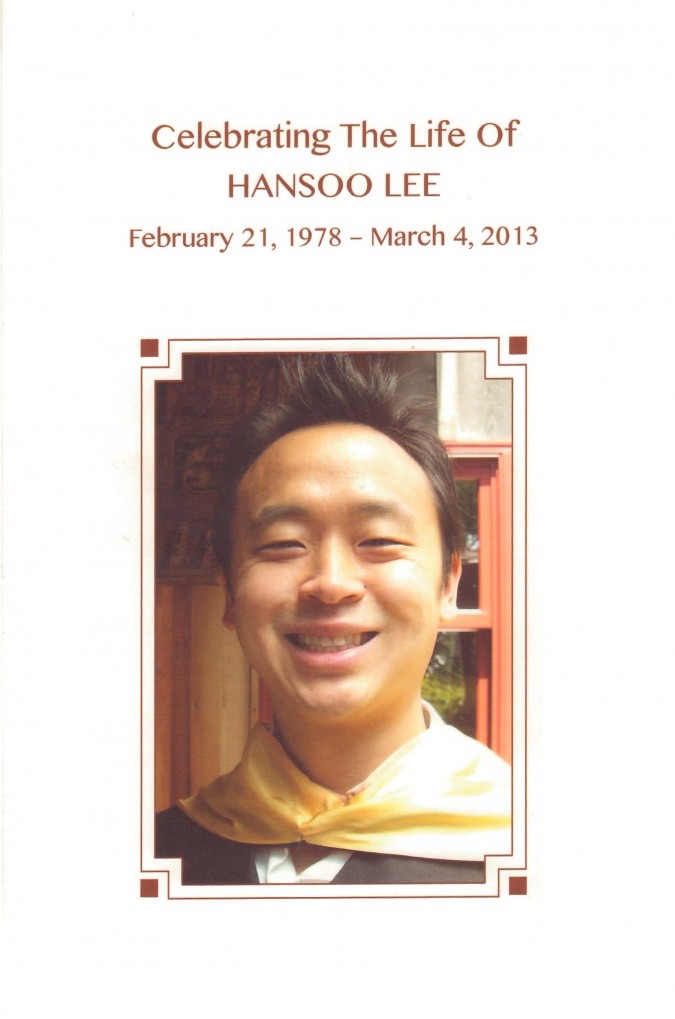 This afternoon, March 18, 2013, I attended the memorial service for Hansoo Lee. Lee died from lung cancer on March 4, 2013 at thirty five years of age. Lee was born February 21, 1978.
I didn't know Lee particularly well because we probably saw each other just a dozen times. Most of those times were at Cal Founders meetings at various venues in the San Francisco Bay Area. Cal Founders meetings are informal monthly gatherings where entrepreneurs discuss their business challenges. The big benefit to these meetings is the wide variety of advice that may be gleaned from the diverse attendees. I like to characterize the meetings as board of directors meetings where one may actually be completely frank about issues, with no worry that what you say may later be used against your company.
Since Cal Founders meetings are designed to encourage sharing of meaningful obstacles and opportunities, I feel like I learned quite a bit about Lee during these meetings. A person's character comes into focus rather quickly when you hear them give and receive advice.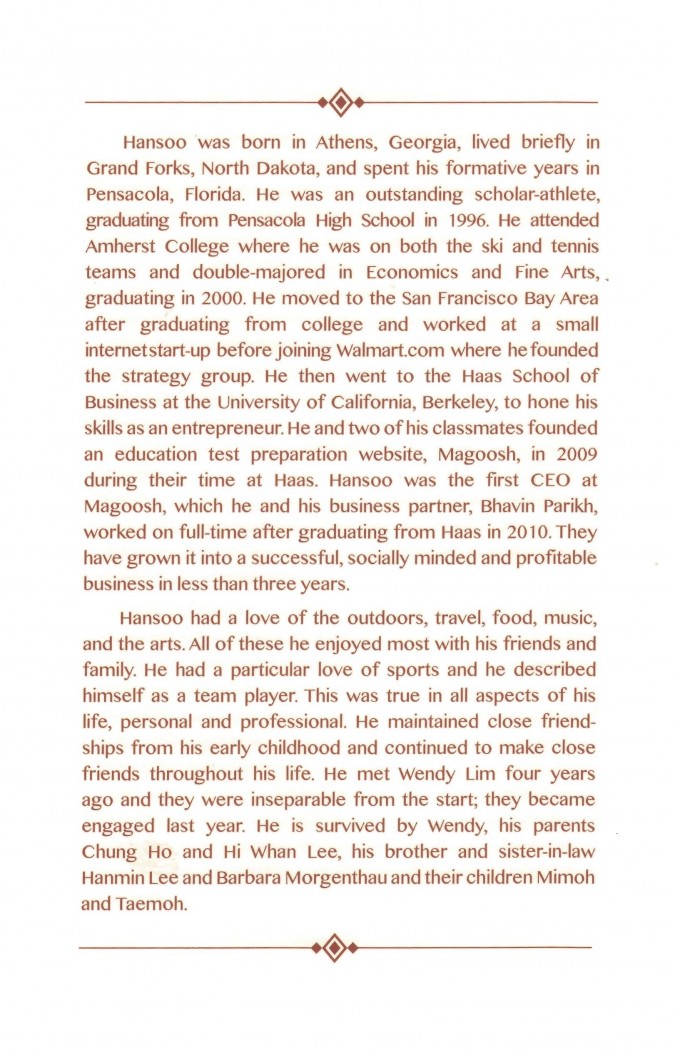 Lee was a standout at Cal Founders meetings, and for good reason. He was a smart, driven, accomplished and capable entrepreneur. Sadly, the majority of entrepreneurs I meet never deliver much in the way of results. Lee stood out because he actually delivered results. He was quick to cite statistics about growth, and he knew exactly how to bring customers to his business, and could specify exactly what results would come from specific steps. This kind of precision is less common than you might imagine.
I recall examples that demonstrate how impressive Lee was as an entrepreneur, but I won't share them with you, since Cal Founders meetings are by design confidential, to encourage open dialogue. I doubt Lee would mind my sharing some examples, given that they paint him in such a favorable light, but I am loath to break confidentiality even in light of the sad circumstance of his too early passing.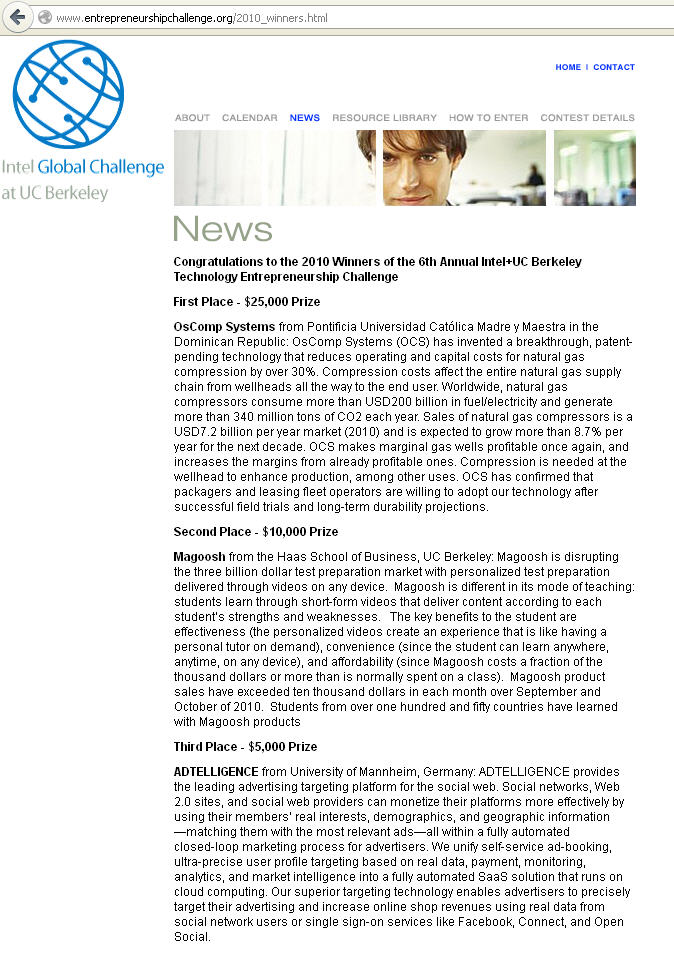 I remember seeing Hansoo Lee the evening his startup Magoosh won USD $10,000 in the 2010 Intel Global Challenge business competition. The Intel Global Challenge is a big deal, and it is very competitive because Intel invites competitors from all over the world to participate. I have watched the finals awards ceremony for years and I conclude the competition is more competitive than the Berkeley Startup Competition, which itself is quite competitive.
I am comfortable sharing some of what I learned this afternoon in a public memorial open to all at the beautiful Golden Gate Club inside The Presidio. Part of the Golden Gate National Recreation Area, The Presidio used to be a United States military base before it was vacated and turned over to visitors to and residents of San Francisco to enjoy.
The Golden Gate Club overlooks the San Francisco Bay through giant windows perhaps two stories tall. These windows showcase the Bay is if it is a work of fine art in a museum.
Here's Lee's biography from the program handed out today at the memorial:
"Hansoo was born in Athens, Georgia [USA], lived briefly in Grand Forks, North Dakota, and spent his formative years in Pensacola, Florida. He was an outstanding scholar-athlete, graduating from Pensacola High School in 1996. He attended Amherst College where he was on both the ski and tennis teams and double-majored in Economics and Fine Arts, graduating in 2000. He moved to the San Francisco Bay Area after graduating from college and worked at a small internet startup before joining Walmart.com where he founded the strategy group. He then went to the Haas School of Business at the University of California, Berkeley, to hone his skills as an entrepreneur. He and two of his classmates founded an education test preparation website, Magoosh, in 2009 during their time at Haas. Hansoo was the first CEO at Magoosh, which he and his business partner, Bhavin Parikh, worked on full-time after graduating from Haas in 2010. They have grown it into a successful, socially minded and profitable business in less than three years.
Hansoo had a love of the outdoors, travel, food, music, and the arts. All of these he enjoyed most with his friends and family. He had a particular love of sports and he described himself as a team player. This was true in all aspects of his life, personal and professional. He maintained close friendships from his early childhood and continued to make close friends throughout his his life. He met Wendy Lim four years ago and they were inseparable from the start; they became engaged last year. He is survived by Wendy, his parents Chung Ho and Hi Whan Lee, his brother and sister-in-law Hanmin Lee and Barbara Morgenthau and their beautiful children Mimoh and Taemoh."
There were over two hundred people at Lee's memorial.
I was impressed with how many people boarded aircraft to attend. The majority of the members from his class that belonged to his fraternity at Amherst were there, and two of them spoke at the podium sharing their memories of Lee. I learned that Amherst had banned fraternities, so fraternities were tiny and presumably somewhat hidden. As a result, when I write 'majority' I mean three fraternity brothers out of a total of five in Lee's class attended Lee's memorial. Counting Lee, four fifths of the entire class was represented. That I believe is a testament to Lee's good spirit. Remember, Lee graduated from Amherst a dozen years ago.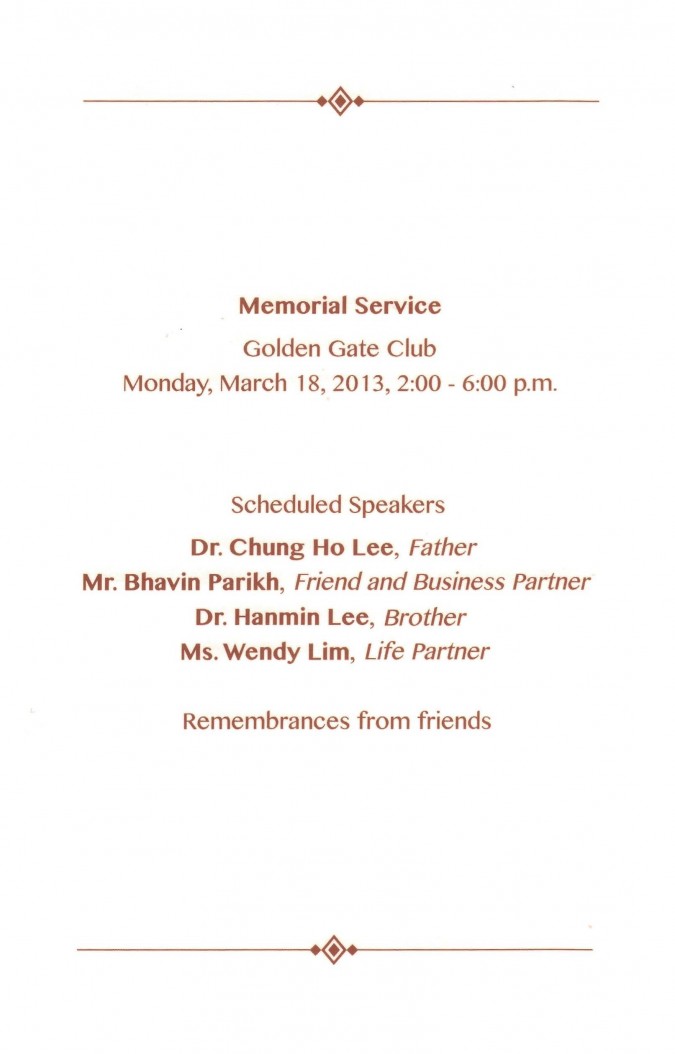 About two dozen of Lee's friends walked to the microphone and shared their memories.
Two of his friends met Lee in the first grade. One of those friends entertained us by explaining Lee's love for business even as an eight year old. Lee was a pro at profitably buying and selling baseball cards. He studied baseball and developed the rare ability to identify future star players while they were still rookies in their careers. This skill allowed Lee to buy the correct rookie cards while they were still low cost, and then sell them years later when the players became stars. I learned Lee joked that he planned to pay for college with his card trading empire begun as a child.
I learned about Lee's first skiing trip as part of a high school engineering club he belonged to, and how his enthusiasm for skiing caused him to wear out a pair of ski pants in just a night of tumbling on a slope covered with inadequate snow and uninvited mud.
Lee's fiancée, Wendy Lim, delivered the most emotionally moving remarks.
I cried.
Wendy Lim is really impressive.
Lim described herself as Lee's opposite, but pointed out how well they each complimented the other.
Wendy Lim described Lee as the love of her life, and told us she had never before known love like that which she shared with Lee. It's so sad Lee was taken from her so early after her lifelong search to locate him.
I introduced myself to Lim and expressed how sorry I am for her loss.
I also had the privilege of expressing the same sentiments to Dr. Chung Ho Lee, Hansoo's father, Hi Whan Lee, Hansoo's mother, and Dr. Hanmin Lee, Hansoo's brother.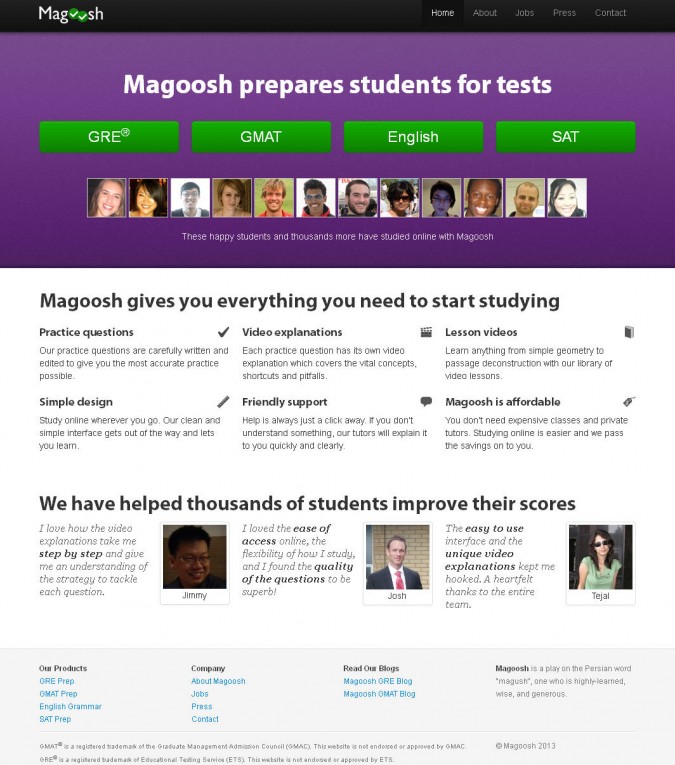 The Hansoo Lee Fellowship has been established at the Haas School of Business at University of California Berkeley. Lee started full time work on his startup Magoosh during the summer break between his first and second year at business school. This concerted several month effort I suspect really accelerated the progress at the company. The idea for the Fellowship is to help other student teams pursue their dreams during that pivotal summer break. The fellowship will provide a cash stipend, office space and advice from mentors to one lucky team each summer. If you are able and would like to give money to fund the Hansoo Lee Fellowship, please do so by following this link to the official UC Berkeley donation page for this fellowship.
Farewell Hansoo Lee. I am glad that I got to know you a bit during your exceptional life.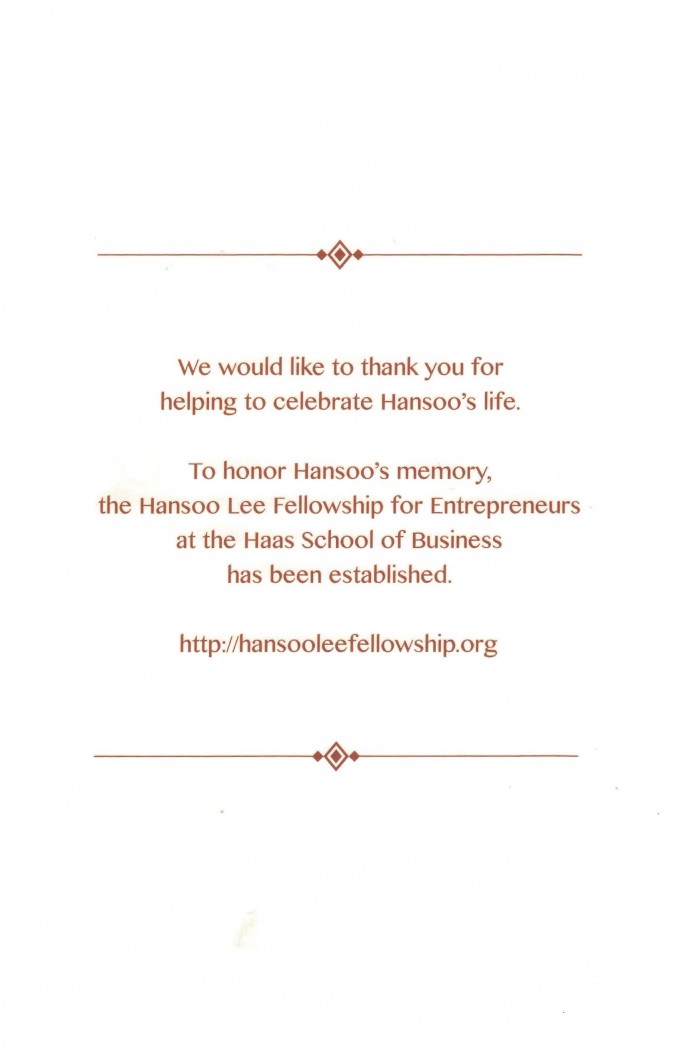 Yesterday afternoon, Wednesday, October 3, 2012, I attended the Dean's Speaker Series at the Haas School of Business at the University of California Berkeley, in Berkeley, California USA.
Dean Richard Lyons interviewed Paul Otellini, the Chief Executive Officer of Intel Corporation. The question and answer session was held in the Anderson Auditorium, a venue I am very familiar with because it's the same hall where the Berkeley Entrepreneurs Forum is usually held. I have attended the Forums for 20 years.
The interview was captured by a professional videographer, and the video will be soon made public on the Haas website page for the Speaker Series.
I have highlighted my favorite parts of Otellini's remarks in my comments that follow.
Otellini completed his undergraduate studies at University of San Francisco, and received his Master of Business Administration from the Haas School of Business, though at the time it was named the Berkeley Business School. Otellini got a job at Intel in 1974 with his freshly minted MBA degree. Even though Otellini was a finance specialist, his first job at Intel was to program a Digital Equipment Corporation PDP-10 minicomputer to perform cost analysis. This must have been an intense introduction to Intel for an MBA because mini-computers were not easy to program. I programmed a Digital Equipment Corporation VAX minicomputer in 1990, and it was difficult then, so I can only imagine how much more pesky and complicated it was to work 16 years earlier on the ancestor to the VAX.
When Otellini became CEO in 2005 he assessed that Intel was not organized correctly for where he saw the market heading. At the time, Intel had 105,000 employees. Otellini eliminated 25,000 jobs. The company is today back up to 103,000 employees. His advisers in 2005 were asking why he wanted to go into 'the phone business' when Intel was making money hand over fist at the time. Otelllini said he had many sleepless nights when he was contemplating letting 25,000 people go. He said he will never feel good about that, but he is grateful that he made the change well before the world financial collapse of 2008, so all the people let go were able to find jobs quickly.
I was surprised to learn that Intel is the world's 4th largest software company in the world based on the number of computer programmers that it employs.
Otellini advised to get work experience in different geographic locations prior to starting a family.
Otellini said its chips are manufactured in three dimensions, which was forced upon it by the laws of physics, which prevented circuits from being made much smaller. To keep making more capable chips, transistors had to be stacked as well as placed side by side. This technology took Intel 10 years to perfect, with thousands of PhD holders working on the effort.
I wonder if they considered adding a 'Now in 3D!' tagline to their famous 'Intel Inside' stickers.
Otellini emphasized the high risks inherent in running Intel.
To illustrate, when Intel breaks ground on a new chip fabricating factory:
the technology hasn't been developed yet
the products haven't been designed yet
the markets for the products don't exist yet
These factories take 3 1/2 years to build and cost USD $5,500,000,000 each, and Intel starts construction on two or three of these per year.
That sounds like a great definition of high risk to me.
Intel makes hardware reference designs that it provides to its customers so that they can get products to market more rapidly. Otellini said personal computer makers don't spend that much on industrial design, so they like and need Intel to provide these turn key designs they can modify to make them unique.
Otellini had a mentor at Berkeley while he was a student in the early 1970s. That mentor worked at Bank of America, and tried to get Otellini to join that bank. Several years after Otellini had joined Intel, his mentor confided that Otellini had chosen the right company.
Intel has put in place a system where they can identify the source of so-called conflict minerals. They can also track them, and Otellini said that Intel is likely to be able to say by January 2013 that Intel has built the world's first 'conflict mineral free microprocessor'.
Otellini said he had spoken in the morning with Robert Hormats, Under Secretary for Economic, Energy and Agricultural Affairs at the Department of State, who he said is very interested in [removing] conflict minerals from products. The Department of State, according to Otellini, wants to make Intel's conflict mineral tracking system a so-called 'best known method' for the [semiconductor] industry.
Otellini said it recycles the chemicals used in its plants, and plans to recycle the water it uses to such a complete degree that its factories will be able to reuse the water they consume over and over, without needing to return it to the underground aquifers, like they do today.
Otellini spoke about manufacturing competitiveness generally in the United States, something he is qualified to speak about because he advises United States President Barack Obama about competitiveness.
He said many of the motivating factors that have led to outsourcing are disappearing. He said that it costs more for Intel to hire 1st and 2nd level technical managers in China now than it does in Santa Clara, California USA. For engineers with 3 or 4 years of experience, the costs to hire them are now the same in the US as they are in China and India.
Otellini said that the United States could improve its position by lowering its corporate tax rate [to a level consistent with the rate in competitive economies]. He suggested the US streamline its permitting procedures for building new factories. He suggested that job training be improved to provide a skilled workforce to work in the new factories. He pointed out that currency and political risks are low in the US, and stated there is no risk of a company's factory being expropriated by the US government. In other countries, governments sometimes do take over privately owned factories.
There were some famous guests in the audience.
Perhaps the most famous attendee was Arthur Gensler, the founder of M. Arthur Gensler Jr. & Associates, Inc. but commonly referred to as simply Gensler. I have been aware of this global architecture, planning, design and consulting firm since I was 23 years old at my first job out of college, at Newell Color Laboratory at 630 Third Street in San Francisco, California USA, since closed. Gensler was an important client. I suspect Gensler may be helping to design the new building Dean Lyons is being planned for the Haas School of Business campus.
After the interview, Lyons pointed out Mr. Gensler to me — without his helpful comment, I would not have been able to write this acknowledgment of his visit. Gensler is a big deal — they employ 3,500 people in 42 locations. They count all 10 of the Fortune 500 top 10 companies as clients.
Perhaps the second most famous attendee was Oliver Williamson. Williamson is Professor Emeritus at the Haas School of Business. In 2009 Williamson won the Nobel Prize for Economics. I saw Williamson speak in 2009 at the Haas Gala, the annual party the school throws each November. I blogged about that gala and wrote about Williamson, who spoke at the event. I took a picture of Williamson shaking hands with Otellini, shown here.
This last photograph of Mr. Otellini with Berkeley undergrad student Tammie Chen has an interesting story behind it.
I met Chen when she was an organizer for the 2011 Made for China Startup Pitch Competition. I was a judge for that competition. After that event, we became friends on Facebook, and she posted that she was going to be attending the Dean's Speaker Series that is the subject of this blog post. I commented that I would be there as well, blogging. She asked me if I could take a picture of her with Otellini. I said I would. I walked up to him and asked him if I could introduce Chen to him and take a picture of him with her, and he readily agreed. They had a nice chat for a minute, and then they posed for this picture. Chen is a huge fan of Intel, and has visited their headquarters. She has a lot of friends that work at Intel.
I was surprised that no students approached Otellini to introduce themselves. This is the same behavior I saw at my first Dean's Speaker Series event, in September 2012, when Lyons interviewed Randall Stephenson, the CEO of AT&T. There were students standing about 10 feet away from Otellini, in a large circle, but not a single student walked into the empty space to say hello. That made it easy for me to say hello to Mr. Otellini, who I have met and spoken with before, in 2008, at the Intel Capital CEO Summit [renamed the Intel Capital Global Summit] in San Francisco.
I like Intel. Their venture capital division Intel Capital was very nice to my company Silveroffice, Inc. by making it an Intel Capital Portfolio Company. Intel Capital invites me as their guest to Intel's annual Intel Developer Forum, at which I get a new Intel Developer Forum branded laptop bag or backpack, which I use every time I leave my home with my Intel powered laptop. I hope to be appointed a judge for the Intel Global Challenge, a role I would be great at since I was a judge for the Berkeley Startup Competition for eight years through 2011. My application is pending, so please wish me luck! I love judging startup competitions, and so far I have judged four different competitions at University of California Berkeley.
I took all the photographs in this post. I used a Canon 5D Mark II camera with a Canon 80-200mm f:2.8 L zoom lens. Click on the images twice in delayed succession to see the images at full size. I uploaded the images at their full 21 megapixel resolution, at a JPG quality of 12. The light level was comparatively low, so I shot at ISO 2,500, without flash.
Thank you to Meg Fellner of the Dean's Office for getting me a ticket to this sold out event.