Archive for the 'Startups' Category
I retired at age 36 on August 31, 2000.
Sadly, I wasted most of my time between September 1, 2000 and January 7, 2015. I bought a ridiculously oversized recreational vehicle and drove it across the United States. I squandered thousands on fancy hotels in expensive world cities. I started a second Internet company that failed due to not paying attention sufficiently to what the market called for. I had a handful of unsuccessful romantic relationships, including a fireworks filled marriage that deserves its own book. I photographed thousands of interesting people, including hundreds of models. I started this blog. I was a busy airbnb host to over 1,000 guests in the span of a year.
But as exciting as this may sound, I was coasting along doing next to nothing for over fourteen years… The software company I sold August 31st, 2000 has been shut down. The motorhome is gone. I left my girlfriends and divorced my wife. I've lost touch with most everyone that I have photographed, and my house guests have checked out.
For the first time in ages, my house is empty of all roommates, airbnb guests and couch surfers, my schedule is clear, my mind is fresh and well functioning, my spirit is recharged and vibrant, and my desire to do something important for the world has returned.
I considered starting a third software company. The thinking goes that software companies can have high profitability and can sell for very high to infinite multiples of sales.
My first software company lost money like crazy but still sold for greater than 500 times annual sales. This kind of math is easiest to achieve with pure software companies.
But the price to be paid for these potential rewards is that it's quite possible to build a software company with no profits, big losses and no sale at the end. That's what happened to my second software company.
I just don't have it in me to take that kind of personal risk a third time.
Even in the happy event of a big sale of the company, there is then a huge risk that the acquiring company will shut down the company soon after, or shut down the product even if the company's staff is redirected elsewhere. So it's just shockingly risky for me to try to create lasting benefit to the world by creating a software company. Add to the risk that I have forgotten a lot of what I used to know, and that software has been changing at a tremendous rate, so even if I decided to start another software company, I would have a multiple year learning curve to get current with modern software development tools.
So that means I have had to consider other types of businesses to start. I haven't worked for anyone other than myself or companies I have started since 1994, and I am a rather unappealing employee, so I am not looking for a job, and I don't want a job… even at Google or Facebook, where people are currently clamoring to work.
People are often advised to pursue what they are passionate about, even if that passion does not pay as much as other pursuits.
I am most passionate about doing something that will genuinely help other people for a long time. I want to be helpful to the world, and I want my life to matter. So far I have been a drain on the world, not an asset. This is simply the truth, looking at my life objectively. That company I sold lost millions of dollars for my investors. Then that company lost millions of dollars for the company that acquired it. I am the only person in the world that made any substantial money on the company, but that money was at the expense of others that lost money. This is like making money in currency exchange markets. You win only if others lose.
My balance of accounts is deeply in the negative over my life. Even my parents lost money, for they paid for my overpriced college degree from a small private college, and I never used that education to earn money once I graduated.
So my next phase of life will be devoted to repaying my multimillion dollar debt to the world, so that by the time I die my balance of accounts will be in solid positive territory.
Yes, I am being a bit hard on myself. All of these money losing transactions were arms length and fair deals at the time, and I have nothing to be guilty about.
Thankfully, I am debt free, other than mortgage debt at 3% interest for an amount that is a minority of my tangible net worth. And thankfully, I have the love and support of a wonderful family and many smart friends.
There was one benefit to the the last 15 years. I did learn what not to do again. I did become more wise. I did get to enjoy a retirement while I was in perfect health. I am grateful for these treasures.
I am coming out of retirement this month, January, 2015. I will tell you about my new company in this space, as time permits, and as I have interesting news to report.
Love,
Kevin Warnock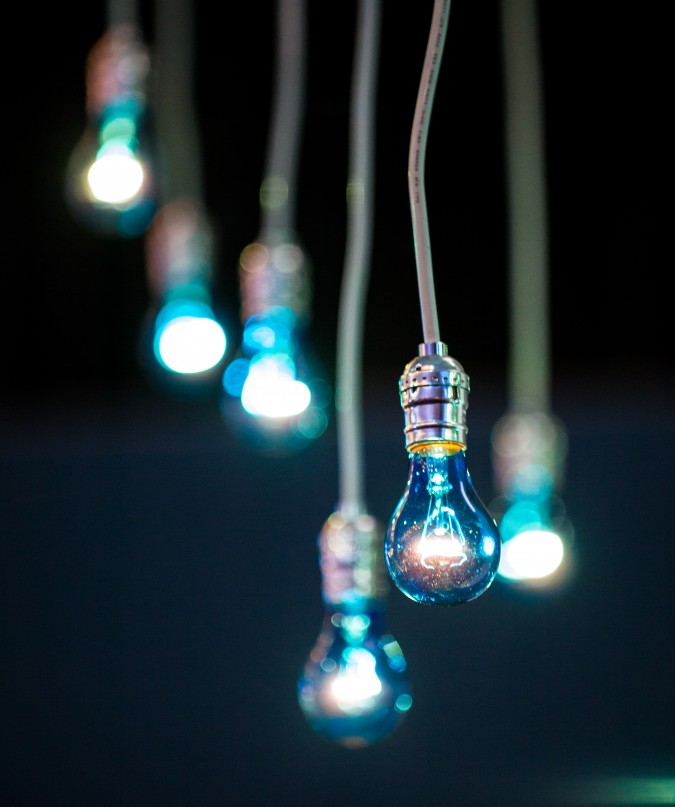 On Sunday afternoon, November 2, 2014, I had the pleasure of attending the first annual Intel Make it Wearable to identify exciting technology companies making or proposing to make computers that one wears rather than carries or is stationary.
Make it Wearable is an ambitious new competition, and it's the most polished and exciting competition I have attended. That's saying something as I have attended dozens of competitions over the years.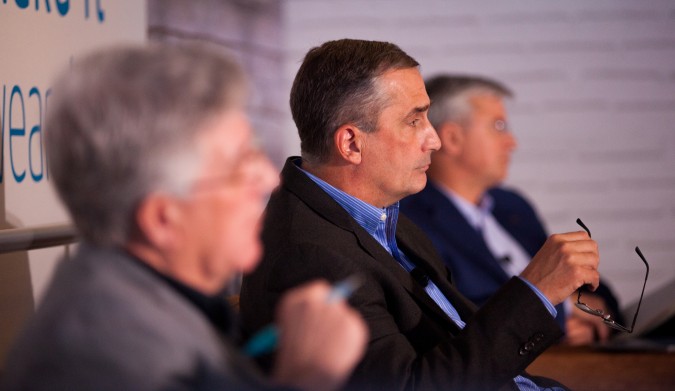 The ten finalists come from China, Chile, the United Kingdom, Germany and the United States. The ideas were wonderfully diverse as you'll soon learn which helped to keep the event lively and full of surprises. Sex appeal for business competitions is desirable because it helps attract the press and future competitors. I saw reporters from Yahoo and CNet at the event, and even reporters from the Middle East.
Before I jump into the companies, allow me to talk about the event venue, the W Hotel across the street from the Moscone Convention Center in San Francisco, California USA. This was a great choice. The W is very fashionable. It's not dull and boring like so many big hotels. Intel didn't just go with a standard W event room though. A designer outfitted the rooms with custom wall textiles that resembled old barn wood and white painted bricks. This theme carried through to the custom printed name tags. There were light sculptures that featured dozens of clear globed incandescent light bulbs dimmed enough you could see the glowing filaments without squinting. These bulbs were dangling down on wires, and the idea was to reference the light bulb over the head to bring up the idea of a fresh new idea being thought up.
There was a disc jockey ever present in the two rooms, though one used her RFID embedded fake fingernails to manipulate a musical track by dipping her fingers in a shallow clear box of water. She got a lot of attention for this, and it was mesmerizing to watch. I learned this was her first gig playing music by playing with water.
The rooms were packed, and the crowd was surprisingly stylish and hip… far, far more hip than the crowds at the business competitions I have attended on college campuses. The only negative is that the event was not open to the public, a big change from previous Intel business competitions I have attended for years in Berkeley, California. I suspect the reason is that this first year was an experiment for Intel, and they wanted to test things out before widening the audience base. I was invited by Intel, a company that has been very kind to me over the years. My last Internet startup was an Intel Capital portfolio company.
My favorite company is Pro Glove, out of Germany. This team won third place and USD $100,000 in the competition.
Pro Glove makes solutions to improve the accuracy and speed of production factory workers. The company says there are 200 million such workers in the world.
The company sells gloves, sensors and software to process the data returned by the globe embedded sensors. Factories apparently for the first time can see exactly what workers are doing with their hands. If a worker skips a production step, the software can spot the mistake and flash a light on the glove to warn the worker to go back and complete the step. The glove analytics software can even tell where the worker is standing in the factory, so if they are walking around needlessly to fetch tools, the manager can spot that an perhaps move the tools closer to the worker to save walking time.
Pro Glove said that for BMW, each second saved on a repetitive task making a car translates into USD $7,500 per year savings for BMW, so having analytics about hand movements of production workers strikes me as a must have. Pro Glove cited various return on investment periods for their different use scenarios. Sometimes the system is predicted to pay for itself in a year, and sometimes in just there months.
I can see Pro Glove gloves being a must have in leading edge factories, and I can see room for lots of follow on products that will have high margin, particularly for the software designed to analyze the glove data. I think a large and enduring business can be built, and that is why I give this team my highest vote.
My second favorite team is Open Bionics, out of the United Kingdom. This team won second place in the competition.
Open Bionics proposes to make low cost three dimensionally printed bionic hands for children. The team proposes a price of just USD $2,000, which apparently is shockingly low compared to current bionic hands, which they said can cost up to $100,000 each.
The Open Bionic model is not as durable or as functional as the models costing 50 times more, but the low cost allows families to fit their handless children with a bionic hand multiple times as needed as they grow up. Apparently insurance won't pay for a new $100,000 bionic hand each year for a growing child, so handless kids just grow up without handless until they stop growing and can get a fully featured metal bionic hand. Open Bionics was not specific about how current costly models are paid for and how often they are replaced, thus I am reading between the lines a bit here in this paragraph.
The Open Bionic team proposes to keep the cost low by not having patients meet with any medical professionals. Instead, the company will send an Apple iPad brand computer tablet with a 3D scanning attachment to the patient by postal mail. The customer will scan their own arm stump and return the iPad to the company. The company then prints out and assembles a hand that will fit the exact stump dimensions of the patient, and the hand will just show up at the customer's home by common carrier, to be self installed by the customer.
The hands don't have  a wrist joint, but they can open and close by the wearer just thinking the same thoughts handed people think when they want to open or close their fist. There are electrode sensors that are taped to the forearm of the wearer, and the Open Bionic team had the electrodes on his own arm, and could make the bionic hand open and close just by his thoughts controlling his forearm muscles. It was an impressive demo.
I got to play with one of the bionic hands, and I could feel the hand squeezing my hand when activated by a push button 'demo' switch.
Open Bionics has the opportunity to dramatically improve the life of handless children. The price proposed frankly seems too low to keep the company afloat, so I worry about their viability. But the price can be adjusted, and since the team won USD $200,000 in this competition, they have some breathing room to figure out both their technology and the business.
My third favorite team is Nixie. This team won the grand prize in the competition — USD $500,000.
Nixie had the most eye popping video demonstration of their product.
Nixie proposes making a tiny drone helicopter that contains a still and video camera. The drone can fold up and wrap around a person's wrist. With the flick of the wrist, the drone can be unfolded and then can start up and take flight away from the wearer. Once at a suitable elevation and distance, the camera can face the use and take a picture or start recording. Once done, the drone will fly back to the user and turn off.
Nixie sees itself as a competitor to Go Pro and similar action cameras. Eventually Nixie says they want to compete with normal point and shoot digital cameras.
I held a prototype Nixie drone in my hand, and it is cute. However, it looks impossibly fragile and totally unsuited to wearing while rock climbing, the stated first market Nixie envisions. I can see the drone simply falling off the wrist and falling on someones head below.
But I am happy Nixie won first place in this competition. The idea I think will wow many observers, and it will help brand the competition as one where really cool consumer products can be born and launched. That's good for Intel and good for the competition.
But I think Nixie won by making the drone wearable as a way to be eligible to compete in this competition. In the absence of the competition, I think the product would have taken a different form. If I were rock climbing, I would want the drone in a protected case that I could easily open and access when the time was right for taking pictures.
Nixie is likely to be costly to start. I can see it costing USD $1,000 to early rock climbing adopters. I think they will find customers even at this price.
I don't think there are strings attached to the Intel half million dollar prize, so I think that Nixie is welcome to ditch the wearable aspect in favor of practicality. I encourage them to go that route, even though it may secretly irritate Intel.
I admire Nixie for getting a non dilutive $500K to pursue their photography drone. This kind of thinking is the hallmark of successful entrepreneurs — tailoring an offering for the market at hand. Intel was the customer, and Nixie gave Intel a product it asked for. And Intel will be proud of Nixie even if they just become a successful photography drone company.
I can also imagine ways to make a Nixie both wearable and very unlikely to get damaged during arduous climbing. Just put it into a head mounted hard case inside a custom helmet. When the time comes, the helmet wearer could command the helmet to open and for the drone to take off from there. This could even be voice activated via a helmet mounted microphone.
Sadly, I don't have time right now to finish this post. My grandmother is turning 103 years old December 12, 2014, and I have a project I have to finish by then as I promised her I would take it to show her. I have already spent three days on this Make it Wearable competition, and I need to get back to my regular life. I have a lot more pictures to post, and I want to tell you about the seven other companies, which also are very interesting.
I am writing this piece with a heavy heart.
Priya Haji passed away July 14, 2014 at the young age of 44. She leaves behind a daughter under a year old and a son that is 2 and a half. Here are some news stories of her death: re/code, TechCrunch, Site Pro News, Palo Alto Online, The Non Profit Times. Here is the official memorial page for Haji. A celebration of Haji's life will take place tomorrow, Saturday, July 19, 2014 at the Anderson Auditorium at the Berkeley-Haas School of Business at the University of California Berkeley, in Berkeley, California USA. Here is the Facebook page for the celebration.
I met Haji in 2005.
My Internet startup at the time was housed in the basement of the Bancroft Hotel in Berkeley, California USA. This basement was home to about six tiny startup companies at the time.
One day David Charron, at the time the Associate Director of the Lester Center for Entrepreneurship & Innovation, brought by Haji and her business partner Siddharth Sangvi and assigned them to the cubicle on the other side of the partition to my right as I was seated at my laptop.
Sangvi and Haji were starting their company called World of Good in order to lift from poverty poor women that lived in the developing world.
When I met this dynamic pair, they had yet to sell anything to anyone, and yet Haji was already talking about building the brand 'World of Good' even though she didn't have any customers and didn't have the Internet domain address worldofgood.com. It seemed to me at the time that they were jumping the gun a bit to be talking about branding before they had anything to sell or any customers.
But Haji was emphatic she would build World of Good into a recognizable brand that would extend beyond the tags attached to each item.
I soon observed Sangvi and Haji develop into entrepreneurial stars.
Haji had laid the groundwork for her new venture by traveling for six months through multiple emerging countries, where she met with women that would make the products her new venture would eventually sell.
The basement of the Bancroft hotel (at 2680 Bancroft Way Berkeley, California 94704 USA) was subdivided into cubicles. There were no private offices. There was a windowless conference room that could fit ten people.
A later stage company, Iris A/O, occupied a third of the space. For that privilege, they paid rent to the hotel directly. All the other companies paid nothing thanks to the generosity of The Lester Center for Entrepreneurship & Innovation, at the time led by the Founding Executive Director Jerry Engel. The center is now known as The Lester Center for Entrepreneurship.
Since there was no warehouse space, the World of Good pair modified the broom closet to be their first 'warehouse.'
I was there at this magic moment, since this closet was an arms reach from my desk. Sangvi just installed a padlock hasp to the door and frame, and the entire inventory of the company lived in this perhaps 6 square foot space for the first couple of months after Haji and Sangvi moved in to this makeshift startup incubator, officially called the Berkeley Entrepreneurship Laboratory. This space has since closed and been replaced by the shockingly upscale Berkeley Skydeck Accelerator that fills the penthouse of the tallest building in Berkeley.
Haji wisely chose to focus on physical retail sales to start, rather than Internet or online sales.
World of Good was founded on the principle of fair trade where the workers that actually made the products were paid a living wage for their country. This is in contrast to most businesses, where workers are paid as little as possible to maximize the profits for the stakeholders in the business.
What Haji recognized early is that fair wages mean products that are premium priced. She and Sangvi did not have the money to open their own upscale retail store or chain of stores, so Haji used her prodigious powers of persuasion to convince Whole Foods Market, an upscale organic grocery store chain in the United States, to allow World of Good to place their products inside Whole Foods stores.
Haji was intent on establishing World of Good as an identifiable consumer brand. She and Sangvi created an adorable kiosk from Ikea brand unpainted wood bookshelf units. Sangvi used an existing rather unknown decorative computer font to write out the World of Good company name, and the resulting charming logo endured I believe unchanged for years until the brand was eventually discontinued well after the company was sold.
By this time, I estimate World of Good had purchased fifty different gift items from women in countries such as India, Chile and Pakestan. The items included such impulse purchase items such as jewelry, coin purses, scarves and purses. Assembled together, the first kiosk was lush and inviting. It took up about two square feet of floor space, as these Ikea bookcases were perhaps the smallest and cutest they offered at the time.
I recall hearing reports from Haji that the products started flying off the shelves once the first kiosk was placed in the Berkeley Whole Foods. Over time, the metric that stuck in my head was that World of Good was selling $5,000 per square foot per year from its World of Good kiosks in Whole Foods stores, but Whole Foods itself only managed to sell $1,000 per year per square foot. So World of Good's products were outperforming Whole Food's traditional offerings by a giant multiple.
Whole Foods was naturally ecstatic, and eventually World of Good installed kiosks in hundreds of Whole Foods stores, including in Fort Collins, Colorado, where my brother Andrew Warnock and his family live.
I liked Priya Haji a lot, and we became good friends.
She had a drive beyond most entrepreneurs I meet. She was bold. She was fearless.
I heard almost everything Haji said during the hours we were both present during the year plus that we shared office space. She was just over the five foot tall cubicle wall, and there was no sound isolation, so I heard every call she made. Haji made a lot of phone calls.
She decided she wanted help from the World Bank, and she contacted this huge International organization and actually was able to speak with the President, though not on the first attempt of course.
Haji wanted to ensure that World of Good would continue indefinitely to help the poor women she cherished and admired. She planned for her own exit from the company, and knew that future leaders of her venture could curtail her economic generosity. So she attempted to structure things so they could not be unwound after her exit. Sounds impossible you say?
What she did was set up two companies — World of Good, Inc., which was a for-profit so-called C corporation, and World of Good Development Organization, which was a non-profit so-called 501(c)3 corporation. She arranged ownership so that the non-profit owned 10% of the stock in the for profit company. This way, even if the for profit company were acquired, the non profit would have a significant equity stake that could not be voted away or taken away.
The non-profit World of Good Development Organization funded projects such as helping to build schools in developing nations. The organization's marque good deed was to create the Fair Wage Calculator, a website where workers could learn about fair wages and better appreciate their fairness even though currency translations make such comparisons problematic, particularly in the developing world where there are so many currencies that may not be as easily valued as the world's major currencies. Here's an article that suggests the World of Good calculator is now maintained by Fair Trade USA and Good World Solutions. I recall Haji saying the calculator found a new home, but I can't recall who she said took over the project.
Haji was proud to tell people that her pair of Good companies was the first such pairing of a United States for profit and non profit company. She was proud to have thought to do this, and was happy others have gone on to set up the same structure for their ventures.
I remember Haji showing me the thick binder of documents she kept on her desk that represented her efforts to establish this unusual structure.
This structure had practical value, even in the early days when there were low sales and presumably no profits.
World of Good planned Internet sales after establishing itself with retail sales, but World of Good did not own the coveted matching domain name worldofgood.com.
Someone else owned that domain, but was not using it for a website. This owner wanted USD $10,000 for it. That was more money than the entire capitalization of the company at the time, I suspect, since they started operations well before raising any money.
But non-profit companies can accept donations, and such donations are tax deductible to the donors. So Haji arranged for the owner of worldofgood.com to donate the desirable domain name to the non-profit. The seller got a valuable tax deduction, worth real money, and the for-profit company got to use the domain name for its for profit activities. I don't know the details of how this was accomplished, but it probably involved the non-profit renting the domain to the for profit, which, if true, would have had the lovely side effect of getting money into the non-profit to use for the philanthropic activities that entity was set up to accomplish.
Getting the worldofgood.com domain name without spending a dime of cash was pretty clever, and is illustrative of Haji's creative thinking.
As far as I know, World of Good didn't even have a lawyer through all of this company formation and domain name acquisition, because one day at lunch at Freehouse Berkeley next door to the entrepreneurship lab, Haji asked me for an attorney recommendation. I recommended my attorney, Eric Jensen. I met Jensen while he was a summer associate at the law firm Cooley, LLP. We have been friends ever since, and Jensen represented World of Good and later SaveUp, Haji's next company after she sold World of Good.
Haji and I didn't talk much during the work day, since we were both very busy with our ventures. But we would talk on the phone nearly every night of the week for over an hour, usually late at night around or after midnight.
Haji started including me in her family events, and I was so privileged to get to know her extended family, including her uncle, Arjun Divecha, her aunt Diana Divecha, their children Mia and Zai, and Priya's parents Karim and Asha Haji.
Eventually, after many meals, hundreds of hours of talking, and many family events, Haji casually said to me that we were dating, even though we never kissed or even held hands. It is one of my biggest regrets in life that I thought of her as only a friend, and from then onward our friendship slowly unwound nearly completely. In recent years, we only saw each other sporadically about once a year. This year I saw her at the day long event that marked the finals for the Global Social Venture Competition, in April, where Haji was one of the keynote speakers. I photographed Haji at that event after her presentation in Anderson Auditorium. That photograph is at the top of this post. I uploaded the picture at full resolution. To see the full size version, please click on it and allow your browser to load the full size 22 megapixel version. Then click again to see the image at full size. This picture shows how beautiful and vibrant Haji was, and it's one of my favorite pictures that I took of her.
For years I anguished about my friendship with Haji dissolving.
I would have loved for her to be my wife had I felt that way about her, and I suspect she would have agreed had I asked her during the peak of our friendship.
Her family was so incredibly nice to me that I felt like part of the family already.
And what a family Priya had…
I can say with authority that her family is one of the most impressive I have met.
The Divecha children were particularly impressive at ages 13 and 16. Zai Divecha, the 16 year old, made a sleek and modern gun metal grey rocking chair in her high school shop class that had all of the fit and polish of something from the very high end furniture gallery Limn. Arjun Divecha was investing billions of dollars in emerging markets, according to news accounts I found while writing this article. As a fascinating side note, Zai Divecha now designs and builds exotic and sumptuous furniture, according to her website I found today at ZaiDivecha.com. I wrote the sentence above about Zai's furniture making in high school before I did a search on her today and found that she's making her livelihood as a furniture designer and maker. Her sister Mia is a PhD student in Chemistry, according to Mia's website I found today at MiaDivecha.com.
I shared office space with World of Good for over a year. Then both of our companies moved into a warehouse near the 580 freeway in Berkeley, far from the UC Berkeley campus.
My company stayed in the new warehouse a few weeks, and then we moved back to the entrepreneurship lab. We didn't know it at the time, but there was an steel works emitting allegedly toxic fumes just eight blocks away. It was far enough away we didn't see it, but as we were moving in, if the wind was right, there was an odor like burning plastic or rubber. I didn't know the source until some protesters came by with flyers and introduced themselves. They were trying to rally support to get the city of Berkeley to clamp down on the factory and force it to install fume scrubbing filters. It was then that one of my employees reminded me he had been having trouble breathing since we moved offices. I did some web research and was alarmed. I asked David Charron if my company could move back to the entrepreneurship lab while I leased some space closer to home in San Francisco, where I lived and continue to live. Charron allowed our immediate return. Thank you David. I wrote in 2011 an extensive blog article about Pacific Steel.
After the move to 10th Street in Berkeley, Haji and I stopped talking regularly. She got even busier.
World of Good took off like a rocket.
Even though they leased several thousand square feet, they outgrew the space in just months and moved to Emeryville, California, which borders Berkeley. They leased a huge warehouse I estimate filled half a square block. World of Good started buying ocean shipping containers full of product at a time, and had two forklifts to move the approximately 5,000 Stock Keeping Units (SKUs) around the giant space. I toured the space several times, and seeing conveyers and forklifts and Costco warehouse store sized shelves stacked high was impressive.
Times were sweet.
Last I heard, before the first location move, World of Good bought products for X dollars and sold them for 2X dollars. Their customers, the retails stores, then sold them for 4X dollars. These numbers are golden if you can maintain them at scale. I believe it was these metrics coupled with fast sales growth that allowed World of Good to close three rounds of venture capital investment. Venture capitalists are picky, and rarely do they invest in fair trade companies importing luxury gift items.
But then the Great Recession of 2008 hit in September, 2008.
Like many businesses selling luxuries, World of Good stumbled. They raised their last round of funding, about a million dollars, in a Series C round that was smaller than the earlier rounds. This round closed after the start of the Great Recession, which showed investors believed the company could survive even in spite of the severe gloom hanging over the world economy at the time. Haji told me on the phone this would be the last round of financing, and I took that as a sign that things were going to be OK and that company was about to be self supporting on profits going forward.
Then one day, I got an email from Haji asking me to give my vote to allow World of Good to be acquired. I had written an investment check to the company back when we were all in the entrepreneurship laboratory, so that's why Haji asked me to sign papers. Of course, I agreed. My stake was tiny, so my input was not the determining input. I knew that if Haji said the company needed to be sold, there was no other option to keep thousands of workers busy and making money. Haji did not disclose the details of what happened in her emails to me. If I had to guess, the company was in danger of missing payroll, and no new investment funds were readily available.
While I know the purchase price, it was never published, so I will not publish the price. I caution you to not draw any price conclusions from what I have written here. The price was more than fair from what I know from what Haji directly said to me.
The company was sold in two pieces — the brand was sold to electronic commerce giant eBay and the wholesale operation was sold to GreaterGood/Charity USA. The official press release follows my article, and you can read it here at the source. I mirror the news below since at some point the link will stop working, while this blog will be online in one form or another indefinitely.
I never learned the inside details of what happened to World of Good. The investor emails did not disclose what really happened. Haji offered to meet me in person to tell me what happened, but I never got around to taking her up on that offer. I figured they hit tough times because of the Great Recession and let it go at that. I understood.
I did not want to embarrass Haji by insisting she tell me precisely what happened. I assume she was heartbroken, distraught and frustrated. The Great Recession hurt many people, including me, so I understood.
I have no reason to fault Haji's leadership, as I know the pressure venture capitalists place on founders to grow and take risks. Even if Haji and Sangvi had wanted to go through Chapter 11 Bankruptcy prior to raising the Series C round, to shed the lease on the huge warehouse and scale operations way down until the recession ended, I doubt the investors would have approved. Professional venture capitalists have a 'swing for the fences' mentality, and hunkering down for years to weather a recession is not something I believe they advise or support.
The math behind World of Good was favorable, and customers liked the offerings. There were long lines at the annual warehouse sale they held each Christmas. I bought a shopping bag of product as holiday gifts each year, and I still have half a shopping bag of items on hand, with tags still attached. I still give World of Good gifts today as a result.
Had the Great Recession not hit, I am confident World of Good today would be a thriving specialty brand, with goods for sale directly online and in stores in tens of thousands of locations. I believe Haji, Sangvi and the later third co-founder David Guendelman would  have increased sales by now to hundreds of millions of dollars.
While eBay did eventually retire the World of Good brand, the eBay website continues to host a store, green.ebay.com, where thousands of hand made items made by poor women in the developing world are sold. You can see the notice eBay published about the name change if you access the store via this link: WorldofGood.com by eBay. Note the pop up notice only apparently shows up the first time you click this link, not every time.
Here's a story about how restrained Haji could be when she believed such restraint was warranted.
I remember that in 2005 she faced the loss of $15,000 with remarkable poise. At the time, her company had not raised much money, perhaps a few tens of thousands of dollars in total from family members.
World of Good won the USD $25,000 grand prize in the Global Social Venture Competition.
World of Good weeks later the $10,000 second place prize in the Berkeley Business Plan Competition. The grand prize amount was $25,000.
Haji later learned that the judges in the later competition voted to award World of Good the grand prize as well, but that they were persuaded to instead flip the first and second place winners so that World of Good would not win two grand prizes. No company has ever won two grand prizes in these competitions.
Many founders would have raised a stink upon learning they had lost out on a much needed extra $15,000 because of outside influence in the judging process. But Haji just shrugged the whole thing off with not even a hint of ill feelings.
I know the specifics of this story directly from Haji, and I have never shared this story in public before, and I had not planned to. But it's such a perfect story to illustrate Haji's ability to remain cool under pressure. She needed that money, but she did not, to my knowledge, make any attempt to collect it by complaining to the administration at the Haas School of Business which hosted these two business competitions.
Priya Haji knew how to select her battles well, and how to win friends and influence people.
Even in her private life, Haji was great at seeing around corners. To illustrate, when we were watching the Michael Douglas and Sean Penn movie The Game at my house, she predicted the dramatic ending, an ending that caught me by surprise the first time I saw it. I recall being amazed that she predicted so accurately what was about to happen next. The Game is a suspenseful movie, and I don't believe most people predicted the ending.
Priya Haji was a star.
Hundreds of thousands of other words have been written about Haji. She's been interviewed on television many times. She has been profiled in widely circulated newspapers and magazines. She has spoken at hundreds of events. She had thousands of friends, including over 1,400 on the current market leading (in the US) social network Facebook.com. Many other memories will be shared. This is not an obituary for Priya. I so far have left out that she received her undergraduate degree in pre-med and religious studies from Stanford University and received her Masters of Business Administration degree from University of California, Berkeley. She founded Free at Last while at Stanford to help battered women in East Palo Alto. She started with her doctor parents a medical clinic for poor people in Texas when still in high school. She started another venture capital financed startup called SaveUp after World of Good ended. She worked at that company until her passing this week. She had two lovely children, a girl and a boy. She left a sizable mark on the world, and she will be missed by thousands and thousands of people.
Priya Haji was one of the most important people in my life for over a year, and I cried when I heard about her death. I will miss her. I write this post with great fondness and admiration for a life well lived, and a soul beautifully nourished and expanded to the point she touched so many more people than most people can even dream of.
I love you Priya.
—–
Press release announcing sale of World of Good:
World of Good Inc. Sells Brand and Related Assets to eBay; Wholesale Division Acquired by GreaterGood/Charity USA
World of Good Brand Continues to Represent Sustainable Shopping and Market Access for Global Artisans Through E-Commerce
EMERYVILLE, Calif. – February 25, 2010 – World of Good Inc., a five-year-old social venture that connects artisans from developing communities with mainstream retail markets, announced today that eBay has fully acquired its brand and related assets. World of Good Inc. also announced that GreaterGood/Charity USA has acquired its wholesale division and line of designer, Fair Trade products which will be re-branded, while existing relationships with retailers and artisan partners will be maintained. The terms of the transactions were not disclosed.
eBay's acquisition of the brand results from a two-year long collaboration between the two companies that led to the development of WorldofGood.com by eBay, the world's largest multi-seller marketplace for socially and environmentally responsible shopping. The transaction reflects eBay's growing commitment to engaging consumers to affect social change through sustainable commerce. It also represents World of Good's commitment to creating the greatest market opportunity for small, Fair Trade and environmentally responsible producers around the world. The online marketplace hosts hundreds of sellers, with tens of thousands of sustainable products from 85 countries.
"We are excited about the opportunity to scale the World of Good mission to an unprecedented degree through eBay," said World of Good co-founder and CEO Priya Haji. "Also, we are confident that GreaterGood will be an excellent steward of the retail partnerships we've built and will continue to grow Fair Trade through mainstream retail channels."
GreaterGood's acquisition of World of Good's wholesale division reflects its growing Fair Trade business, including its Global Girlfriend apparel line. Since 2004, World of Good has developed extensive retail product lines for partners like Whole Foods Market, Hallmark and Disney, among others. GreaterGood will continue to work with the same retail partners and artisan groups in order to grow market access for small artisan suppliers around the globe.
World of Good was founded in 2004 by U.C. Berkeley's Haas Graduate School of Business MBA's Priya Haji and Siddharth Sanghvi with the mission to help small artisan producers improve their livelihoods by providing them with access to mainstream retail markets. The company has impacted more than 40,000 individual artisans across 70 countries by connecting them with millions of U.S. consumers. Haji also founded World of Good Development Organization, a sister non-profit focused on improving the lives of low-income women in the developing world. In December 2009, the Development Organization was honored by The Tech Museum of Innovation for its Fair Wage Guide, a free, open-source platform that calculates fair wages for artisans around the world and specific to their locations. The organization will continue its work to create technologies and tools that help companies ensure fair wages to informal sector workers.
Robert Chatwani, Director of eBay Global Citizenship said of the acquisition, "We look forward to this next step in our commitment to building an integrated, sustainable shopping experience within the eBay marketplace and are dedicated to applying our reach, resources and business model to create a positive impact for people, the planet and communities throughout the world."
"GreaterGood is excited to grow the retail partnerships that World of Good built and to continue to help small artisan and Fair Trade producers reach these important retail channels," said Stacey Edgar, founder and president of Global Girlfriend and director of the GreaterGood Wholesale Division.
About eBay:
Founded in 1995, eBay Inc. connects hundreds of millions of people around the world every day, empowering them to explore new opportunities and innovate together. eBay Inc. does this by providing the Internet platforms of choice for global commerce and payments. Building on this positive foundation, eBay's sustainability efforts harness our technology and reach to extend this positive impact into vibrant, sustainable commerce experiences. Our sustainability portfolio includes WorldofGood.com, the eBay Green Team, the eBay Foundation, eBay Giving Works and MicroPlace.
About GreaterGood/Charity USA:
The GreaterGood Network of websites (including TheHungerSite, TheBreastCancerSite, TheAnimalRescueSite, Global Girlfriend, and others) offers the public a unique opportunity to support causes they care about through a free daily click and Gifts that Give More™ (100% of these donations go to the cause of the patron's choice).  The GreaterGood Network's online stores offer more than 3,000 Fair Trade items, with up to 30% of the purchase price going to charity. In fiscal year 2009, the GreaterGood Network gave more than $3 million to more than 50 charities around the world.
Media Contacts:
Lonnie Shekhtman, World of Good
240-601-5824, lonnie@worldofgoodinc.com
Annie Lescroart, eBay
(408) 376-7458, anlescroart@ebay.com
Rosemary Jones, GreaterGood/Charity USA
206-268-5496, rosemary@thehungersite.com
—
Here is Priya Haji's bio from the SaveUp.com website, as of July 18, 2014:
Priya Haji
Co-Founder • CEO
Priya is the CEO and co-founder of SaveUp; she has been a serial social entrepreneur since age 16; she is committed to building innovative companies that benefit people. Her most recent venture World of Good, an on-line retail marketplace and wholesaler of sustainable goods, was acquired by eBay in 2010. The brand creates market access for women artisans in 55 countries around the globe through partnering with brands like Hallmark, Disney and Whole Foods. Prior to that she co-founded and led Free at Last, which became a national model for substance abuse treatment and HIV/AIDS intervention for African Americans and Latinos while serving 3,000 people per year in East Palo Alto and raised more than $20M in special investments. Her first start-up was a free clinic in Texas with her Dad. Priya graduated undergrad from Stanford University and has an MBA from Berkeley.
—
Here is the text from the Priya Haji entry from the Haas School of Business newsroom, mirrored here in case the original link is ever broken:
Serial Social Entrepreneur Priya Haji, MBA 03, Passes Away
July 18, 2014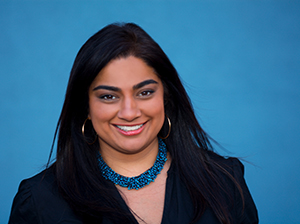 Haas alumna Priya Haji, MBA 03, the co-founder of Free at Last, World of Good, and SaveUp, passed away unexpectedly on Monday, July 14. She was 44.
Born in Detroit, Haji earned a bachelor's degree in religious studies and pre-med at Stanford. After earning her MBA at Berkeley-Haas, she pursued her vision of improving economic opportunity and equality by co-founding three companies.
Free at Last is a national model program for substance abuse treatment and HIV/AIDS intervention in the African American and Latino communities. Under Haji's leadership, the company served 3,000 people per year in East Palo Alto and raised more than $20M in special investments.
World of Good, a retail marketplace and wholesaler of sustainable and fair trade products, improved the lives of thousands of women artisans in 55 countries. It was acquired by eBay in 2010.
SaveUp, where Haji was serving as CEO at the time of her death, is the nation's first rewards game for saving money and reducing debt.
Haji fully embodied the Haas School's Defining Principles, especially Beyond Yourself as she was a consistent contributor to the Haas community. Haji shared her wisdom and insight at various events, most recently by delivering a keynote address at the Global Social Venture Competition (GSVC) in April 2014. Haji won the GSVC competition in 2005 with her startup World of Good. She also inspired students and served as a mentor for the Young Entrepreneurs at Haas (YEAH) program.
"Like many other Berkeley MBAs in the past decade, I was so inspired by Priya's vision and leadership," says Ellen Martin, MBA 07, who met Haji when she served as her Berkeley Board Fellow for World of Good. "She really pushed us all to approach entrepreneurship—not just social entrepreneurship—in an entirely different way. We owe her a huge debt of gratitude for that."
Haji's honors include being named a Young Global Leader by the World Economic Forum; a Social Innovation Leadership Award by the World CSR Congress, a non-profit organization whose annual conference celebrates corporate social responsibility; and inclusion in GOOD magazine's GOOD 100, a list of people driving change in their communities in creative and inspiring ways.
"Priya was such a vibrant force in life—undaunted by challenges, willing to give voice and energy to her ideals and vision," says Haas Lecturer John Danner, who taught Haji in his "Workshop for Startups" class where she co-developed World of Good. "What a profound loss first to her family but to all of us as well who were touched by her example."
Haji is survived by two young children: a two-and-a-half-year-old son, Zen, and an 11-month-old daughter, Omi; her parents, Karim and Asha Haji; and a sister, Amina.
A celebration of her life will be held at Haas in the coming weeks. Details will be published as they become available. Friends are encouraged to share memories on a Facebook memorial page: https://www.facebook.com/priyahajimemorial.
The Priya Haji Memorial Fund has been established to honor her inspiring life and will support an MBA student focused on entrepreneurship and social innovation. Donate at http://givetocal.berkeley.edu/fund/?f=FM8347000.
– See more at: http://newsroom.haas.berkeley.edu/article/serial-social-entrepreneur-priya-haji-mba-03-passes-away#sthash.L4jAhtsc.dpuf
I attended the 2014 Global Social Venture Competition on Friday, April 11, 2014. This event took place at the Haas School of Business on the campus of the University of California Berkeley. I interviewed many of the teams. I photographed all of the teams, some very casually and some more seriously.
I will need a day or two to compose a complete post, so please check back here on Monday evening. I am posting this place holder so that the many people I met at the event know that they got the correct website address from me, and that this is the correct place to see the photos and post.
The event was outstanding, and I am happy to have met so many fascinating people.
UPDATE: sorry the full post is still not yet posted. This is a big job, and I have been busy elsewhere. I had to get a new PC since I was embarrassingly still running Windows XP, and it's now no longer safe to do so as of April 8, 2014, when Microsoft cancelled updates. My new 27″ Apple iMac has a new version of iMovie that does not allow setting Quicktime settings for file size, so I have to find an older version of iMovie to complete my post. The new version of iMovie creates enormous sized videos that would take over a month to upload to Vimeo, my video host. Apple failed here… look at the many one star reviews this software has received. Kevin, April 21, 2014.
Fermyon, Inc. is the company behind the impressive ShoppinPal smart phone application that improves the retail brick and mortar retail shopping experience for both buyers and sellers.
On Friday, July 26, 2013, I met with Sriram Subramanian, Chief Executive Officer, 34, and Pulkit Singhal, Chief Technical Officer, 29, the co-founders of Fermyon.
Retailers complain about people treating their physical stores as free showrooms for consumers to touch and evaluate items they will then actually buy online, frequently from giant Amazon. The retailer I suspect feels cheated by these people since they received something valuable, but didn't make a purchase from the store to compensate the store for their efforts.
Consumers like mobile shopping apps like the one Amazon gives its customers. Smart phone shopping apps let people look up specifications and customer reviews to help them make smarter purchasing decisions. I don't see shopping apps disappearing, since they offer such compelling value to consumers.
Retailers with physical stores could of course create their own smart phone applications that mimic those from huge online merchants, but it's mostly larger chain stores that do, because writing a shopping application is difficult and costly.
That's where ShoppinPal comes in.
ShoppinPal is a service that retailers pay money for — 3% of sales for retailers with over USD $5,000 in monthly ShoppinPal sales, or $49.00 + 3% of sales for retailers that sell less than $5,000 a month through ShoppinPal. This strikes me as assertive pricing, but if it works, Fermyon will be in a position arguably even better than Visa and Mastercard, because Fermyon is not taking any fraud or refusal to pay risk that I can see. On the other hand, no small retailer could hope to deploy a system like ShoppinPal by developing the system itself, and showrooming is a looming problem that likely is motivating retailers to take defensive action.
Shoppers use the service for free.
The retailer gets access to a custom branded application its customers can install on their own phones. In addition, the retailer gets access to an online management console that shows what customers are buying, among many other statistics. Since buyers provide their email address when they install the smart phone app, the store can easily send them custom messages.
For example, if a potential buyer uses the smart phone app to add several items to their 'wish list' the store will know about that and can gently remind the potential buyer to return to the store to buy the items. Buyers can be especially enticed to return by being sent discount codes that buyers can use to receive the items at a lower price. Buyers can even opt to have the items delivered to them, offering the convenience of online shopping to the offline world.
I like ShoppinPal. The small team of two co-founders and three staff have put together an offering that appears to come from a larger entity that has raised far more than the modest USD $120,000 in outside capital that Fermyon has taken in.
Buyer engagement potentially starts moments after walking through the door of a shop. One can 'check in' to the ShoppinPal app, like one 'checks in' on Facebook. The check in alerts store management that the buyer was present.
Next the customer can use the camera on their smart phone to scan the bar code on items they are interested in. The app recognizes the bar code and pulls up that product. The app can, at the option of the retailer, show customers recommendations for other items they may like in their store.
For new retailers, the ShoppinPal cloud based software taps into the retailers' point of sale cash register system and reviews the receipts for the prior six months of sales. The software sees that people purchased certain items during the same transaction, and uses that set data to recommend that future purchasers also consider such grouped purchases.
CTO Singhal asked current retailers using their system to try the recommendation engine, and those queried marveled at how the recommendations matched with their memory of what many past customers had bought together.
The ShoppinPal app and the website are both beautiful – spare, elegant and clean. The management console is by Mixpanel, a separate company ShoppinPal pays to provide that service.
Sellers can add various incentives for shoppers to buy more items. For example, a discount can be applied after a certain number of purchases. Thus, a coffee shop could automate the 'buy 10, get 1 free' paper punch card that still is in use, and was in use at the tea shop where I met with Singhal and Subramanian.
That tea shop in fact allowed customers to store their paper cards in a physical file system on the counter out for the public to access. I marveled the tea shop would put such sensitive information out on public display, because a competitor could surreptitiously copy down a list of the shop's best and most loyal customers. With quality video cameras in every smart phone, someone could just pretend they were looking for their card while capturing video of every card the thief perused. An electronic loyalty system like that included in ShoppinPal reduces the risk a customer list can fall into the hands of an outsider or an employee that should not have that information.
Inside ShoppinPal, there is not only a wish list, but a gift registry, which should encourage others to buy at a retailer the others may not even be aware of when the items are added to the registry.
ShoppinPal communicates via application programming interfaces to two point of sale cash register systems — Lightspeed Retail and Vend. ShoppinPal hands off to the cash register the precision task of calculating sales tax, sidestepping a thorny problem, since there are thousands of sales tax jurisdictions.
As a customer walks around a store, as they pick up items and place them in their physical shopping cart or basket, they can click 'add to cart' within the mobile app. This gives a running total of their planned purchases, and when the customer is ready to pay, they can buy directly from the app, which will display a receipt on screen the customer can show to store staff as they pass through the exit.
This pay within the app feature over time will let retailers hire fewer checkout clerks. The pay within the app feature can be turned off by the retailer that prefers customers visit a cash register to physically run their credit cards through a credit card terminal.
Whether the purchase is paid for in app or at a retailer's register, the ShoppinPal management console keeps track of all the buyers' purchases, and makes the purchase history available to the customer, which in my mind is a great perk for the customer. When I shop at Lowes and HomeDepot, I use their loyalty cards mostly because their systems email me a copy of my receipt within minutes after a purchase, which makes my life easier at income tax time.
The sexiest feature of the mobile app is a feature that adds fun to getting a discount. Instead of just writing out 'you get a discount' the app presents a silvery gray patch that looks just like the silvery patches covering the digits on lottery tickets. You have to 'scratch off' the patch with your finger, and as you rub the screen with your finger, the silvery 'material' under your finger vanishes. The effect was startlingly captivating such that I believe a tiny company could be formed just to advance this feature inside other unrelated products from other companies.
ShoppinPal is still an early stage venture. The company was incorporated in January, 2011, but work didn't really accelerate until CEO Subramanian completed his MBA in June, 2012, last year.
Fermyon has signed up four customers, all via resellers that have agreed to carry their product. I view it as a positive sign that resellers are promoting their product while the company is still so young, for resellers have to be particularly careful to not damage their reputations.
ShoppinPal's customers are Harney & Sons in New York City, Heartfelt in San Francisco, Isha USA in Tennessee and Marthas Vineyard Glassworks in Massachussets, all in the United States. The Isha implementation is the most demanding, because the organization runs events that draw about 1,000 people twenty times or so per year, so the transaction volumes spike tremendously during events and subside the rest of the year.
I live in San Francisco, so I decided to install the ShoppinPal app on my Apple iPhone 5 and visit Fermyon's customer Heartfelt, a charming and totally adorable gift shop in the Bernal Heights neighborhood. This single store business doesn't sell items that people are likely to evaluate and then order online from a giant website. But the Heartfelt is the kind of place that I think could benefit from the loyalty, gift registry and wish list features in ShoppinPal. The store also I suspect prides itself on having just the right gift, as there appear to be over 10,000 different items for sale inside this small store. As I was browsing around, I found half a dozen items I wanted to buy, and I am not even looking for gifts right now.
As soon as you check in, a horizontal red line starts sweeping up and down the phone display. The indicates the phone is looking for a bar code to recognize. I created a video of the ShoppinPal experience from checking in to just before payment. I have embedded the video into this post. The video is a bit shaky because I had to hold my large camera in one hand, and operate the app with my other hand, and since the phone was so close, the depth of field was shallow. But the video does show faithfully what the app does.
As soon as the app finds a bar code, it goes into search mode where it's communicating with the cash register computer to find the item. This takes about two to six seconds. Then the item shows up in your shopping cart. From there it is confusing what to do next, since there is no 'checkout' or 'buy now' button. Instead, to continue shopping, you are to press the button in the upper left labeled 'heartfelt,' the name of the store. This should be labeled 'back' or 'continue shopping.' There is a button in the upper right called 'cart.' I didn't try that button, but I assume that button takes you to the shopping cart from where one can checkout.
I scratched off the panel as invited, and I got a 10% discount. I was given the chance to pay via credit card or PayPal, the payment service from auction giant EBay. I bought a lightweight wallet made from Tyvek, and I paid via PayPal. The process was quick and efficient, but my receipt listed my discount as $0.00 even though the 10% discount had been correctly applied to the total. I understand that ShoppinPal was only recently installed at Heartfelt, so I expect there to be small glitches to be worked out. For such an early stage yet ambitious application, ShoppinPal performed well.
As you might imagine, ShoppinPal has big dreams and has had sales meetings with huge brands that are household names throughout the US. I suspect that after they build their credibility with smaller retailers for the following months that they will land a national retailer.
ShoppinPal participated in 2012 in the Silicon Valley Bank Seed Showcase, a pitch event to investors for Silicon Valley Bank clients. Silicon Valley Bank is widely considered one of the most important banks in Silicon Valley for startups that aspire to or have raised venture capital investment. You can watch CEO Subramanian pitch on stage and then watch him later that day be interviewed by Carrie Walsh, Managing Director II, ESG, Silicon Valley Bank.
I could find no direct competitors to Fermyon.
The closest offering appears to be CardFree, which automates via a smart phone app some of the tasks that ShoppinPal automates, like payment and loyalty. But CardFree omits the ability to scan the barcode of products to bring up specifications and Amazon.com like product recommendations, two of the most compelling features of ShoppinPal, in my mind.
Another company that does part of what ShoppinPal does is CardStar from Constant Contact. CardStar appears to be a smart phone app just for storing and using loyalty cards from multiple retailers, so your physical wallet doesn't burst from storing too many physical cards, like mine is threatening to do.
Another loyalty card company is BellyCard, which appears to be similar to CardStar.
Finally, there is a smart phone payment app called AisleBuyer, which lets in store purchasers pay via their smart phone. This company was acquired by Intuit in 2012.
See what former CNET Editor at Large Rafe Neeleman had to say about ShoppinPal in 2012.
The company's name Fermyon is a play on the particle physics term Fermion. The definition of the Fermion is better left to the article on Wikipedia I just referenced.
I took the picture of Subramanian and Singhal that accompanies this post with my Canon 5D Mark II camera, my Canon 50mm f:2.5 macro lens and my Paul C. Buff Einstein studio flash unit.
The location of the photograph is the Skydeck accelerator run by University of California Berkeley. Jeff Burton is the Executive Director of Skydeck, and Burton encourages me to write about the UC Berkeley affiliated companies that the accelerator houses in its exceptionally glorious 10,000+ square feet of penthouse office space. If you look out the window in the center of the picture, you will see the clock tower that serves as the focal point of the UC Berkeley campus. ShoppinPal is headquartered at Skydeck, but this is not an indicator that the team is reckless with its finances. To the contrary, it's an indicator that the team is careful with its money since the company's office space is provided for free by the University of California, from where Subramanian earned his Masters of Business Administration graduate degree. Skydeck gives free office space to only the companies it deems most likely to succeed.
I became aware of Subramanian over the last year because we both attend monthly Cal Founders meetings, which are designed to help founders and mentors be more successful in business. Subramanian and I are more acquaintances than friends since we've only met and spoken a handful of times. He learned of this blog and asked if I would write about his venture, and I agreed because I had become intrigued when he had introduced his company during the roundtable discussions at Cal Founders meetings. I disclose the circumstances of how we met to deflect any appearance of bias due to my already knowing Subramanian.
On Friday, April 12, 2013, I attended the 2013 final presentations by teams competing in the Global Social Venture Competition.
I was invited by Jennifer Walske, Faculty Director of the Global Social Venture Competition. Walske moderated the question and answer session between the judges and the competitors. I paid for a ticket to attend the event, but at a reduced rate as a member of the press — USD $49.50 rather than $99.00. Thank you to the organizers for the discount.
This event took place at the Haas School of Business on the campus of the University of California in Berkeley, California USA. Haas Dean Rich Lyons opened the event with some wise remarks.
This event was an all day affair, with keynotes, panels and even a debate. I arrived at 8am and left around 8pm.
This competition is the premier social venture competition in the world, and, according to the organizers, close to 650 teams from 37 countries competed. My friend Sara Olsen co-founded the competition while she was getting her MBA at the University of California Berkeley.
The morning keynote
Josh Nesbit, the CEO of Medic Mobile, gave one of the more uplifting keynotes I have heard in a while. I didn't take notes so I am not prepared to summarize it, but he tells about a remarkable journey over the last four years or so where this non profit has improved the lives of tens of thousands of people in the developing world. The video of the talk should be posted to the Global Social Venture Competition website, or perhaps YouTube, by Friday, April 19, 2013, I've been told, so you'll be able to watch it there. It's well worth watching. I photographed Nesbit twice, and there is a more formal portrait of him at the bottom of this post.
The 6 final finalist teams
All 18 teams that traveled to Berkeley are finalists, and they all wore the same type of name badges. The 18 teams presented on Thursday, April 11, 2013, and the best 6 teams became what I will call the final finalists. In this post, I present short executive summaries of each of the 18 teams. This text was written by the teams themselves — I just copied it from the luxurious pamphlet distributed at the event. Normally, I place such text in quotes, but since this text compromises so much of this post, I am telling you here that the summaries are text I did not write.
The teams that advanced to the concluding round of judging are:
Faso Soap
1st place winner of USD $25,000; Blum Center for Developing Economies Peoples' Choice Award of $1,500 — from the country Burkina Faso
According to the World Health Organization (WHO), about half of the world population is still at risk of contracting malaria. In 2010, among 219 million people affected, there were 660,000 deaths, of which 91% were in Africa where malaria remains the leading cause of death. Particularly vulnerable individuals are pregnant women, children under 5 and HIV patients. Considering this alarming report, Moctar Dembele and Gérard Niyondiko, two students from 2iE Foundation, have found an innovative solution through the project Faso Soap. The "soap of Faso" offers an innovative solution for the prevention of malaria, which takes into account financial constraints and cultural habits of African families. The company will produce and market both antibacterial and anti-mosquito soaps made with 100% local resources to integrate prevention against malaria in the daily lives of people most affected by this scourge. Faso Soap: "The action of a group, the future of an entire nation."
Carbon Roots International
2nd place winner of USD $15,000 — Haiti
Carbon Roots International (CRI) started as an idea to explore the potential of carbon-rich char as a tool for international development. The idea evolved from a chain of emails between three friends, to meetings over lunch, to a trip to rural Haiti in 2010. Upon returning to the United States, CRI's three co-founders established the organization to enable the adoption of char technologies in Haiti. CRI's work served as the basis for co-founder Ryan Delaney's Master's thesis at Arizona State University's School of Sustainability, and compelled another co-founder, Hannah Erickson, to pursue a graduate degree at the University of Michigan's School of Natural Resources and Environment. After several years of refining technology and testing solutions, CRI has produced a feasible, scalable business plan that addresses two overlapping issues—charcoal fuel use and low agricultural productivity—which converge in Haiti, but are endemic throughout the developing world.
I guessed correctly that Carbon Roots would win 2nd place. I really like this company, which makes 'green' charcoal briquets out of agricultural waste, like sugar cane waste. The briquets look like small hockey pucks, and apparently burn as well as charcoal made from trees. Deforestation is a large problem, so Carbon Roots has the potential to help the planet on a meaningful scale.
Pulpworks, Inc.
3rd place winner of $7,500 — United States of America
PulpWorks: The planet is choking in garbage – toxic, enduring waste. And the single worst culprit is packaging – thirteen bathtubs full per year for each person on the planet; in the U.S. alone, 31 million tons of plastic waste was generated last year. PVC is the world's leading toxic packaging material. Consumer packaged goods companies are seeking a cost-effective, sustainable replacement for their current unsustainable PVC packaging. To address this crisis, PulpWorks has created a compostable, all-pulp-and-paper alternative to toxic plastic (PVC) blister packaging. Our patent-pending package is, in essence, the "un-blister". It showcases products in the same manner as traditional blister packs, but, rather than ending up in a landfill, the entire package can be composted after opening. Increasing consumer and regulatory pressure will eventually remove PVC from the marketplace. As designers and manufacturers of eco-friendly packaging, PulpWorks will reap the rewards of this marketplace shift.
This company has developed a way to turn paper pulp into appealing compostable packaging. The containers they showed me have a texture that is similar to cardboard egg cartons. The three presenters got a laugh out of the crowd when they said between the three of them they have 100 years of experience in business. I like this product, and I hope they succeed. Fortunately, the CEO, Paul Tasner, pictured above and individually below, has decades of experience in the packaging industry, and as a result, he has been able to get meetings with household name companies like Clorox.
The PulpWorks team traveled to the competition finals on Bart, the commuter train system in the San Francisco Bay Area, where the University of California is located.
TOHL, Inc.
Chile
TOHL developed a patent-pending technology for installing pipelines cheaply, quickly sustainably, and in any location. This technology utilizes much longer segments of pipeline than what is traditionally used. Single segments of pipeline are manufactured in lengths of 500 meters to several kilometers, and these long segments are loaded directly onto large spools that are deployed via helicopter or truck. The pipelines have fewer connections, which decreases labor hours during installation and allows the pipelines to be in operation faster than is possible if using conventional infrastructure technology. The patent-pending helicopter installations method also allows for TOHL to access remote areas that previously could not be reached, which is significant, because valuable water sources are often inaccessible. Lastly, TOHL's technology also offers the service of pipeline removal and re-use, when the pipeline is only needed for temporary applications. The tubing is re-spooled and recycled for other projects saving money and resources.
This is the team I thought would win 1st place. Drinking dirty water either kills or makes ill countless numbers of people. This company can install a flexible water hose by flying a helicopter from a source of clean water to where water is needed. Often, their services are needed after a natural disaster like an earthquake. It could take months to repair a permanent underground pipe that serves an area damaged in a quake. TOHL can install a pipe overground in minutes once everything's set up. The technology is not new, as I learned the oil exploration industry has been using the technique for years to bring water to their drilling rigs that are often out of reach of conventional plumbing. What's new with TOHL is their specialization on emergency installations. They have developed expertise working with local governments to get the necessary permits and easements, a process I suspect is so difficult that it will discourage cheap copycats from competing with their company. The company's first efforts have been in Chile, most likely because they received startup financing and support as part of the well known Startup Chile program.
The TOHL team is operating with real paying customers. The team showed an impressive video where their rented helicopter drops down tubing from a giant spool that hangs below the aircraft like a water container on a fire fighting helicopter. The TOHL helicopter showed tubing can be set down even on the tops of trees — flat or smooth ground is not required.
If the tubing is made unnecessary after some months, perhaps by the broken underground pipes being restored, the tubing can be reeled back onto the spool for reuse elsewhere.
Amazingly, the tubing can handle being outside for 25 years.
Founders Benjamin Cohen and Travis Horsley were impressive, and I spent perhaps half an hour hearing about their exciting venture. I wish them well.
The TOHL team studied at the Georgia Institute of Technology (Georgia Tech), one of the 9 partner schools that together stage the Global Social Venture Competition. Each school sends a representative that works for the institution to the global finals. Georgia Tech sent Dori Pap, the Assistant Director of the Institute for Leadership and Entrepreneurship, pictured above with the TOHL team.
Reel Gardening
Reel Gardening is a manufacturing company that aims to make gardening simple. Its main product is a biodegradable strip that encases organic fertilizer and open pollinated seed at the correct depth in the soil, and the correct distance apart. Reel Gardening indicates where each plant will sprout allowing for watering to be localized, enabling a saving of 80% water in the germination phase. The strip also helps restore soil fertility as the paper breaks down and the vegetable based inks and organic fertilizer seep into the soil. The Reel Gardening team is made up of Claire Reid (Inventor and Founder), Sean Blanckenberg (Director at Reel Gardening), Emily Jones (Project Manager at Reel Gardening), Greg Macfarlane (Financial Advisor) and Dianna Moore (Business Advisor).
CSA Munching Box
CSA Munching Box is a community-supported agriculture (CSA) program providing weekly subscription-based delivery of seasonal, organic fresh fruit and vegetables direct from the farms to customers' doorsteps and bringing the customers closer to our farmer networks in rural areas. We also serve as a distribution platform linking artisanal food producers to the urban market. Additionally, CSA Munching Box brings positive social impacts to its partners. We also use packaging made from recycled materials as well as deliver our products via bicycle couriers to reduce carbon footprint. The primary target customer group is the health-conscious and discerning consumers in major cities across Thailand. This group tends to have more knowledge about CSA, appreciates the concept, and possesses higher purchasing power.
The 12 finalist teams
Eighteen teams traveled to Berkeley for the final two rounds of the competition. On Thursday, April 11, 2013, six teams advanced to the concluding round of judging. The twelve teams that did not advance each got to deliver their pitch to all the attendees. The 12 finalists are:
AtRium
South Korea
The low income families in the world's cold regions suffer not only from cold weather but also from problems such as fuel costs, illness, and pollution due to their outdated, inefficient stove heating system. AtRium addresses these socio-economic and environmental issues through an affordable heat absorber, G-saver, which is developed based on appropriate technology. Our primary target is Mongolian households living in a "Ger." Later we will expand to other cold regions such as Inner Mongolia and Kazakhstan, and also to developed countries with our technology. Built on a consortium among Good Neighbors (NGO), Good Sharing (Social Venture), and Korea Advanced Institute of Science and Technology (Academia), we aim to contribute to building a sustainable ecosystem that balances economic and social values by pursuing sustainable profit generation, improving the quality of life of low income families, protecting the environment, and developing local economy in cold regions.
BrainControl
Italy
BrainControl is a breakthrough technology that gives disabled people the power to control objects with their minds, allowing them to control a communicator, domotic devices (lights, doors, windows, alarms, temperature, bed position, etc.), wheelchairs, and other assistive technologies. Based on a proprietary Brain-Computer Interfaces technology (BCI), BrainControl interprets the electric map that correspond to certain brain activity and allows patients to control a tablet PC through specific thoughts, overcoming physical disability, and improving communication and environmental control. The focus is on assistive applications for people affected by degenerative neuromuscular disease (multiple sclerosis, amyotrophic lateral sclerosis – ALS) and ischemic or traumatic injury, which each year affects more than 3 million patients. BrainControl is the world's first assistive technology that is usable by people who cannot move any muscles or communicate, but who are consciously aware, a state called "locked-in" or "apparent coma".
Essmart Global
United States of America / India
Essmart: Millions of people have unmet essential needs, such as clean water and safe, reliable lighting. Hundreds of essential technologies that meet these needs already exist, such as non-electric water filters and affordable off-grid solar lanterns. However, these technologies are not reaching the people they were designed to benefit. Essmart builds an essential marketplace for these products in places where people already shop – their local retail shops – so that everyone can access them.
E-Lamp
China
E-Lamp is an intelligent lighting control system. It can adjust the color and brightness level of the LED light source by remote control using a mobile device. It can be used in agriculture: as the population of the world continues to grow, more food and crops are needed. As plants at different growth stages require specific spectral and wavelength, production could be sped up using E-Lamp's adjustment of light intensity and spectral wavelength. The mobile device remote control can be used in agricultural greenhouses to centralize control of E-Lamp equipment in a single region or multiple regions to make the management more convenient. E-Lamp also can be used to improve disabled people's daily life, allowing them to easily control the light and adjust the color to match their mood, even for psychological treatment.
Damascus Fortune
India
We at Damascus Fortune not only clean the planet, but have made the whole carbon conversion process profitable. We sequester carbon from carbon emitting industries and convert it into one of the strongest materials known to man – carbon nanotubes, carbon fibers and carbon nanorods. Our products are ultra-low cost as we use the waste emission and heat from the industry itself. We wish to start a composite manufacturing plant from in-house manufactured carbon structures to cater to automobile, aircraft, construction and other industries. We are seeking support to scale into new markets globally.

Nafa Naana
Burkina Faso
In Burkina Faso, households still rely on firewood for 90% of their energy consumption, thus contributing to irreversibly damaging their forest ecosystems. Toxic fumes from burning wood are harmful for people and issues faced in supplying fuel (for cooking and lighting) are a precariousness factor, particularly for women. Solutions do exist but remain out of reach for the most vulnerable populations.  Nafa Naana – which means "gains made easy" in local language – mission is to make clean and affordable energy products (energy-efficient stove, gas stove, solar lamps…) available to even the poorest households. The distribution channels are based on retailers operating as social microfranchisees and on direct sales to women's groups. Financial barriers – for end-users, retailers and producers – are removed through the use of microcredit and savings mechanisms.
Jorsey Ashbel Farms
Jorsey Ashbel Farms (JAF) is an unconventional livestock farm pioneering a groundbreaking approach to tackling the poverty problem of Protein-Energy Malnutrition, which affects millions of disadvantaged children and women. JAF produces Nigeria's cheapest livestock products using an innovative, scientifically proven, low-cost livestock feed production technique combined with an innovative deployment strategy.
Meme B. Ortis in my mind really deserved this award. He was the most intense and passionate of all the 18 speakers. You can see his energy in the picture of him just above. He was constantly using his hands to make his point, and his voice was powerful and resonant. I was so happy I got to meet Ortis to photograph him.
We had a great conversation about those pesky emails everyone receives asking for help moving millions of dollars for a percentage. He said he has several of them in his email box right now. I shared with him the story of a guy that turned the tables on the spammers by getting them to write out in longhand one of the Harry Potter books. He had not heard about that reverse scam. If you haven't heard about it either, I promise you'll enjoy the story.
Here's the summary: a guy gets a scam email and replies he's too busy to help because he's busy providing handwriting samples at $100 a page to improve a company's handwriting recognition software. Soon, the scammer is asking to join in providing samples, and he ends up writing out with a pen the text of a 293 page novel, hoping to collect tens of thousands of dollars. Of course, he never is paid for his work, which is retribution for him scamming others out of their money via his emails.
From the summary written by the team, you wouldn't guess what they really do, which is fascinating.
There is protein rich food inside a mango seed. The company opens the seeds, which apparently are not costly and are plentiful, and extracts the presumably mushy contents. That contents are so acidic it will kill chickens that eat it directly, but Jorsey Ashbel Farms has developed a method to process the extract so that chickens can safely and productively eat it. Even though this sounds like a lot of trouble, I learned there is a big cost savings versus feeding chickens corn. JAF runs a farm where they grow mangos and raise 10,000 chickens, in harmony. I would love to visit their operation to see this wonderful sounding operation first hand.
I forgot to tell the founders that I raise four chickens for eggs in my backyard in San Francisco. My chickens eat chicken feed from a bag, not mangos, however.
Ortis' co-founder Ashbel Ayuba, pictured in the portrait section below, was the most stylishly dressed of the competitors, and had on a pair of highly polished green leather shoes made from the hide of an animal I could not identify. They looked like something rock star Prince would wear. In the early 1990s I saw Prince hanging out as a regular customer in the trendy nightclub Les Bains in Paris, France, and he had on some similarly wild boots, which matched his pants, which matched his coat with tails. He carried a golden walking stick, and had beefy bodyguards on either side, but nobody paid him any attention, as I don't think he was famous yet in Paris. I told my French friends the next morning that I had seen Prince, and not one of them knew of him. I was ten feet from Prince dancing for an hour, so I am 100% certain it was Prince.
I stopped Ayuba on the stairs and asked to photograph him before I even knew what company he was part of — I just love his look and attitude. I told him he looked like what I would imagine an African James Bond would look like. He enthusiastically pumped his fist in the air and said 'YEAH!!!'
I love being a photographer.
WOOF
Hong Kong
WOOF is a premium fashion brand producing elegant, yet quirky and fun fashion accessories. What makes us different is that our line of goods is produced by Chiengora (dog hair). WOOF's raw material is collected from various grooming stores and animal welfare organizations. The grooming division of our current NGO partner, the Society for the Prevention of Cruelty to Animals (SPCA), provides over 60% of the dog hair raw material for WOOF production. WOOF ensures that all our sources of material are 100% animal-friendly. WOOF production is a technology innovation. We are currently co-developing the machine spinning technology with our academic partner, the Institute of Textile and Clothing (ITC) from the Poly University of Hong Kong. Through fashion, WOOF aims to change attitudes towards animals. We aim to do this through two means: 1) reducing animal surrenders and increasing animal adoptions, and 2) improving the living conditions of animals.
Wedu
Thailand
Wedu catalyzes the next generation of local female leaders by providing innovative financing options for university and the lifelong support of mentors. We create a sustainable and positive cycle of development by identifying girls committed to local issues; investing in their education; mentoring them to lead and creating incentives for them to repay the funds to serve more girls. We envision a world where people from the most underprivileged backgrounds have the tools to change their lives and their home country by being masters of their own development. We started operations in Cambodia and Myanmar, built partnerships from the U.S. to Japan, united a league of extraordinary advisers and mentors from the Acumen Fund, Husk Power Systems, Unreasonable Institute and beyond. Wedu is Social Enterprise Startup of 2012 at Cambridge University, GSVC-SEA Winner, Semi-Finalist for the Echoing Green Fellowship and in the Top 10 Global Solution Award at Women Deliver 2013.
Vi-Care
India
Vi-Care is a one-of-a-kind company in India, and is on its way to formation to provide a low cost solution to address the problem of high infant mortality due to pneumonia in rural India. Vi-Care focuses on implementing a cost effective solution for the timely detection of pneumonia in infants, keeping in mind the lack of healthcare infrastructure in rural areas. Vi-Care's solution involves the use of ubiquitous mobile phones to detect pneumonia in infants. Vi-Care provides a unique diagnostic application (i-Treat) capable of performing preliminary but informative diagnosis of pneumonia without requiring any external infrastructure or expert intervention, thereby greatly improving the chances of survival of infants in rural areas. The value proposition of Vi-Care rests upon providing an unrivaled, cost-effective approach to timely detect pneumonia in low-income, rural areas, keeping in mind the financial constraints of the people.
Sunshine Library
China
Sunshine Library Rural Digital Education Initiative (Sunshine Library) is a social venture seeking to improve rural education in China via modern technology. We aim to provide a comprehensive education solution to under-resourced, rural schools using specially designed tablet PCs. Sunshine Library does not only provide tablet PCs for under-resourced schools, nor do we place our volunteer teachers in rural schools. Leveraging information technology, we provide an integrated solution with a sustainable model of operation. We designed a tablet PC, the Sunbook, and educational apps customized to the needs of students, teachers, and schools in rural setting. Then, we deliver the tablets with Internet access to rural students, new teaching methods to teachers, and extensive educational resources to schools, hoping to eliminate education inequity. Now, we have provided 2,000 tablets for students and teachers in 4 rural schools in western China.
Pedius
Italy
Pedius is a communication system helping deaf people to make normal phone calls, using voice recognition technologies and speech synthesis. Pedius' users can call all emergency numbers for free, as well as all partner companies supporting our accessibility program who agree to pay a fee and provide users a toll free access number. Users can also call private numbers, paying an affordable fee comparable to what is offered by VoIP communication providers. The goal of Pedius is the reduction of communication barriers for deaf people, enabling phone services for all and at the same time increasing the visibility of our accessibility partner companies.
I like this company. It turns out the founders know my friend Dan Luis, who used to be CEO for years at Purple, the company that bought my first Internet startup Hotpaper.com, Inc. Purple is in roughly the same business as Pedius, but Purple uses people to bridge connections between parties, while Pedius uses software.
The panels and debates
As I mentioned above, this event filled a day. There were panels and debates on social entrepreneurship. I stepped in briefly to take some pictures, but sadly, I did not have time to watch the events, with the exception of the morning keynote. I was busy either photographing or rounding up the subjects nearly all day.
Individual portraits
I took all the pictures that illustrate this blog post. I like very much to photograph people, and entrepreneurs are among my favorite subjects. I asked all of the subjects you see here for permission to photograph them, with the exception of the shot with Dean Rich Lyons, which I captured by standing alongside the official paid photographer, my longtime friend Bruce Cook. He set that shot up, and I simply asked the subjects to look at my camera after Cook was done getting his shots.
I took individual photographs of some of the founders, and I present those images to conclude this post. I gave permission to the subjects for them to use the pictures, so I hope to see these images on their websites and elsewhere around the web. Thank you to all the subjects for being so patient with me to get these results.
I used my Canon 5D Mark II camera to take these pictures. The group shots were taken with a Canon 50mm macro lens. The individual shots were taken with a Canon 80-200mm f:2.8 L zoom lens. The wide shots were taken with a Canon 16-35mm f:2.8 L zoom lens. I upload pictures to this blog at camera resolution of 21 megapixels. Click on the pictures to load the full size versions, which are larger than the versions you see by default. I pursue blogging and photography as a hobby.
I am sorry I could not photograph everyone. I would have liked to photograph all 18 teams properly, like I do when I attend the 500 Startups Demo Days.
I really enjoyed this event. It was exciting to meet people from around the world. I invite everyone I met, if allowed in your country, to friend me on Facebook so we may stay in touch. Thanks and good luck!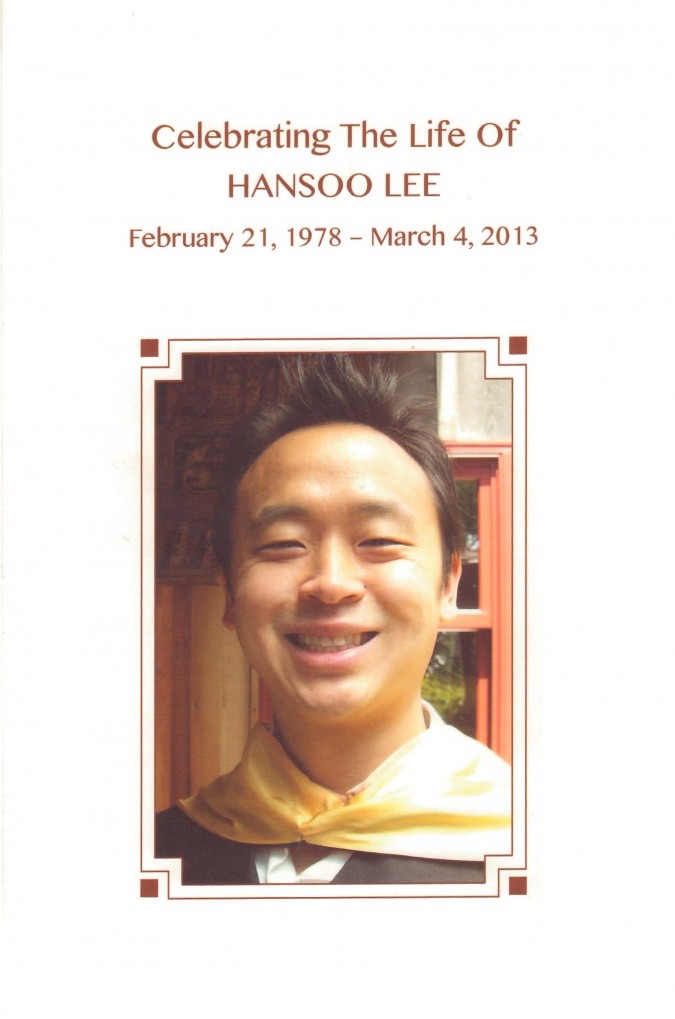 This afternoon, March 18, 2013, I attended the memorial service for Hansoo Lee. Lee died from lung cancer on March 4, 2013 at thirty five years of age. Lee was born February 21, 1978.
I didn't know Lee particularly well because we probably saw each other just a dozen times. Most of those times were at Cal Founders meetings at various venues in the San Francisco Bay Area. Cal Founders meetings are informal monthly gatherings where entrepreneurs discuss their business challenges. The big benefit to these meetings is the wide variety of advice that may be gleaned from the diverse attendees. I like to characterize the meetings as board of directors meetings where one may actually be completely frank about issues, with no worry that what you say may later be used against your company.
Since Cal Founders meetings are designed to encourage sharing of meaningful obstacles and opportunities, I feel like I learned quite a bit about Lee during these meetings. A person's character comes into focus rather quickly when you hear them give and receive advice.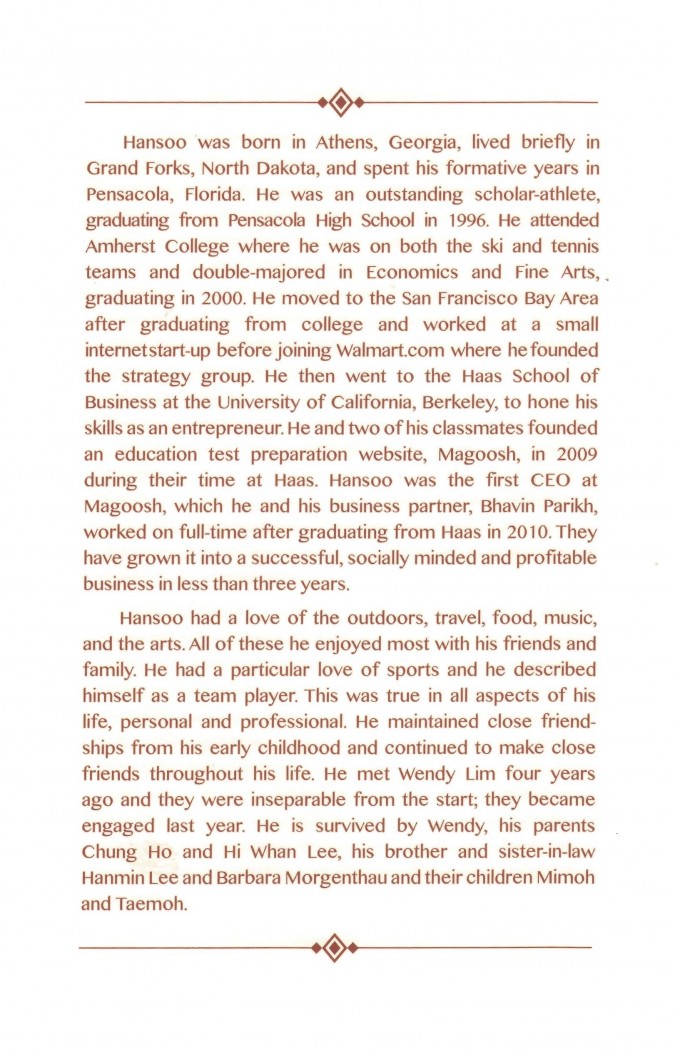 Lee was a standout at Cal Founders meetings, and for good reason. He was a smart, driven, accomplished and capable entrepreneur. Sadly, the majority of entrepreneurs I meet never deliver much in the way of results. Lee stood out because he actually delivered results. He was quick to cite statistics about growth, and he knew exactly how to bring customers to his business, and could specify exactly what results would come from specific steps. This kind of precision is less common than you might imagine.
I recall examples that demonstrate how impressive Lee was as an entrepreneur, but I won't share them with you, since Cal Founders meetings are by design confidential, to encourage open dialogue. I doubt Lee would mind my sharing some examples, given that they paint him in such a favorable light, but I am loath to break confidentiality even in light of the sad circumstance of his too early passing.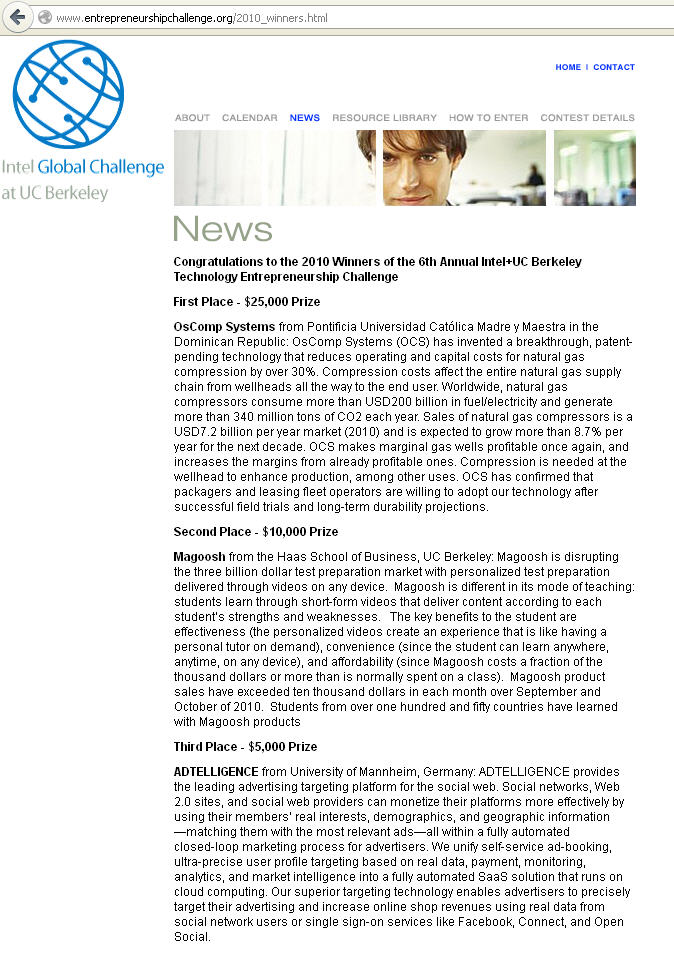 I remember seeing Hansoo Lee the evening his startup Magoosh won USD $10,000 in the 2010 Intel Global Challenge business competition. The Intel Global Challenge is a big deal, and it is very competitive because Intel invites competitors from all over the world to participate. I have watched the finals awards ceremony for years and I conclude the competition is more competitive than the Berkeley Startup Competition, which itself is quite competitive.
I am comfortable sharing some of what I learned this afternoon in a public memorial open to all at the beautiful Golden Gate Club inside The Presidio. Part of the Golden Gate National Recreation Area, The Presidio used to be a United States military base before it was vacated and turned over to visitors to and residents of San Francisco to enjoy.
The Golden Gate Club overlooks the San Francisco Bay through giant windows perhaps two stories tall. These windows showcase the Bay is if it is a work of fine art in a museum.
Here's Lee's biography from the program handed out today at the memorial:
"Hansoo was born in Athens, Georgia [USA], lived briefly in Grand Forks, North Dakota, and spent his formative years in Pensacola, Florida. He was an outstanding scholar-athlete, graduating from Pensacola High School in 1996. He attended Amherst College where he was on both the ski and tennis teams and double-majored in Economics and Fine Arts, graduating in 2000. He moved to the San Francisco Bay Area after graduating from college and worked at a small internet startup before joining Walmart.com where he founded the strategy group. He then went to the Haas School of Business at the University of California, Berkeley, to hone his skills as an entrepreneur. He and two of his classmates founded an education test preparation website, Magoosh, in 2009 during their time at Haas. Hansoo was the first CEO at Magoosh, which he and his business partner, Bhavin Parikh, worked on full-time after graduating from Haas in 2010. They have grown it into a successful, socially minded and profitable business in less than three years.
Hansoo had a love of the outdoors, travel, food, music, and the arts. All of these he enjoyed most with his friends and family. He had a particular love of sports and he described himself as a team player. This was true in all aspects of his life, personal and professional. He maintained close friendships from his early childhood and continued to make close friends throughout his his life. He met Wendy Lim four years ago and they were inseparable from the start; they became engaged last year. He is survived by Wendy, his parents Chung Ho and Hi Whan Lee, his brother and sister-in-law Hanmin Lee and Barbara Morgenthau and their beautiful children Mimoh and Taemoh."
There were over two hundred people at Lee's memorial.
I was impressed with how many people boarded aircraft to attend. The majority of the members from his class that belonged to his fraternity at Amherst were there, and two of them spoke at the podium sharing their memories of Lee. I learned that Amherst had banned fraternities, so fraternities were tiny and presumably somewhat hidden. As a result, when I write 'majority' I mean three fraternity brothers out of a total of five in Lee's class attended Lee's memorial. Counting Lee, four fifths of the entire class was represented. That I believe is a testament to Lee's good spirit. Remember, Lee graduated from Amherst a dozen years ago.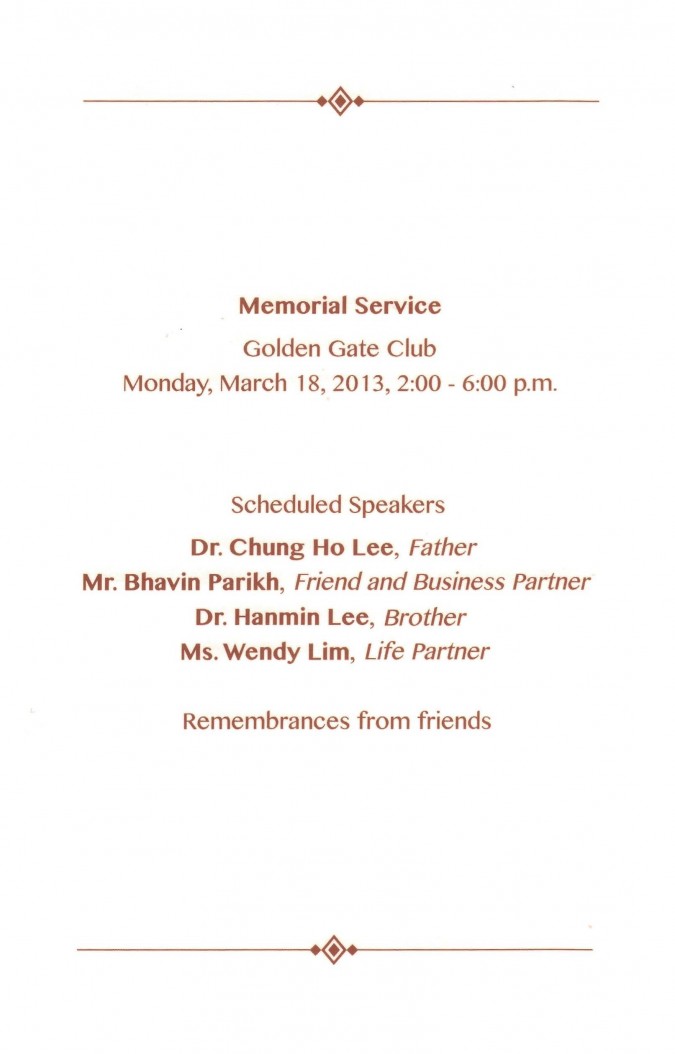 About two dozen of Lee's friends walked to the microphone and shared their memories.
Two of his friends met Lee in the first grade. One of those friends entertained us by explaining Lee's love for business even as an eight year old. Lee was a pro at profitably buying and selling baseball cards. He studied baseball and developed the rare ability to identify future star players while they were still rookies in their careers. This skill allowed Lee to buy the correct rookie cards while they were still low cost, and then sell them years later when the players became stars. I learned Lee joked that he planned to pay for college with his card trading empire begun as a child.
I learned about Lee's first skiing trip as part of a high school engineering club he belonged to, and how his enthusiasm for skiing caused him to wear out a pair of ski pants in just a night of tumbling on a slope covered with inadequate snow and uninvited mud.
Lee's fiancée, Wendy Lim, delivered the most emotionally moving remarks.
I cried.
Wendy Lim is really impressive.
Lim described herself as Lee's opposite, but pointed out how well they each complimented the other.
Wendy Lim described Lee as the love of her life, and told us she had never before known love like that which she shared with Lee. It's so sad Lee was taken from her so early after her lifelong search to locate him.
I introduced myself to Lim and expressed how sorry I am for her loss.
I also had the privilege of expressing the same sentiments to Dr. Chung Ho Lee, Hansoo's father, Hi Whan Lee, Hansoo's mother, and Dr. Hanmin Lee, Hansoo's brother.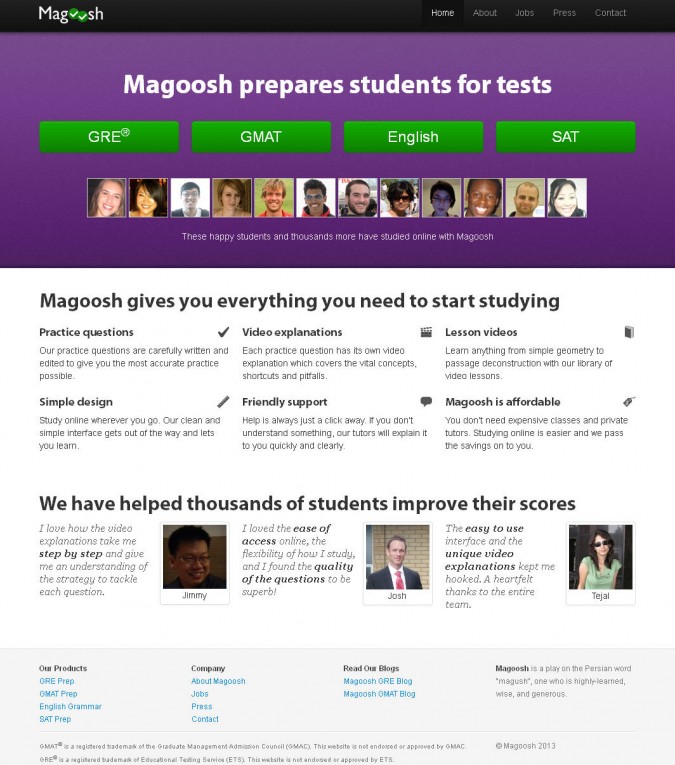 The Hansoo Lee Fellowship has been established at the Haas School of Business at University of California Berkeley. Lee started full time work on his startup Magoosh during the summer break between his first and second year at business school. This concerted several month effort I suspect really accelerated the progress at the company. The idea for the Fellowship is to help other student teams pursue their dreams during that pivotal summer break. The fellowship will provide a cash stipend, office space and advice from mentors to one lucky team each summer. If you are able and would like to give money to fund the Hansoo Lee Fellowship, please do so by following this link to the official UC Berkeley donation page for this fellowship.
Farewell Hansoo Lee. I am glad that I got to know you a bit during your exceptional life.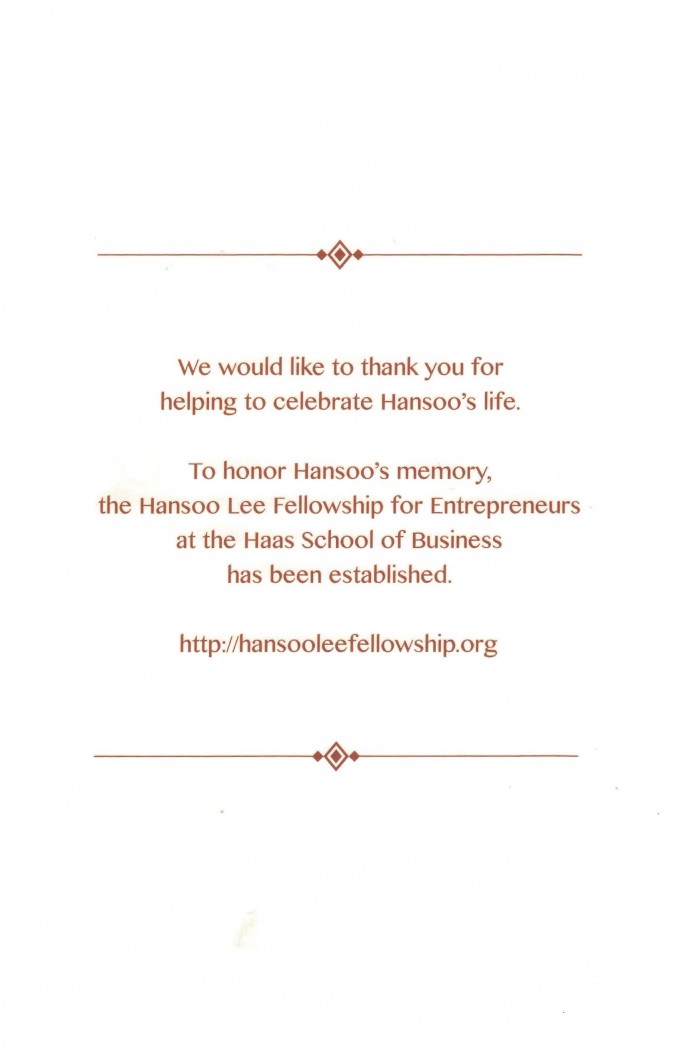 Last week I was doing some research on my first Internet company, Hotpaper.com, Inc. I discovered a report I had never seen before, from PrivCo Media, LLC. According to PrivCo's report, I sold my company for USD $11,750,000.00, which is more than I knew. The published price was $10M, but I always knew the actual price was technically higher because the acquiring company didn't cancel the stock options of my employees. I never really found out the exact value of that part of the compensation, since I left the company soon after the deal closed, and I never went hunting for the number.
On Tuesday evening, November 27, 2012, I attended the launch party for a company run by Leo Chen.
Chen runs Fara, Inc., which recently released its first product, an app for the Apple iPad tablet computer.
The application is named Monogram, and that's how I'll refer to the company and product for the rest of this post, as the company doesn't seem to promote the Fara name.
I met Chen July 18, 2012 at the Demo Day for the 500 Startups Accelerator program. Monogram was one of the presenting companies. I attended the Demo Day as a blogger so I got to meet all the graduating companies. Thank you to Dave McClure for getting me an invite to Demo Day. McClure is the founding partner of 500 Startups.
Chen stood out because he was the most stylishly dressed. See my picture of him I took at Demo Day at the bottom of this post to see his pure white sports coat paired with jeans, a hip wristwatch and a pink shirt. Not many guys can pull off this eclectic look. That Chen can suggests he will have the fashion sense to make the right calls at Monogram, which, when you really study it, is a company that requires good taste to have a chance to thrive.
His app, which he demonstrated to me personally, was sumptuous, glorious and stunning — and it was still unreleased code.
I don't have an Apple iPad, so I have not seen the released version of Monogram. Chen wasn't showing off the app on his iPad at the party either, so I simply can't write a review here of the app — sorry!
The famous TechCrunch technology blog covered Monogram on November 1st, 2012 in an article entitled 500 Startups Alum Monogram Raises $400K More, Launches iPad App To Aggregate All Your Favorite Fashion Brands.
Since I can't write a review about the Monogram app sight unseen, I'll give you just the basics. You download the free app from the Apple App Store. You browse through pages of the app as if you're looking at a fashion magazine. If you see something you want to buy, you can tap on it and get transported to an online retailer that sells that item. You're presumably transported to precisely that item, not the front page of the retailer's site. If you buy, Monogram collects an affiliate payment from the retailer, and that's how Monogram makes money.
I met many of the attendees at the Monogram launch party, and I can say that Chen and his team have smart and impressive friends. The venue for the party, La Boutique – L'Art et la Mode, was perfect. Carole Harari, the owner of the boutique, has created a 2,500 square foot oasis that is part women's clothing boutique, part art gallery, part furniture store and part event space. The women's fashions for sale are eclectic and desirable.
The pop up furniture store on the second level was so photogenic I took an architecture style picture while I was up there to get a shot of the crowd below. La Boutique is so photogenic that I asked Harari for permission to photograph models there.
I met Justin Kan for the second time. I met Kan for the first time — you probably have heard of his as Justin of Justin.tv fame — at a Stirr mixer in Palo Alto, California in about 2008. I spoke with him back then for perhaps 10 minutes, and they were a stressful set of minutes because he had a video camera strapped near his head and wore a backpack with four 3G wireless cards whose bandwidth was combined through software so the laptop in the backpack could broadcast Kan's every move live to the Internet. This can be done with a smart phone today, but back then live streaming was rare, and my talk with Kan then was the first time I had been live streamed before a meaningful audience.
On Tuesday, Kan was wearing one of the largest watches I have ever seen, and it was so eye catching I asked to photograph it. I already had my macro lens on my camera, so it only took seconds to capture this shot you see here of Kan's Nixon brand watch on his arm.
Leo Chen went to high school with Kan.
Kan told me about his latest project, named Exec. Exec is an Apple iOS app that lets users hire an assistant for short term projects for a fixed rate currently of USD $25.00 per hour. An Exec assistant was stationed by the front door to La Boutique to make sure only guests on the list were admitted. I spoke with her for several minutes, and was impressed. I would use Exec if I needed an assistant for a project that Exec was suited for. One suggestion: When funds permit, buy the domain exec.com. The current url, iamexec.com, on quick viewing of the web browser address bar, reads as 'lame exec' because I saw the lower case i as an l. I had a good laugh about this, but I still recommend paying out the dollars to get the shorter url once it's easily afforded. The url exec.com is currently up for sale, and has no developed site associated with it. Don't wait too long, or the price will keep going up.
I also had a nice talk with the husband of Monogram co-founder Kristen Slowe. Kristen is Chief Creative Officer of Monogram. Her husband Christopher Slowe, is Chief Scientist at Hipmunk, which, according to their introductory video, 'takes the agony out of travel search.'
Christopher and my father studied the same subject at the same university.
I got to talk with Jim England, a co-founder at Publik Demand. I met England at the same 500 Startups Demo Day where I met Chen. I absolutely love Publik Demand, a website that gives  representation and power to consumers, so that they can insist that wrongs done by a company are addressed.
I also got to talk with Cheryl Yeoh, co-founder and CEO of Reclip It, a website that brings together more than 200,000 online coupons & deals from many other coupon websites, for one stop access to money saving offers. I met Yeoh the same day I met England and Chen
I conclude with a photograph I love of Monogram co-founders Chen and Slowe that I took July 18, 2012 at the 500 Startups Demo Day, held at the headquarters of the publicly traded game company Zynga, at 699 8th Street, San Francisco, California USA.
I love Monogram, and that's why I attended their launch party. I wish them the best of success. This is one of the few companies that truly counts on beautiful photographs for its success. Since I am an avid photographer, I connect with this company more than many.
On Saturday, October 20, 2012, I attended the Lower Haight Urban Air Market. The two most commercially significant blocks, from 400 to 600, of the hip lower Haight street neighborhood of San Francisco, California USA were cleared of cars and closed for this interesting small street fair.
Here's a photograph of the poster advertising the Lower Haight Urban Air Market. The window is that of Memphis Minnies Barbeque Joint and Smokehose at 576 Haight Street. I took this picture after the sun went down but before it was completely dark. I haven't eaten at Memphis Minnies, but I suspect it has quite a following given I see it has 1,127 reviews on Yelp today.
This project must have taken some real effort to plan and execute, because San Francisco's Municipal Railway, MUNI, runs electric trolley buses on all of Haight Street. This street fair required that non-tethered buses be used instead for the day.
I don't hang out in the lower Haight much, but Devon Chulick, one of the co-owners of the clothing store and art gallery D-Structure, alerted me to this fair via his store's Facebook page. Since I've met some interesting people though Chulick in the past, I thought it would be smart to attend as a blogger to interview the most interesting entrepreneurs I could find, including the following ten entrepreneurs:
The first entrepreneur I met was Joey Mucha. He buys used Skee Ball arcade machines, fixes them up, and places them at interesting non-arcade locations. He has a shipping container full of Skee Ball machines, and he knows how to fix them, even to the point of being able to diagnose and replace a bad computer chip on the machine's scoring computer.
Mucha has one of his machines in Chulick's D-Structure, and Mucha opened the machine up while I was there, so I could see how the score calculation system works.  You can see Mucha playing the D-Structure Skee Ball machine in the photo above.
Amazingly, you can now play Skee Ball on your smart phone.
The second entrepreneur I met was Jasmin Baros. Baros introduced me to the concept of a clothing boutique being located in a converted delivery truck. I had never seen such a boutique, or even heard of them, until Saturday.
Baros is an accountant by profession. Her first experiment ten years ago with switching to retail didn't pan out a after six month run.
Her refurbished truck, just six weeks new, is her second attempt at retail, and I think her chances are better than 50/50 for a success. She bought the truck already freshly painted from a photographer for just USD $6,000, and only had to spend $2,000 having her logo painted on the side. It would have likely cost her $6,000 just for the fresh paint if she didn't find an already freshly painted used truck.
Baros' total cost to get into business she told me came to $25,000 — likely a fraction what it would cost to open a traditional retail boutique in leased store front space.
The truck — officially named the Jasy B Truck — is cute and inviting. The ceiling is pressed tin like you'd see in a vintage building. There is wainscoting on the walls. There is directional spot lighting. The colors are right. There's a dedicated staircase with rails at the rear, where the door rolls up like a garage door. When the truck is parked at a 45% angle relative to the sidewalk, customers can just climb on board, in a way that feels natural and welcoming.
The Jasy B boutique on wheels had a wall mirror next to its jewelry display. I caught a glimpse of myself in this mirror, and since the mirror was small, it neatly framed my head. I snapped a picture with my Canon 5D Mark II digital camera I used to take all the photographs that illustrate this post. Note that I uploaded the pictures at full camera resolution. Click on them twice in delayed succession to see the full size versions, which are 21 megapixels.
The third entrepreneur I met was Sandra Bowling, owner of Sandra Kathleen Jewelry. Bowling makes the jewelry. I asked permission to take the above photograph. Bowling gave permission and thanked me for asking permission. She said one woman particularly irritated her by taking pictures without asking, and when confronted, the photographer said she was going to send the pictures to a friend or relative (I can't recall which) that also made jewelry for profit — to copy and then sell! I presume these designs are not patented, but still, I can see it being annoying having people taking pictures with the express intent of taking your work to profit from it.
Bowling had her jewelry nicely displayed, and I loved the light as shown in my picture above. The brighter spot of light in the lower right was from light bouncing off the hand mirror she had on the table.
Sadly, I forgot to photograph Sandra Bowling.
The fourth entrepreneur I met was Angel Cantu, above, founder of Halo Bender Design.
Halo Bender Design makes wallets for men from the leather swatches furniture stores have on hand to help buyers decide what leather to buy for custom ordered chairs and sofas. Cantu discovered that stores replace their swatch books from time to time, and when they do, they discard the old books. Cantu has learned that he can rescue the leather from landfill by giving the proprietor a few wallets he made from earlier swatch books. Since his materials cost is so low — thread and his time, this is a great exchange. The swatches he showed me looked brand new, and the wallets looked fresh and brand new as well, with no hint that their leather was perhaps already years old.
Cantu cut the first wallets by hand with scissors. Then, he joined TechShop, a well equipped workshop that rents access to tools like a health club rents access to exercise machines. TechShop has a laser cutter to replace scissors, and industrial sewing machines capable of stitching leather. TechShop has spawned many small businesses, including DoDo Case, which makes an Apple iPad case that looks like a leather hard cover book. Current United States President Barack Obama carries his iPad in a DoDo Case brand case.
The fifth entrepreneur I met was Laura Bruland, founder of Yes & Yes Designs.
Yes & Yes is another TechShop success story, and she's featured on their website.
Yes & Yes makes jewelry from old hard cover book covers. Bruland uses TechShop's laser cutter to slice through the canvas and cardboard book covers in a way that would be nearly impossible with a jig saw or a Xacto knife.
In the picture above of Bruland with her boyfriend Julien Shields you can see Shields holding a book cover that has had over two dozen pieces of jewelry cut from it. The row of trapezoids on top became earrings, in the style you see Bruland wearing in the same picture.
Many of Bruland's designs feature the silhouettes of stylish women — Bruland confided that the designs themselves are vintage, derived from old dress making patterns. The pins above are examples of these designs. Look at how typography plays a part of her designs.
Like the upcycled wallets made by Angel Cantu, Bruland's cost of materials is extremely low. She laser cuts out of date and falling apart books of nominal value as books. I suspect she pays little or nothing for most of the books.
I saw customers buying Bruland's products, and saying nice things about them while doing so, something I didn't happen to catch with any of the other artists at Saturday's fair.
The sixth entrepreneur I met was Chris Steinrueck, co-founder of Wood Thumb, a maker of men's ties and bow ties, among other products.
Wood Thumb recycles redwood it receives for free from Recology, the company that picks up the trash from homes and businesses in San Francisco. Recology sifts through the trash it picks up and hands the redwood planks it finds to Wood Thumb, which then planes and mills the ties into shape. The ties are cut on a ShopBot CNC router.
I love the upcycling and recycling demonstrated at this fair.
Wood Thumb started out at and still does some work at TechShop, like Yes & Yes Designs and Halo Bender Design, also profiled in this post.
The ties are made from redwood because redwood is attractive and particularly because it is light in weight. Chris, who runs the company with his co-founder brother David Steinrueck, said people can feel the difference in weight between redwood and other attractive wood, and prefer the light weight redwood. Conveniently, Wood Thumb ties are rot resistant, in case you forget your tie in the woods, unlike silk or wool ties.
Wood Thumb appears to be doing well, selling thousands of ties per month as of the end of 2011.
I photographed Chris with his girlfriend Rebecca Carrillo at their booth, also made from reclaimed wood.
The seventh entrepreneur I met was Sarah Boll, who was the most interestingly dressed, with exceptionally red hair, vivid glittery blue eye shadow, a magenta jacket and wild black and white stretch pants she personally sewed. It was a look that is completely consistent with her product — glittery purses, clutches and related accessories. This was Boll's first time selling at a street fair.
Her company name is Glitter Disaster — a name I really like.
The glitter you see in the clear vinyl is sandwiched between two layers, where it's free to slide around like snow in a snow globe. The glitter never touches what you put into her clutches and purses. The random and ever changing glitter display catches your eye, and I think these products were the most inspired and unusual of everything I saw on Saturday.
Boll has an online store on Etsy, as well as a Facebook page and a Tumblr account.
The vinyl sheets are sewn not with a sewing machine but with a serger, called overlock machines outside of North America for the overlock stitches they create. If you look inside some of your clothes, you will see overlock seams. A serger is a fascinating machine. The overlock seam is not one thread but multiple threads, from separate spools. This means each thread can be a different color, a feature you can see Boll used to create interest with her pieces, since she uses the overlock seams as a visible design element.
I learned about the serger several weeks ago when I was looking into what I would need to sew my own clothes. I took sewing class at Lab School, and I made quilts when I was 12 years old. I want to make some really crazy outfits I can't find in stores. That's when I learned I would need a sewing machine and a serger machine. I have since decided to just wait until my next trip to Shanghai and have my clothes made in the world famous Bund fabric market, which will be more productive and more fascinating, because that stupendous fabric market has so many more fabrics than you can buy in the San Francisco Bay Area.
The eighth and ninth entrepreneurs I met were Misty Briglia and Sarah LaShelle, co-founders of Pretty Parlor beauty boutique on wheels. The Pretty Parlor is also built inside a retired delivery truck, like the Jasy B Truck. The beauty business is tightly regulated, unlike the retail clothing business. Thus, the Pretty Parlor truck has a bathroom complete with running water in a charming old world porcelain sink. There's is room for a wheelchair to move around on board. A wheelchair ramp to board is in the works. I wonder if they can find a suitable aluminum ramp at a salvage yard that dismantles U-Haul trucks — those ramps are really well made.
In the photograph above, the woman in the gray sweater seated had just have her fingernails painted with intricate designs — a different design on each finger. I introduced myself to her and she let me see the results, which she really liked. She gave me permission to include her on this blog. The manicurist Mia Rubie, on the left, had her manicurist license out for display, just like you would see in a fixed location shop. I loved the antique furniture throughout the truck.
In the photograph above the founders Briglia and LaShelleare are sitting on the rear step of the truck. In the background, from let to right, are:
Marie Rubie — Nail Artist
Marla Kay — Esthetician
Katie Stosic — Stylist and Receptionist
All of the trucks had generators chained outside sitting on the pavement. But I saw no heavy electrical requirement in any of the trucks. Since the trucks are only parked for the day, I think they all could switch to LED lighting and power themselves from a dedicated 'house' battery bank like those in recreational vehicles and bus conversions that charges from the vehicle alternator while driving.  The generators are noisy and unnecessary. From what I could tell, none of the trucks contemplate air conditioning the sales floor while parked, but that's the only reason for a large generator like the ones I saw.
I recommend adding a solar panel to the roof to keep the batteries charged while the vehicles are in storage, and also to be able to boast that the stores are in part 'powered by the sun.' Solar panels are very affordable these days.
The tenth and last entrepreneur I met was Aaron Bray, owner of Push Pull Art Design. Bray was at the fair selling his brand new but vintage appearing earrings and pendants.
He cuts the designs from steel with tin snips, and then flattens the cut edges with weights. He then treats the metal to give it a rich aged patina, rust I believe, that makes it resemble copper. I don't know how Bray paints the pieces, and I could find no description on his website about how they are made. In fact, I could find almost no information about Bray online, and in particular, I could not find any pictures of him. I had Bray's full cooperation to take the picture you see of him here.
I love Bray's work, but I don't understand why he is keeping such a low, low profile online. He should examine how Sarah Boll is using the Internet to promote her art. Bray's online store is one example of how his low profile is hurting his finances. He sells only his discontinued work on his online store, but there are no 'buy now' or 'add to cart' buttons to be found. The price is a hyperlink, and if you click that you are taken to PayPal where you can buy that item. But that's is expecting far too much from people to start clicking links looking for a way to buy. There needs to be a buy button on every item for sale, without exception.
The site is so sparse that it's off putting. I can't read Bray's biography or see what he looks like. I can't learn his phone number. I can't determine what city, state or country he lives in, except by inferring based on the shows he notes he will attend. Even then, the list is heavy on abbreviations like SF for San Francisco, California. Buyers from other parts of the world may not know what SF means. I can't learn what stores carry his products. I can't see his products worn by people. I can't even learn what the products are made from or how big they are, as there is no reliable size reference in any of the pictures.
Bray has the most subtle, artistic and lovely product of any that I have reviewed here, and I offer the above criticism in the hope that he will make simple changes that I predict will measurably increase his revenues and profits. Here's one final piece of advice: Add your products to your Etsy store, which currently has zero products for sale. From what I have heard, Etsy really works.
The last person I met was Matt Hettich. He's not technically an entrepreneur because he is not a founder of the company whose product he was pitching. But his product is interesting, and his approach to promoting it is also interesting, so I have included him in this post.
Hettich's title is Product Specialist/Artist Relations. The company he works for is Keith McMillen Instruments. This company didn't have a booth at the fair. I met Hettich as the fair was winding down, when I walked into the legendary bar Noc Noc that's been in the same spot on lower Haight Street for decades. The decor hasn't changed in decades — still the crazy handmade furniture and bar, which is holding up quite well considering the flow of hard living hipsters over the decades.
I met Hettich almost immediately because he was showing off the eye catching and colorful QuNeo 3D Pad Controller seen in the pictures above and below. This is MIDI controller for digital musicians and disc jockeys. The buttons on this controller are not labeled because they are mappable by software to whatever you want them to control. The buttons sense where you touch them and how hard you press, which for sounds like drum machines can be very valuable and can help musicians be more expressive.
I am not a musician, but Hettich did a great job explaining the device and why I would want one if I were a musician.
Company founder Keith McMillen is a legend in the instrument business. One of the company's customers was sitting with Hettich, and the customer compared McMillen to Robert Moog and Tom Oberheim, and said McMillen is in the same league. This stature probably explains why when his company ran a Kickstarter campaign to raise USD $15,000 he raised over ten times that amount.
The QuNeo costs just USD $249 — less than I guessed.
Here's a pretty picture of some colorful silicone rubber wrist watches from Modify Watches, a brand of Modify Industries, Inc. I took this picture outside of D-Structure, where Chulick had a table of wares for sale. D-Structure carries Modify Watches at their store and online.
My friend Aaron Schwartz founded and runs Modify, and I've written about his products on this blog before. Schwartz has allowed me to borrow some of his products to photograph being worn by some of the models I photograph.
Schwartz's company is a on a roll — his products were featured on the very popular United States television show The Today Show on October 3, 2012.
After the fair ended, I took this picture of Devon Chulick's D-Structure art gallery and boutique, just as the sun was going down. I thought the 'magic hour' light was flattering.
Finally, Staghound Belts had a booth where they sold new belts for men. They also had a collection of vintage belt buckles, including this buckle showing a Class C motorhome on a Ford van chassis. This made me think of George Lehrer, a blogger I've read for years. Lehrer for a decade now has lived full time in his Class-C motorhome he has named Ms. Tioga, after the brand name given by its manufacturer. He writes several times a day, and makes about USD $1,000 a month in revenue from Google Ad Words, which supplements his US Social Security retirement checks. I suspect Lehrer would like to have this buckle, and I further suspect that Staghound Belts will have it for sale for some time, as I doubt there is much demand for such a unique item.
It's likely that Staghound made the belts they were selling, and I should have asked more questions so that I could have written about the founder as an entrepreneur. Next time I will.
[November 27, 2012 — I updated this post to name Julien Shields. The original version of this post referred to him as Laura Bruland's boyfriend.]