Archive for the 'Memorials' Category
I am writing this piece with a heavy heart.
Priya Haji passed away July 14, 2014 at the young age of 44. She leaves behind a daughter under a year old and a son that is 2 and a half. Here are some news stories of her death: re/code, TechCrunch, Site Pro News, Palo Alto Online, The Non Profit Times. Here is the official memorial page for Haji. A celebration of Haji's life will take place tomorrow, Saturday, July 19, 2014 at the Anderson Auditorium at the Berkeley-Haas School of Business at the University of California Berkeley, in Berkeley, California USA. Here is the Facebook page for the celebration.
I met Haji in 2005.
My Internet startup at the time was housed in the basement of the Bancroft Hotel in Berkeley, California USA. This basement was home to about six tiny startup companies at the time.
One day David Charron, at the time the Associate Director of the Lester Center for Entrepreneurship & Innovation, brought by Haji and her business partner Siddharth Sangvi and assigned them to the cubicle on the other side of the partition to my right as I was seated at my laptop.
Sangvi and Haji were starting their company called World of Good in order to lift from poverty poor women that lived in the developing world.
When I met this dynamic pair, they had yet to sell anything to anyone, and yet Haji was already talking about building the brand 'World of Good' even though she didn't have any customers and didn't have the Internet domain address worldofgood.com. It seemed to me at the time that they were jumping the gun a bit to be talking about branding before they had anything to sell or any customers.
But Haji was emphatic she would build World of Good into a recognizable brand that would extend beyond the tags attached to each item.
I soon observed Sangvi and Haji develop into entrepreneurial stars.
Haji had laid the groundwork for her new venture by traveling for six months through multiple emerging countries, where she met with women that would make the products her new venture would eventually sell.
The basement of the Bancroft hotel (at 2680 Bancroft Way Berkeley, California 94704 USA) was subdivided into cubicles. There were no private offices. There was a windowless conference room that could fit ten people.
A later stage company, Iris A/O, occupied a third of the space. For that privilege, they paid rent to the hotel directly. All the other companies paid nothing thanks to the generosity of The Lester Center for Entrepreneurship & Innovation, at the time led by the Founding Executive Director Jerry Engel. The center is now known as The Lester Center for Entrepreneurship.
Since there was no warehouse space, the World of Good pair modified the broom closet to be their first 'warehouse.'
I was there at this magic moment, since this closet was an arms reach from my desk. Sangvi just installed a padlock hasp to the door and frame, and the entire inventory of the company lived in this perhaps 6 square foot space for the first couple of months after Haji and Sangvi moved in to this makeshift startup incubator, officially called the Berkeley Entrepreneurship Laboratory. This space has since closed and been replaced by the shockingly upscale Berkeley Skydeck Accelerator that fills the penthouse of the tallest building in Berkeley.
Haji wisely chose to focus on physical retail sales to start, rather than Internet or online sales.
World of Good was founded on the principle of fair trade where the workers that actually made the products were paid a living wage for their country. This is in contrast to most businesses, where workers are paid as little as possible to maximize the profits for the stakeholders in the business.
What Haji recognized early is that fair wages mean products that are premium priced. She and Sangvi did not have the money to open their own upscale retail store or chain of stores, so Haji used her prodigious powers of persuasion to convince Whole Foods Market, an upscale organic grocery store chain in the United States, to allow World of Good to place their products inside Whole Foods stores.
Haji was intent on establishing World of Good as an identifiable consumer brand. She and Sangvi created an adorable kiosk from Ikea brand unpainted wood bookshelf units. Sangvi used an existing rather unknown decorative computer font to write out the World of Good company name, and the resulting charming logo endured I believe unchanged for years until the brand was eventually discontinued well after the company was sold.
By this time, I estimate World of Good had purchased fifty different gift items from women in countries such as India, Chile and Pakestan. The items included such impulse purchase items such as jewelry, coin purses, scarves and purses. Assembled together, the first kiosk was lush and inviting. It took up about two square feet of floor space, as these Ikea bookcases were perhaps the smallest and cutest they offered at the time.
I recall hearing reports from Haji that the products started flying off the shelves once the first kiosk was placed in the Berkeley Whole Foods. Over time, the metric that stuck in my head was that World of Good was selling $5,000 per square foot per year from its World of Good kiosks in Whole Foods stores, but Whole Foods itself only managed to sell $1,000 per year per square foot. So World of Good's products were outperforming Whole Food's traditional offerings by a giant multiple.
Whole Foods was naturally ecstatic, and eventually World of Good installed kiosks in hundreds of Whole Foods stores, including in Fort Collins, Colorado, where my brother Andrew Warnock and his family live.
I liked Priya Haji a lot, and we became good friends.
She had a drive beyond most entrepreneurs I meet. She was bold. She was fearless.
I heard almost everything Haji said during the hours we were both present during the year plus that we shared office space. She was just over the five foot tall cubicle wall, and there was no sound isolation, so I heard every call she made. Haji made a lot of phone calls.
She decided she wanted help from the World Bank, and she contacted this huge International organization and actually was able to speak with the President, though not on the first attempt of course.
Haji wanted to ensure that World of Good would continue indefinitely to help the poor women she cherished and admired. She planned for her own exit from the company, and knew that future leaders of her venture could curtail her economic generosity. So she attempted to structure things so they could not be unwound after her exit. Sounds impossible you say?
What she did was set up two companies — World of Good, Inc., which was a for-profit so-called C corporation, and World of Good Development Organization, which was a non-profit so-called 501(c)3 corporation. She arranged ownership so that the non-profit owned 10% of the stock in the for profit company. This way, even if the for profit company were acquired, the non profit would have a significant equity stake that could not be voted away or taken away.
The non-profit World of Good Development Organization funded projects such as helping to build schools in developing nations. The organization's marque good deed was to create the Fair Wage Calculator, a website where workers could learn about fair wages and better appreciate their fairness even though currency translations make such comparisons problematic, particularly in the developing world where there are so many currencies that may not be as easily valued as the world's major currencies. Here's an article that suggests the World of Good calculator is now maintained by Fair Trade USA and Good World Solutions. I recall Haji saying the calculator found a new home, but I can't recall who she said took over the project.
Haji was proud to tell people that her pair of Good companies was the first such pairing of a United States for profit and non profit company. She was proud to have thought to do this, and was happy others have gone on to set up the same structure for their ventures.
I remember Haji showing me the thick binder of documents she kept on her desk that represented her efforts to establish this unusual structure.
This structure had practical value, even in the early days when there were low sales and presumably no profits.
World of Good planned Internet sales after establishing itself with retail sales, but World of Good did not own the coveted matching domain name worldofgood.com.
Someone else owned that domain, but was not using it for a website. This owner wanted USD $10,000 for it. That was more money than the entire capitalization of the company at the time, I suspect, since they started operations well before raising any money.
But non-profit companies can accept donations, and such donations are tax deductible to the donors. So Haji arranged for the owner of worldofgood.com to donate the desirable domain name to the non-profit. The seller got a valuable tax deduction, worth real money, and the for-profit company got to use the domain name for its for profit activities. I don't know the details of how this was accomplished, but it probably involved the non-profit renting the domain to the for profit, which, if true, would have had the lovely side effect of getting money into the non-profit to use for the philanthropic activities that entity was set up to accomplish.
Getting the worldofgood.com domain name without spending a dime of cash was pretty clever, and is illustrative of Haji's creative thinking.
As far as I know, World of Good didn't even have a lawyer through all of this company formation and domain name acquisition, because one day at lunch at Freehouse Berkeley next door to the entrepreneurship lab, Haji asked me for an attorney recommendation. I recommended my attorney, Eric Jensen. I met Jensen while he was a summer associate at the law firm Cooley, LLP. We have been friends ever since, and Jensen represented World of Good and later SaveUp, Haji's next company after she sold World of Good.
Haji and I didn't talk much during the work day, since we were both very busy with our ventures. But we would talk on the phone nearly every night of the week for over an hour, usually late at night around or after midnight.
Haji started including me in her family events, and I was so privileged to get to know her extended family, including her uncle, Arjun Divecha, her aunt Diana Divecha, their children Mia and Zai, and Priya's parents Karim and Asha Haji.
Eventually, after many meals, hundreds of hours of talking, and many family events, Haji casually said to me that we were dating, even though we never kissed or even held hands. It is one of my biggest regrets in life that I thought of her as only a friend, and from then onward our friendship slowly unwound nearly completely. In recent years, we only saw each other sporadically about once a year. This year I saw her at the day long event that marked the finals for the Global Social Venture Competition, in April, where Haji was one of the keynote speakers. I photographed Haji at that event after her presentation in Anderson Auditorium. That photograph is at the top of this post. I uploaded the picture at full resolution. To see the full size version, please click on it and allow your browser to load the full size 22 megapixel version. Then click again to see the image at full size. This picture shows how beautiful and vibrant Haji was, and it's one of my favorite pictures that I took of her.
For years I anguished about my friendship with Haji dissolving.
I would have loved for her to be my wife had I felt that way about her, and I suspect she would have agreed had I asked her during the peak of our friendship.
Her family was so incredibly nice to me that I felt like part of the family already.
And what a family Priya had…
I can say with authority that her family is one of the most impressive I have met.
The Divecha children were particularly impressive at ages 13 and 16. Zai Divecha, the 16 year old, made a sleek and modern gun metal grey rocking chair in her high school shop class that had all of the fit and polish of something from the very high end furniture gallery Limn. Arjun Divecha was investing billions of dollars in emerging markets, according to news accounts I found while writing this article. As a fascinating side note, Zai Divecha now designs and builds exotic and sumptuous furniture, according to her website I found today at ZaiDivecha.com. I wrote the sentence above about Zai's furniture making in high school before I did a search on her today and found that she's making her livelihood as a furniture designer and maker. Her sister Mia is a PhD student in Chemistry, according to Mia's website I found today at MiaDivecha.com.
I shared office space with World of Good for over a year. Then both of our companies moved into a warehouse near the 580 freeway in Berkeley, far from the UC Berkeley campus.
My company stayed in the new warehouse a few weeks, and then we moved back to the entrepreneurship lab. We didn't know it at the time, but there was an steel works emitting allegedly toxic fumes just eight blocks away. It was far enough away we didn't see it, but as we were moving in, if the wind was right, there was an odor like burning plastic or rubber. I didn't know the source until some protesters came by with flyers and introduced themselves. They were trying to rally support to get the city of Berkeley to clamp down on the factory and force it to install fume scrubbing filters. It was then that one of my employees reminded me he had been having trouble breathing since we moved offices. I did some web research and was alarmed. I asked David Charron if my company could move back to the entrepreneurship lab while I leased some space closer to home in San Francisco, where I lived and continue to live. Charron allowed our immediate return. Thank you David. I wrote in 2011 an extensive blog article about Pacific Steel.
After the move to 10th Street in Berkeley, Haji and I stopped talking regularly. She got even busier.
World of Good took off like a rocket.
Even though they leased several thousand square feet, they outgrew the space in just months and moved to Emeryville, California, which borders Berkeley. They leased a huge warehouse I estimate filled half a square block. World of Good started buying ocean shipping containers full of product at a time, and had two forklifts to move the approximately 5,000 Stock Keeping Units (SKUs) around the giant space. I toured the space several times, and seeing conveyers and forklifts and Costco warehouse store sized shelves stacked high was impressive.
Times were sweet.
Last I heard, before the first location move, World of Good bought products for X dollars and sold them for 2X dollars. Their customers, the retails stores, then sold them for 4X dollars. These numbers are golden if you can maintain them at scale. I believe it was these metrics coupled with fast sales growth that allowed World of Good to close three rounds of venture capital investment. Venture capitalists are picky, and rarely do they invest in fair trade companies importing luxury gift items.
But then the Great Recession of 2008 hit in September, 2008.
Like many businesses selling luxuries, World of Good stumbled. They raised their last round of funding, about a million dollars, in a Series C round that was smaller than the earlier rounds. This round closed after the start of the Great Recession, which showed investors believed the company could survive even in spite of the severe gloom hanging over the world economy at the time. Haji told me on the phone this would be the last round of financing, and I took that as a sign that things were going to be OK and that company was about to be self supporting on profits going forward.
Then one day, I got an email from Haji asking me to give my vote to allow World of Good to be acquired. I had written an investment check to the company back when we were all in the entrepreneurship laboratory, so that's why Haji asked me to sign papers. Of course, I agreed. My stake was tiny, so my input was not the determining input. I knew that if Haji said the company needed to be sold, there was no other option to keep thousands of workers busy and making money. Haji did not disclose the details of what happened in her emails to me. If I had to guess, the company was in danger of missing payroll, and no new investment funds were readily available.
While I know the purchase price, it was never published, so I will not publish the price. I caution you to not draw any price conclusions from what I have written here. The price was more than fair from what I know from what Haji directly said to me.
The company was sold in two pieces — the brand was sold to electronic commerce giant eBay and the wholesale operation was sold to GreaterGood/Charity USA. The official press release follows my article, and you can read it here at the source. I mirror the news below since at some point the link will stop working, while this blog will be online in one form or another indefinitely.
I never learned the inside details of what happened to World of Good. The investor emails did not disclose what really happened. Haji offered to meet me in person to tell me what happened, but I never got around to taking her up on that offer. I figured they hit tough times because of the Great Recession and let it go at that. I understood.
I did not want to embarrass Haji by insisting she tell me precisely what happened. I assume she was heartbroken, distraught and frustrated. The Great Recession hurt many people, including me, so I understood.
I have no reason to fault Haji's leadership, as I know the pressure venture capitalists place on founders to grow and take risks. Even if Haji and Sangvi had wanted to go through Chapter 11 Bankruptcy prior to raising the Series C round, to shed the lease on the huge warehouse and scale operations way down until the recession ended, I doubt the investors would have approved. Professional venture capitalists have a 'swing for the fences' mentality, and hunkering down for years to weather a recession is not something I believe they advise or support.
The math behind World of Good was favorable, and customers liked the offerings. There were long lines at the annual warehouse sale they held each Christmas. I bought a shopping bag of product as holiday gifts each year, and I still have half a shopping bag of items on hand, with tags still attached. I still give World of Good gifts today as a result.
Had the Great Recession not hit, I am confident World of Good today would be a thriving specialty brand, with goods for sale directly online and in stores in tens of thousands of locations. I believe Haji, Sangvi and the later third co-founder David Guendelman would  have increased sales by now to hundreds of millions of dollars.
While eBay did eventually retire the World of Good brand, the eBay website continues to host a store, green.ebay.com, where thousands of hand made items made by poor women in the developing world are sold. You can see the notice eBay published about the name change if you access the store via this link: WorldofGood.com by eBay. Note the pop up notice only apparently shows up the first time you click this link, not every time.
Here's a story about how restrained Haji could be when she believed such restraint was warranted.
I remember that in 2005 she faced the loss of $15,000 with remarkable poise. At the time, her company had not raised much money, perhaps a few tens of thousands of dollars in total from family members.
World of Good won the USD $25,000 grand prize in the Global Social Venture Competition.
World of Good weeks later the $10,000 second place prize in the Berkeley Business Plan Competition. The grand prize amount was $25,000.
Haji later learned that the judges in the later competition voted to award World of Good the grand prize as well, but that they were persuaded to instead flip the first and second place winners so that World of Good would not win two grand prizes. No company has ever won two grand prizes in these competitions.
Many founders would have raised a stink upon learning they had lost out on a much needed extra $15,000 because of outside influence in the judging process. But Haji just shrugged the whole thing off with not even a hint of ill feelings.
I know the specifics of this story directly from Haji, and I have never shared this story in public before, and I had not planned to. But it's such a perfect story to illustrate Haji's ability to remain cool under pressure. She needed that money, but she did not, to my knowledge, make any attempt to collect it by complaining to the administration at the Haas School of Business which hosted these two business competitions.
Priya Haji knew how to select her battles well, and how to win friends and influence people.
Even in her private life, Haji was great at seeing around corners. To illustrate, when we were watching the Michael Douglas and Sean Penn movie The Game at my house, she predicted the dramatic ending, an ending that caught me by surprise the first time I saw it. I recall being amazed that she predicted so accurately what was about to happen next. The Game is a suspenseful movie, and I don't believe most people predicted the ending.
Priya Haji was a star.
Hundreds of thousands of other words have been written about Haji. She's been interviewed on television many times. She has been profiled in widely circulated newspapers and magazines. She has spoken at hundreds of events. She had thousands of friends, including over 1,400 on the current market leading (in the US) social network Facebook.com. Many other memories will be shared. This is not an obituary for Priya. I so far have left out that she received her undergraduate degree in pre-med and religious studies from Stanford University and received her Masters of Business Administration degree from University of California, Berkeley. She founded Free at Last while at Stanford to help battered women in East Palo Alto. She started with her doctor parents a medical clinic for poor people in Texas when still in high school. She started another venture capital financed startup called SaveUp after World of Good ended. She worked at that company until her passing this week. She had two lovely children, a girl and a boy. She left a sizable mark on the world, and she will be missed by thousands and thousands of people.
Priya Haji was one of the most important people in my life for over a year, and I cried when I heard about her death. I will miss her. I write this post with great fondness and admiration for a life well lived, and a soul beautifully nourished and expanded to the point she touched so many more people than most people can even dream of.
I love you Priya.
—–
Press release announcing sale of World of Good:
World of Good Inc. Sells Brand and Related Assets to eBay; Wholesale Division Acquired by GreaterGood/Charity USA
World of Good Brand Continues to Represent Sustainable Shopping and Market Access for Global Artisans Through E-Commerce
EMERYVILLE, Calif. – February 25, 2010 – World of Good Inc., a five-year-old social venture that connects artisans from developing communities with mainstream retail markets, announced today that eBay has fully acquired its brand and related assets. World of Good Inc. also announced that GreaterGood/Charity USA has acquired its wholesale division and line of designer, Fair Trade products which will be re-branded, while existing relationships with retailers and artisan partners will be maintained. The terms of the transactions were not disclosed.
eBay's acquisition of the brand results from a two-year long collaboration between the two companies that led to the development of WorldofGood.com by eBay, the world's largest multi-seller marketplace for socially and environmentally responsible shopping. The transaction reflects eBay's growing commitment to engaging consumers to affect social change through sustainable commerce. It also represents World of Good's commitment to creating the greatest market opportunity for small, Fair Trade and environmentally responsible producers around the world. The online marketplace hosts hundreds of sellers, with tens of thousands of sustainable products from 85 countries.
"We are excited about the opportunity to scale the World of Good mission to an unprecedented degree through eBay," said World of Good co-founder and CEO Priya Haji. "Also, we are confident that GreaterGood will be an excellent steward of the retail partnerships we've built and will continue to grow Fair Trade through mainstream retail channels."
GreaterGood's acquisition of World of Good's wholesale division reflects its growing Fair Trade business, including its Global Girlfriend apparel line. Since 2004, World of Good has developed extensive retail product lines for partners like Whole Foods Market, Hallmark and Disney, among others. GreaterGood will continue to work with the same retail partners and artisan groups in order to grow market access for small artisan suppliers around the globe.
World of Good was founded in 2004 by U.C. Berkeley's Haas Graduate School of Business MBA's Priya Haji and Siddharth Sanghvi with the mission to help small artisan producers improve their livelihoods by providing them with access to mainstream retail markets. The company has impacted more than 40,000 individual artisans across 70 countries by connecting them with millions of U.S. consumers. Haji also founded World of Good Development Organization, a sister non-profit focused on improving the lives of low-income women in the developing world. In December 2009, the Development Organization was honored by The Tech Museum of Innovation for its Fair Wage Guide, a free, open-source platform that calculates fair wages for artisans around the world and specific to their locations. The organization will continue its work to create technologies and tools that help companies ensure fair wages to informal sector workers.
Robert Chatwani, Director of eBay Global Citizenship said of the acquisition, "We look forward to this next step in our commitment to building an integrated, sustainable shopping experience within the eBay marketplace and are dedicated to applying our reach, resources and business model to create a positive impact for people, the planet and communities throughout the world."
"GreaterGood is excited to grow the retail partnerships that World of Good built and to continue to help small artisan and Fair Trade producers reach these important retail channels," said Stacey Edgar, founder and president of Global Girlfriend and director of the GreaterGood Wholesale Division.
About eBay:
Founded in 1995, eBay Inc. connects hundreds of millions of people around the world every day, empowering them to explore new opportunities and innovate together. eBay Inc. does this by providing the Internet platforms of choice for global commerce and payments. Building on this positive foundation, eBay's sustainability efforts harness our technology and reach to extend this positive impact into vibrant, sustainable commerce experiences. Our sustainability portfolio includes WorldofGood.com, the eBay Green Team, the eBay Foundation, eBay Giving Works and MicroPlace.
About GreaterGood/Charity USA:
The GreaterGood Network of websites (including TheHungerSite, TheBreastCancerSite, TheAnimalRescueSite, Global Girlfriend, and others) offers the public a unique opportunity to support causes they care about through a free daily click and Gifts that Give More™ (100% of these donations go to the cause of the patron's choice).  The GreaterGood Network's online stores offer more than 3,000 Fair Trade items, with up to 30% of the purchase price going to charity. In fiscal year 2009, the GreaterGood Network gave more than $3 million to more than 50 charities around the world.
Media Contacts:
Lonnie Shekhtman, World of Good
240-601-5824, lonnie@worldofgoodinc.com
Annie Lescroart, eBay
(408) 376-7458, anlescroart@ebay.com
Rosemary Jones, GreaterGood/Charity USA
206-268-5496, rosemary@thehungersite.com
—
Here is Priya Haji's bio from the SaveUp.com website, as of July 18, 2014:
Priya Haji
Co-Founder • CEO
Priya is the CEO and co-founder of SaveUp; she has been a serial social entrepreneur since age 16; she is committed to building innovative companies that benefit people. Her most recent venture World of Good, an on-line retail marketplace and wholesaler of sustainable goods, was acquired by eBay in 2010. The brand creates market access for women artisans in 55 countries around the globe through partnering with brands like Hallmark, Disney and Whole Foods. Prior to that she co-founded and led Free at Last, which became a national model for substance abuse treatment and HIV/AIDS intervention for African Americans and Latinos while serving 3,000 people per year in East Palo Alto and raised more than $20M in special investments. Her first start-up was a free clinic in Texas with her Dad. Priya graduated undergrad from Stanford University and has an MBA from Berkeley.
—
Here is the text from the Priya Haji entry from the Haas School of Business newsroom, mirrored here in case the original link is ever broken:
Serial Social Entrepreneur Priya Haji, MBA 03, Passes Away
July 18, 2014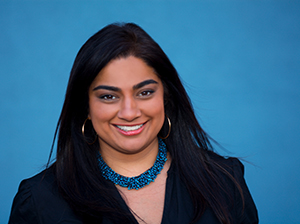 Haas alumna Priya Haji, MBA 03, the co-founder of Free at Last, World of Good, and SaveUp, passed away unexpectedly on Monday, July 14. She was 44.
Born in Detroit, Haji earned a bachelor's degree in religious studies and pre-med at Stanford. After earning her MBA at Berkeley-Haas, she pursued her vision of improving economic opportunity and equality by co-founding three companies.
Free at Last is a national model program for substance abuse treatment and HIV/AIDS intervention in the African American and Latino communities. Under Haji's leadership, the company served 3,000 people per year in East Palo Alto and raised more than $20M in special investments.
World of Good, a retail marketplace and wholesaler of sustainable and fair trade products, improved the lives of thousands of women artisans in 55 countries. It was acquired by eBay in 2010.
SaveUp, where Haji was serving as CEO at the time of her death, is the nation's first rewards game for saving money and reducing debt.
Haji fully embodied the Haas School's Defining Principles, especially Beyond Yourself as she was a consistent contributor to the Haas community. Haji shared her wisdom and insight at various events, most recently by delivering a keynote address at the Global Social Venture Competition (GSVC) in April 2014. Haji won the GSVC competition in 2005 with her startup World of Good. She also inspired students and served as a mentor for the Young Entrepreneurs at Haas (YEAH) program.
"Like many other Berkeley MBAs in the past decade, I was so inspired by Priya's vision and leadership," says Ellen Martin, MBA 07, who met Haji when she served as her Berkeley Board Fellow for World of Good. "She really pushed us all to approach entrepreneurship—not just social entrepreneurship—in an entirely different way. We owe her a huge debt of gratitude for that."
Haji's honors include being named a Young Global Leader by the World Economic Forum; a Social Innovation Leadership Award by the World CSR Congress, a non-profit organization whose annual conference celebrates corporate social responsibility; and inclusion in GOOD magazine's GOOD 100, a list of people driving change in their communities in creative and inspiring ways.
"Priya was such a vibrant force in life—undaunted by challenges, willing to give voice and energy to her ideals and vision," says Haas Lecturer John Danner, who taught Haji in his "Workshop for Startups" class where she co-developed World of Good. "What a profound loss first to her family but to all of us as well who were touched by her example."
Haji is survived by two young children: a two-and-a-half-year-old son, Zen, and an 11-month-old daughter, Omi; her parents, Karim and Asha Haji; and a sister, Amina.
A celebration of her life will be held at Haas in the coming weeks. Details will be published as they become available. Friends are encouraged to share memories on a Facebook memorial page: https://www.facebook.com/priyahajimemorial.
The Priya Haji Memorial Fund has been established to honor her inspiring life and will support an MBA student focused on entrepreneurship and social innovation. Donate at http://givetocal.berkeley.edu/fund/?f=FM8347000.
– See more at: http://newsroom.haas.berkeley.edu/article/serial-social-entrepreneur-priya-haji-mba-03-passes-away#sthash.L4jAhtsc.dpuf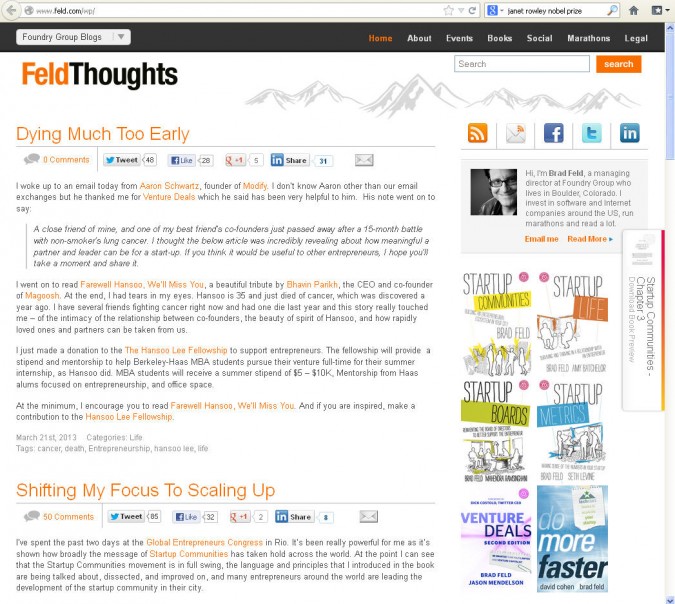 On March 18, 2013 I wrote a tribute to Hansoo Lee, who died March 4, 2013 at age 35 from cancer.
Prominent venture capitalist Brad Feld wrote yesterday, March 21, 2013, a touching tribute to Hansoo Lee on his blog. Feld's blog post was republished on Business Insider.
Here is Feld's post, in its entirety, for posterity in case the above links ever disappear. Please read this version only if the links above don't work, so as to not take traffic away from those sites. I generally only copy entire posts like this when I want to be sure some important text is readable for decades, like these lovely words from Brad Feld:
"I woke up to an email today from Aaron Schwartz, founder of Modify. I don't know Aaron other than our email exchanges but he thanked me for Venture Deals which he said has been very helpful to him.  His note went on to say:
A close friend of mine, and one of my best friend's co-founders just passed away after a 15-month battle with non-smoker's lung cancer. I thought the below article was incredibly revealing about how meaningful a partner and leader can be for a start-up. If you think it would be useful to other entrepreneurs, I hope you'll take a moment and share it.

I went on to read Farewell Hansoo, We'll Miss You, a beautiful tribute by Bhavin Parikh, the CEO and co-founder of Magoosh. At the end, I had tears in my eyes. Hansoo is 35 and just died of cancer, which was discovered a year ago. I have several friends fighting cancer right now and had one die last year and this story really touched me – of the intimacy of the relationship between co-founders, the beauty of spirit of Hansoo, and how rapidly loved ones and partners can be taken from us.
I just made a donation to the The Hansoo Lee Fellowship to support entrepreneurs. The fellowship will provide  a stipend and mentorship to help Berkeley-Haas MBA students pursue their venture full-time for their summer internship, as Hansoo did. MBA students will receive a summer stipend of $5 – $10K, Mentorship from Haas alums focused on entrepreneurship, and office space.
At the minimum, I encourage you to read Farewell Hansoo, We'll Miss You. And if you are inspired, make a contribution to the Hansoo Lee Fellowship."
Here is the heartfelt tribute that Bhavin Parikh wrote and that Feld noted above. Again, I generally only copy complete posts like this when I think there is a chance the original won't be on the Internet for decades and decades, and when I think the likelihood of irritating the original author is low. Please read this text below from Parikh only if this link does not work:
"Hansoo Lee was a visionary, a close friend, and my co-founder at Magoosh. On March 4, 2013, at the age of 35, he lost his 15-month battle with lung cancer. Hansoo changed my life, and I will be forever grateful.
The beginning
Hansoo and I were classmates in the full-time MBA program at Haas School of Business at UC Berkeley. He came to Berkeley-Haas fully aware that he wanted to pursue entrepreneurship. In fact, he wrote the following in his MBA application:
"I believe in the power of a well-operated, sophisticated organization that generates social and economic value. My career goal is to found and lead this type of organization."
In our first semester at Haas, Hansoo and I joined Pejman, another Haas classmate, and his friend Vikram in creating Magoosh, an online education product initially focused on test preparation. Hansoo quickly emerged as a leader among the group. He was deeply passionate about changing the world through education. He served on the Board of World Savvy, an education non-profit, for several years prior to Haas and continued to do so during and after. Unlike the rest of us, Hansoo had worked at a startup before and knew what it took. He acted with conviction and focused on getting things done instead of trying to make the perfect decision. He had a bias towards action, a value we hold dear at Magoosh today.
Hansoo and I pursued Magoosh full-time during the summer, foregoing traditional paid internships. We worked out of the basement of his apartment for 10+ hours a day. That summer, we released Magoosh in small iterations, from just one page with a question, video explanations, and a text box for email addresses, to over 200 GMAT math questions with full-on video explanations. Early into the first semester of our 2nd year, Hansoo and I were the only remaining full-time members of Magoosh. We were at a crossroads: Should we go back to corporate America or continue to work on Magoosh full-time after graduation?
Hansoo, the visionary
Hansoo was fearless. The decision to pursue Magoosh full-time was a no-brainer for him despite Magoosh having very modest revenue and no funding. His confidence was unparalleled and often led to tension between us. But I later realized that while I could only see what was right in front of us, Hansoo could see through the fog. He had a vision for Magoosh of making high quality educational material accessible to all, and he had confidence in us to see that vision through.
He dragged me, often kicking and screaming, through many of Magoosh's milestones. In October 2010, Hansoo spent weeks convincing me that we should raise a seed round. I still recall a three hour walk we took around Berkeley's campus debating the merits of fundraising that ultimately he won out. And the process was easier than I expected, thanks to the previous 12 months that Hansoo spent building relationships with potential investors. I could always come up with thousands of reasons to defer a decision, but he would usually get his way, and we would take action. His way was the right way — make decisions and move forward — it's why Magoosh is successful today.
Hansoo's cancer
In late December of 2011, I received a crushing email from Hansoo. "Hey Bhavin. I've been diagnosed with a rare form of lung cancer…" I could barely read on. I was 3,000 miles away visiting my wife's family in Massachusetts, but my heart was with Hansoo in California. I didn't understand. He was fit, active, and a non-smoker. He did everything right. How could this happen to him?
He stepped away from Magoosh operations as of January 2012, but he remained fearless about his prognosis and the company's future. His positive attitude was infectious. I still can't believe that during this time he provided me with support because he knew running the company as a sole founder would be difficult.
Unfortunately, his condition worsened throughout the year. Despite going through various advanced treatments, he faced complication after complication. Our weekly walks turned into monthly phone calls and then just the occasional email. I couldn't imagine what he was going through, and I wanted to do more for him. But whenever we spoke, he told me to focus on Magoosh. He was watching from a distance and loved seeing the team's progress.
On Monday March 4, 2013, Hansoo passed away due to complications from his cancer. We had spoken for nearly an hour just two weeks prior, and I'm grateful that we were able to chat then. I was able to tell him about his impact on Magoosh.
Hansoo's impact on Magoosh
Hansoo left a lasting impact on our daily lives at Magoosh. He was the impetus behind our daily standup meetings and the weekly one on ones between managers and employees. He cared so deeply about crafting an amazing culture and brand that he led us through an exercise to define our core values when we had only 4 full-time team members — we still hold those values dear today. He was transparent with our vision and finances because he believed in providing everyone with purpose and autonomy in their work.
I'm reminded of him everyday when I walk into the Magoosh office. Magoosh would not be what it is today without him. We've grown into a successful business and have helped thousands of students improve their GRE and GMAT scores thanks to Hansoo. He was our leader, and we'll miss him.
How you can help
To honor Hansoo's memory, we have created the Hansoo Lee Fellowship. The Fellowship will provide a stipend and mentorship to help Berkeley-Haas MBA students pursue their venture full-time for their summer internship, as Hansoo did. Students will receive:
A summer stipend of $5 – $10K
Mentorship from Haas alums focused on entrepreneurship
Office space donated by Magoosh
This fellowship is a realization of Hansoo's vision. He always looked for opportunities to give back, and this is our way of celebrating him. To donate to the Fellowship, click here."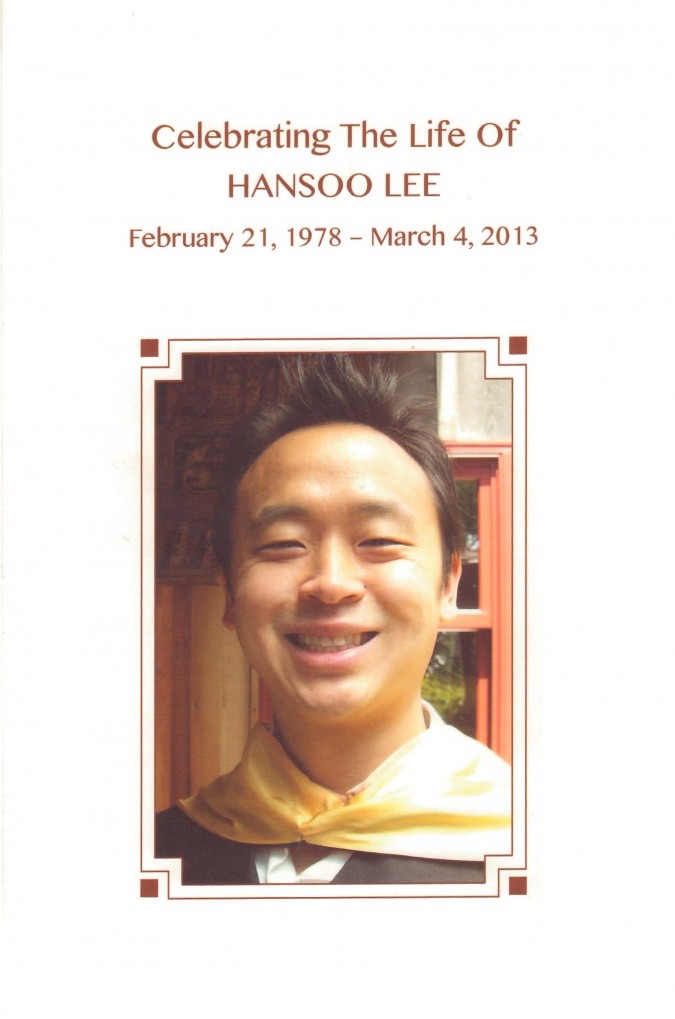 This afternoon, March 18, 2013, I attended the memorial service for Hansoo Lee. Lee died from lung cancer on March 4, 2013 at thirty five years of age. Lee was born February 21, 1978.
I didn't know Lee particularly well because we probably saw each other just a dozen times. Most of those times were at Cal Founders meetings at various venues in the San Francisco Bay Area. Cal Founders meetings are informal monthly gatherings where entrepreneurs discuss their business challenges. The big benefit to these meetings is the wide variety of advice that may be gleaned from the diverse attendees. I like to characterize the meetings as board of directors meetings where one may actually be completely frank about issues, with no worry that what you say may later be used against your company.
Since Cal Founders meetings are designed to encourage sharing of meaningful obstacles and opportunities, I feel like I learned quite a bit about Lee during these meetings. A person's character comes into focus rather quickly when you hear them give and receive advice.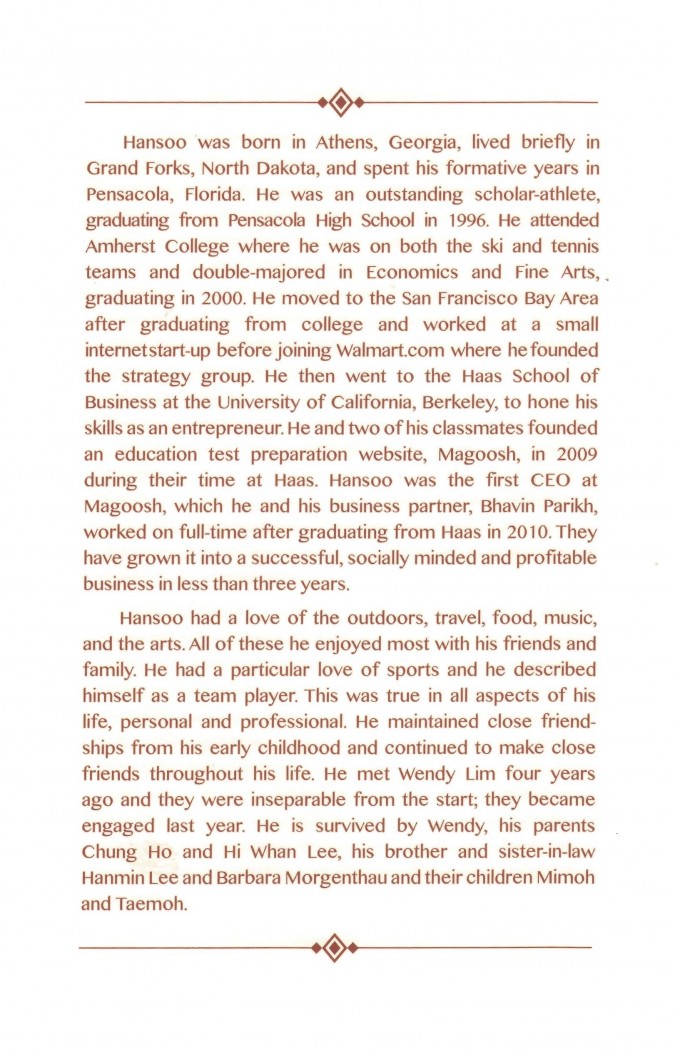 Lee was a standout at Cal Founders meetings, and for good reason. He was a smart, driven, accomplished and capable entrepreneur. Sadly, the majority of entrepreneurs I meet never deliver much in the way of results. Lee stood out because he actually delivered results. He was quick to cite statistics about growth, and he knew exactly how to bring customers to his business, and could specify exactly what results would come from specific steps. This kind of precision is less common than you might imagine.
I recall examples that demonstrate how impressive Lee was as an entrepreneur, but I won't share them with you, since Cal Founders meetings are by design confidential, to encourage open dialogue. I doubt Lee would mind my sharing some examples, given that they paint him in such a favorable light, but I am loath to break confidentiality even in light of the sad circumstance of his too early passing.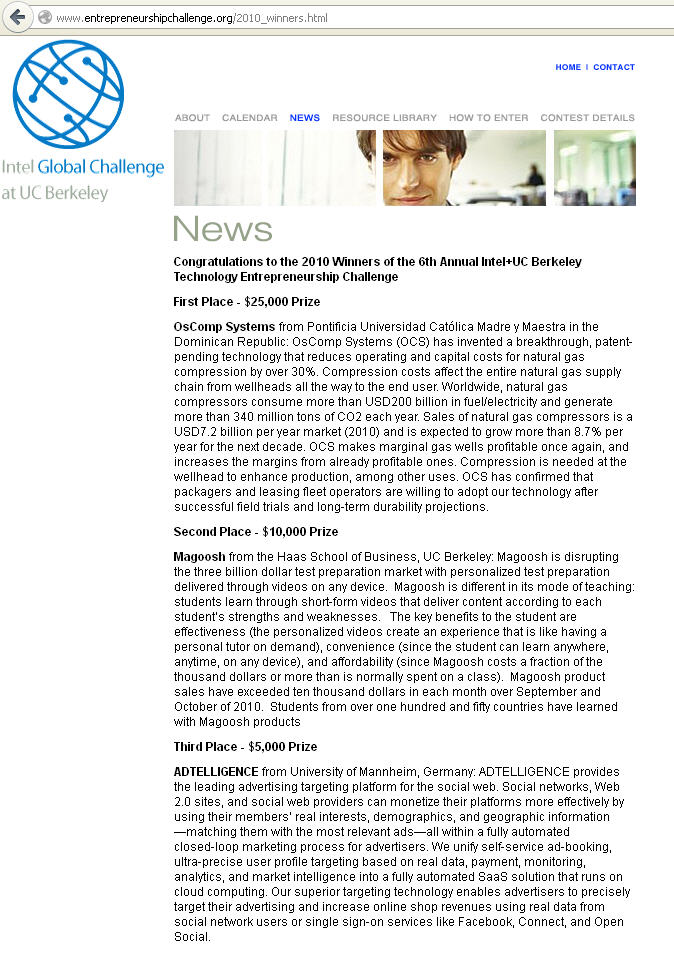 I remember seeing Hansoo Lee the evening his startup Magoosh won USD $10,000 in the 2010 Intel Global Challenge business competition. The Intel Global Challenge is a big deal, and it is very competitive because Intel invites competitors from all over the world to participate. I have watched the finals awards ceremony for years and I conclude the competition is more competitive than the Berkeley Startup Competition, which itself is quite competitive.
I am comfortable sharing some of what I learned this afternoon in a public memorial open to all at the beautiful Golden Gate Club inside The Presidio. Part of the Golden Gate National Recreation Area, The Presidio used to be a United States military base before it was vacated and turned over to visitors to and residents of San Francisco to enjoy.
The Golden Gate Club overlooks the San Francisco Bay through giant windows perhaps two stories tall. These windows showcase the Bay is if it is a work of fine art in a museum.
Here's Lee's biography from the program handed out today at the memorial:
"Hansoo was born in Athens, Georgia [USA], lived briefly in Grand Forks, North Dakota, and spent his formative years in Pensacola, Florida. He was an outstanding scholar-athlete, graduating from Pensacola High School in 1996. He attended Amherst College where he was on both the ski and tennis teams and double-majored in Economics and Fine Arts, graduating in 2000. He moved to the San Francisco Bay Area after graduating from college and worked at a small internet startup before joining Walmart.com where he founded the strategy group. He then went to the Haas School of Business at the University of California, Berkeley, to hone his skills as an entrepreneur. He and two of his classmates founded an education test preparation website, Magoosh, in 2009 during their time at Haas. Hansoo was the first CEO at Magoosh, which he and his business partner, Bhavin Parikh, worked on full-time after graduating from Haas in 2010. They have grown it into a successful, socially minded and profitable business in less than three years.
Hansoo had a love of the outdoors, travel, food, music, and the arts. All of these he enjoyed most with his friends and family. He had a particular love of sports and he described himself as a team player. This was true in all aspects of his life, personal and professional. He maintained close friendships from his early childhood and continued to make close friends throughout his his life. He met Wendy Lim four years ago and they were inseparable from the start; they became engaged last year. He is survived by Wendy, his parents Chung Ho and Hi Whan Lee, his brother and sister-in-law Hanmin Lee and Barbara Morgenthau and their beautiful children Mimoh and Taemoh."
There were over two hundred people at Lee's memorial.
I was impressed with how many people boarded aircraft to attend. The majority of the members from his class that belonged to his fraternity at Amherst were there, and two of them spoke at the podium sharing their memories of Lee. I learned that Amherst had banned fraternities, so fraternities were tiny and presumably somewhat hidden. As a result, when I write 'majority' I mean three fraternity brothers out of a total of five in Lee's class attended Lee's memorial. Counting Lee, four fifths of the entire class was represented. That I believe is a testament to Lee's good spirit. Remember, Lee graduated from Amherst a dozen years ago.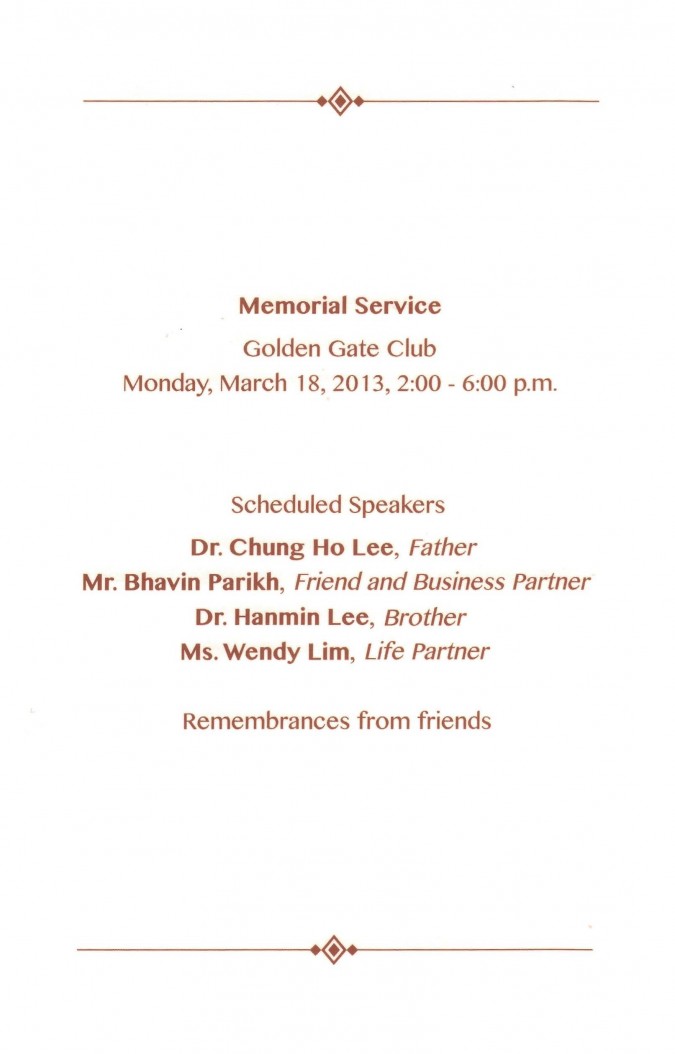 About two dozen of Lee's friends walked to the microphone and shared their memories.
Two of his friends met Lee in the first grade. One of those friends entertained us by explaining Lee's love for business even as an eight year old. Lee was a pro at profitably buying and selling baseball cards. He studied baseball and developed the rare ability to identify future star players while they were still rookies in their careers. This skill allowed Lee to buy the correct rookie cards while they were still low cost, and then sell them years later when the players became stars. I learned Lee joked that he planned to pay for college with his card trading empire begun as a child.
I learned about Lee's first skiing trip as part of a high school engineering club he belonged to, and how his enthusiasm for skiing caused him to wear out a pair of ski pants in just a night of tumbling on a slope covered with inadequate snow and uninvited mud.
Lee's fiancée, Wendy Lim, delivered the most emotionally moving remarks.
I cried.
Wendy Lim is really impressive.
Lim described herself as Lee's opposite, but pointed out how well they each complimented the other.
Wendy Lim described Lee as the love of her life, and told us she had never before known love like that which she shared with Lee. It's so sad Lee was taken from her so early after her lifelong search to locate him.
I introduced myself to Lim and expressed how sorry I am for her loss.
I also had the privilege of expressing the same sentiments to Dr. Chung Ho Lee, Hansoo's father, Hi Whan Lee, Hansoo's mother, and Dr. Hanmin Lee, Hansoo's brother.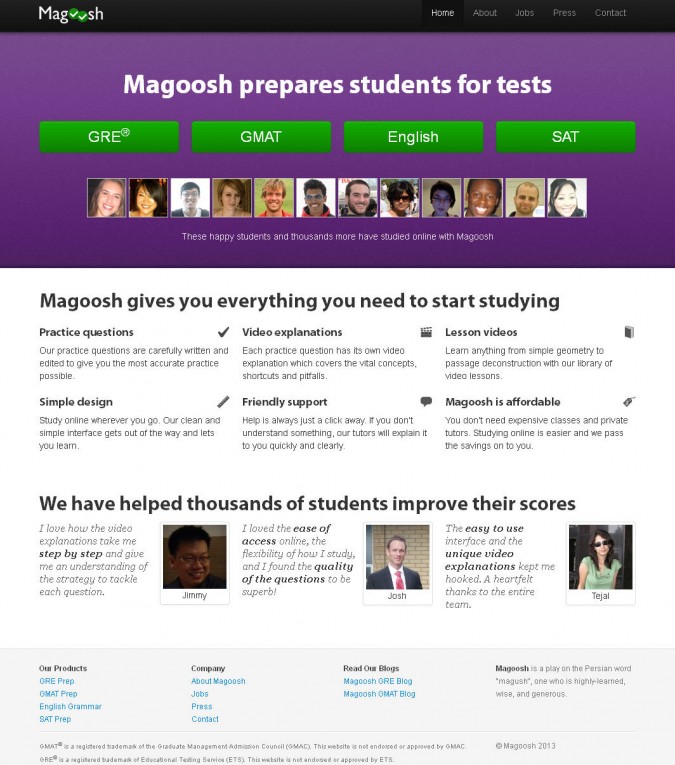 The Hansoo Lee Fellowship has been established at the Haas School of Business at University of California Berkeley. Lee started full time work on his startup Magoosh during the summer break between his first and second year at business school. This concerted several month effort I suspect really accelerated the progress at the company. The idea for the Fellowship is to help other student teams pursue their dreams during that pivotal summer break. The fellowship will provide a cash stipend, office space and advice from mentors to one lucky team each summer. If you are able and would like to give money to fund the Hansoo Lee Fellowship, please do so by following this link to the official UC Berkeley donation page for this fellowship.
Farewell Hansoo Lee. I am glad that I got to know you a bit during your exceptional life.