Archive for the 'Education' Category
On Friday, April 12, 2013, I attended the 2013 final presentations by teams competing in the Global Social Venture Competition.
I was invited by Jennifer Walske, Faculty Director of the Global Social Venture Competition. Walske moderated the question and answer session between the judges and the competitors. I paid for a ticket to attend the event, but at a reduced rate as a member of the press — USD $49.50 rather than $99.00. Thank you to the organizers for the discount.
This event took place at the Haas School of Business on the campus of the University of California in Berkeley, California USA. Haas Dean Rich Lyons opened the event with some wise remarks.
This event was an all day affair, with keynotes, panels and even a debate. I arrived at 8am and left around 8pm.
This competition is the premier social venture competition in the world, and, according to the organizers, close to 650 teams from 37 countries competed. My friend Sara Olsen co-founded the competition while she was getting her MBA at the University of California Berkeley.
The morning keynote
Josh Nesbit, the CEO of Medic Mobile, gave one of the more uplifting keynotes I have heard in a while. I didn't take notes so I am not prepared to summarize it, but he tells about a remarkable journey over the last four years or so where this non profit has improved the lives of tens of thousands of people in the developing world. The video of the talk should be posted to the Global Social Venture Competition website, or perhaps YouTube, by Friday, April 19, 2013, I've been told, so you'll be able to watch it there. It's well worth watching. I photographed Nesbit twice, and there is a more formal portrait of him at the bottom of this post.
The 6 final finalist teams
All 18 teams that traveled to Berkeley are finalists, and they all wore the same type of name badges. The 18 teams presented on Thursday, April 11, 2013, and the best 6 teams became what I will call the final finalists. In this post, I present short executive summaries of each of the 18 teams. This text was written by the teams themselves — I just copied it from the luxurious pamphlet distributed at the event. Normally, I place such text in quotes, but since this text compromises so much of this post, I am telling you here that the summaries are text I did not write.
The teams that advanced to the concluding round of judging are:
Faso Soap
1st place winner of USD $25,000; Blum Center for Developing Economies Peoples' Choice Award of $1,500 — from the country Burkina Faso
According to the World Health Organization (WHO), about half of the world population is still at risk of contracting malaria. In 2010, among 219 million people affected, there were 660,000 deaths, of which 91% were in Africa where malaria remains the leading cause of death. Particularly vulnerable individuals are pregnant women, children under 5 and HIV patients. Considering this alarming report, Moctar Dembele and Gérard Niyondiko, two students from 2iE Foundation, have found an innovative solution through the project Faso Soap. The "soap of Faso" offers an innovative solution for the prevention of malaria, which takes into account financial constraints and cultural habits of African families. The company will produce and market both antibacterial and anti-mosquito soaps made with 100% local resources to integrate prevention against malaria in the daily lives of people most affected by this scourge. Faso Soap: "The action of a group, the future of an entire nation."
Carbon Roots International
2nd place winner of USD $15,000 — Haiti
Carbon Roots International (CRI) started as an idea to explore the potential of carbon-rich char as a tool for international development. The idea evolved from a chain of emails between three friends, to meetings over lunch, to a trip to rural Haiti in 2010. Upon returning to the United States, CRI's three co-founders established the organization to enable the adoption of char technologies in Haiti. CRI's work served as the basis for co-founder Ryan Delaney's Master's thesis at Arizona State University's School of Sustainability, and compelled another co-founder, Hannah Erickson, to pursue a graduate degree at the University of Michigan's School of Natural Resources and Environment. After several years of refining technology and testing solutions, CRI has produced a feasible, scalable business plan that addresses two overlapping issues—charcoal fuel use and low agricultural productivity—which converge in Haiti, but are endemic throughout the developing world.
I guessed correctly that Carbon Roots would win 2nd place. I really like this company, which makes 'green' charcoal briquets out of agricultural waste, like sugar cane waste. The briquets look like small hockey pucks, and apparently burn as well as charcoal made from trees. Deforestation is a large problem, so Carbon Roots has the potential to help the planet on a meaningful scale.
Pulpworks, Inc.
3rd place winner of $7,500 — United States of America
PulpWorks: The planet is choking in garbage – toxic, enduring waste. And the single worst culprit is packaging – thirteen bathtubs full per year for each person on the planet; in the U.S. alone, 31 million tons of plastic waste was generated last year. PVC is the world's leading toxic packaging material. Consumer packaged goods companies are seeking a cost-effective, sustainable replacement for their current unsustainable PVC packaging. To address this crisis, PulpWorks has created a compostable, all-pulp-and-paper alternative to toxic plastic (PVC) blister packaging. Our patent-pending package is, in essence, the "un-blister". It showcases products in the same manner as traditional blister packs, but, rather than ending up in a landfill, the entire package can be composted after opening. Increasing consumer and regulatory pressure will eventually remove PVC from the marketplace. As designers and manufacturers of eco-friendly packaging, PulpWorks will reap the rewards of this marketplace shift.
This company has developed a way to turn paper pulp into appealing compostable packaging. The containers they showed me have a texture that is similar to cardboard egg cartons. The three presenters got a laugh out of the crowd when they said between the three of them they have 100 years of experience in business. I like this product, and I hope they succeed. Fortunately, the CEO, Paul Tasner, pictured above and individually below, has decades of experience in the packaging industry, and as a result, he has been able to get meetings with household name companies like Clorox.
The PulpWorks team traveled to the competition finals on Bart, the commuter train system in the San Francisco Bay Area, where the University of California is located.
TOHL, Inc.
Chile
TOHL developed a patent-pending technology for installing pipelines cheaply, quickly sustainably, and in any location. This technology utilizes much longer segments of pipeline than what is traditionally used. Single segments of pipeline are manufactured in lengths of 500 meters to several kilometers, and these long segments are loaded directly onto large spools that are deployed via helicopter or truck. The pipelines have fewer connections, which decreases labor hours during installation and allows the pipelines to be in operation faster than is possible if using conventional infrastructure technology. The patent-pending helicopter installations method also allows for TOHL to access remote areas that previously could not be reached, which is significant, because valuable water sources are often inaccessible. Lastly, TOHL's technology also offers the service of pipeline removal and re-use, when the pipeline is only needed for temporary applications. The tubing is re-spooled and recycled for other projects saving money and resources.
This is the team I thought would win 1st place. Drinking dirty water either kills or makes ill countless numbers of people. This company can install a flexible water hose by flying a helicopter from a source of clean water to where water is needed. Often, their services are needed after a natural disaster like an earthquake. It could take months to repair a permanent underground pipe that serves an area damaged in a quake. TOHL can install a pipe overground in minutes once everything's set up. The technology is not new, as I learned the oil exploration industry has been using the technique for years to bring water to their drilling rigs that are often out of reach of conventional plumbing. What's new with TOHL is their specialization on emergency installations. They have developed expertise working with local governments to get the necessary permits and easements, a process I suspect is so difficult that it will discourage cheap copycats from competing with their company. The company's first efforts have been in Chile, most likely because they received startup financing and support as part of the well known Startup Chile program.
The TOHL team is operating with real paying customers. The team showed an impressive video where their rented helicopter drops down tubing from a giant spool that hangs below the aircraft like a water container on a fire fighting helicopter. The TOHL helicopter showed tubing can be set down even on the tops of trees — flat or smooth ground is not required.
If the tubing is made unnecessary after some months, perhaps by the broken underground pipes being restored, the tubing can be reeled back onto the spool for reuse elsewhere.
Amazingly, the tubing can handle being outside for 25 years.
Founders Benjamin Cohen and Travis Horsley were impressive, and I spent perhaps half an hour hearing about their exciting venture. I wish them well.
The TOHL team studied at the Georgia Institute of Technology (Georgia Tech), one of the 9 partner schools that together stage the Global Social Venture Competition. Each school sends a representative that works for the institution to the global finals. Georgia Tech sent Dori Pap, the Assistant Director of the Institute for Leadership and Entrepreneurship, pictured above with the TOHL team.
Reel Gardening
Reel Gardening is a manufacturing company that aims to make gardening simple. Its main product is a biodegradable strip that encases organic fertilizer and open pollinated seed at the correct depth in the soil, and the correct distance apart. Reel Gardening indicates where each plant will sprout allowing for watering to be localized, enabling a saving of 80% water in the germination phase. The strip also helps restore soil fertility as the paper breaks down and the vegetable based inks and organic fertilizer seep into the soil. The Reel Gardening team is made up of Claire Reid (Inventor and Founder), Sean Blanckenberg (Director at Reel Gardening), Emily Jones (Project Manager at Reel Gardening), Greg Macfarlane (Financial Advisor) and Dianna Moore (Business Advisor).
CSA Munching Box
CSA Munching Box is a community-supported agriculture (CSA) program providing weekly subscription-based delivery of seasonal, organic fresh fruit and vegetables direct from the farms to customers' doorsteps and bringing the customers closer to our farmer networks in rural areas. We also serve as a distribution platform linking artisanal food producers to the urban market. Additionally, CSA Munching Box brings positive social impacts to its partners. We also use packaging made from recycled materials as well as deliver our products via bicycle couriers to reduce carbon footprint. The primary target customer group is the health-conscious and discerning consumers in major cities across Thailand. This group tends to have more knowledge about CSA, appreciates the concept, and possesses higher purchasing power.
The 12 finalist teams
Eighteen teams traveled to Berkeley for the final two rounds of the competition. On Thursday, April 11, 2013, six teams advanced to the concluding round of judging. The twelve teams that did not advance each got to deliver their pitch to all the attendees. The 12 finalists are:
AtRium
South Korea
The low income families in the world's cold regions suffer not only from cold weather but also from problems such as fuel costs, illness, and pollution due to their outdated, inefficient stove heating system. AtRium addresses these socio-economic and environmental issues through an affordable heat absorber, G-saver, which is developed based on appropriate technology. Our primary target is Mongolian households living in a "Ger." Later we will expand to other cold regions such as Inner Mongolia and Kazakhstan, and also to developed countries with our technology. Built on a consortium among Good Neighbors (NGO), Good Sharing (Social Venture), and Korea Advanced Institute of Science and Technology (Academia), we aim to contribute to building a sustainable ecosystem that balances economic and social values by pursuing sustainable profit generation, improving the quality of life of low income families, protecting the environment, and developing local economy in cold regions.
BrainControl
Italy
BrainControl is a breakthrough technology that gives disabled people the power to control objects with their minds, allowing them to control a communicator, domotic devices (lights, doors, windows, alarms, temperature, bed position, etc.), wheelchairs, and other assistive technologies. Based on a proprietary Brain-Computer Interfaces technology (BCI), BrainControl interprets the electric map that correspond to certain brain activity and allows patients to control a tablet PC through specific thoughts, overcoming physical disability, and improving communication and environmental control. The focus is on assistive applications for people affected by degenerative neuromuscular disease (multiple sclerosis, amyotrophic lateral sclerosis – ALS) and ischemic or traumatic injury, which each year affects more than 3 million patients. BrainControl is the world's first assistive technology that is usable by people who cannot move any muscles or communicate, but who are consciously aware, a state called "locked-in" or "apparent coma".
Essmart Global
United States of America / India
Essmart: Millions of people have unmet essential needs, such as clean water and safe, reliable lighting. Hundreds of essential technologies that meet these needs already exist, such as non-electric water filters and affordable off-grid solar lanterns. However, these technologies are not reaching the people they were designed to benefit. Essmart builds an essential marketplace for these products in places where people already shop – their local retail shops – so that everyone can access them.
E-Lamp
China
E-Lamp is an intelligent lighting control system. It can adjust the color and brightness level of the LED light source by remote control using a mobile device. It can be used in agriculture: as the population of the world continues to grow, more food and crops are needed. As plants at different growth stages require specific spectral and wavelength, production could be sped up using E-Lamp's adjustment of light intensity and spectral wavelength. The mobile device remote control can be used in agricultural greenhouses to centralize control of E-Lamp equipment in a single region or multiple regions to make the management more convenient. E-Lamp also can be used to improve disabled people's daily life, allowing them to easily control the light and adjust the color to match their mood, even for psychological treatment.
Damascus Fortune
India
We at Damascus Fortune not only clean the planet, but have made the whole carbon conversion process profitable. We sequester carbon from carbon emitting industries and convert it into one of the strongest materials known to man – carbon nanotubes, carbon fibers and carbon nanorods. Our products are ultra-low cost as we use the waste emission and heat from the industry itself. We wish to start a composite manufacturing plant from in-house manufactured carbon structures to cater to automobile, aircraft, construction and other industries. We are seeking support to scale into new markets globally.

Nafa Naana
Burkina Faso
In Burkina Faso, households still rely on firewood for 90% of their energy consumption, thus contributing to irreversibly damaging their forest ecosystems. Toxic fumes from burning wood are harmful for people and issues faced in supplying fuel (for cooking and lighting) are a precariousness factor, particularly for women. Solutions do exist but remain out of reach for the most vulnerable populations.  Nafa Naana – which means "gains made easy" in local language – mission is to make clean and affordable energy products (energy-efficient stove, gas stove, solar lamps…) available to even the poorest households. The distribution channels are based on retailers operating as social microfranchisees and on direct sales to women's groups. Financial barriers – for end-users, retailers and producers – are removed through the use of microcredit and savings mechanisms.
Jorsey Ashbel Farms
Jorsey Ashbel Farms (JAF) is an unconventional livestock farm pioneering a groundbreaking approach to tackling the poverty problem of Protein-Energy Malnutrition, which affects millions of disadvantaged children and women. JAF produces Nigeria's cheapest livestock products using an innovative, scientifically proven, low-cost livestock feed production technique combined with an innovative deployment strategy.
Meme B. Ortis in my mind really deserved this award. He was the most intense and passionate of all the 18 speakers. You can see his energy in the picture of him just above. He was constantly using his hands to make his point, and his voice was powerful and resonant. I was so happy I got to meet Ortis to photograph him.
We had a great conversation about those pesky emails everyone receives asking for help moving millions of dollars for a percentage. He said he has several of them in his email box right now. I shared with him the story of a guy that turned the tables on the spammers by getting them to write out in longhand one of the Harry Potter books. He had not heard about that reverse scam. If you haven't heard about it either, I promise you'll enjoy the story.
Here's the summary: a guy gets a scam email and replies he's too busy to help because he's busy providing handwriting samples at $100 a page to improve a company's handwriting recognition software. Soon, the scammer is asking to join in providing samples, and he ends up writing out with a pen the text of a 293 page novel, hoping to collect tens of thousands of dollars. Of course, he never is paid for his work, which is retribution for him scamming others out of their money via his emails.
From the summary written by the team, you wouldn't guess what they really do, which is fascinating.
There is protein rich food inside a mango seed. The company opens the seeds, which apparently are not costly and are plentiful, and extracts the presumably mushy contents. That contents are so acidic it will kill chickens that eat it directly, but Jorsey Ashbel Farms has developed a method to process the extract so that chickens can safely and productively eat it. Even though this sounds like a lot of trouble, I learned there is a big cost savings versus feeding chickens corn. JAF runs a farm where they grow mangos and raise 10,000 chickens, in harmony. I would love to visit their operation to see this wonderful sounding operation first hand.
I forgot to tell the founders that I raise four chickens for eggs in my backyard in San Francisco. My chickens eat chicken feed from a bag, not mangos, however.
Ortis' co-founder Ashbel Ayuba, pictured in the portrait section below, was the most stylishly dressed of the competitors, and had on a pair of highly polished green leather shoes made from the hide of an animal I could not identify. They looked like something rock star Prince would wear. In the early 1990s I saw Prince hanging out as a regular customer in the trendy nightclub Les Bains in Paris, France, and he had on some similarly wild boots, which matched his pants, which matched his coat with tails. He carried a golden walking stick, and had beefy bodyguards on either side, but nobody paid him any attention, as I don't think he was famous yet in Paris. I told my French friends the next morning that I had seen Prince, and not one of them knew of him. I was ten feet from Prince dancing for an hour, so I am 100% certain it was Prince.
I stopped Ayuba on the stairs and asked to photograph him before I even knew what company he was part of — I just love his look and attitude. I told him he looked like what I would imagine an African James Bond would look like. He enthusiastically pumped his fist in the air and said 'YEAH!!!'
I love being a photographer.
WOOF
Hong Kong
WOOF is a premium fashion brand producing elegant, yet quirky and fun fashion accessories. What makes us different is that our line of goods is produced by Chiengora (dog hair). WOOF's raw material is collected from various grooming stores and animal welfare organizations. The grooming division of our current NGO partner, the Society for the Prevention of Cruelty to Animals (SPCA), provides over 60% of the dog hair raw material for WOOF production. WOOF ensures that all our sources of material are 100% animal-friendly. WOOF production is a technology innovation. We are currently co-developing the machine spinning technology with our academic partner, the Institute of Textile and Clothing (ITC) from the Poly University of Hong Kong. Through fashion, WOOF aims to change attitudes towards animals. We aim to do this through two means: 1) reducing animal surrenders and increasing animal adoptions, and 2) improving the living conditions of animals.
Wedu
Thailand
Wedu catalyzes the next generation of local female leaders by providing innovative financing options for university and the lifelong support of mentors. We create a sustainable and positive cycle of development by identifying girls committed to local issues; investing in their education; mentoring them to lead and creating incentives for them to repay the funds to serve more girls. We envision a world where people from the most underprivileged backgrounds have the tools to change their lives and their home country by being masters of their own development. We started operations in Cambodia and Myanmar, built partnerships from the U.S. to Japan, united a league of extraordinary advisers and mentors from the Acumen Fund, Husk Power Systems, Unreasonable Institute and beyond. Wedu is Social Enterprise Startup of 2012 at Cambridge University, GSVC-SEA Winner, Semi-Finalist for the Echoing Green Fellowship and in the Top 10 Global Solution Award at Women Deliver 2013.
Vi-Care
India
Vi-Care is a one-of-a-kind company in India, and is on its way to formation to provide a low cost solution to address the problem of high infant mortality due to pneumonia in rural India. Vi-Care focuses on implementing a cost effective solution for the timely detection of pneumonia in infants, keeping in mind the lack of healthcare infrastructure in rural areas. Vi-Care's solution involves the use of ubiquitous mobile phones to detect pneumonia in infants. Vi-Care provides a unique diagnostic application (i-Treat) capable of performing preliminary but informative diagnosis of pneumonia without requiring any external infrastructure or expert intervention, thereby greatly improving the chances of survival of infants in rural areas. The value proposition of Vi-Care rests upon providing an unrivaled, cost-effective approach to timely detect pneumonia in low-income, rural areas, keeping in mind the financial constraints of the people.
Sunshine Library
China
Sunshine Library Rural Digital Education Initiative (Sunshine Library) is a social venture seeking to improve rural education in China via modern technology. We aim to provide a comprehensive education solution to under-resourced, rural schools using specially designed tablet PCs. Sunshine Library does not only provide tablet PCs for under-resourced schools, nor do we place our volunteer teachers in rural schools. Leveraging information technology, we provide an integrated solution with a sustainable model of operation. We designed a tablet PC, the Sunbook, and educational apps customized to the needs of students, teachers, and schools in rural setting. Then, we deliver the tablets with Internet access to rural students, new teaching methods to teachers, and extensive educational resources to schools, hoping to eliminate education inequity. Now, we have provided 2,000 tablets for students and teachers in 4 rural schools in western China.
Pedius
Italy
Pedius is a communication system helping deaf people to make normal phone calls, using voice recognition technologies and speech synthesis. Pedius' users can call all emergency numbers for free, as well as all partner companies supporting our accessibility program who agree to pay a fee and provide users a toll free access number. Users can also call private numbers, paying an affordable fee comparable to what is offered by VoIP communication providers. The goal of Pedius is the reduction of communication barriers for deaf people, enabling phone services for all and at the same time increasing the visibility of our accessibility partner companies.
I like this company. It turns out the founders know my friend Dan Luis, who used to be CEO for years at Purple, the company that bought my first Internet startup Hotpaper.com, Inc. Purple is in roughly the same business as Pedius, but Purple uses people to bridge connections between parties, while Pedius uses software.
The panels and debates
As I mentioned above, this event filled a day. There were panels and debates on social entrepreneurship. I stepped in briefly to take some pictures, but sadly, I did not have time to watch the events, with the exception of the morning keynote. I was busy either photographing or rounding up the subjects nearly all day.
Individual portraits
I took all the pictures that illustrate this blog post. I like very much to photograph people, and entrepreneurs are among my favorite subjects. I asked all of the subjects you see here for permission to photograph them, with the exception of the shot with Dean Rich Lyons, which I captured by standing alongside the official paid photographer, my longtime friend Bruce Cook. He set that shot up, and I simply asked the subjects to look at my camera after Cook was done getting his shots.
I took individual photographs of some of the founders, and I present those images to conclude this post. I gave permission to the subjects for them to use the pictures, so I hope to see these images on their websites and elsewhere around the web. Thank you to all the subjects for being so patient with me to get these results.
I used my Canon 5D Mark II camera to take these pictures. The group shots were taken with a Canon 50mm macro lens. The individual shots were taken with a Canon 80-200mm f:2.8 L zoom lens. The wide shots were taken with a Canon 16-35mm f:2.8 L zoom lens. I upload pictures to this blog at camera resolution of 21 megapixels. Click on the pictures to load the full size versions, which are larger than the versions you see by default. I pursue blogging and photography as a hobby.
I am sorry I could not photograph everyone. I would have liked to photograph all 18 teams properly, like I do when I attend the 500 Startups Demo Days.
I really enjoyed this event. It was exciting to meet people from around the world. I invite everyone I met, if allowed in your country, to friend me on Facebook so we may stay in touch. Thanks and good luck!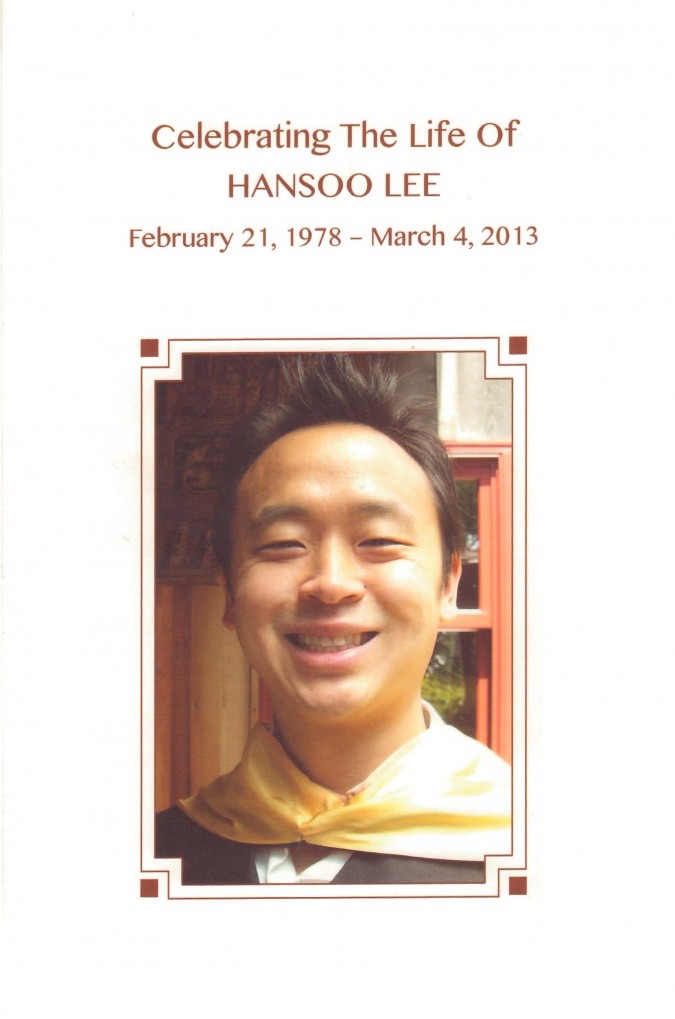 This afternoon, March 18, 2013, I attended the memorial service for Hansoo Lee. Lee died from lung cancer on March 4, 2013 at thirty five years of age. Lee was born February 21, 1978.
I didn't know Lee particularly well because we probably saw each other just a dozen times. Most of those times were at Cal Founders meetings at various venues in the San Francisco Bay Area. Cal Founders meetings are informal monthly gatherings where entrepreneurs discuss their business challenges. The big benefit to these meetings is the wide variety of advice that may be gleaned from the diverse attendees. I like to characterize the meetings as board of directors meetings where one may actually be completely frank about issues, with no worry that what you say may later be used against your company.
Since Cal Founders meetings are designed to encourage sharing of meaningful obstacles and opportunities, I feel like I learned quite a bit about Lee during these meetings. A person's character comes into focus rather quickly when you hear them give and receive advice.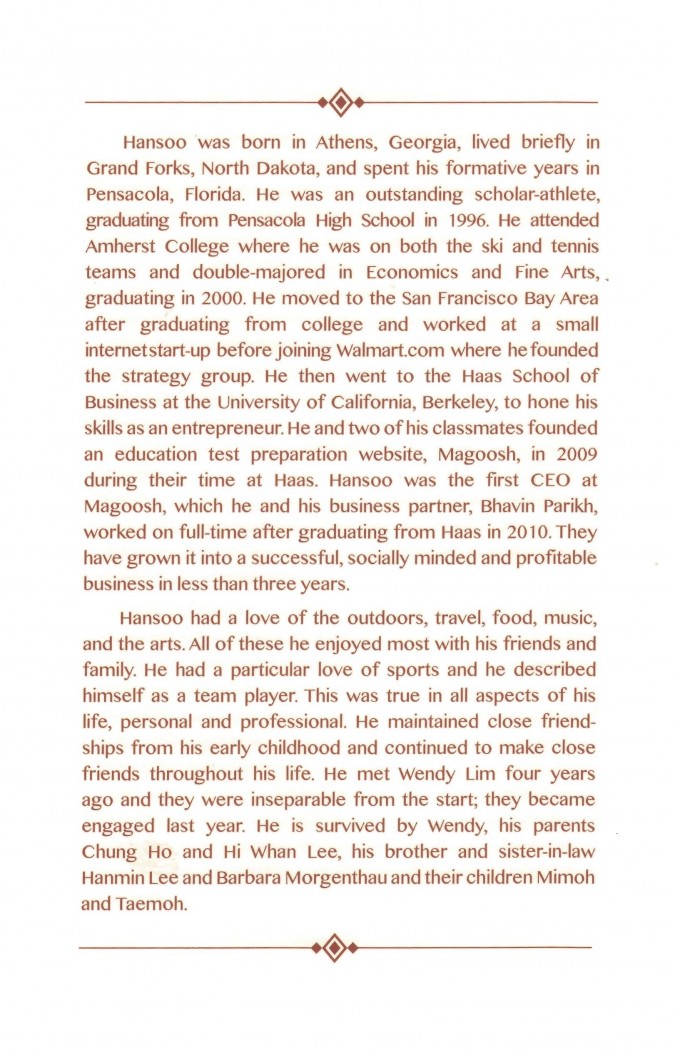 Lee was a standout at Cal Founders meetings, and for good reason. He was a smart, driven, accomplished and capable entrepreneur. Sadly, the majority of entrepreneurs I meet never deliver much in the way of results. Lee stood out because he actually delivered results. He was quick to cite statistics about growth, and he knew exactly how to bring customers to his business, and could specify exactly what results would come from specific steps. This kind of precision is less common than you might imagine.
I recall examples that demonstrate how impressive Lee was as an entrepreneur, but I won't share them with you, since Cal Founders meetings are by design confidential, to encourage open dialogue. I doubt Lee would mind my sharing some examples, given that they paint him in such a favorable light, but I am loath to break confidentiality even in light of the sad circumstance of his too early passing.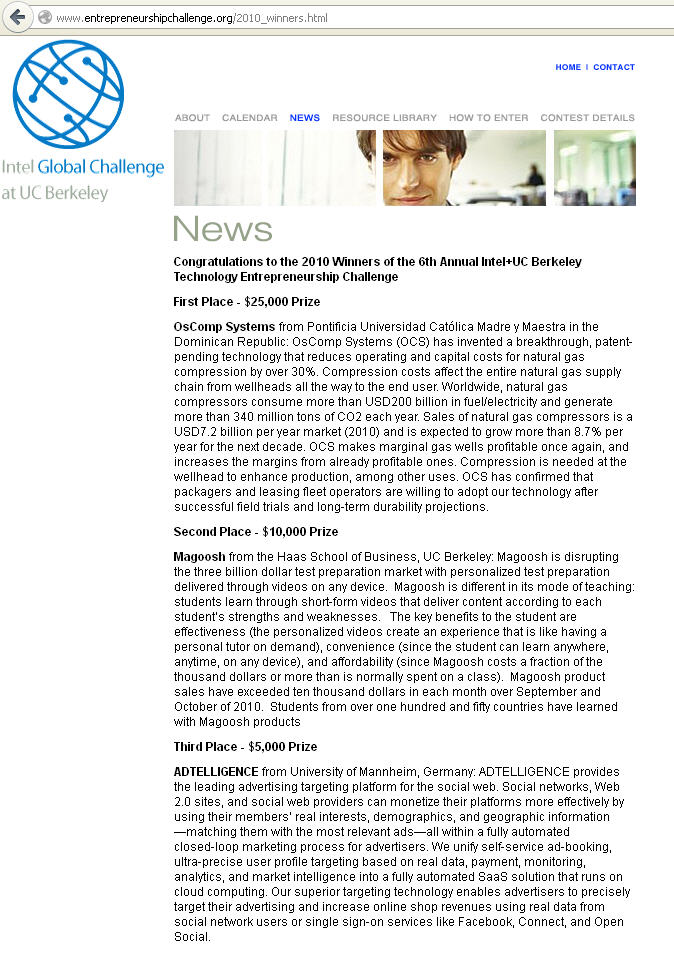 I remember seeing Hansoo Lee the evening his startup Magoosh won USD $10,000 in the 2010 Intel Global Challenge business competition. The Intel Global Challenge is a big deal, and it is very competitive because Intel invites competitors from all over the world to participate. I have watched the finals awards ceremony for years and I conclude the competition is more competitive than the Berkeley Startup Competition, which itself is quite competitive.
I am comfortable sharing some of what I learned this afternoon in a public memorial open to all at the beautiful Golden Gate Club inside The Presidio. Part of the Golden Gate National Recreation Area, The Presidio used to be a United States military base before it was vacated and turned over to visitors to and residents of San Francisco to enjoy.
The Golden Gate Club overlooks the San Francisco Bay through giant windows perhaps two stories tall. These windows showcase the Bay is if it is a work of fine art in a museum.
Here's Lee's biography from the program handed out today at the memorial:
"Hansoo was born in Athens, Georgia [USA], lived briefly in Grand Forks, North Dakota, and spent his formative years in Pensacola, Florida. He was an outstanding scholar-athlete, graduating from Pensacola High School in 1996. He attended Amherst College where he was on both the ski and tennis teams and double-majored in Economics and Fine Arts, graduating in 2000. He moved to the San Francisco Bay Area after graduating from college and worked at a small internet startup before joining Walmart.com where he founded the strategy group. He then went to the Haas School of Business at the University of California, Berkeley, to hone his skills as an entrepreneur. He and two of his classmates founded an education test preparation website, Magoosh, in 2009 during their time at Haas. Hansoo was the first CEO at Magoosh, which he and his business partner, Bhavin Parikh, worked on full-time after graduating from Haas in 2010. They have grown it into a successful, socially minded and profitable business in less than three years.
Hansoo had a love of the outdoors, travel, food, music, and the arts. All of these he enjoyed most with his friends and family. He had a particular love of sports and he described himself as a team player. This was true in all aspects of his life, personal and professional. He maintained close friendships from his early childhood and continued to make close friends throughout his his life. He met Wendy Lim four years ago and they were inseparable from the start; they became engaged last year. He is survived by Wendy, his parents Chung Ho and Hi Whan Lee, his brother and sister-in-law Hanmin Lee and Barbara Morgenthau and their beautiful children Mimoh and Taemoh."
There were over two hundred people at Lee's memorial.
I was impressed with how many people boarded aircraft to attend. The majority of the members from his class that belonged to his fraternity at Amherst were there, and two of them spoke at the podium sharing their memories of Lee. I learned that Amherst had banned fraternities, so fraternities were tiny and presumably somewhat hidden. As a result, when I write 'majority' I mean three fraternity brothers out of a total of five in Lee's class attended Lee's memorial. Counting Lee, four fifths of the entire class was represented. That I believe is a testament to Lee's good spirit. Remember, Lee graduated from Amherst a dozen years ago.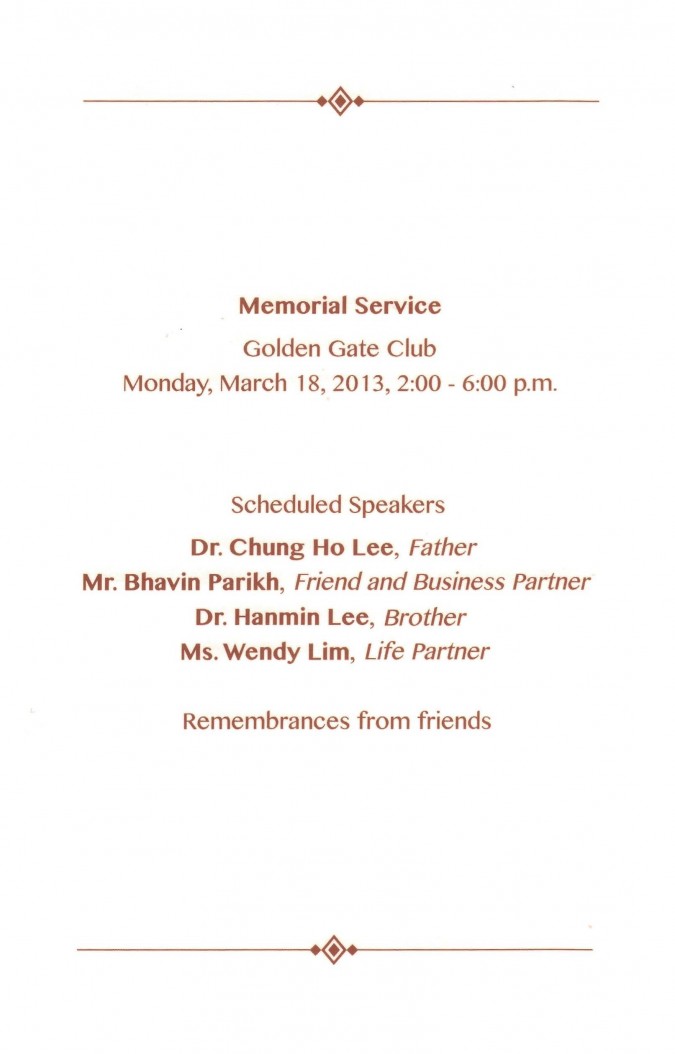 About two dozen of Lee's friends walked to the microphone and shared their memories.
Two of his friends met Lee in the first grade. One of those friends entertained us by explaining Lee's love for business even as an eight year old. Lee was a pro at profitably buying and selling baseball cards. He studied baseball and developed the rare ability to identify future star players while they were still rookies in their careers. This skill allowed Lee to buy the correct rookie cards while they were still low cost, and then sell them years later when the players became stars. I learned Lee joked that he planned to pay for college with his card trading empire begun as a child.
I learned about Lee's first skiing trip as part of a high school engineering club he belonged to, and how his enthusiasm for skiing caused him to wear out a pair of ski pants in just a night of tumbling on a slope covered with inadequate snow and uninvited mud.
Lee's fiancée, Wendy Lim, delivered the most emotionally moving remarks.
I cried.
Wendy Lim is really impressive.
Lim described herself as Lee's opposite, but pointed out how well they each complimented the other.
Wendy Lim described Lee as the love of her life, and told us she had never before known love like that which she shared with Lee. It's so sad Lee was taken from her so early after her lifelong search to locate him.
I introduced myself to Lim and expressed how sorry I am for her loss.
I also had the privilege of expressing the same sentiments to Dr. Chung Ho Lee, Hansoo's father, Hi Whan Lee, Hansoo's mother, and Dr. Hanmin Lee, Hansoo's brother.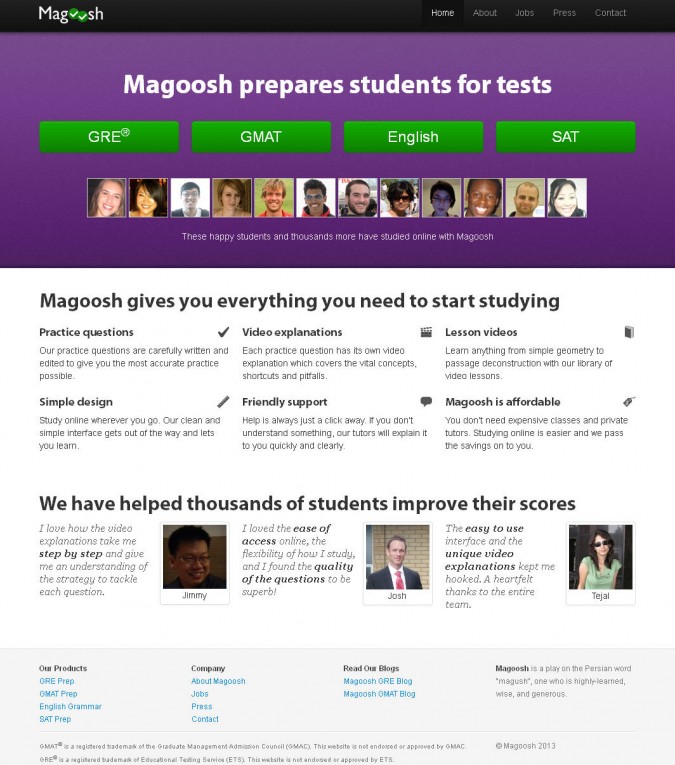 The Hansoo Lee Fellowship has been established at the Haas School of Business at University of California Berkeley. Lee started full time work on his startup Magoosh during the summer break between his first and second year at business school. This concerted several month effort I suspect really accelerated the progress at the company. The idea for the Fellowship is to help other student teams pursue their dreams during that pivotal summer break. The fellowship will provide a cash stipend, office space and advice from mentors to one lucky team each summer. If you are able and would like to give money to fund the Hansoo Lee Fellowship, please do so by following this link to the official UC Berkeley donation page for this fellowship.
Farewell Hansoo Lee. I am glad that I got to know you a bit during your exceptional life.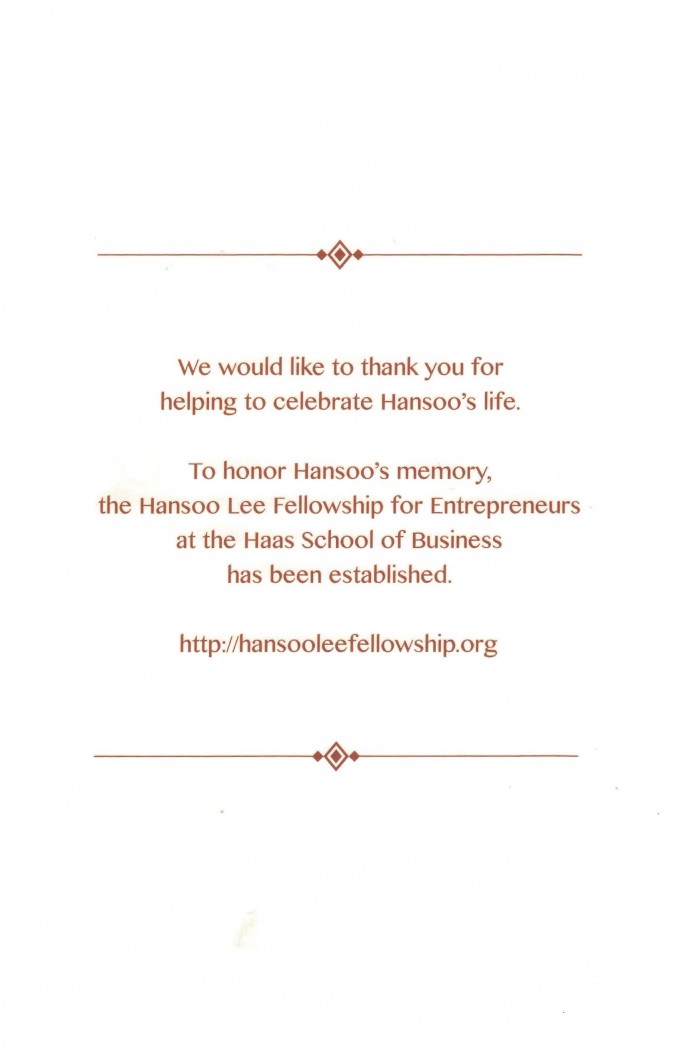 Dear Jayne Salinger,
We have never met.
You wrote the following brief statement to me via a Facebook message on February 27, 2012:
"Hi Kevin,
I am the director of the mock trial program you attended last week. Thank you for taking such wonderful photos. Unfortunately these photos cannot be made public as the students are minors. And including their names is also not advisable. Can you plesae cease in posting these photos and remove where applicable?
Thank you.
Jayne Salinger
The Bar Association of San Francisco"
You wrote to me because I wrote on February 24, 2012 this article about the 2012 public finals competition for the San Francisco Mock Trial program. I illustrated the article with photographs that I took at the mock trial, including those shown here. You said that because the students are minors that my photographs cannot be made public. This blog is public.
When I first read your message, I wondered if I had done something wrong by posting the pictures. So, I did some searching and found around 89 pictures of the 2011 San Francisco Mock Trial finals, on that program's Facebook page. Presumably most of these photographs are of minors, since the Mock Trial program is for high school students. I presume you are aware of the contents of the Facebook page for the mock trial program that you direct.
I also thought back to my four years as a staff photographer for the newspapers at the high schools I attended — Lab School at the University of Chicago and McAteer High School in San Francisco. The photograph captions typically identified the subjects by first and last name, so I knew that at least back then the practice was permitted.
Today, February 25, 2013, I discovered that student journalists still name students fully, in stories and and captions accompanying photographs, because I found via Google the article Case closed – Mock trial dominates in the high school newspaper published by Lowell High School. This Lowell newspaper article is publicly accessible on the Internet.
Lowell High School won the 2012 San Francisco Mock Trial championship, and later won sixth place in the California competition.
Since my research I conducted after receiving your message indicated I was most likely allowed to post student pictures to my blog, I put aside your message.
I did not reply to you at the time, but I always intended to address your concern.
My plan was to speak with you in person about this matter, at the San Francisco Mock Trials final this year — 2013. My reasoning for meeting you in person was so that you would be able to hopefully directly assess my character.
Last year, as I wrote on my blog, I discovered the Facebook page for the Mock Trial program in San Francisco. I 'liked' the page back then, so I have been getting status updates ever since. Today, I got a status update saying that Round III is coming up. Sadly, unlike last  year, dates and times are no longer listed. Last year the page listed the time and date in the following status update before the trial:
"Congratulations to Lowell and School of the Arts for making it to the final round of the 2012 Mock Trial Tournament! Final round is TONIGHT at Golden Gate University Law School, 536 Mission, Room 2203. Teams from Lowell and SOTA may arrive at 5:45 to set up; guests/spectators may arrive at 6 p.m. to get a seat. The round will start at 6:30. Good luck to both teams!"
I could not find any information anywhere on the Internet about when the finals are to be held this year, which meant I could not meet you in person as I planned to do.
I believe strongly that the Mock Trial finals should be public, and to encourage that, I wrote this post.
Had the finals been public this year, I would have attended again, and I would have found you there and spoken with you at some length, which would have obviated my need to write this post.
My blog post last year was good press, and you should have welcomed the post, and you should further have linked to it from the Mock Trial Facebook page and from the San Francisco Bar Association page for the Mock Trial Program.
Getting press is difficult.
Getting press is important to success in life.
I see that Mock Trial has received almost no press, outside of student newspapers. Student newspapers count, of course, but coverage by unrelated journalists like me is far more credible.
Chuck Rasnikof, a political science teacher at Lowell, sat next to me while I was covering and photographing the 2012 Mock Trial finals. We spoke for twenty minutes, and had a good conversation.
I told Rasnikof how I was invited to the Mock Trial finals by Devon Ivie, an exceptionally impressive high school senior I had met February 22nd. Ivie struck up a conversation with me on the MUNI Metro while she was on her way home after the final practice session for the trial. McAteer High School used to be in the same building where she was attending high school at the time, School of the Arts (SOTA), so we had something in common. She shared with me her plans after high school. She told me about her affection for playing the flute. She told me about Mock Trial, and sold me on the wisdom of personally attending the finals. Finally, she told me her name, which made it easy for me to 'friend' her on Facebook. She accepted my friend request the next morning, before the finals that evening.
After the finals were over, I said hello to Ivie and her real-life lawyer mentor. I asked Ivie to find her teammate Havel Weidner so that I could meet him.
Weidner was a key participant in the trial, and to my ear, played the most significant role in the outcome. I wanted to interview Weidner to confirm my understanding of his closing remarks.
That night I edited the pictures and wrote the blog post, since I knew there would be interest in the pictures. After four hours of concentrated writing and Photoshop editing work, around 3am the next morning I published the post, which I intended to be the first of two posts.
I also posted the pictures to my Facebook account.
Ivie and some of her friends discovered the pictures I posted to Facebook, and there was a flurry of sharing and her friends asking my permission to tag themselves, which I granted.
I suspect that you discovered my blog post through Facebook, since I link to my blog from my Facebook account.
I even got a Facebook friend request from Ivie's friend Christina Rey. I had not met Rey, but I remembered her speaking during the trial. I accepted her request.
Then, about the time you sent your message above asking me to take down my pictures and remove the names, both Ivie and Rey defriended me.
I have not been in touch with Ivie, Rey or any of the other mock trial students since then.
It's extremely rare for people I know that I have met in person to defriend me, and since it happened around the time you wrote to me, that makes me think you or other trial organizers had a hand in that. There was no independent reason I can think of for Ivie and Rey to defriend me, as I had just portrayed them well in front of all their friends and made them 'famous.'
Here is my guess as to what happened:
You saw my Facebook pictures of the trial and the rapid sharing and tagging going on. You found out that I am not connected to the competition. You concluded my picture postings were undesirable. You persuaded Ivie and Rey to question their decisions to share and publicize the pictures, which they probably perceived as 'getting in trouble.' You may have even told them to defriend me, but even if you didn't order them to defriend me, you probably made them feel like they did something wrong and that it was smart to distance themselves from me.
I meet dozens of impressive university students per year, and I end up helping and mentoring a small percentage of them.
I was so impressed with Devon Ivie that I was planning to help her, though I never got an opportunity to offer my help. Thus, it was sad and it remains sad that I have lost contact with her before I was able to speak with her for more than half an hour. I did determine that she warrants my assistance, from my conversation on the metro and from watching her perform very admirably during the trial. She is articulate and impressive.
If my guess as to what happened is true, then I ask that you handle future similar situations much differently.
Students about to graduate from high school are not young children that should not appear on the Internet. Instead, they are nearly adults, probably just months away from adulthood. These particular students are among the most legally savvy minors I have ever encountered. They argued their case exceptionally well.
These students did not and do not need 'protection' from the modern press, of which I am a part. To the contrary, they should be encouraged to solicit press coverage when appropriate.
There were unfilled seats in the auditorium at Golden Gate University where the 2012 finals took place. Those seats should be filled, when possible, with reporters, bloggers and other journalists. I suggest that during Mock Trial you train students to interact with the press. Real lawyers have to contend with the press, since cases sometimes are partly 'tried in the press.'
But even leaving out high profile cases that are partly tried in the press, there is legitimate value in having students try to get bloggers and reporters to attend the finals. For example, consider these benefits:
Learning how to contact and form a relationship with journalists
Learning how to pitch a story
Learning how a published story can help or damage a mission
Publicizing accomplishments for the benefit of university admissions officers, employers and others who will be searching for information on the students for the rest of their lives
Helping schools fund raise from alumni and others by giving schools stories they can point to that demonstrate success of school programs
High school students don't get many opportunities to be featured in the press. When seniors in high school go on to become freshmen in college, the likelihood of coverage in the press temporarily goes down, I fear. Only as university students establish themselves are they likely to be featured in the press. Years pass. Lessons about nurturing the press are not typically taught in university, and time is money, so teach students about the power of the press now, which you still have a chance.
I have been a journalist for years — since I was 13 if you go back to when I joined the newspaper staff for the Midway at Lab School.
Ms. Salinger, your Facebook post to me is the first and only attempt somebody has made to stifle my efforts.
I was and remain shocked.
Thankfully I kept my blog post from February 24, 2012 on my blog, which gets hundreds of viewers everyday.
While preparing this post, I discovered that  you named SOTA student Havel Weidner in your Internet post Mock Trial Coaches Help Students Increase Diversity Pipeline from May 2012, after your message to me.
I find it curious that you feel it is alright for you to name a presumably minor student, but an actual journalist cannot.
Note that I never wrote the second post I said above that I had intended to write. I was planning to write up the actual case, and comment in detail on the performances by the many student participants. That post would have easily taken eight hours to write, but after your discouraging February 27, 2012 Facebook message, I chose to not write the post, as I didn't want to be criticized a second time for my writing. I also didn't want to irritate a bunch of smart lawyers, so I censored myself, for which I am embarrassed. I should have written that post. I cannot write it now because I have forgotten too many details to write a quality article.
I acknowledge that I make a lot of guesses in this post. I apologize if I have guessed incorrectly. But even if I missed the mark on exactly what happened and when, my advice that you should encourage press coverage of the Mock Trial finals stands.
The performances I observed at the 2012 Mock Trial finals were the most impressive performances I have ever seen by a group of high school students. That what used to be McAteer High School is now churning out students so impressive gives me hope for humanity. McAteer was a dreadful and simply awful school, and it's only through my attendance at Lab School earlier that I am able to write this blog.
The San Francisco Unified School District should be promoting Mock Trial as well. The district gets beat up in the press, and Mock Trial is so good that it should be featured prominently in the district's public relations efforts.
According to Facebook, Devon Ivie is friends with Jasmine Lee Lee, a freshman at University of California Berkeley. Lee also graduated from School of the Arts. I met Lee in January, as she is the co-founder of an Internet startup headed by my friend Iskander Rakhmanberdiyev. I mentor Rakhmanberdiyev, and Lee has watched me advise Rakhmanberdiyev and others. I mention this news, which I only discovered today while writing this post, to give you a sense as to who I mentor and about what subjects I can advise.
If you or anyone organizing the mock trial did not praise Devon Ivie for her outstanding work in getting me to cover the 2012 San Francisco Mock Trial finals, then please contact her and heap some praise upon her – in writing and by phone if you can spare a moment.
From where I sit, Ivie is a rising star, and her outgoing nature that led her to strike up a conversation with me should be strongly and repeatedly encouraged, for that nature will bring many successes to her in life.
Thank you for reading this and please appreciate I am a huge fan of the success that is Mock Trial. That evening a year ago was one of the highlights of 2012.
Kevin Warnock
PS – My advice for Jayne Salinger applies everywhere impressive adolescents are found. It is wrong for society to try to 'protect' people like these students by keeping their names and pictures off of the Internet until they become adults. For better or worse, the Internet is like a credit report, only more important. People perform searches on other people, and they always will. If new adults have no report because they have no presence on the Internet the day they turn 18, that harms society. Of course, young people need to be educated about the perils of the Internet as well. People should not post material that reflects poorly, since such material has a tendency to last forever. These students at Mock Trial were likely putting their very, very best foot forward, which makes my blog posts about them ideal early installments for their Internet 'reports.'
This evening, January 21, 2013, I had the great pleasure to tour the brand new SFJAZZ Center, at 201 Franklin Street in San Francisco, California USA.
The SFJAZZ Center is an ambitious center to advance jazz music.
I think the corner of Franklin Street and Fell Street is an outstanding location for the Center — it's in the trendy and safe Hayes Valley neighborhood, and it's just two blocks from the Van Ness MUNI station and Market Street.
There was a ribbon cutting ceremony in the morning, which I missed.
I went to one of the official tours, in the evening. Attendees got to roam around the facility and admire the building, constructed in 2011 and 2012 to be the new dedicated home for SFJAZZ.
The formal part of the evening featured prepared remarks by Randall Kline, the Executive Artistic Director and Founder of SFJAZZ.
Rebeca Mauleón, the Director of Education, also spoke.
The SFJAZZ High School All-Stars performed in the large music hall, named the Robert N. Miner Auditorium, which features steeply set seats designed to allow the musicians to see the faces of the audience members. This Auditorium also features a glass wall that looks out onto the busy street, which will drum up interest in the performances because passersby will be able to catch a glimpse for free as they walk or drive past. I've always thought it is good marketing for martial arts studios and dance studios to have large glass windows at street level. SFJAZZ Center is taking a page out of their public relations book, and I predict good things will happen as a result of doing so.
I was exceptionally impressed with the High School All-Stars. I introduced myself to the members and invited them to read my blog.
I was given a lushly produced magazine/program for SFJAZZ during the tour this evening. SFJAZZ Founder Randall Kline had this to say, on page 7:
Welcome to the first season
After 30 years of presenting music in a variety of rented venues throughout the Bay, it is with great joy we begin our first season in our new home, the SFJAZZ Center. It is the first freestanding building for jazz in the country — designed, from concept to concert hall, to create an enhanced setting for experiencing what the esteemed jazz write Whitney Balliett calls "the sound of surprise."
The SFJAZZ Center is home for all that we do: concerts, education programs for adults and youth, our award-winning SFJAZZ High School All-Star Ensembles, the world-renowned SFJAZZ Collective, and the new SFJAZZ Monday Night Community Band.
Over our three decades, SFJAZZ has grown to become a vital part of the cultural fabric of San Francisco. And in the broader context of the jazz, we have been recognized as one of the top presenters in the world — helping to place San Francisco, with its rich jazz history, among the vanguard of cities where this American-born art form can be best heard.
Kline continued his remarks — I have not typed all of them here — and concluded with:
Jazz has a home in San Francisco. The first season begins. See you at the Center!
Sincerely,
Randall Kline
Executive Artistic Director and Founder
The new Center shows a lot of promise. I am intrigued, so I plan to return soon to the Center to see a show.
I took the pictures that accompany this post with my Canon 5D Mark II camera. I uploaded these images at full resolution of 21 megapixels. Click on them to see the full size versions.
Today was a busy day in the United States of America.
Outstanding.
[Edit on January 23, 2013 -- I added two names to the caption of the group photo of the All-Stars, above, once I got the correct spellings.]
Two days ago, on Wednesday, January 2, 2013, I captured high definition video of the official public closing of The Exploratorium science museum at 3601 Lyon Street at The Palace of Fine Arts in San Francisco, California USA. Today I present that video, without editing other than concatenating the files together in the order I shot them.
This blog post complements the post I wrote yesterday, The final day at The Exploratorium science museum at The Palace of Fine Arts in San Francisco, California – January 2, 2013, where I presented 24 of the still photographs I took at the closing, including the image above of the Palace of Fine Arts after magic hour but before dark. It takes time to compress and upload video, and the video I present today was not done yesterday, thus this second post.
Earlier today I took an emotional trip down memory lane by photographing the world famous Exploratorium science museum during its final hour at its building at The Palace of Fine Arts in San Francisco, California USA. On Friday, April 12, 2013, the Exploratorium opens at its new location at Pier 15, on the historic waterfront north of Market Street and near the Ferry Building in San Francisco. Pier 15 is served by historic restored street cars that stop in front, so I predict that many more people will visit, since the original location is rather difficult to access, and parking in particular is a nightmare.
If invited by the Exploratorium staff, for example after they discover this post, I will cover the opening event on this blog, and I will photograph it with the same quality technique I used for the photographs that accompany this post. If not invited, I will wait for a free admission day to visit.
I used my Canon 5D Mark II camera for these pictures. I uploaded the pictures at full camera resolution of 21 megapixels. Click on them to see them at full size. I used a tripod for many of the shots, and since it's so dark inside the Exploratorium, many of the pictures were made with time exposures of up to 8 seconds. That accounts for the blurred people in some of the shots. I like that the blurring suggests lots of busy activity at the museum, which is definitely true. The tripod shots were taken at ISO 100, so the image quality is outstanding. The handheld shots were taken at ISO settings as high as 6,400, and the quality suffers. I should have brought a flash so that I could have taken more photographs of visitors experiencing the exhibits.
I love and admire The Exploratorium museum above all others. The Exploratorium teaches visitors about the world we all live in, and it does it in such an engaging and fun way that visitors keep coming back, over decades. The exterior wall of the large gift shop was covered with sweet notes from visitors, and these note cards were grouped by decade. Even the 1970s section had over 100 cards on it.
The Exploratorium opened in 1969.
The Exploratorium has exhibits that seed the imagination, so this museum helps human kind progress. I think The Exploratorium is more effective at seeding the imagination than even the traditional great museums of the world such as The Louvre.
I almost missed this special day, and had it not been for the website Funcheap San Francisco which lists free or inexpensive ways to have fun in my favorite city. I subscribe to the site's Facebook page, and a status update to that page alerted me to the final day I am covering here.
Here below is a sequence of photographs that give you a tour of this large museum space, starting and the front, then moving to the upper deck level, and finally showing the back of the museum from the deck.
Now I will show you some of the exhibits. Note that no admission was charged today, so there were more visitors than normal. I only had one hour to take still pictures and video, so I was rushed.
As I was leaving, I picked up a free poster advertising the new location for the museum, which will be Pier 15 on the San Francisco waterfront, downtown, near the Ferry Building.
After the gates were closed, there was a private party, with speakers thanking those assembled.
I set up my tripod outside the front door and posed for a self portrait to memorialize this memorable day.
On my way back to my car, which I parked many blocks away, I set up my tripod one last time to take this 'magic hour' photograph of The Palace of Fine Arts.
Note that the Exploratorium posted a sign at the entrance warning visitors that pictures and video would be captured by many people today, and that some of the material would be published.
I will miss this original location. It's industrial and gritty and feels authentic. Outside by the adjoining Palace of Fine Arts, the location is truly beautiful. I fear that the new location will be too new, sparkly and flashy, and that the glitz will remove the charm that permeates the original.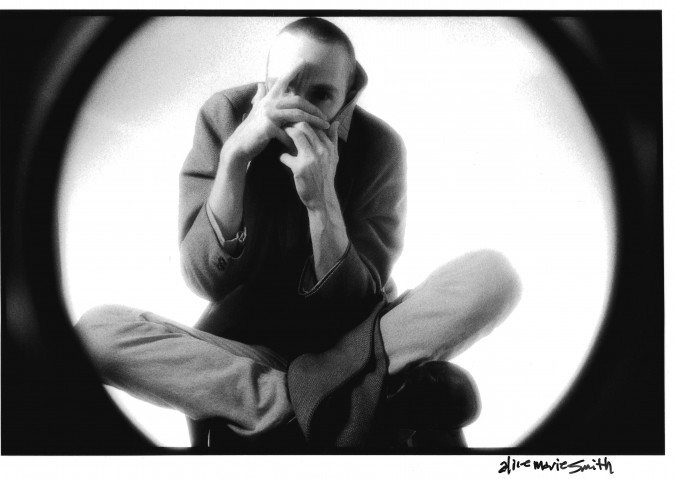 When I was 23 years old and a student at Brooks Institute, the scam for-profit photography college in Santa Barbara, California, USA where I spent three wasteful years, I had the incredible fortune to be photographed by one of the few students I thought was a good photographer.
Alice Marie Smith was not only the most attractive woman at Brooks, but her work stood out.
I had a crush on Smith, but I was too shy to do anything about it.
My how my life has changed over the years — my shyness has evaporated, and I can now approach even the most beautiful women wherever I encounter them, even at the grocery store or on the street or on public transportation.
I don't recall how Smith asked me to model for her, but I do remember it was her idea — I did not ask her to photograph me. I was actually very surprised to be asked, since she was not in my class and we didn't know each other well.
We did the shoot one evening in one of the deserted on campus school studios. That the studios were deserted in the early evening should tell you something about Brooks Institute and its students. A real educational institution would have been humming with activity well into the night like I routinely see at University of California Berkeley, where I volunteer.
Smith used a 35mm camera with infrared film, something I never tried, and something Brooks should have insisted every student try.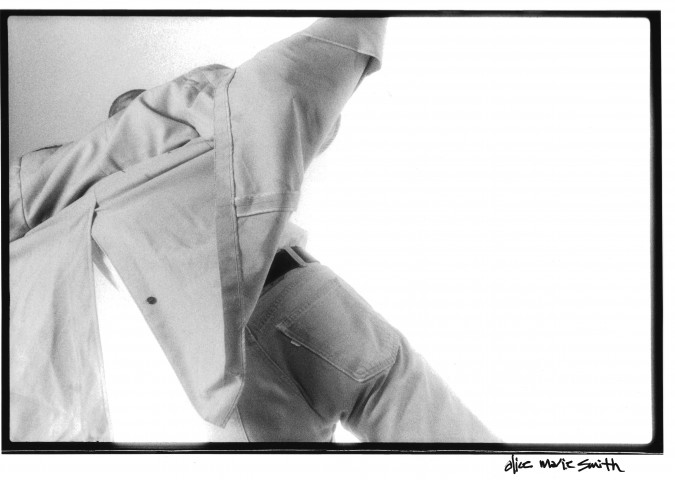 Smith gave me three lovely signed 11 x 14″ fiber based gelatin silver prints. I have kept these prints safe all these years, and yesterday I scanned them to present to my readers. The images are in perfect condition. I scanned these prints at between 300 and 600 dots per inch. Click on the pictures to see them at full size. You can see the distinctive grain pattern produced by 35mm infrared film.
In the second picture above and the picture below, I am wearing a green wool army surplus trench coat. My head is nearly completely shaved, as I was going for the punk rock — but not skinhead — look at the time.
In the first picture above I am wearing a Burberry brand tweed trench coat. This coat was surely quite costly new, probably over USD $1,000 in today's dollars, like this one sold by Bloomingdale's department store. I bought my Burberry coat at a thrift store for pennies on the dollar.
While at Brooks I took a self portrait of just my legs and feet, with a wingtip shoe on one foot and a combat boot on the other. I still have my feet in two worlds as you can learn from my writings on this blog. See that self portrait at the bottom of this post. This is also a scan of a silver gelatin fiber paper print. I still have the original 4 x 5″ negative, but I don't have a film scanner. I do plan to scan many of my negatives once I get a scanner — I have hundreds of publication ready shots from when I shot film, and since many of my best shots were taken with a large format view camera, I will be able to present some very high resolution images.
Keep in mind that infrared film produces a dramatic but inaccurate rendition of subjects. These pictures make me look severe, but in reality I was not. I was fresh faced and cute back then, which was a good thing or I wouldn't be so youthful looking today.
If you are considering attending a private for-profit art school, I implore you to forget it!
If you are already a student at a for-profit art school, drop out today without giving them another penny, and consider your already paid tuition the cost of a valuable life lesson.
If you have no idea what art school is like, watch the movie Art School Confidential, written by Daniel Clowes, who went to Lab School a couple of years ahead of me. I didn't know Clowes while we were both at Lab, but I have met him several times, since he's married to the cousin of my friend Mariana Cartwright.
I dropped out of University of California Los Angeles to go to Brooks — perhaps the biggest mistake of my life. It was such a mistake I periodically consider resuming my education there. Since I withdrew following the rules, I can resume classes at any time by filling out a one page form, according to a University of California admissions employee I am friends with. What's keeping me from going back is that I am busy starting a new Internet company, and I just don't have the time to spare right now. Once I establish my new company and I can turn over  management to employees, then I will probably go back. I hope that I go back. The energy I feel when I am on the UC Berkeley campus is infectious, and I am sure I would now appreciate UCLA far more than I did as a painfully shy 17 year old.
I did make some good friends at UCLA, including Jennifer Babineaux, who asked me to be her roommate our second year. I sure wish I had taken her up on that kind suggestion, for she probably would have talked me out of Brooks. Babineaux earned a 3.96 grade point average in high school, and is exceptionally smart. Babineaux got an MBA and later became Dr. Babineaux once she completed veterinary school at University of California Davis.
While I think of myself as a smart guy with a fair amount of wisdom, I know little compared to both my parents and my brother who got solid liberal arts educations and then went on to earn advanced degrees. My few years of education from a poorly regarded art school is laughable by comparison.
I believe I turned out shockingly well given my curtailed studies, and for this reason I can say conclusively that college or university is not a requirement for success.
Peter Thiel may be on to something — time will tell.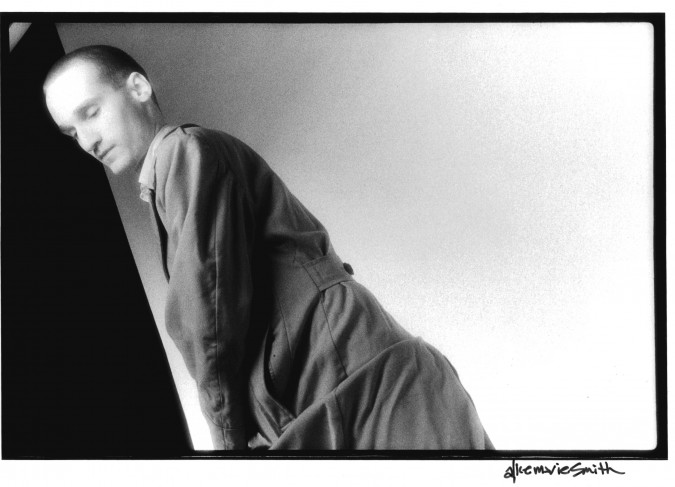 I have become a moderately good photographer, but that is not something Brooks may take credit for because my major was Color Technology, not portraiture or fashion. I taught myself how to photograph people well by taking tens of thousands of pictures after the per exposure cost of photography dropped to near zero with digital cameras. You can do the same. Taking good pictures of people is more a function of communicating with people, not technical details. Brooks spent almost no time emphasizing the interpersonal aspects of being a photographer. Frankly, their education was shameful, and I am glad they have had to pay millions in fines for their transgressions.
My neighbor Kevin Lee didn't go to art school but he has established himself as a well paid and competent professional photographer, with an elite client list and a collection of camera equipment that is world class. He's in his early 30s and has a long career ahead of him, without the crushing cost of an art school degree.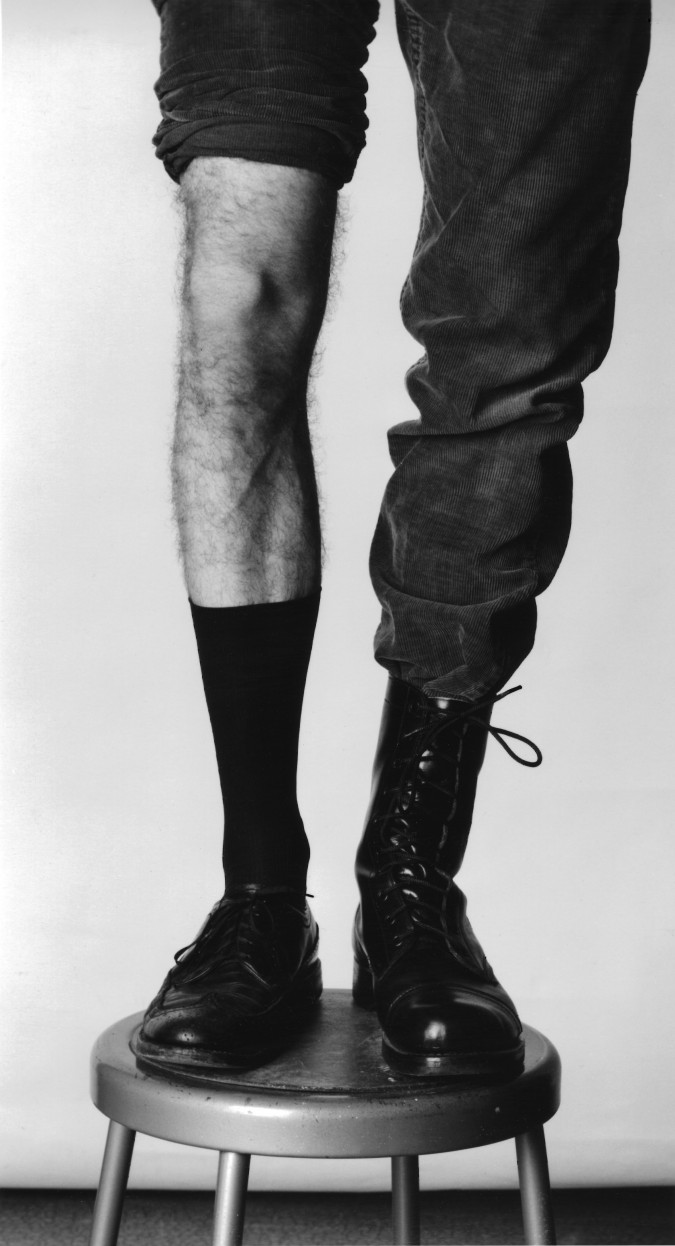 Yesterday afternoon, Wednesday, October 3, 2012, I attended the Dean's Speaker Series at the Haas School of Business at the University of California Berkeley, in Berkeley, California USA.
Dean Richard Lyons interviewed Paul Otellini, the Chief Executive Officer of Intel Corporation. The question and answer session was held in the Anderson Auditorium, a venue I am very familiar with because it's the same hall where the Berkeley Entrepreneurs Forum is usually held. I have attended the Forums for 20 years.
The interview was captured by a professional videographer, and the video will be soon made public on the Haas website page for the Speaker Series.
I have highlighted my favorite parts of Otellini's remarks in my comments that follow.
Otellini completed his undergraduate studies at University of San Francisco, and received his Master of Business Administration from the Haas School of Business, though at the time it was named the Berkeley Business School. Otellini got a job at Intel in 1974 with his freshly minted MBA degree. Even though Otellini was a finance specialist, his first job at Intel was to program a Digital Equipment Corporation PDP-10 minicomputer to perform cost analysis. This must have been an intense introduction to Intel for an MBA because mini-computers were not easy to program. I programmed a Digital Equipment Corporation VAX minicomputer in 1990, and it was difficult then, so I can only imagine how much more pesky and complicated it was to work 16 years earlier on the ancestor to the VAX.
When Otellini became CEO in 2005 he assessed that Intel was not organized correctly for where he saw the market heading. At the time, Intel had 105,000 employees. Otellini eliminated 25,000 jobs. The company is today back up to 103,000 employees. His advisers in 2005 were asking why he wanted to go into 'the phone business' when Intel was making money hand over fist at the time. Otelllini said he had many sleepless nights when he was contemplating letting 25,000 people go. He said he will never feel good about that, but he is grateful that he made the change well before the world financial collapse of 2008, so all the people let go were able to find jobs quickly.
I was surprised to learn that Intel is the world's 4th largest software company in the world based on the number of computer programmers that it employs.
Otellini advised to get work experience in different geographic locations prior to starting a family.
Otellini said its chips are manufactured in three dimensions, which was forced upon it by the laws of physics, which prevented circuits from being made much smaller. To keep making more capable chips, transistors had to be stacked as well as placed side by side. This technology took Intel 10 years to perfect, with thousands of PhD holders working on the effort.
I wonder if they considered adding a 'Now in 3D!' tagline to their famous 'Intel Inside' stickers.
Otellini emphasized the high risks inherent in running Intel.
To illustrate, when Intel breaks ground on a new chip fabricating factory:
the technology hasn't been developed yet
the products haven't been designed yet
the markets for the products don't exist yet
These factories take 3 1/2 years to build and cost USD $5,500,000,000 each, and Intel starts construction on two or three of these per year.
That sounds like a great definition of high risk to me.
Intel makes hardware reference designs that it provides to its customers so that they can get products to market more rapidly. Otellini said personal computer makers don't spend that much on industrial design, so they like and need Intel to provide these turn key designs they can modify to make them unique.
Otellini had a mentor at Berkeley while he was a student in the early 1970s. That mentor worked at Bank of America, and tried to get Otellini to join that bank. Several years after Otellini had joined Intel, his mentor confided that Otellini had chosen the right company.
Intel has put in place a system where they can identify the source of so-called conflict minerals. They can also track them, and Otellini said that Intel is likely to be able to say by January 2013 that Intel has built the world's first 'conflict mineral free microprocessor'.
Otellini said he had spoken in the morning with Robert Hormats, Under Secretary for Economic, Energy and Agricultural Affairs at the Department of State, who he said is very interested in [removing] conflict minerals from products. The Department of State, according to Otellini, wants to make Intel's conflict mineral tracking system a so-called 'best known method' for the [semiconductor] industry.
Otellini said it recycles the chemicals used in its plants, and plans to recycle the water it uses to such a complete degree that its factories will be able to reuse the water they consume over and over, without needing to return it to the underground aquifers, like they do today.
Otellini spoke about manufacturing competitiveness generally in the United States, something he is qualified to speak about because he advises United States President Barack Obama about competitiveness.
He said many of the motivating factors that have led to outsourcing are disappearing. He said that it costs more for Intel to hire 1st and 2nd level technical managers in China now than it does in Santa Clara, California USA. For engineers with 3 or 4 years of experience, the costs to hire them are now the same in the US as they are in China and India.
Otellini said that the United States could improve its position by lowering its corporate tax rate [to a level consistent with the rate in competitive economies]. He suggested the US streamline its permitting procedures for building new factories. He suggested that job training be improved to provide a skilled workforce to work in the new factories. He pointed out that currency and political risks are low in the US, and stated there is no risk of a company's factory being expropriated by the US government. In other countries, governments sometimes do take over privately owned factories.
There were some famous guests in the audience.
Perhaps the most famous attendee was Arthur Gensler, the founder of M. Arthur Gensler Jr. & Associates, Inc. but commonly referred to as simply Gensler. I have been aware of this global architecture, planning, design and consulting firm since I was 23 years old at my first job out of college, at Newell Color Laboratory at 630 Third Street in San Francisco, California USA, since closed. Gensler was an important client. I suspect Gensler may be helping to design the new building Dean Lyons is being planned for the Haas School of Business campus.
After the interview, Lyons pointed out Mr. Gensler to me — without his helpful comment, I would not have been able to write this acknowledgment of his visit. Gensler is a big deal — they employ 3,500 people in 42 locations. They count all 10 of the Fortune 500 top 10 companies as clients.
Perhaps the second most famous attendee was Oliver Williamson. Williamson is Professor Emeritus at the Haas School of Business. In 2009 Williamson won the Nobel Prize for Economics. I saw Williamson speak in 2009 at the Haas Gala, the annual party the school throws each November. I blogged about that gala and wrote about Williamson, who spoke at the event. I took a picture of Williamson shaking hands with Otellini, shown here.
This last photograph of Mr. Otellini with Berkeley undergrad student Tammie Chen has an interesting story behind it.
I met Chen when she was an organizer for the 2011 Made for China Startup Pitch Competition. I was a judge for that competition. After that event, we became friends on Facebook, and she posted that she was going to be attending the Dean's Speaker Series that is the subject of this blog post. I commented that I would be there as well, blogging. She asked me if I could take a picture of her with Otellini. I said I would. I walked up to him and asked him if I could introduce Chen to him and take a picture of him with her, and he readily agreed. They had a nice chat for a minute, and then they posed for this picture. Chen is a huge fan of Intel, and has visited their headquarters. She has a lot of friends that work at Intel.
I was surprised that no students approached Otellini to introduce themselves. This is the same behavior I saw at my first Dean's Speaker Series event, in September 2012, when Lyons interviewed Randall Stephenson, the CEO of AT&T. There were students standing about 10 feet away from Otellini, in a large circle, but not a single student walked into the empty space to say hello. That made it easy for me to say hello to Mr. Otellini, who I have met and spoken with before, in 2008, at the Intel Capital CEO Summit [renamed the Intel Capital Global Summit] in San Francisco.
I like Intel. Their venture capital division Intel Capital was very nice to my company Silveroffice, Inc. by making it an Intel Capital Portfolio Company. Intel Capital invites me as their guest to Intel's annual Intel Developer Forum, at which I get a new Intel Developer Forum branded laptop bag or backpack, which I use every time I leave my home with my Intel powered laptop. I hope to be appointed a judge for the Intel Global Challenge, a role I would be great at since I was a judge for the Berkeley Startup Competition for eight years through 2011. My application is pending, so please wish me luck! I love judging startup competitions, and so far I have judged four different competitions at University of California Berkeley.
I took all the photographs in this post. I used a Canon 5D Mark II camera with a Canon 80-200mm f:2.8 L zoom lens. Click on the images twice in delayed succession to see the images at full size. I uploaded the images at their full 21 megapixel resolution, at a JPG quality of 12. The light level was comparatively low, so I shot at ISO 2,500, without flash.
Thank you to Meg Fellner of the Dean's Office for getting me a ticket to this sold out event.
On Thursday, September 6, 2012, I attended the Dean's Speaker Series at the Haas School of Business at the University of California at Berkeley, in Berkeley, California USA.
This was the first Dean's Speaker Series I have attended.
I have been aware of this series for years, but I assumed attendance was restricted to friends of the Dean, Rich Lyons, because of the name of the event.
I've met and spoken with the Dean about ten times over the years, I estimate, including when he was the Acting Dean when Dean Tom Campbell took a leave of absence to help then Governor Arnold Schwarzenegger manage the finances of the State of California.
A couple of weeks ago I was looking over the Haas website and marveled at the outstanding list of upcoming individuals the Dean will be interviewing on stage. There in front of me were the magic words — the events are open to members of the Haas 'community.' I was pretty sure I qualified, since I am a sponsor of one of the school's premier events, the Berkeley Startup Competition, and have been every year since 2000. I inquired and I got a seat — I was and am thrilled.
The Dean's guest for this event was Randall Stephenson, the Chief Executive Officer of AT&T, the largest telecommunications company in the United States.
I am an AT&T customer, both for my home's broadband Internet connection and for my wireless Apple iPhone 3GS, which I bought soon after launch. I no longer have a wired phone. I like AT&T's service — I get great reception and few dropped calls.
My regard for AT&T went up after listening to Stephenson speak for an hour. Stephenson was Chief Financial Officer and Chief Operating Officer prior to becoming Chair and CEO, among many roles.
He started at a job he called a 'tape monkey' at Southwest Bell Telephone in 1982 loading 19 inch diameter magnetic tapes of billing data onto tape drives. He did this work 12 hours a day — reading a video screen for instruction on which tape to load, finding the tape in storage, loading the tape and then pressing 'Run.'
I did this same job, though not full time and not for 12 hours a day, when I worked at Cooley LLP. Thankfully I only had to do this role about two weeks a year, when the regular tape technician, Bill Calhoun, went on vacation.
Stephenson said he figured a way to rework his tape loading job to make it much more efficient and enjoyable, though he didn't tell us the details of what he changed.
During his introductory remarks, Rich Lyons said Stephenson worked in Mexico City as SBC's Director of Finance.
At some point, Stephenson worked in Mexico for Carlos Slim, the iconic leader of Telmex. Stephenson did not explain how he came to work for Carlos Slim, who presumably was not an SBC employee at any point in his life.
Stephenson said Carlos Slim is 'the most inherently brilliant individual that I've ever worked with.'
Stephenson was in Mexico working for Slim in 1994 when there was an economic crisis that began December 19, 1994, when the Mexican government lifted all restraints on the Mexican Peso and let its value float. The Mexican currency lost 40% of its value in one day, Stephenson recalled.
Slim had 20,000 wireless subscribers in 1994, and thanks in part to the aggressive investments Slim made in the aftermath of the economic crisis of 1994, TelMex now has over 200 million wireless subscribers and Slim has made himself reportedly the wealthiest man in the world.
Stephenson took his job as CEO in June 2007 when ATT was a $100B annual revenue company with 300,000 employees, the same month that Apple launched its first iPhone. Stephenson invested heavily when the 2008 financial crisis came.
Stephenson said that 170,000 of AT&T's employees actively participate in its TIP — The Innovation Pipeline — system conceived by the company's CTO, a guy so tough to hire that it took ten years for Stephenson to do so. This system allows employees to propose ideas for the company to work on developing. People vote on the ideas and the best ones that float to the top are funded and pursued. In response to a question from a student in the audience, Stephenson said that apart from advertising the program to employees the company does little to promote participation. He said participation is quite good.
Stephenson and and his public relations person Larry (last name not mentioned) said they were so excited about a couple of their 'tattooed up' technologists in their Palo Alto, California research lab named the 'Foundry' that they put photographs of them in AT&T's Annual Report. Stephenson divulged that competitors now are 'coming after' these programmers trying to hire them away from AT&T.
A student from the audience asked Stephenson to discuss wireless handset subsidies. Stephenson answered at length and concluded that the current system in the United States is overwhelmingly what customers want. He said AT&T performed studies where customers were asked if they would like to finance a phone via a separate finance contract, in exchange for markedly lower rates for service. Stephenson said customers did not like this proposal.
I think the survey respondents that answered this way are short sighted.
The way things operate in the United States, where one can buy a USD $700 iPhone for $200 because of the carrier subsidies, there is a perverse incentive to upgrade your phone exactly every two years. That is because contracts generally run for two years. If you keep a phone for three years, that final year you are paying much more than is warranted for service.
People should be encouraged to save money, not spend, so I admire the relatively new system reported by Stephenson to be the norm in Europe — phones are not subsidized and rates for service are [I hope] commensurately lower. Stephenson said phone sales dropped dramatically when this policy was implemented, but I say that is just what the world needs. People keep a home phone for decades. People keep televisions, stereos and other household appliances for years. Stephenson told me one-on-one after the event that fully 90% of his company's customers upgrade their wireless phone every 14 months. Since contracts are two years long, 90% of its customers are paying early termination fees, which decline over time. That is a waste of the world's resources, even in this day of a vibrant resale market for used mobile phones. I'm pretty sure a lot of people just throw their old mobile phones in a drawer, to benefit nobody. I understand mobile phones improve rapidly, and I do plan to get the latest iPhone when it's available, having skipped the iPhone 4 and iPhone 4s. I just don't approve of upgrading exceptionally frequently, which I consider 14 months to be.
I encourage AT&T and all carriers to offer unbundled rates for mobile service, as an option.
Rich Lyons is a good interviewer. The setting was photogenic — two handsome cushioned arm chairs on an elevated stage, with a small end table between the chairs. Lyons and Stephenson wore wireless lapel microphones. There was a backdrop behind the men that repeated the logos for UC Berkeley and the Haas School of Business, so the logos made it into every photograph of the people on stage. As a photographer, I applaud the Dean for creating such an inviting, warm and photogenic environment for his interviews. I look forward with enthusiasm to the next Dean's Speaker Series interview, which I hope to be able to attend.
Former Haas Dean Dr. Laura D'Andrea Tyson is on the Board of Directors of AT&T, and presumably she helped Lyons recruit Stephenson to visit the Haas School. Tyson was Dean when I was a finalist in the Berkeley Business Plan Competition in 1999 with my company Hotpaper.
I took the photographs that accompany this blog post.
I used a Canon 5D Mark II camera with the following lenses: Canon 135mm soft-focus lens set to sharp, Canon 16-35mm L zoom lens. I upload pictures to this blog at maximum camera resolution at maximum image quality. Click on the photographs twice in delayed succession to see the full size images. If you would like to use these pictures, please send me a message. If the purpose is reasonable, I will allow usage. I enjoy having my pictures displayed elsewhere. I pursue photography only as a hobby, not as a profession.
Finally, I have some advice for Berkeley students reading this post — introduce yourself to the speaker.
I don't recall seeing any students introduce themselves to Stephenson. I did see a professor and a president of a good sized company say hello, but that's it. Stephenson spent several minutes talking with me because there was nobody waiting after me to speak with him. The room had rapidly cleared out. The interview was during the lunch hour, so perhaps the students had to be in class immediately after. It's rare for so prominent a CEO to speak to such a small group — there were about 140 students in the room by my quick count. I'm sure Stephenson won't be back this academic year. Make a point of meeting all such prominent speakers. In my mind, Stephenson should have been surrounded by dozens of students trying to shake his hand. Stephenson didn't appear to be in a rush to depart, and I left before he did.
On August 30, 2012 I attended the 2012-13 Angel & Venture Capital Financing Overview at The Berkeley Entrepreneurs Forum.

The August 30th Forum was the first of this academic year. The Berkeley Entrepreneurs Forum is a production of The Lester Center for Entrepreneurship & Innovation at the Haas School of Business at the University of California Berkeley.
The first Forum of the year for years now starts with Steve Bengston's presentation of the Shaking the Money Tree report. I suspect Bengston has made this presentation hundreds of times, as he gives it not just at the Forum, but at many venues. In fact, I suspect it's Bengston's signature talk.
You can watch the full video of the Forum here to see what happened. I am a photographer, not a videographer. This is not the official video, which The Lester Center will publish in its entirety some weeks from now, I believe. I suggest you watch that version, because it will have professional sound from a mixing board, the slides will likely be full screen so you can read them, and the camera used is far better than the still camera I used that happens to also shoot video. I did not upload this video at full quality, since such video takes far longer to compress for Internet display.
There were some good lines from the speakers. I've transcribed my favorites here:
Steve Bengston:
"It [venture capital] finally got big in the mid to late 90s and now we worry when the venture business goes from $30B to $20B, but it never got above $20B until 1998 so the scale of the venture business is just much bigger than it's ever been."
"What about Series A, 'didn't that collapse?' It is down certainly from the peak but you can see whatever that is there are $200M to $400M of series A deals each quarter just in Silicon Valley and that represents about 50 to about a 100 Series A deals in Silicon Valley each quarter."
"The good news is there is a lot of money for your deal if you meet the certain metrics for an investor."
"If you're going to raise money which is still hard to do, you're going to raise around $3M. That's a typical deal. In this era, that buys you a lot more months of burn than it would have say ten years ago."
"You have 300 to 400 M & A exits in the US a year in the US, much higher than the old days."
"The top five or so [venture] firms are raising 80% of the money."
"It begs the question 'How many VCs do you need to find the 30 good companies every year?' Right now the answer is about 3,000. For many people that seems high."
"China has been the number one economy 15 of the last 18 centuries. So, just because they have had a couple of bad centuries you don't want to count them out. They are used to being on top."
Jeff Clavier:
"The challenge at the early stage is that even great founders can come up with really stupid ideas."
"Do it because you are passionate about it, not because it's cool."
"I passed on airbnb that some showed me when it was called air bed and breakfast and I said 'air bed and breakfast… are you f—ing kidding me?'"
Jim Barnett:
"One of the danger signs that all the partners look for is what we call 'complexifiers' — people that take what is otherwise a relatively simple business proposition or business idea and figure out how to make it complex."
"The one thing I would say to those thinking about starting a company or planning to start a company is just go do it. Your idea really doesn't need to be that great. It really doesn't. If you're great, it will get funded."
"I want to dispell a myth that you learn more from your mistakes than you do from your successes. I think that is just a bunch of crap. I really do. I think you learn from watching success — pattern matching, whether it's in sports whether it's in business or anything else so for those of you that are in the audience that are MBAs or that are undergrads that are thinking about what do if they're not going to start a company I would say 'go work for a successful company and watch.' You'll learn a lot more than doing three failed startups."
Vivek Mehra:
"I hate doing deals over the weekend. I have never done one and I  hope I never have to do one. It's just impossible to get to know the entrepreneur."
"When there are very asymmetric equity assignments amongst the team you know what they really think about each other."
Here is my succinct summary of this Entrepreneurs Forum:
The venture industry is in trouble, but there is still plenty of money around.
Lots of angel investors are making what will prove to be poor investments so this increases the chances that you can raise money even if you or your idea are not that good.
There is a lot to be gained by just starting a company, so if you are passionate about doing so, then go for it. You won't ruin your chances for future success by failing a few times.
However, if you're not going to start a company, you should work for a clearly successful company so you can pay attention and learn from the success of others.
Surround yourself with high quality people.
Don't make things more complicated than they need to be.
Have your role worked out with your founders before you pitch to investors. Lopsided equity divisions speak loudly to investors what you think of your co-founders.
Increase your chances of getting funded by persistently pursuing entrepreneurship over years, so investors may gauge your actions over your words.
Work hard and recognize that a lot of success may be attributed to your ability to forge healthy and respectful long term relationships with people in the community.
From the Berkeley Entrepreneurs Forum website, here are the introductions for the moderator and speakers — I added the hyperlinks to make it easier for you to learn more about the panelists and their many interests:
Samuel B. Angus
Partner
Fenwick & West LLP
Samuel B. Angus is a partner in the Corporate and Venture Capital Group of Fenwick & West LLP, a law firm specializing in technology and life sciences matters. Mr. Angus is resident in the San Francisco office and his practice concentrates on advising start-up/venture-backed companies, venture capital and debt financings, mergers and acquisitions, intellectual property licensing, joint ventures and general corporate matters. Mr. Angus represents a broad range of companies from privately held start-up companies to publicly traded corporations, including Airbnb, Github, Marin Software and oDesk. His practice also includes advising entrepreneurs and investors.
Jim Barnett
Partner
Shasta Ventures
Jim Barnett is a Partner at Shasta Ventures and has been a highly successful serial CEO and entrepreneur. Jim is currently chairman and co-founder of Turn, chairman of Extole and Sojern, and a board member of Needle and RelayRides. From 2004 until 2009, Jim was CEO, chairman and co-founder of Turn, the leading platform for managing data driven digital advertising. Before that he was president of Overture Search, a division of Overture Services, Inc. Jim joined Overture via its acquisition of AltaVista Company, where he was president and CEO. In this role, he led the company's successful turnaround and sale to Overture.
Jim was also president of Ancestry.com (MyFamily.com) and president and CEO of ThirdAge Media, which was acquired by Ancestry.com. Prior to that, Jim was president and CEO of Infogrammes North America, a leading global publisher of video games and entertainment software. He was also chairman, president and CEO of Accolade Inc, Infogrammes' predecessor company, and prior to that was chief operating officer of an "Inc. 100 Fastest Growing Private Companies."
Jim has served on the boards of many private and public companies including SideStep, Inc. where he was chairman and Petco where he was also an early investor. Jim earned a bachelor's degree, MBA and J.D. from Stanford University.
Steve Bengston
PricewaterhouseCoopers
Steve Bengston heads the Emerging Company Services (ECS) group at PricewaterhouseCoopers. ECS acts as "mentor capitalists" for young, high potential companies.
Before joining PwC, Steve had 20 years of experience in a variety of marketing, business development and general management roles at several high tech companies in the Bay Area. Most recently, he was Pres/CEO of ynot.com [Note: not the website now online at that URL], a leading international emarketing and greeting card company. Previously, he was VP Marketing & Business Development at Worldview Systems, an Internet travel pioneer. At Worldview, Steve helped launch and market Travelocity with Sabre Interactive.
Steve has a BA in Economics and MBA from Stanford University. He works closely or sits on the Advisory Board at Churchill Club, SVASE, Life Science Angels, Bay Bio, and the Stanford/MIT Venture Lab, has taught classes on startups at UC Berkeley, San Jose State, Santa Clara Law School, Hastings Law School, and Stanford, and is active in a variety of other organizations in the Bay Area targeting entrepreneurs and investors. He is a frequent moderator/panelist at both university and industry sponsored events.
Jeff Clavier
Founder and Managing Partner
SoftTech VC
Based in Palo Alto, California, Jean-Francois "Jeff" Clavier is the Founder and Managing Partner of SoftTech VC, one of the most active seed stage investors in Web 2.0 startups. Since 2004, Jeff has invested 125 consumer internet startups (Fund I, Fund II, Fund III) in areas like social media, monetization, search, gaming or B2B/B2C web services. These investments are typically located in Silicon Valley, New-York and Boulder. With over 20 years of operational, entrepreneurial and venture capital experience, Jeff is able to add relevant perspective and value to his companies as they grow from inception to maturity, and hopefully, success.
Jeff was recognized as one of the 13 "Web 2.0 King Makers" by (late) Business 2.0. BusinessWeek named him one of "The 25 Most Influential People on the Web" in 2008, and one of the "Top 25 Angels in Tech" in 2010. He was also nominated in the "Best Angel" category at the Crunchies in 2009 and 2010. He is often noted for his investments in categories such as "passion-centric communities" or online gaming, or for having sold a number of his Web 2.0 startups to the likes of Yahoo, AOL, Intuit or more recently PayPal, Twitter and Groupon.
Some of Jeff's representative investments include Mint (Intuit), Brightroll, Truveo (AOL), Userplane (AOL), Rapleaf, Ustream, Milo (eBay), Blekko, Eventbrite, Tapulous (Disney), DNANexus, FanBridge, BillFloat, Fab, Gigwalk, Byliner and Wildfire.
Vivek Mehra
August Capital
Vivek joined August Capital in 2003. He invests broadly in IT infrastructure and areas of interest include data center technologies, systems management, security, storage, and cloud computing systems and software. Prior to joining August Capital, Vivek co-founded Cobalt Networks in 1996. As CTO & VP of Product Development, Vivek built the first successful server appliance and grew Cobalt into a worldwide leader in the category, culminating in a successful IPO and acquisition by Sun Microsystems for $2B. At Sun, Vivek served as the Vice President and General Manager of the Cobalt Business Unit and a member of Sun's Technical Architecture Council. Prior to founding Cobalt, Vivek held a number of technical and management positions at Apple, SGI, and Digital Equipment Corporation and successfully developed numerous products including Internet enabled set-top boxes, PDAs, RISC workstations, and high performance graphics subsystems.
Vivek received a BS in Electronics from Punjab University, India, and an MS in Computer Engineering from Iowa State University.
To my knowledge, I have been attending The Berkeley Entrepreneurs Forum for longer than anyone else besides Jerry Engel, who founded The Lester Center in 1991 and was its Executive Director for nearly two decades.
I have some suggestions to improve the The Entrepreneurs Forum, which I will describe here. I am posting these suggestions publicly because they are likely applicable to numerous programs across the globe, and I'd like to see these ideas adopted widely if people think they are worthwhile.
1. Dispense with the table panelists sit at. The table doesn't look good on camera or video, and over time the majority audience for the Forum should be watching online, since the rooms frequently sell out already. Panelists should sit on arm chairs or couches, like they do at most tech conferences that I attend. The moderator should sit with the panelists and not be off to the side standing at a podium. All the people on stage should be outfitted with wireless lapel microphones. I would like the Forum to appear more conversational in style. The table separates the speakers from the audience, where arm chairs suggest a residence for a more intimate vibe.
Here's an example of a more visually appealing way to run a panel. Steve Bengston is the moderator for this panel at The Churchill Club, where he is a member of its Board of Directors and its past Chair.
2. Commercial bottled water should be forbidden on stage, even if the speakers bring it with them. Nearly all the conferences I attend serve water from pitchers into real glasses. Bottled water is an evil product, and it looks bad in photographs and video to see those bottles. Image is important, and promoting bottled water by showing it on stage should stop.
3. Commercial bottled water should not be a beverage choice during the networking hour. Tap water should be offered, and it should not require a drink ticket.
4. When it comes time for audience questions, invite the questioner to sit on stage in an arm chair or on the couch while they ask the question and while they are receiving the answer. This will give the questioner time on video, and will permit them to look the speakers in the eye. This will be a treat for the audience members, because they'll feel they get to 'meet' the panelists for 60 or 120 seconds. Questioners can line up to get their turn on stage. Questioners should be encouraged to state their first and last name, so they can be identified online.
5. Although I appreciate that it's a lot of work, the Forums should be transcribed, and the transcribed text should be posted online. This is a certain way to get more traffic to The Lester Center website, and it's likely to increase the interest in the Forum from attendees that can't attend in person.
6. All Forums should be archived online, including Forums from ten and twenty years ago. Forums should never expire and be removed.
7. The 'numbers' should be videotaped and included in the online video. The numbers are often the most interesting part of the evening. The contact information for the number presenters should be posted online, with permission of course, and there should be a hyperlink to the project the person is working on.
8. The photographs taken by Bruce Cook, the official photographer, should be publicly posted to Facebook, and should be tagged. Once the identities of the people pictured are known via the tagging, the captions for the official Lester Center website should be updated to identify everyone whose name is known. If required, change the terms of the tickets purchased to give UC Berkeley the right to identify the people by name. Offer an 'opt out' list during checkin. Having the names with the pictures will increase traffic to The Lester Center website, since people will search for those names for decades to come. Invite people to tag the pictures in the emails The Lester Center sends out and via Facebook status updates.
9. A vast collection of at least 5,000 of Bruce Cook's unpublished photographs of the Forum from the last twenty years should be published to Facebook and the Web, and they should be tagged and captioned. This was entirely my idea — Cook did not hint that I propose such an idea. The majority of the pictures published should be of the networking hour, to get as many people from the audiences over the years tagged as possible.
10. The Forum should be oversold, like airplane seats. This August 30th Forum was 'sold out' but there were unfilled seats in the auditorium, which takes away from the excitement of a sold out show. If too many people show up, they can watch on video monitors in the Bank of America Forum, and as compensation for not getting a seat, their entrance fee can be 100% refunded. I predict the revenue over time from overbooking will more than make up for the refunds that need to be given. Attendees should be told when they buy their tickets they risk being bumped, and encouraged to arrive early to be sure they get a seat.
11. The reminder to 'Like' The Lester Center on Facebook should be repeated on a poster displayed during the Forum. The Forum's Twitter handle should also be on this poster.
12. Attendees should be given a perk if they follow the Forum on social networks, such as a second drink ticket on their next visit to the Forum, to encourage getting as many followers as possible. Currently attendees may eat unlimited quantities of food at the Forum, but are permitted only one drink, either with alcohol or without.
13. Attendees should be invited to blog and post about the Forums, and The Lester Center site should find and link to the best examples of such efforts, to encourage people to write about the Forum.
I am one of the only bloggers writing about the Forum, but there should be at least several.
14. I love the luxurious food served during the networking hour, but it sure seems like it must cost a fortune. I think it would be more than fine to switch to less fancy food. There is precedent for this. Last year at the Founder School Demo Day what appeared to be inexpensive sandwiches were served, but the event was superb and not diminished by the more everyday food. I suspect the food budget for the Forum could be cut by two thirds without getting more than a handful of complaints. The Forum is still too expensive at USD $25 a ticket, and I bet it loses money even at that price. When I started attending in my mid twenties, the cost was prohibitive. It was only due to my getting free tickets from my employer at the time, Cooley, that I attended regularly. The goal should be to get lots of currently poor entrepreneurs in the making to attend, including but not limited to Berkeley students.
I suggest the price should be no more than $10. To get the price that low, I suggest alcohol should cost extra.
That is all my suggestions for now. The Forum is already a success, or I would not have attended for twenty years. I am trying to make the Forum better.
I upload pictures to this blog at the maximum resolution my camera produces — 21 megapixels. Click on them twice in delayed succession to see them at full size. I shot these pictures at ISO 4,000 due to the low lighting levels.
Click here to see all the posts I have written about the Berkeley Entrepreneurs Forum.
The law firm Fenwick & West LLP where Sam Angus is a partner produced and gave away a great 80 page booklet at the Forum. Retired Fenwick attorney Jacqueline Daunt wrote a fantastic introduction to startups that includes a capitalization table for a hypothetical company from pre-funding stage through a public stock offering. Thank you Fenwick! If I can post this booklet, please let me know and I'll update this post with a link to a PDF scan of the booklet.
Finally, as an end note, I met Steve Bengston in 1999 during the first dot com boom, when he agreed to help me with Hotpaper, my startup at the time. It turned out I didn't call on him much, since I lined up financing almost too easily, but I will never forget pitching him at his PriceWaterhouseCoopers office in San Jose, California USA, and him telling me at that meeting that he would help me. Bengston is well known, and I was thrilled to have his support, especially back then when I didn't know many people or know much of anything.