Archive for November, 2012
On Tuesday evening, November 27, 2012, I attended the launch party for a company run by Leo Chen.
Chen runs Fara, Inc., which recently released its first product, an app for the Apple iPad tablet computer.
The application is named Monogram, and that's how I'll refer to the company and product for the rest of this post, as the company doesn't seem to promote the Fara name.
I met Chen July 18, 2012 at the Demo Day for the 500 Startups Accelerator program. Monogram was one of the presenting companies. I attended the Demo Day as a blogger so I got to meet all the graduating companies. Thank you to Dave McClure for getting me an invite to Demo Day. McClure is the founding partner of 500 Startups.
Chen stood out because he was the most stylishly dressed. See my picture of him I took at Demo Day at the bottom of this post to see his pure white sports coat paired with jeans, a hip wristwatch and a pink shirt. Not many guys can pull off this eclectic look. That Chen can suggests he will have the fashion sense to make the right calls at Monogram, which, when you really study it, is a company that requires good taste to have a chance to thrive.
His app, which he demonstrated to me personally, was sumptuous, glorious and stunning — and it was still unreleased code.
I don't have an Apple iPad, so I have not seen the released version of Monogram. Chen wasn't showing off the app on his iPad at the party either, so I simply can't write a review here of the app — sorry!
The famous TechCrunch technology blog covered Monogram on November 1st, 2012 in an article entitled 500 Startups Alum Monogram Raises $400K More, Launches iPad App To Aggregate All Your Favorite Fashion Brands.
Since I can't write a review about the Monogram app sight unseen, I'll give you just the basics. You download the free app from the Apple App Store. You browse through pages of the app as if you're looking at a fashion magazine. If you see something you want to buy, you can tap on it and get transported to an online retailer that sells that item. You're presumably transported to precisely that item, not the front page of the retailer's site. If you buy, Monogram collects an affiliate payment from the retailer, and that's how Monogram makes money.
I met many of the attendees at the Monogram launch party, and I can say that Chen and his team have smart and impressive friends. The venue for the party, La Boutique – L'Art et la Mode, was perfect. Carole Harari, the owner of the boutique, has created a 2,500 square foot oasis that is part women's clothing boutique, part art gallery, part furniture store and part event space. The women's fashions for sale are eclectic and desirable.
The pop up furniture store on the second level was so photogenic I took an architecture style picture while I was up there to get a shot of the crowd below. La Boutique is so photogenic that I asked Harari for permission to photograph models there.
I met Justin Kan for the second time. I met Kan for the first time — you probably have heard of his as Justin of Justin.tv fame — at a Stirr mixer in Palo Alto, California in about 2008. I spoke with him back then for perhaps 10 minutes, and they were a stressful set of minutes because he had a video camera strapped near his head and wore a backpack with four 3G wireless cards whose bandwidth was combined through software so the laptop in the backpack could broadcast Kan's every move live to the Internet. This can be done with a smart phone today, but back then live streaming was rare, and my talk with Kan then was the first time I had been live streamed before a meaningful audience.
On Tuesday, Kan was wearing one of the largest watches I have ever seen, and it was so eye catching I asked to photograph it. I already had my macro lens on my camera, so it only took seconds to capture this shot you see here of Kan's Nixon brand watch on his arm.
Leo Chen went to high school with Kan.
Kan told me about his latest project, named Exec. Exec is an Apple iOS app that lets users hire an assistant for short term projects for a fixed rate currently of USD $25.00 per hour. An Exec assistant was stationed by the front door to La Boutique to make sure only guests on the list were admitted. I spoke with her for several minutes, and was impressed. I would use Exec if I needed an assistant for a project that Exec was suited for. One suggestion: When funds permit, buy the domain exec.com. The current url, iamexec.com, on quick viewing of the web browser address bar, reads as 'lame exec' because I saw the lower case i as an l. I had a good laugh about this, but I still recommend paying out the dollars to get the shorter url once it's easily afforded. The url exec.com is currently up for sale, and has no developed site associated with it. Don't wait too long, or the price will keep going up.
I also had a nice talk with the husband of Monogram co-founder Kristen Slowe. Kristen is Chief Creative Officer of Monogram. Her husband Christopher Slowe, is Chief Scientist at Hipmunk, which, according to their introductory video, 'takes the agony out of travel search.'
Christopher and my father studied the same subject at the same university.
I got to talk with Jim England, a co-founder at Publik Demand. I met England at the same 500 Startups Demo Day where I met Chen. I absolutely love Publik Demand, a website that gives  representation and power to consumers, so that they can insist that wrongs done by a company are addressed.
I also got to talk with Cheryl Yeoh, co-founder and CEO of Reclip It, a website that brings together more than 200,000 online coupons & deals from many other coupon websites, for one stop access to money saving offers. I met Yeoh the same day I met England and Chen
I conclude with a photograph I love of Monogram co-founders Chen and Slowe that I took July 18, 2012 at the 500 Startups Demo Day, held at the headquarters of the publicly traded game company Zynga, at 699 8th Street, San Francisco, California USA.
I love Monogram, and that's why I attended their launch party. I wish them the best of success. This is one of the few companies that truly counts on beautiful photographs for its success. Since I am an avid photographer, I connect with this company more than many.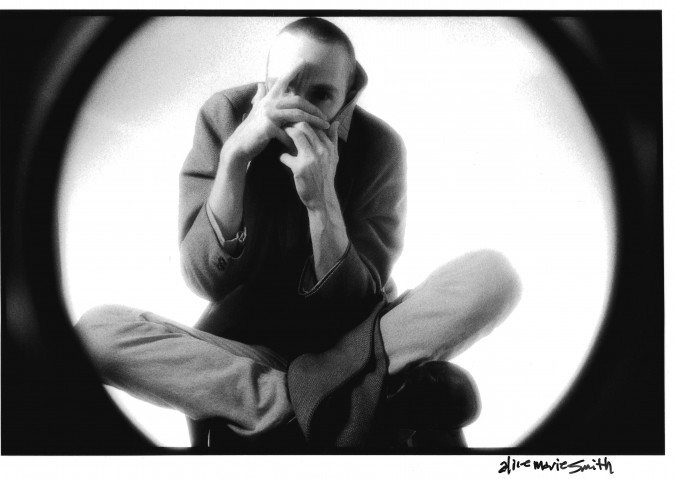 When I was 23 years old and a student at Brooks Institute, the scam for-profit photography college in Santa Barbara, California, USA where I spent three wasteful years, I had the incredible fortune to be photographed by one of the few students I thought was a good photographer.
Alice Marie Smith was not only the most attractive woman at Brooks, but her work stood out.
I had a crush on Smith, but I was too shy to do anything about it.
My how my life has changed over the years — my shyness has evaporated, and I can now approach even the most beautiful women wherever I encounter them, even at the grocery store or on the street or on public transportation.
I don't recall how Smith asked me to model for her, but I do remember it was her idea — I did not ask her to photograph me. I was actually very surprised to be asked, since she was not in my class and we didn't know each other well.
We did the shoot one evening in one of the deserted on campus school studios. That the studios were deserted in the early evening should tell you something about Brooks Institute and its students. A real educational institution would have been humming with activity well into the night like I routinely see at University of California Berkeley, where I volunteer.
Smith used a 35mm camera with infrared film, something I never tried, and something Brooks should have insisted every student try.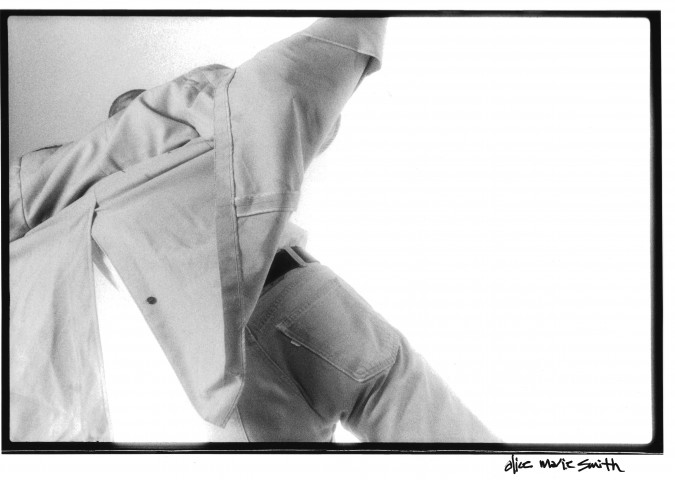 Smith gave me three lovely signed 11 x 14″ fiber based gelatin silver prints. I have kept these prints safe all these years, and yesterday I scanned them to present to my readers. The images are in perfect condition. I scanned these prints at between 300 and 600 dots per inch. Click on the pictures to see them at full size. You can see the distinctive grain pattern produced by 35mm infrared film.
In the second picture above and the picture below, I am wearing a green wool army surplus trench coat. My head is nearly completely shaved, as I was going for the punk rock — but not skinhead — look at the time.
In the first picture above I am wearing a Burberry brand tweed trench coat. This coat was surely quite costly new, probably over USD $1,000 in today's dollars, like this one sold by Bloomingdale's department store. I bought my Burberry coat at a thrift store for pennies on the dollar.
While at Brooks I took a self portrait of just my legs and feet, with a wingtip shoe on one foot and a combat boot on the other. I still have my feet in two worlds as you can learn from my writings on this blog. See that self portrait at the bottom of this post. This is also a scan of a silver gelatin fiber paper print. I still have the original 4 x 5″ negative, but I don't have a film scanner. I do plan to scan many of my negatives once I get a scanner — I have hundreds of publication ready shots from when I shot film, and since many of my best shots were taken with a large format view camera, I will be able to present some very high resolution images.
Keep in mind that infrared film produces a dramatic but inaccurate rendition of subjects. These pictures make me look severe, but in reality I was not. I was fresh faced and cute back then, which was a good thing or I wouldn't be so youthful looking today.
If you are considering attending a private for-profit art school, I implore you to forget it!
If you are already a student at a for-profit art school, drop out today without giving them another penny, and consider your already paid tuition the cost of a valuable life lesson.
If you have no idea what art school is like, watch the movie Art School Confidential, written by Daniel Clowes, who went to Lab School a couple of years ahead of me. I didn't know Clowes while we were both at Lab, but I have met him several times, since he's married to the cousin of my friend Mariana Cartwright.
I dropped out of University of California Los Angeles to go to Brooks — perhaps the biggest mistake of my life. It was such a mistake I periodically consider resuming my education there. Since I withdrew following the rules, I can resume classes at any time by filling out a one page form, according to a University of California admissions employee I am friends with. What's keeping me from going back is that I am busy starting a new Internet company, and I just don't have the time to spare right now. Once I establish my new company and I can turn over  management to employees, then I will probably go back. I hope that I go back. The energy I feel when I am on the UC Berkeley campus is infectious, and I am sure I would now appreciate UCLA far more than I did as a painfully shy 17 year old.
I did make some good friends at UCLA, including Jennifer Babineaux, who asked me to be her roommate our second year. I sure wish I had taken her up on that kind suggestion, for she probably would have talked me out of Brooks. Babineaux earned a 3.96 grade point average in high school, and is exceptionally smart. Babineaux got an MBA and later became Dr. Babineaux once she completed veterinary school at University of California Davis.
While I think of myself as a smart guy with a fair amount of wisdom, I know little compared to both my parents and my brother who got solid liberal arts educations and then went on to earn advanced degrees. My few years of education from a poorly regarded art school is laughable by comparison.
I believe I turned out shockingly well given my curtailed studies, and for this reason I can say conclusively that college or university is not a requirement for success.
Peter Thiel may be on to something — time will tell.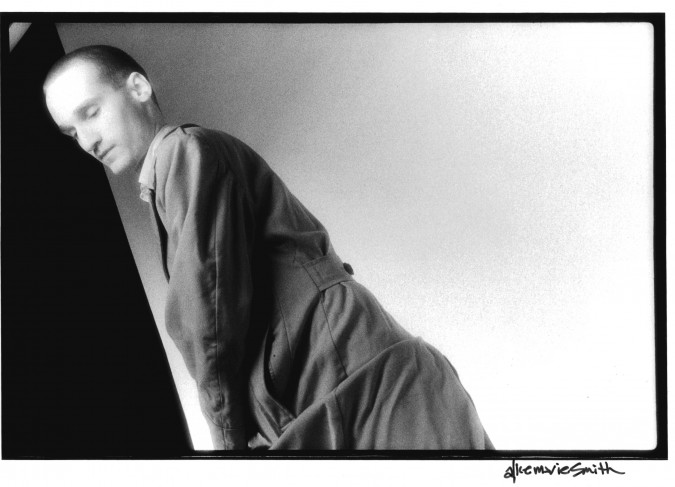 I have become a moderately good photographer, but that is not something Brooks may take credit for because my major was Color Technology, not portraiture or fashion. I taught myself how to photograph people well by taking tens of thousands of pictures after the per exposure cost of photography dropped to near zero with digital cameras. You can do the same. Taking good pictures of people is more a function of communicating with people, not technical details. Brooks spent almost no time emphasizing the interpersonal aspects of being a photographer. Frankly, their education was shameful, and I am glad they have had to pay millions in fines for their transgressions.
My neighbor Kevin Lee didn't go to art school but he has established himself as a well paid and competent professional photographer, with an elite client list and a collection of camera equipment that is world class. He's in his early 30s and has a long career ahead of him, without the crushing cost of an art school degree.