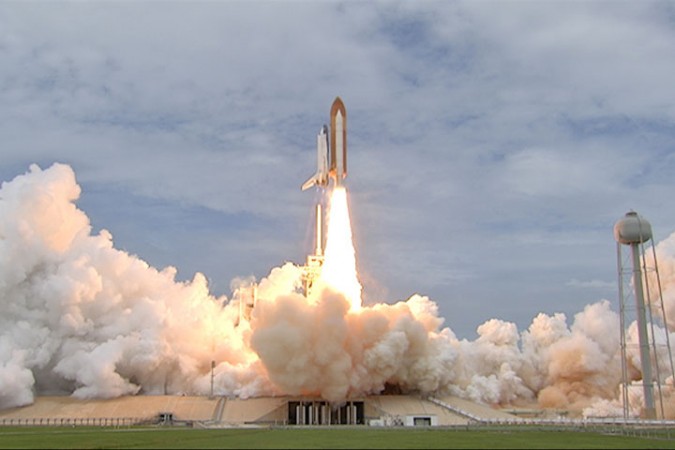 Final space shuttle launch, July 8, 2011
Today the final Space Shuttle launched successfully. Even though the launch happened just hours ago, there's already a full Wikipedia article about just this final shuttle launch.
NASA, the United States agency that runs the shuttle program, prepared and distributed this comprehensive press kit, as a PDF.
Thirty years ago, in 1981, I was studying astronomy and computer programming at UCLA.
I didn't have a television, like most students, but my friend Marcel Samek did, so a group of us hung out in his room in the Sproul Hall dorms, where we both lived.
Samek was extremely interested in the first launch, more than anyone else on the floor. I remember having to stay up all night to watch the launch, but I can't remember why we couldn't wake up early to see it. Was there a last minute delay? Anyone remember the launch time? According to Wikipedia, the first shuttle launch was April 12, 1981.
I credit Samek with particularly sparking my interest in computers and writing software. He went on to be CTO of Electronic Arts in Los Angeles, California, and now is CEO of his game startup Machinima Magic. I haven't spoken with Samek in about 25 years, but we've exchanged a few emails in recent years.
Samek taught me a lot about UCLA's IBM 4341 minicomputer, which is what I learned to program on. I just learned at the Wikipedia link I just cited that the maximum memory for the IBM 4341 was 16MB. This computer supported dozens of simultaneous users I recall, and that memory had to be shared among all of them.
I still remember the Televideo brand black and white character only dumb terminals. These monitors I viewed as a sumptuous luxury, because some of the older students were still using punch cards, like my father Robert Warnock used to use when I was a kid. I can still remember the substantial racket the punch card readers would make. Each card contained one line of programming code, so if you dropped your deck of cards it was a problem.
Watching the first shuttle launch was very exciting, even as exciting as watching the first person walk on the moon. I was so young for the moon walk I don't remember much about it. My main memory was it was the first time we ever got to watch television at school. A teacher brought in her personal flip up portable black and white TV, with a screen about 10 inches across. Dozens of kids gathered around that screen for the event.
Leave a Reply