On Friday, April 12, 2013, I attended the 2013 final presentations by teams competing in the Global Social Venture Competition.
I was invited by Jennifer Walske, Faculty Director of the Global Social Venture Competition. Walske moderated the question and answer session between the judges and the competitors. I paid for a ticket to attend the event, but at a reduced rate as a member of the press — USD $49.50 rather than $99.00. Thank you to the organizers for the discount.
This event took place at the Haas School of Business on the campus of the University of California in Berkeley, California USA. Haas Dean Rich Lyons opened the event with some wise remarks.
This event was an all day affair, with keynotes, panels and even a debate. I arrived at 8am and left around 8pm.
This competition is the premier social venture competition in the world, and, according to the organizers, close to 650 teams from 37 countries competed. My friend Sara Olsen co-founded the competition while she was getting her MBA at the University of California Berkeley.
The morning keynote
Josh Nesbit, the CEO of Medic Mobile, gave one of the more uplifting keynotes I have heard in a while. I didn't take notes so I am not prepared to summarize it, but he tells about a remarkable journey over the last four years or so where this non profit has improved the lives of tens of thousands of people in the developing world. The video of the talk should be posted to the Global Social Venture Competition website, or perhaps YouTube, by Friday, April 19, 2013, I've been told, so you'll be able to watch it there. It's well worth watching. I photographed Nesbit twice, and there is a more formal portrait of him at the bottom of this post.
The 6 final finalist teams
All 18 teams that traveled to Berkeley are finalists, and they all wore the same type of name badges. The 18 teams presented on Thursday, April 11, 2013, and the best 6 teams became what I will call the final finalists. In this post, I present short executive summaries of each of the 18 teams. This text was written by the teams themselves — I just copied it from the luxurious pamphlet distributed at the event. Normally, I place such text in quotes, but since this text compromises so much of this post, I am telling you here that the summaries are text I did not write.
The teams that advanced to the concluding round of judging are:
Faso Soap
1st place winner of USD $25,000; Blum Center for Developing Economies Peoples' Choice Award of $1,500 — from the country Burkina Faso
According to the World Health Organization (WHO), about half of the world population is still at risk of contracting malaria. In 2010, among 219 million people affected, there were 660,000 deaths, of which 91% were in Africa where malaria remains the leading cause of death. Particularly vulnerable individuals are pregnant women, children under 5 and HIV patients. Considering this alarming report, Moctar Dembele and Gérard Niyondiko, two students from 2iE Foundation, have found an innovative solution through the project Faso Soap. The "soap of Faso" offers an innovative solution for the prevention of malaria, which takes into account financial constraints and cultural habits of African families. The company will produce and market both antibacterial and anti-mosquito soaps made with 100% local resources to integrate prevention against malaria in the daily lives of people most affected by this scourge. Faso Soap: "The action of a group, the future of an entire nation."
Carbon Roots International
2nd place winner of USD $15,000 — Haiti
Carbon Roots International (CRI) started as an idea to explore the potential of carbon-rich char as a tool for international development. The idea evolved from a chain of emails between three friends, to meetings over lunch, to a trip to rural Haiti in 2010. Upon returning to the United States, CRI's three co-founders established the organization to enable the adoption of char technologies in Haiti. CRI's work served as the basis for co-founder Ryan Delaney's Master's thesis at Arizona State University's School of Sustainability, and compelled another co-founder, Hannah Erickson, to pursue a graduate degree at the University of Michigan's School of Natural Resources and Environment. After several years of refining technology and testing solutions, CRI has produced a feasible, scalable business plan that addresses two overlapping issues—charcoal fuel use and low agricultural productivity—which converge in Haiti, but are endemic throughout the developing world.
I guessed correctly that Carbon Roots would win 2nd place. I really like this company, which makes 'green' charcoal briquets out of agricultural waste, like sugar cane waste. The briquets look like small hockey pucks, and apparently burn as well as charcoal made from trees. Deforestation is a large problem, so Carbon Roots has the potential to help the planet on a meaningful scale.
Pulpworks, Inc.
3rd place winner of $7,500 — United States of America
PulpWorks: The planet is choking in garbage – toxic, enduring waste. And the single worst culprit is packaging – thirteen bathtubs full per year for each person on the planet; in the U.S. alone, 31 million tons of plastic waste was generated last year. PVC is the world's leading toxic packaging material. Consumer packaged goods companies are seeking a cost-effective, sustainable replacement for their current unsustainable PVC packaging. To address this crisis, PulpWorks has created a compostable, all-pulp-and-paper alternative to toxic plastic (PVC) blister packaging. Our patent-pending package is, in essence, the "un-blister". It showcases products in the same manner as traditional blister packs, but, rather than ending up in a landfill, the entire package can be composted after opening. Increasing consumer and regulatory pressure will eventually remove PVC from the marketplace. As designers and manufacturers of eco-friendly packaging, PulpWorks will reap the rewards of this marketplace shift.
This company has developed a way to turn paper pulp into appealing compostable packaging. The containers they showed me have a texture that is similar to cardboard egg cartons. The three presenters got a laugh out of the crowd when they said between the three of them they have 100 years of experience in business. I like this product, and I hope they succeed. Fortunately, the CEO, Paul Tasner, pictured above and individually below, has decades of experience in the packaging industry, and as a result, he has been able to get meetings with household name companies like Clorox.
The PulpWorks team traveled to the competition finals on Bart, the commuter train system in the San Francisco Bay Area, where the University of California is located.
TOHL, Inc.
Chile
TOHL developed a patent-pending technology for installing pipelines cheaply, quickly sustainably, and in any location. This technology utilizes much longer segments of pipeline than what is traditionally used. Single segments of pipeline are manufactured in lengths of 500 meters to several kilometers, and these long segments are loaded directly onto large spools that are deployed via helicopter or truck. The pipelines have fewer connections, which decreases labor hours during installation and allows the pipelines to be in operation faster than is possible if using conventional infrastructure technology. The patent-pending helicopter installations method also allows for TOHL to access remote areas that previously could not be reached, which is significant, because valuable water sources are often inaccessible. Lastly, TOHL's technology also offers the service of pipeline removal and re-use, when the pipeline is only needed for temporary applications. The tubing is re-spooled and recycled for other projects saving money and resources.
This is the team I thought would win 1st place. Drinking dirty water either kills or makes ill countless numbers of people. This company can install a flexible water hose by flying a helicopter from a source of clean water to where water is needed. Often, their services are needed after a natural disaster like an earthquake. It could take months to repair a permanent underground pipe that serves an area damaged in a quake. TOHL can install a pipe overground in minutes once everything's set up. The technology is not new, as I learned the oil exploration industry has been using the technique for years to bring water to their drilling rigs that are often out of reach of conventional plumbing. What's new with TOHL is their specialization on emergency installations. They have developed expertise working with local governments to get the necessary permits and easements, a process I suspect is so difficult that it will discourage cheap copycats from competing with their company. The company's first efforts have been in Chile, most likely because they received startup financing and support as part of the well known Startup Chile program.
The TOHL team is operating with real paying customers. The team showed an impressive video where their rented helicopter drops down tubing from a giant spool that hangs below the aircraft like a water container on a fire fighting helicopter. The TOHL helicopter showed tubing can be set down even on the tops of trees — flat or smooth ground is not required.
If the tubing is made unnecessary after some months, perhaps by the broken underground pipes being restored, the tubing can be reeled back onto the spool for reuse elsewhere.
Amazingly, the tubing can handle being outside for 25 years.
Founders Benjamin Cohen and Travis Horsley were impressive, and I spent perhaps half an hour hearing about their exciting venture. I wish them well.
The TOHL team studied at the Georgia Institute of Technology (Georgia Tech), one of the 9 partner schools that together stage the Global Social Venture Competition. Each school sends a representative that works for the institution to the global finals. Georgia Tech sent Dori Pap, the Assistant Director of the Institute for Leadership and Entrepreneurship, pictured above with the TOHL team.
Reel Gardening
Reel Gardening is a manufacturing company that aims to make gardening simple. Its main product is a biodegradable strip that encases organic fertilizer and open pollinated seed at the correct depth in the soil, and the correct distance apart. Reel Gardening indicates where each plant will sprout allowing for watering to be localized, enabling a saving of 80% water in the germination phase. The strip also helps restore soil fertility as the paper breaks down and the vegetable based inks and organic fertilizer seep into the soil. The Reel Gardening team is made up of Claire Reid (Inventor and Founder), Sean Blanckenberg (Director at Reel Gardening), Emily Jones (Project Manager at Reel Gardening), Greg Macfarlane (Financial Advisor) and Dianna Moore (Business Advisor).
CSA Munching Box
CSA Munching Box is a community-supported agriculture (CSA) program providing weekly subscription-based delivery of seasonal, organic fresh fruit and vegetables direct from the farms to customers' doorsteps and bringing the customers closer to our farmer networks in rural areas. We also serve as a distribution platform linking artisanal food producers to the urban market. Additionally, CSA Munching Box brings positive social impacts to its partners. We also use packaging made from recycled materials as well as deliver our products via bicycle couriers to reduce carbon footprint. The primary target customer group is the health-conscious and discerning consumers in major cities across Thailand. This group tends to have more knowledge about CSA, appreciates the concept, and possesses higher purchasing power.
The 12 finalist teams
Eighteen teams traveled to Berkeley for the final two rounds of the competition. On Thursday, April 11, 2013, six teams advanced to the concluding round of judging. The twelve teams that did not advance each got to deliver their pitch to all the attendees. The 12 finalists are:
AtRium
South Korea
The low income families in the world's cold regions suffer not only from cold weather but also from problems such as fuel costs, illness, and pollution due to their outdated, inefficient stove heating system. AtRium addresses these socio-economic and environmental issues through an affordable heat absorber, G-saver, which is developed based on appropriate technology. Our primary target is Mongolian households living in a "Ger." Later we will expand to other cold regions such as Inner Mongolia and Kazakhstan, and also to developed countries with our technology. Built on a consortium among Good Neighbors (NGO), Good Sharing (Social Venture), and Korea Advanced Institute of Science and Technology (Academia), we aim to contribute to building a sustainable ecosystem that balances economic and social values by pursuing sustainable profit generation, improving the quality of life of low income families, protecting the environment, and developing local economy in cold regions.
BrainControl
Italy
BrainControl is a breakthrough technology that gives disabled people the power to control objects with their minds, allowing them to control a communicator, domotic devices (lights, doors, windows, alarms, temperature, bed position, etc.), wheelchairs, and other assistive technologies. Based on a proprietary Brain-Computer Interfaces technology (BCI), BrainControl interprets the electric map that correspond to certain brain activity and allows patients to control a tablet PC through specific thoughts, overcoming physical disability, and improving communication and environmental control. The focus is on assistive applications for people affected by degenerative neuromuscular disease (multiple sclerosis, amyotrophic lateral sclerosis – ALS) and ischemic or traumatic injury, which each year affects more than 3 million patients. BrainControl is the world's first assistive technology that is usable by people who cannot move any muscles or communicate, but who are consciously aware, a state called "locked-in" or "apparent coma".
Essmart Global
United States of America / India
Essmart: Millions of people have unmet essential needs, such as clean water and safe, reliable lighting. Hundreds of essential technologies that meet these needs already exist, such as non-electric water filters and affordable off-grid solar lanterns. However, these technologies are not reaching the people they were designed to benefit. Essmart builds an essential marketplace for these products in places where people already shop – their local retail shops – so that everyone can access them.
E-Lamp
China
E-Lamp is an intelligent lighting control system. It can adjust the color and brightness level of the LED light source by remote control using a mobile device. It can be used in agriculture: as the population of the world continues to grow, more food and crops are needed. As plants at different growth stages require specific spectral and wavelength, production could be sped up using E-Lamp's adjustment of light intensity and spectral wavelength. The mobile device remote control can be used in agricultural greenhouses to centralize control of E-Lamp equipment in a single region or multiple regions to make the management more convenient. E-Lamp also can be used to improve disabled people's daily life, allowing them to easily control the light and adjust the color to match their mood, even for psychological treatment.
Damascus Fortune
India
We at Damascus Fortune not only clean the planet, but have made the whole carbon conversion process profitable. We sequester carbon from carbon emitting industries and convert it into one of the strongest materials known to man – carbon nanotubes, carbon fibers and carbon nanorods. Our products are ultra-low cost as we use the waste emission and heat from the industry itself. We wish to start a composite manufacturing plant from in-house manufactured carbon structures to cater to automobile, aircraft, construction and other industries. We are seeking support to scale into new markets globally.

Nafa Naana
Burkina Faso
In Burkina Faso, households still rely on firewood for 90% of their energy consumption, thus contributing to irreversibly damaging their forest ecosystems. Toxic fumes from burning wood are harmful for people and issues faced in supplying fuel (for cooking and lighting) are a precariousness factor, particularly for women. Solutions do exist but remain out of reach for the most vulnerable populations.  Nafa Naana – which means "gains made easy" in local language – mission is to make clean and affordable energy products (energy-efficient stove, gas stove, solar lamps…) available to even the poorest households. The distribution channels are based on retailers operating as social microfranchisees and on direct sales to women's groups. Financial barriers – for end-users, retailers and producers – are removed through the use of microcredit and savings mechanisms.
Jorsey Ashbel Farms
Jorsey Ashbel Farms (JAF) is an unconventional livestock farm pioneering a groundbreaking approach to tackling the poverty problem of Protein-Energy Malnutrition, which affects millions of disadvantaged children and women. JAF produces Nigeria's cheapest livestock products using an innovative, scientifically proven, low-cost livestock feed production technique combined with an innovative deployment strategy.
Meme B. Ortis in my mind really deserved this award. He was the most intense and passionate of all the 18 speakers. You can see his energy in the picture of him just above. He was constantly using his hands to make his point, and his voice was powerful and resonant. I was so happy I got to meet Ortis to photograph him.
We had a great conversation about those pesky emails everyone receives asking for help moving millions of dollars for a percentage. He said he has several of them in his email box right now. I shared with him the story of a guy that turned the tables on the spammers by getting them to write out in longhand one of the Harry Potter books. He had not heard about that reverse scam. If you haven't heard about it either, I promise you'll enjoy the story.
Here's the summary: a guy gets a scam email and replies he's too busy to help because he's busy providing handwriting samples at $100 a page to improve a company's handwriting recognition software. Soon, the scammer is asking to join in providing samples, and he ends up writing out with a pen the text of a 293 page novel, hoping to collect tens of thousands of dollars. Of course, he never is paid for his work, which is retribution for him scamming others out of their money via his emails.
From the summary written by the team, you wouldn't guess what they really do, which is fascinating.
There is protein rich food inside a mango seed. The company opens the seeds, which apparently are not costly and are plentiful, and extracts the presumably mushy contents. That contents are so acidic it will kill chickens that eat it directly, but Jorsey Ashbel Farms has developed a method to process the extract so that chickens can safely and productively eat it. Even though this sounds like a lot of trouble, I learned there is a big cost savings versus feeding chickens corn. JAF runs a farm where they grow mangos and raise 10,000 chickens, in harmony. I would love to visit their operation to see this wonderful sounding operation first hand.
I forgot to tell the founders that I raise four chickens for eggs in my backyard in San Francisco. My chickens eat chicken feed from a bag, not mangos, however.
Ortis' co-founder Ashbel Ayuba, pictured in the portrait section below, was the most stylishly dressed of the competitors, and had on a pair of highly polished green leather shoes made from the hide of an animal I could not identify. They looked like something rock star Prince would wear. In the early 1990s I saw Prince hanging out as a regular customer in the trendy nightclub Les Bains in Paris, France, and he had on some similarly wild boots, which matched his pants, which matched his coat with tails. He carried a golden walking stick, and had beefy bodyguards on either side, but nobody paid him any attention, as I don't think he was famous yet in Paris. I told my French friends the next morning that I had seen Prince, and not one of them knew of him. I was ten feet from Prince dancing for an hour, so I am 100% certain it was Prince.
I stopped Ayuba on the stairs and asked to photograph him before I even knew what company he was part of — I just love his look and attitude. I told him he looked like what I would imagine an African James Bond would look like. He enthusiastically pumped his fist in the air and said 'YEAH!!!'
I love being a photographer.
WOOF
Hong Kong
WOOF is a premium fashion brand producing elegant, yet quirky and fun fashion accessories. What makes us different is that our line of goods is produced by Chiengora (dog hair). WOOF's raw material is collected from various grooming stores and animal welfare organizations. The grooming division of our current NGO partner, the Society for the Prevention of Cruelty to Animals (SPCA), provides over 60% of the dog hair raw material for WOOF production. WOOF ensures that all our sources of material are 100% animal-friendly. WOOF production is a technology innovation. We are currently co-developing the machine spinning technology with our academic partner, the Institute of Textile and Clothing (ITC) from the Poly University of Hong Kong. Through fashion, WOOF aims to change attitudes towards animals. We aim to do this through two means: 1) reducing animal surrenders and increasing animal adoptions, and 2) improving the living conditions of animals.
Wedu
Thailand
Wedu catalyzes the next generation of local female leaders by providing innovative financing options for university and the lifelong support of mentors. We create a sustainable and positive cycle of development by identifying girls committed to local issues; investing in their education; mentoring them to lead and creating incentives for them to repay the funds to serve more girls. We envision a world where people from the most underprivileged backgrounds have the tools to change their lives and their home country by being masters of their own development. We started operations in Cambodia and Myanmar, built partnerships from the U.S. to Japan, united a league of extraordinary advisers and mentors from the Acumen Fund, Husk Power Systems, Unreasonable Institute and beyond. Wedu is Social Enterprise Startup of 2012 at Cambridge University, GSVC-SEA Winner, Semi-Finalist for the Echoing Green Fellowship and in the Top 10 Global Solution Award at Women Deliver 2013.
Vi-Care
India
Vi-Care is a one-of-a-kind company in India, and is on its way to formation to provide a low cost solution to address the problem of high infant mortality due to pneumonia in rural India. Vi-Care focuses on implementing a cost effective solution for the timely detection of pneumonia in infants, keeping in mind the lack of healthcare infrastructure in rural areas. Vi-Care's solution involves the use of ubiquitous mobile phones to detect pneumonia in infants. Vi-Care provides a unique diagnostic application (i-Treat) capable of performing preliminary but informative diagnosis of pneumonia without requiring any external infrastructure or expert intervention, thereby greatly improving the chances of survival of infants in rural areas. The value proposition of Vi-Care rests upon providing an unrivaled, cost-effective approach to timely detect pneumonia in low-income, rural areas, keeping in mind the financial constraints of the people.
Sunshine Library
China
Sunshine Library Rural Digital Education Initiative (Sunshine Library) is a social venture seeking to improve rural education in China via modern technology. We aim to provide a comprehensive education solution to under-resourced, rural schools using specially designed tablet PCs. Sunshine Library does not only provide tablet PCs for under-resourced schools, nor do we place our volunteer teachers in rural schools. Leveraging information technology, we provide an integrated solution with a sustainable model of operation. We designed a tablet PC, the Sunbook, and educational apps customized to the needs of students, teachers, and schools in rural setting. Then, we deliver the tablets with Internet access to rural students, new teaching methods to teachers, and extensive educational resources to schools, hoping to eliminate education inequity. Now, we have provided 2,000 tablets for students and teachers in 4 rural schools in western China.
Pedius
Italy
Pedius is a communication system helping deaf people to make normal phone calls, using voice recognition technologies and speech synthesis. Pedius' users can call all emergency numbers for free, as well as all partner companies supporting our accessibility program who agree to pay a fee and provide users a toll free access number. Users can also call private numbers, paying an affordable fee comparable to what is offered by VoIP communication providers. The goal of Pedius is the reduction of communication barriers for deaf people, enabling phone services for all and at the same time increasing the visibility of our accessibility partner companies.
I like this company. It turns out the founders know my friend Dan Luis, who used to be CEO for years at Purple, the company that bought my first Internet startup Hotpaper.com, Inc. Purple is in roughly the same business as Pedius, but Purple uses people to bridge connections between parties, while Pedius uses software.
The panels and debates
As I mentioned above, this event filled a day. There were panels and debates on social entrepreneurship. I stepped in briefly to take some pictures, but sadly, I did not have time to watch the events, with the exception of the morning keynote. I was busy either photographing or rounding up the subjects nearly all day.
Individual portraits
I took all the pictures that illustrate this blog post. I like very much to photograph people, and entrepreneurs are among my favorite subjects. I asked all of the subjects you see here for permission to photograph them, with the exception of the shot with Dean Rich Lyons, which I captured by standing alongside the official paid photographer, my longtime friend Bruce Cook. He set that shot up, and I simply asked the subjects to look at my camera after Cook was done getting his shots.
I took individual photographs of some of the founders, and I present those images to conclude this post. I gave permission to the subjects for them to use the pictures, so I hope to see these images on their websites and elsewhere around the web. Thank you to all the subjects for being so patient with me to get these results.
I used my Canon 5D Mark II camera to take these pictures. The group shots were taken with a Canon 50mm macro lens. The individual shots were taken with a Canon 80-200mm f:2.8 L zoom lens. The wide shots were taken with a Canon 16-35mm f:2.8 L zoom lens. I upload pictures to this blog at camera resolution of 21 megapixels. Click on the pictures to load the full size versions, which are larger than the versions you see by default. I pursue blogging and photography as a hobby.
I am sorry I could not photograph everyone. I would have liked to photograph all 18 teams properly, like I do when I attend the 500 Startups Demo Days.
I really enjoyed this event. It was exciting to meet people from around the world. I invite everyone I met, if allowed in your country, to friend me on Facebook so we may stay in touch. Thanks and good luck!
All motorized vehicles, including cars, boats, ships, trucks, buses, planes and trains should come equipped from the factory with integrated carbon monoxide and smoke detectors.
Vehicles should contain carbon monoxide and smoke detectors because power trains can fail and sometimes deliver deadly carbon monoxide into the passenger compartment, killing everyone inside. This happened yesterday, April 1, 2013, when three men got stuck in some mud while driving their sports utility vehicle in the early morning dark. One of the passengers, Shain Gandee, was famous for his starring role in the Music Television reality show Buckwild. The coroner ruled the deaths accidental and declared carbon monoxide poisoning to be the cause of death. The mud reportedly covered the muffler of the truck. That may have forced exhaust through holes in the exhaust system underneath the passenger area, and perhaps some of that exhaust infiltrated into the cabin. The truck was an old model that looks like it's had a rough life.
It was probably cold and dark out, and I can see the three wanting to stay inside with the motor running to stay warm until daylight. Had there been a carbon monoxide detector on board, the three would have been warned of the danger they were in, and could have shut off the engine and stepped outside for some fresh air. Better to be cold than dead.
Even electric vehicles should have smoke and carbon monoxide detectors, since batteries also are dangerous. Additionally, people might use propane heaters inside, and they emit carbon monoxide that can kill you when they are malfunctioning.
Detectors should be hard wired to the vehicle start battery, but should have 10 year on board battery backup as well, like all detectors should. Detector design should be standardized so a detector from a Rolls Royce Phantom will fit a Chevrolet Aveo, and vice versa. That way the cost to replace detectors at the end of their life will be low enough that people will be inclined to do so. There should be an interlock so the car won't drive past 55 miles per hour unless a working and non expired detector is installed. This will more than gently nudge owners to replace expired or defective detectors. A red light on the dash is not sufficient reminder. Making the car not start is too extreme, since a user might be in danger if they got stranded. A speed limit is a powerful incentive.
A detector like I propose here should cost about USD $10.00 in quantity with the standardization I propose. I am sure Gandee's family would have loved for him to have had a detector.
In the meantime, before my idea gets implemented on a universal scale, go buy a home style smoke and carbon monoxide detector and install it in your vehicle. If it goes off and saves  your life, please tell me so in a comment so I know that people are reading this and acting upon my advice.
I don't know how many unintentional carbon monoxide poisonings inside vehicles occur each year, but the number must be in the hundreds worldwide. An extra $10 to avoid these deaths is worth it.
I have learned that smoke and fire detectors almost always signal low battery condition in the early morning between midnight and five o'clock. This wakes me up and forces me to replace batteries when I am sleepy. I suspect many people don't have spare batteries always on hand like I do, and simply take the batteries out until they can go to the store. This leaves the premises less well protected, and I suspect fires have started during this period and that people have died.
The fix is so simple I can't believe I only thought of it today.
Simply include a clock in all battery operated smoke, fire and carbon monoxide detectors. Have this clock powered by its own battery that can last a decade or more. Set this clock at the factory for the part of the world where the detectors will be sold. The low battery circuitry should consult this on board clock, and should suppress the chirping 'low battery' notification during typical sleeping hours, say from 10pm to 8am. The chirping can resume at 8am each day until the batteries are replaced. Alarms typically will chirp for months before they run out of power entirely, so the delay in chirping during the night will not cause a significant safety issue.
The clock should be user resettable so the detector can be moved between time zones by the buyer, or set to accommodate unusual sleep schedules.
I suspect the clock I am proposing costs no more than USD $.50 in bulk, and the feature that it will enable can be promoted to boost sales. I suspect such a detector will sell well because I suspect everyone with a detector has been awakened by their chirping.
Chirping during waking hours is likely to be a measurable advance in fire and poisoning safety, since awake and alert people are less likely to make mistakes, like removing the batteries or putting in replacement batteries backwards.
While the circuit designers are at it, they should program the detectors to keep track of the passing years and notify the user when the detector has reached its end of life, around ten years after manufacture. I am sure there are millions of 'expired' detectors still in use because people forget when to replace them.
This is my second post on how to improve detectors. My first post Smoke detectors should send activation warnings via text messages via Wi-Fi I wrote July 23, 2011.
I believe detectors chirp now early in the morning because batteries deliver less power when cold, and in many homes the temperature drops lowest early in the morning. Here's a post by The San Diego Real Estate Inspection Company that agrees with me.
Thank you to SoftTech VC venture capitalist Jeff Clavier for sparking my imagination today to think up this fix. Clavier asked on Facebook this morning why detectors report low batteries exclusively at 3:30am. It's then that I thought of including an internal clock to solve the problem. I posted my suggestion in a comment on Clavier's Facebook Wall, and then decided to write this post to formalize my suggestion, with the hope the idea gets discovered and implemented.
If this idea makes money for you or your company, please send me an industry average royalty for using this, out of the goodness of your heart. I am guessing that will amount to about USD $.05 per detector, but that could result in my getting ever more wealthy over time given every residence on Earth should have multiple detectors forever. Thank you!
I will not patent this so it's now in the public domain if it hasn't already been patented, which is not unlikely given how simple the idea is. I could quickly find no mention of this idea after performing a Google search for this idea.
I wrote about Jeff Clavier last year, and I took the picture of him that accompanies this post. Clavier speaks colorfully. My favorite quote from when I saw him speak August 30, 2012?
"I passed on airbnb that some showed me when it was called air bed and breakfast and I said 'air bed and breakfast… are you f—ing kidding me?"
My preference is that the world move quickly towards hard wired sealed detectors that have backup batteries that will last ten years. It also seems that non hard wired detectors should have solar cells like calculators and watches, to keep the batteries from having to drain themselves so quickly.
My clock idea I present here is still relevant to such detectors, since I would prefer to learn the detector needs replacing while I am awake and likely to buy a new one at once.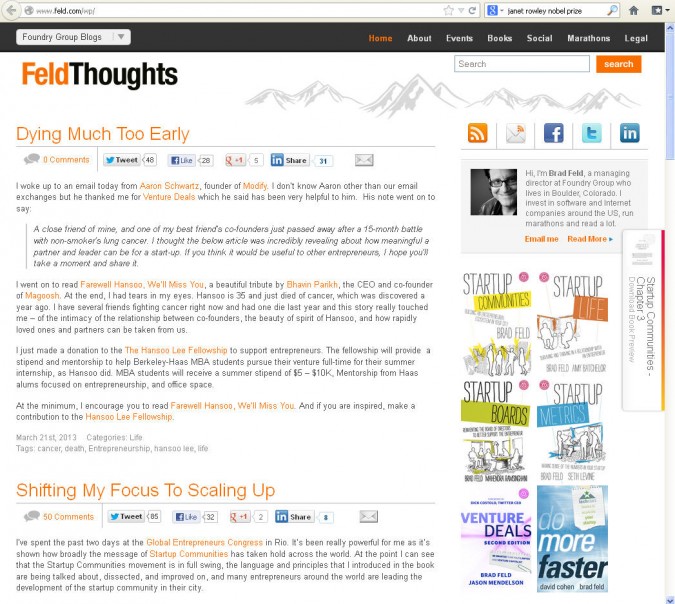 On March 18, 2013 I wrote a tribute to Hansoo Lee, who died March 4, 2013 at age 35 from cancer.
Prominent venture capitalist Brad Feld wrote yesterday, March 21, 2013, a touching tribute to Hansoo Lee on his blog. Feld's blog post was republished on Business Insider.
Here is Feld's post, in its entirety, for posterity in case the above links ever disappear. Please read this version only if the links above don't work, so as to not take traffic away from those sites. I generally only copy entire posts like this when I want to be sure some important text is readable for decades, like these lovely words from Brad Feld:
"I woke up to an email today from Aaron Schwartz, founder of Modify. I don't know Aaron other than our email exchanges but he thanked me for Venture Deals which he said has been very helpful to him.  His note went on to say:
A close friend of mine, and one of my best friend's co-founders just passed away after a 15-month battle with non-smoker's lung cancer. I thought the below article was incredibly revealing about how meaningful a partner and leader can be for a start-up. If you think it would be useful to other entrepreneurs, I hope you'll take a moment and share it.

I went on to read Farewell Hansoo, We'll Miss You, a beautiful tribute by Bhavin Parikh, the CEO and co-founder of Magoosh. At the end, I had tears in my eyes. Hansoo is 35 and just died of cancer, which was discovered a year ago. I have several friends fighting cancer right now and had one die last year and this story really touched me – of the intimacy of the relationship between co-founders, the beauty of spirit of Hansoo, and how rapidly loved ones and partners can be taken from us.
I just made a donation to the The Hansoo Lee Fellowship to support entrepreneurs. The fellowship will provide  a stipend and mentorship to help Berkeley-Haas MBA students pursue their venture full-time for their summer internship, as Hansoo did. MBA students will receive a summer stipend of $5 – $10K, Mentorship from Haas alums focused on entrepreneurship, and office space.
At the minimum, I encourage you to read Farewell Hansoo, We'll Miss You. And if you are inspired, make a contribution to the Hansoo Lee Fellowship."
Here is the heartfelt tribute that Bhavin Parikh wrote and that Feld noted above. Again, I generally only copy complete posts like this when I think there is a chance the original won't be on the Internet for decades and decades, and when I think the likelihood of irritating the original author is low. Please read this text below from Parikh only if this link does not work:
"Hansoo Lee was a visionary, a close friend, and my co-founder at Magoosh. On March 4, 2013, at the age of 35, he lost his 15-month battle with lung cancer. Hansoo changed my life, and I will be forever grateful.
The beginning
Hansoo and I were classmates in the full-time MBA program at Haas School of Business at UC Berkeley. He came to Berkeley-Haas fully aware that he wanted to pursue entrepreneurship. In fact, he wrote the following in his MBA application:
"I believe in the power of a well-operated, sophisticated organization that generates social and economic value. My career goal is to found and lead this type of organization."
In our first semester at Haas, Hansoo and I joined Pejman, another Haas classmate, and his friend Vikram in creating Magoosh, an online education product initially focused on test preparation. Hansoo quickly emerged as a leader among the group. He was deeply passionate about changing the world through education. He served on the Board of World Savvy, an education non-profit, for several years prior to Haas and continued to do so during and after. Unlike the rest of us, Hansoo had worked at a startup before and knew what it took. He acted with conviction and focused on getting things done instead of trying to make the perfect decision. He had a bias towards action, a value we hold dear at Magoosh today.
Hansoo and I pursued Magoosh full-time during the summer, foregoing traditional paid internships. We worked out of the basement of his apartment for 10+ hours a day. That summer, we released Magoosh in small iterations, from just one page with a question, video explanations, and a text box for email addresses, to over 200 GMAT math questions with full-on video explanations. Early into the first semester of our 2nd year, Hansoo and I were the only remaining full-time members of Magoosh. We were at a crossroads: Should we go back to corporate America or continue to work on Magoosh full-time after graduation?
Hansoo, the visionary
Hansoo was fearless. The decision to pursue Magoosh full-time was a no-brainer for him despite Magoosh having very modest revenue and no funding. His confidence was unparalleled and often led to tension between us. But I later realized that while I could only see what was right in front of us, Hansoo could see through the fog. He had a vision for Magoosh of making high quality educational material accessible to all, and he had confidence in us to see that vision through.
He dragged me, often kicking and screaming, through many of Magoosh's milestones. In October 2010, Hansoo spent weeks convincing me that we should raise a seed round. I still recall a three hour walk we took around Berkeley's campus debating the merits of fundraising that ultimately he won out. And the process was easier than I expected, thanks to the previous 12 months that Hansoo spent building relationships with potential investors. I could always come up with thousands of reasons to defer a decision, but he would usually get his way, and we would take action. His way was the right way — make decisions and move forward — it's why Magoosh is successful today.
Hansoo's cancer
In late December of 2011, I received a crushing email from Hansoo. "Hey Bhavin. I've been diagnosed with a rare form of lung cancer…" I could barely read on. I was 3,000 miles away visiting my wife's family in Massachusetts, but my heart was with Hansoo in California. I didn't understand. He was fit, active, and a non-smoker. He did everything right. How could this happen to him?
He stepped away from Magoosh operations as of January 2012, but he remained fearless about his prognosis and the company's future. His positive attitude was infectious. I still can't believe that during this time he provided me with support because he knew running the company as a sole founder would be difficult.
Unfortunately, his condition worsened throughout the year. Despite going through various advanced treatments, he faced complication after complication. Our weekly walks turned into monthly phone calls and then just the occasional email. I couldn't imagine what he was going through, and I wanted to do more for him. But whenever we spoke, he told me to focus on Magoosh. He was watching from a distance and loved seeing the team's progress.
On Monday March 4, 2013, Hansoo passed away due to complications from his cancer. We had spoken for nearly an hour just two weeks prior, and I'm grateful that we were able to chat then. I was able to tell him about his impact on Magoosh.
Hansoo's impact on Magoosh
Hansoo left a lasting impact on our daily lives at Magoosh. He was the impetus behind our daily standup meetings and the weekly one on ones between managers and employees. He cared so deeply about crafting an amazing culture and brand that he led us through an exercise to define our core values when we had only 4 full-time team members — we still hold those values dear today. He was transparent with our vision and finances because he believed in providing everyone with purpose and autonomy in their work.
I'm reminded of him everyday when I walk into the Magoosh office. Magoosh would not be what it is today without him. We've grown into a successful business and have helped thousands of students improve their GRE and GMAT scores thanks to Hansoo. He was our leader, and we'll miss him.
How you can help
To honor Hansoo's memory, we have created the Hansoo Lee Fellowship. The Fellowship will provide a stipend and mentorship to help Berkeley-Haas MBA students pursue their venture full-time for their summer internship, as Hansoo did. Students will receive:
A summer stipend of $5 – $10K
Mentorship from Haas alums focused on entrepreneurship
Office space donated by Magoosh
This fellowship is a realization of Hansoo's vision. He always looked for opportunities to give back, and this is our way of celebrating him. To donate to the Fellowship, click here."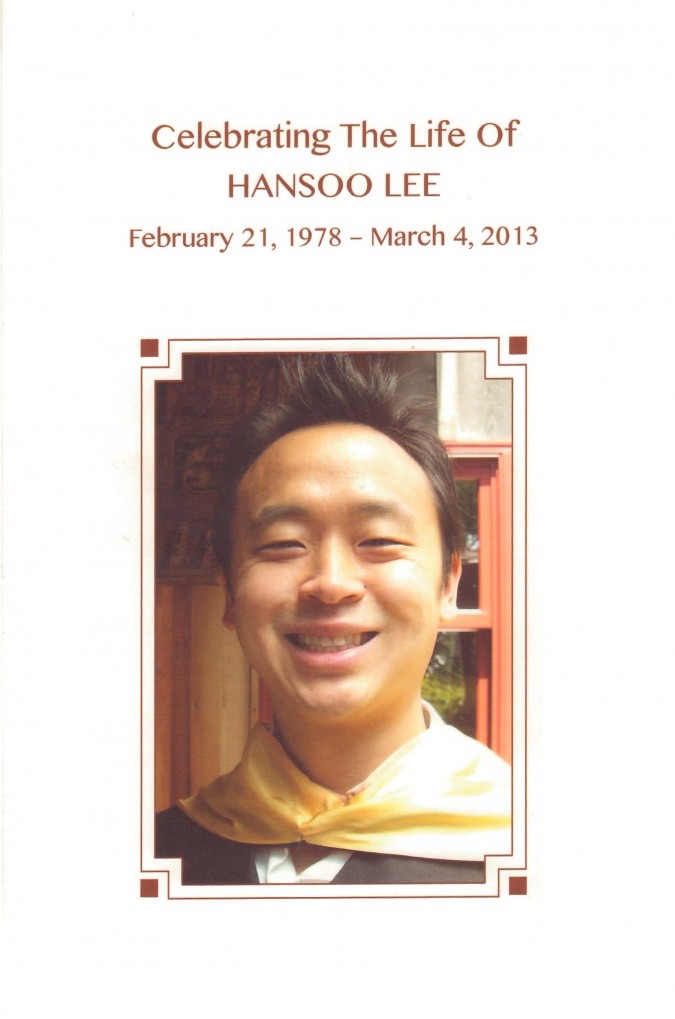 This afternoon, March 18, 2013, I attended the memorial service for Hansoo Lee. Lee died from lung cancer on March 4, 2013 at thirty five years of age. Lee was born February 21, 1978.
I didn't know Lee particularly well because we probably saw each other just a dozen times. Most of those times were at Cal Founders meetings at various venues in the San Francisco Bay Area. Cal Founders meetings are informal monthly gatherings where entrepreneurs discuss their business challenges. The big benefit to these meetings is the wide variety of advice that may be gleaned from the diverse attendees. I like to characterize the meetings as board of directors meetings where one may actually be completely frank about issues, with no worry that what you say may later be used against your company.
Since Cal Founders meetings are designed to encourage sharing of meaningful obstacles and opportunities, I feel like I learned quite a bit about Lee during these meetings. A person's character comes into focus rather quickly when you hear them give and receive advice.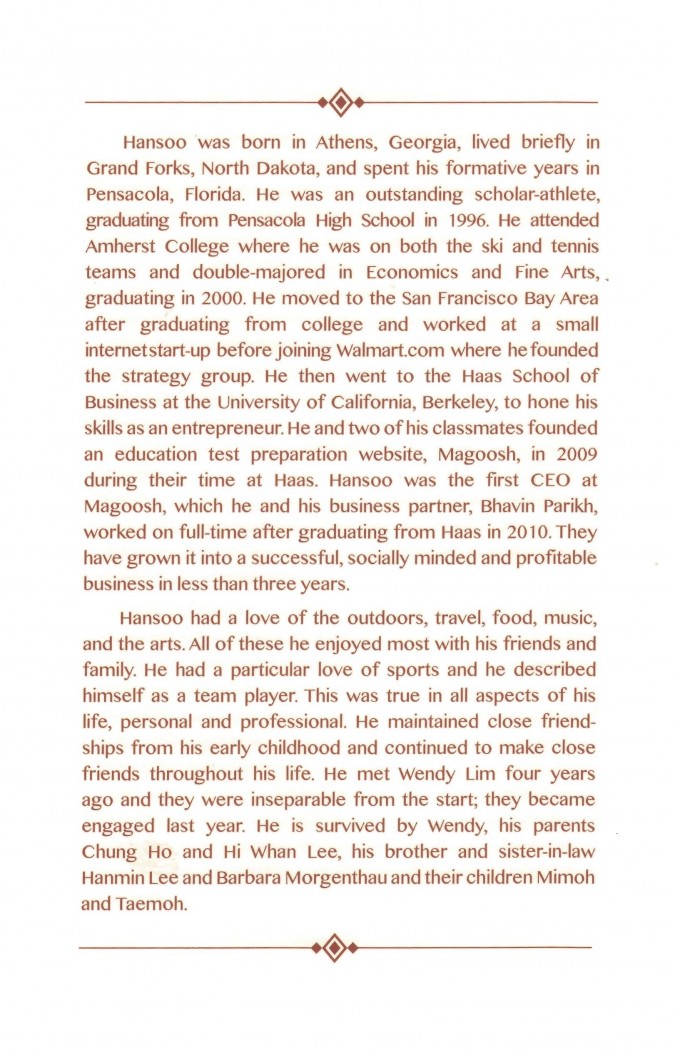 Lee was a standout at Cal Founders meetings, and for good reason. He was a smart, driven, accomplished and capable entrepreneur. Sadly, the majority of entrepreneurs I meet never deliver much in the way of results. Lee stood out because he actually delivered results. He was quick to cite statistics about growth, and he knew exactly how to bring customers to his business, and could specify exactly what results would come from specific steps. This kind of precision is less common than you might imagine.
I recall examples that demonstrate how impressive Lee was as an entrepreneur, but I won't share them with you, since Cal Founders meetings are by design confidential, to encourage open dialogue. I doubt Lee would mind my sharing some examples, given that they paint him in such a favorable light, but I am loath to break confidentiality even in light of the sad circumstance of his too early passing.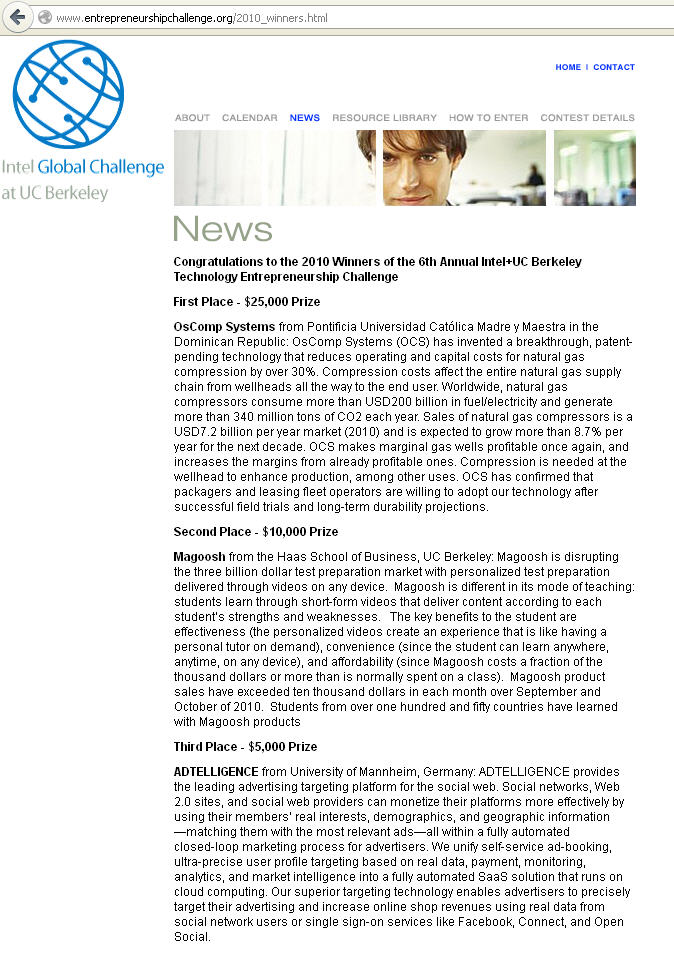 I remember seeing Hansoo Lee the evening his startup Magoosh won USD $10,000 in the 2010 Intel Global Challenge business competition. The Intel Global Challenge is a big deal, and it is very competitive because Intel invites competitors from all over the world to participate. I have watched the finals awards ceremony for years and I conclude the competition is more competitive than the Berkeley Startup Competition, which itself is quite competitive.
I am comfortable sharing some of what I learned this afternoon in a public memorial open to all at the beautiful Golden Gate Club inside The Presidio. Part of the Golden Gate National Recreation Area, The Presidio used to be a United States military base before it was vacated and turned over to visitors to and residents of San Francisco to enjoy.
The Golden Gate Club overlooks the San Francisco Bay through giant windows perhaps two stories tall. These windows showcase the Bay is if it is a work of fine art in a museum.
Here's Lee's biography from the program handed out today at the memorial:
"Hansoo was born in Athens, Georgia [USA], lived briefly in Grand Forks, North Dakota, and spent his formative years in Pensacola, Florida. He was an outstanding scholar-athlete, graduating from Pensacola High School in 1996. He attended Amherst College where he was on both the ski and tennis teams and double-majored in Economics and Fine Arts, graduating in 2000. He moved to the San Francisco Bay Area after graduating from college and worked at a small internet startup before joining Walmart.com where he founded the strategy group. He then went to the Haas School of Business at the University of California, Berkeley, to hone his skills as an entrepreneur. He and two of his classmates founded an education test preparation website, Magoosh, in 2009 during their time at Haas. Hansoo was the first CEO at Magoosh, which he and his business partner, Bhavin Parikh, worked on full-time after graduating from Haas in 2010. They have grown it into a successful, socially minded and profitable business in less than three years.
Hansoo had a love of the outdoors, travel, food, music, and the arts. All of these he enjoyed most with his friends and family. He had a particular love of sports and he described himself as a team player. This was true in all aspects of his life, personal and professional. He maintained close friendships from his early childhood and continued to make close friends throughout his his life. He met Wendy Lim four years ago and they were inseparable from the start; they became engaged last year. He is survived by Wendy, his parents Chung Ho and Hi Whan Lee, his brother and sister-in-law Hanmin Lee and Barbara Morgenthau and their beautiful children Mimoh and Taemoh."
There were over two hundred people at Lee's memorial.
I was impressed with how many people boarded aircraft to attend. The majority of the members from his class that belonged to his fraternity at Amherst were there, and two of them spoke at the podium sharing their memories of Lee. I learned that Amherst had banned fraternities, so fraternities were tiny and presumably somewhat hidden. As a result, when I write 'majority' I mean three fraternity brothers out of a total of five in Lee's class attended Lee's memorial. Counting Lee, four fifths of the entire class was represented. That I believe is a testament to Lee's good spirit. Remember, Lee graduated from Amherst a dozen years ago.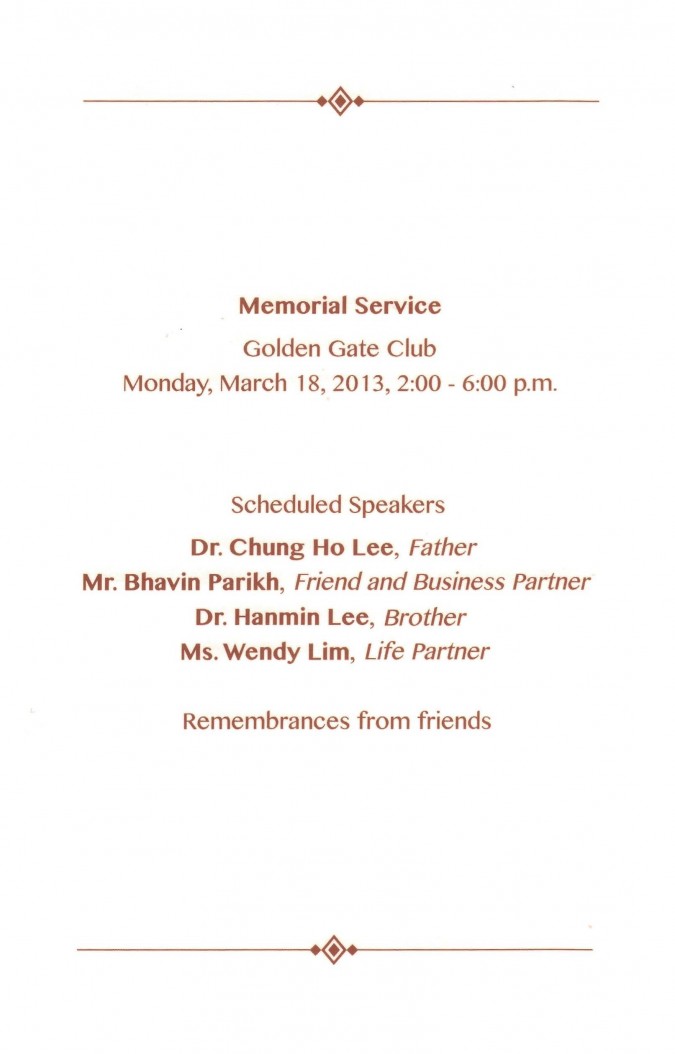 About two dozen of Lee's friends walked to the microphone and shared their memories.
Two of his friends met Lee in the first grade. One of those friends entertained us by explaining Lee's love for business even as an eight year old. Lee was a pro at profitably buying and selling baseball cards. He studied baseball and developed the rare ability to identify future star players while they were still rookies in their careers. This skill allowed Lee to buy the correct rookie cards while they were still low cost, and then sell them years later when the players became stars. I learned Lee joked that he planned to pay for college with his card trading empire begun as a child.
I learned about Lee's first skiing trip as part of a high school engineering club he belonged to, and how his enthusiasm for skiing caused him to wear out a pair of ski pants in just a night of tumbling on a slope covered with inadequate snow and uninvited mud.
Lee's fiancée, Wendy Lim, delivered the most emotionally moving remarks.
I cried.
Wendy Lim is really impressive.
Lim described herself as Lee's opposite, but pointed out how well they each complimented the other.
Wendy Lim described Lee as the love of her life, and told us she had never before known love like that which she shared with Lee. It's so sad Lee was taken from her so early after her lifelong search to locate him.
I introduced myself to Lim and expressed how sorry I am for her loss.
I also had the privilege of expressing the same sentiments to Dr. Chung Ho Lee, Hansoo's father, Hi Whan Lee, Hansoo's mother, and Dr. Hanmin Lee, Hansoo's brother.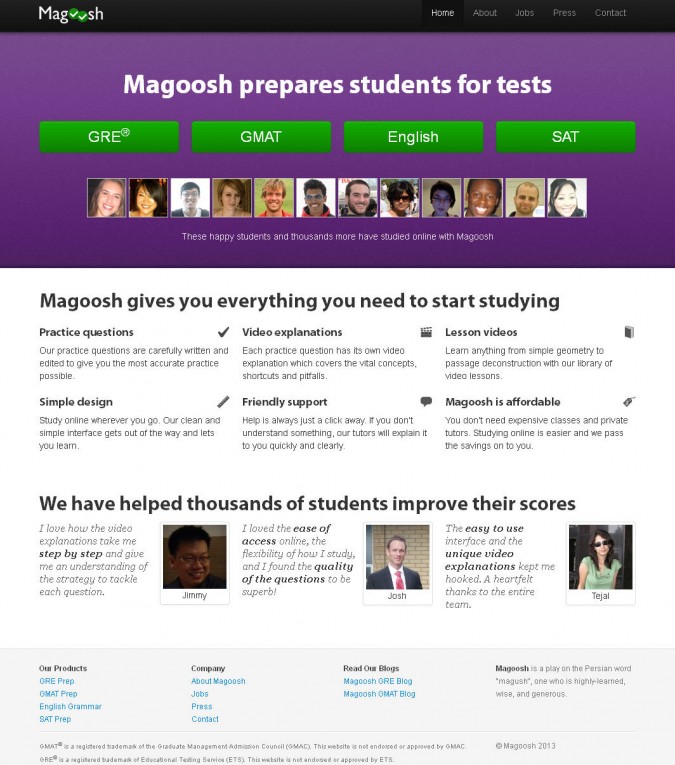 The Hansoo Lee Fellowship has been established at the Haas School of Business at University of California Berkeley. Lee started full time work on his startup Magoosh during the summer break between his first and second year at business school. This concerted several month effort I suspect really accelerated the progress at the company. The idea for the Fellowship is to help other student teams pursue their dreams during that pivotal summer break. The fellowship will provide a cash stipend, office space and advice from mentors to one lucky team each summer. If you are able and would like to give money to fund the Hansoo Lee Fellowship, please do so by following this link to the official UC Berkeley donation page for this fellowship.
Farewell Hansoo Lee. I am glad that I got to know you a bit during your exceptional life.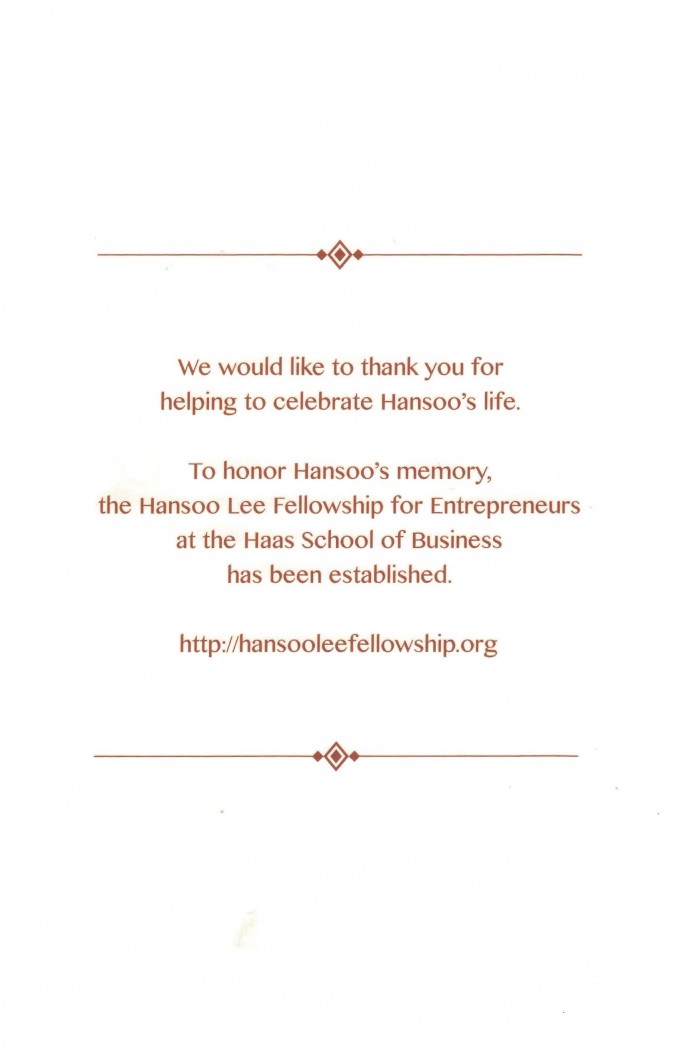 To my knowledge, in the United States it is illegal to record conversations unless you have permission of the parties you're recording. I believe the rules are more lax in some jurisdictions, but those exceptions are not that helpful if one wants to record a phone conversation with a company representative, because call centers are so dispersed over the planet. A representative could be anywhere.
I think United States Federal law should be changed to specifically permit consumers to record conversations they have with employees and other representatives of companies. Nothing stops me from asking for permission today, but I have never been granted permission when I have asked, so that's why the law should be changed.
Companies routinely give themselves the right to record calls, so they should understand why a consumer would also want to have that ability.
I came to my recommendation January 29, 2013, after I had a frustrating conversation that day with Brian G., a supervisor at Godaddy, the Internet domain name giant. Brian's email address is briang@godaddy.com. Brian refused to give me his last name, citing a Godaddy security policy.
On or around December 14, 2012, I learned a domain I've been wanting for a dozen plus years was in 'redemption.' This means the prior owner didn't pay to renew it, so the registrar placed the name into redemption, a kind of holding place for domain names before they are eventually released to the public for purchase.
My heart raced. I was going to finally be able to reacquire the Hotpaper.com domain. I sold the name in 2000. My first reaction was to write to my friend Dan Luis and ask if I could pay the redemption fee to Purple, the company I sold the name to a dozen years ago, so they could retrieve the name from redemption status. This would then give Purple the right to transfer the name to me.
But after I composed the email to Luis, who I have been in touch with as recently as 2012, I decided to run this idea past GoDaddy, which was the registrar for Hotpaper.com.
I told the representative about my connection with Purple and proposed doing what I just outlined. The representative then advised me to  not bother, and just sign up for GoDaddy's Domain Name Backorder service, which cost about USD $20.00 and included a full year of registration. This made the cost for getting the domain about $8.00, which is just 1/10th what it would have cost me to pay Purple to get the domain out of redemption status.
The representative told me that since GoDaddy was the registrar for Hotpaper.com that they would be able to get the domain name for me through their backorder service. He said that if Hotpaper.com had been with another registrar then they would have had to fight to try to get the name. The representative assured me multiple times that in this situation their backorder service was a sure thing. Not once did he even hint that I would be rolling the dice. Had he alerted me that I was speculating, I would have hung up and pursued the sure thing of contacting Luis.
Either Luis would have redeemed the name for Purple to hold on to, or he would have allowed me to redeem it through Purple. Luis would not have ignored me and let the name hit the open market — he's my friend, and even though we haven't seen each other in ages, we share a bond, for we both sold our companies to the company that is now Purple. Why am I so sure of this? Luis is the one that keeps our association alive by saying hello to me from time to time, not the other way around. I believe Luis respects me and does not want to upset me, so he would not take an adverse position, especially on something like this that is of no consequence to Purple, since they retired the Hotpaper name around a decade ago.
I would have been fine had Luis redeemed the name and had Purple hold on to it for decades to come. My desire is for the name to not fall into third party hands, so it was great that Purple paid the registration on the name for so long after they stopped using it. I saved over USD $100 over the last decade thanks to the kindness of Purple. Thank you.
I have explained to GoDaddy that their representative promised to get me the Hotpaper.com domain and failed, and to fix this failure they need to buy the domain and give it to me for the backorder fee I paid. This is a case of an employee being insufficiently skilled and trained, and their failure led to this sad result. GoDaddy the company is at fault, I believe. Yes, there may be some fine print somewhere on the GoDaddy website explaining the backorder process is akin to gambling, but GoDaddy's sales representative negated that fine print.
I believe I was behaving reasonably when I took the word of the GoDaddy representative.
I figured that GoDaddy would have an advantage in 'catching' domain names dropping from their registry in the same way that high speed Wall Street traders benefit from extremely close proximity to stock exchange computers, so much so that high speed traders rent space in premium Wall Street colocation space to get faster connection times, since the speed of electricity is only so fast.
I have never bought a domain through a name catching service, so I was not an expert when I placed the order. But I felt the representative I ordered through knew what he was talking about, because he was so articulate, well spoken and because his explanation of why GoDaddy would definitely get the name sounded technically and practically believable.
If I had recorded that conversation, I believe GoDaddy would buy Hotpaper.com on the open market and give it to me for the backorder fee I have already paid. The conversation was so crystal clear and frankly damning that GoDaddy would not want to risk the recording and this story hitting the front page of Reddit, where I predict GoDaddy would have taken a beating from the readers of that news site.
This domain issue is of little importance. I survived a dozen years without the domain, and I'll be fine without it for the next dozen or three dozen years. I have Hotpaper.net if I ever want to do anything Hotpaper related in the future.
The right for consumers to record calls with businesses, without notice, however, is a right US residents should have. There are so many business that will only correspond with customers over the phone. All banks I know are like this, and will simply not engage a customer by writing emails or letters back and forth. If you try to send a letter, often you'll get a letter back asking you to phone. Banks I am sure force business to be conducted by phone because they know there will not be a record the customer can keep and refer to or publicize if the customer is mistreated.
Customers need to be able to believe what they're told by company representatives, which, sadly, is a bigger and more difficult issue. I appreciate and recognize that I should have independently verified by reading the fine print on the GoDaddy website what the representative told me. I didn't do it because the representative was so confident and self assured, and because the stakes were not material. Frankly, I'll save hundreds of dollars over the years by not having to pay to keep the Hotpaper.com domain for myself, so you can even say GoDaddy did me a favor by the failure of their representative to explain how their backorder service works.
Companies should do the right thing by their customers when their representative makes such an obvious and glaring error. If a car dealer sells you a lemon, they'll have to buy it back from you. If a doctor amputates the wrong limb, they'll pay you plenty. If a lawyer drops the ball and forgets a filing deadline and you lose your case as a result, she'll pay you.
Here we have a salesperson that sold me a product by misinforming me about its most important workings — whether intentional or not is irrelevant. This strikes me as fraud, though I am not a lawyer. GoDaddy should fix this apparent fraud by buying the domain and delivering it to me.
While researching this story, I found the website Anti GoDaddy, which collects GoDaddy horror stories from consumers. I posted a screen shot of this site's home page at the top of this article. Notice the reach of GoDaddy — the embedded advertisement near the top of the page is for GoDaddy.
If this domain had been really important to me, I would have not handled the matter so casually. On a scale of 1 to 10, the Hotpaper.com domain ranks a 0.1. Note that I have not linked to the domain so as to not give traffic to the domain name speculator that ended up acquiring the name. The last time I checked, which was just once, there was a generic page offering to sell the domain.
The US Federal government should allow recording of conversations by consumers with businesses to reduce the harm that comes from currently insufficiently documented conversations. I suspect there are thousands of people that lost their homes in recent years because a bank told them verbally not to worry about their loan modification delays, but then foreclosed anyway. Had those promises been recorded by the consumers, the banks may have not been so quick to make promises they couldn't respect, and homeowners could have pursued other options with more awareness of their true situations. The ramifications of only the business being able to record conversations are likely widespread and quite substantial, in every field, with every size business. It's simply not fair to let only one party avail themselves of voice recording technology. Society would not stand for lopsided court reporting during trials, where the transcription was for the benefit of only the defendant or only the plaintiff. Why does society permit injustice with documentation outside the courtroom?
Laws need to change. I don't know about the laws outside the United States, but I suspect this post applies to most of the planet.
Dear Jayne Salinger,
We have never met.
You wrote the following brief statement to me via a Facebook message on February 27, 2012:
"Hi Kevin,
I am the director of the mock trial program you attended last week. Thank you for taking such wonderful photos. Unfortunately these photos cannot be made public as the students are minors. And including their names is also not advisable. Can you plesae cease in posting these photos and remove where applicable?
Thank you.
Jayne Salinger
The Bar Association of San Francisco"
You wrote to me because I wrote on February 24, 2012 this article about the 2012 public finals competition for the San Francisco Mock Trial program. I illustrated the article with photographs that I took at the mock trial, including those shown here. You said that because the students are minors that my photographs cannot be made public. This blog is public.
When I first read your message, I wondered if I had done something wrong by posting the pictures. So, I did some searching and found around 89 pictures of the 2011 San Francisco Mock Trial finals, on that program's Facebook page. Presumably most of these photographs are of minors, since the Mock Trial program is for high school students. I presume you are aware of the contents of the Facebook page for the mock trial program that you direct.
I also thought back to my four years as a staff photographer for the newspapers at the high schools I attended — Lab School at the University of Chicago and McAteer High School in San Francisco. The photograph captions typically identified the subjects by first and last name, so I knew that at least back then the practice was permitted.
Today, February 25, 2013, I discovered that student journalists still name students fully, in stories and and captions accompanying photographs, because I found via Google the article Case closed – Mock trial dominates in the high school newspaper published by Lowell High School. This Lowell newspaper article is publicly accessible on the Internet.
Lowell High School won the 2012 San Francisco Mock Trial championship, and later won sixth place in the California competition.
Since my research I conducted after receiving your message indicated I was most likely allowed to post student pictures to my blog, I put aside your message.
I did not reply to you at the time, but I always intended to address your concern.
My plan was to speak with you in person about this matter, at the San Francisco Mock Trials final this year — 2013. My reasoning for meeting you in person was so that you would be able to hopefully directly assess my character.
Last year, as I wrote on my blog, I discovered the Facebook page for the Mock Trial program in San Francisco. I 'liked' the page back then, so I have been getting status updates ever since. Today, I got a status update saying that Round III is coming up. Sadly, unlike last  year, dates and times are no longer listed. Last year the page listed the time and date in the following status update before the trial:
"Congratulations to Lowell and School of the Arts for making it to the final round of the 2012 Mock Trial Tournament! Final round is TONIGHT at Golden Gate University Law School, 536 Mission, Room 2203. Teams from Lowell and SOTA may arrive at 5:45 to set up; guests/spectators may arrive at 6 p.m. to get a seat. The round will start at 6:30. Good luck to both teams!"
I could not find any information anywhere on the Internet about when the finals are to be held this year, which meant I could not meet you in person as I planned to do.
I believe strongly that the Mock Trial finals should be public, and to encourage that, I wrote this post.
Had the finals been public this year, I would have attended again, and I would have found you there and spoken with you at some length, which would have obviated my need to write this post.
My blog post last year was good press, and you should have welcomed the post, and you should further have linked to it from the Mock Trial Facebook page and from the San Francisco Bar Association page for the Mock Trial Program.
Getting press is difficult.
Getting press is important to success in life.
I see that Mock Trial has received almost no press, outside of student newspapers. Student newspapers count, of course, but coverage by unrelated journalists like me is far more credible.
Chuck Rasnikof, a political science teacher at Lowell, sat next to me while I was covering and photographing the 2012 Mock Trial finals. We spoke for twenty minutes, and had a good conversation.
I told Rasnikof how I was invited to the Mock Trial finals by Devon Ivie, an exceptionally impressive high school senior I had met February 22nd. Ivie struck up a conversation with me on the MUNI Metro while she was on her way home after the final practice session for the trial. McAteer High School used to be in the same building where she was attending high school at the time, School of the Arts (SOTA), so we had something in common. She shared with me her plans after high school. She told me about her affection for playing the flute. She told me about Mock Trial, and sold me on the wisdom of personally attending the finals. Finally, she told me her name, which made it easy for me to 'friend' her on Facebook. She accepted my friend request the next morning, before the finals that evening.
After the finals were over, I said hello to Ivie and her real-life lawyer mentor. I asked Ivie to find her teammate Havel Weidner so that I could meet him.
Weidner was a key participant in the trial, and to my ear, played the most significant role in the outcome. I wanted to interview Weidner to confirm my understanding of his closing remarks.
That night I edited the pictures and wrote the blog post, since I knew there would be interest in the pictures. After four hours of concentrated writing and Photoshop editing work, around 3am the next morning I published the post, which I intended to be the first of two posts.
I also posted the pictures to my Facebook account.
Ivie and some of her friends discovered the pictures I posted to Facebook, and there was a flurry of sharing and her friends asking my permission to tag themselves, which I granted.
I suspect that you discovered my blog post through Facebook, since I link to my blog from my Facebook account.
I even got a Facebook friend request from Ivie's friend Christina Rey. I had not met Rey, but I remembered her speaking during the trial. I accepted her request.
Then, about the time you sent your message above asking me to take down my pictures and remove the names, both Ivie and Rey defriended me.
I have not been in touch with Ivie, Rey or any of the other mock trial students since then.
It's extremely rare for people I know that I have met in person to defriend me, and since it happened around the time you wrote to me, that makes me think you or other trial organizers had a hand in that. There was no independent reason I can think of for Ivie and Rey to defriend me, as I had just portrayed them well in front of all their friends and made them 'famous.'
Here is my guess as to what happened:
You saw my Facebook pictures of the trial and the rapid sharing and tagging going on. You found out that I am not connected to the competition. You concluded my picture postings were undesirable. You persuaded Ivie and Rey to question their decisions to share and publicize the pictures, which they probably perceived as 'getting in trouble.' You may have even told them to defriend me, but even if you didn't order them to defriend me, you probably made them feel like they did something wrong and that it was smart to distance themselves from me.
I meet dozens of impressive university students per year, and I end up helping and mentoring a small percentage of them.
I was so impressed with Devon Ivie that I was planning to help her, though I never got an opportunity to offer my help. Thus, it was sad and it remains sad that I have lost contact with her before I was able to speak with her for more than half an hour. I did determine that she warrants my assistance, from my conversation on the metro and from watching her perform very admirably during the trial. She is articulate and impressive.
If my guess as to what happened is true, then I ask that you handle future similar situations much differently.
Students about to graduate from high school are not young children that should not appear on the Internet. Instead, they are nearly adults, probably just months away from adulthood. These particular students are among the most legally savvy minors I have ever encountered. They argued their case exceptionally well.
These students did not and do not need 'protection' from the modern press, of which I am a part. To the contrary, they should be encouraged to solicit press coverage when appropriate.
There were unfilled seats in the auditorium at Golden Gate University where the 2012 finals took place. Those seats should be filled, when possible, with reporters, bloggers and other journalists. I suggest that during Mock Trial you train students to interact with the press. Real lawyers have to contend with the press, since cases sometimes are partly 'tried in the press.'
But even leaving out high profile cases that are partly tried in the press, there is legitimate value in having students try to get bloggers and reporters to attend the finals. For example, consider these benefits:
Learning how to contact and form a relationship with journalists
Learning how to pitch a story
Learning how a published story can help or damage a mission
Publicizing accomplishments for the benefit of university admissions officers, employers and others who will be searching for information on the students for the rest of their lives
Helping schools fund raise from alumni and others by giving schools stories they can point to that demonstrate success of school programs
High school students don't get many opportunities to be featured in the press. When seniors in high school go on to become freshmen in college, the likelihood of coverage in the press temporarily goes down, I fear. Only as university students establish themselves are they likely to be featured in the press. Years pass. Lessons about nurturing the press are not typically taught in university, and time is money, so teach students about the power of the press now, which you still have a chance.
I have been a journalist for years — since I was 13 if you go back to when I joined the newspaper staff for the Midway at Lab School.
Ms. Salinger, your Facebook post to me is the first and only attempt somebody has made to stifle my efforts.
I was and remain shocked.
Thankfully I kept my blog post from February 24, 2012 on my blog, which gets hundreds of viewers everyday.
While preparing this post, I discovered that  you named SOTA student Havel Weidner in your Internet post Mock Trial Coaches Help Students Increase Diversity Pipeline from May 2012, after your message to me.
I find it curious that you feel it is alright for you to name a presumably minor student, but an actual journalist cannot.
Note that I never wrote the second post I said above that I had intended to write. I was planning to write up the actual case, and comment in detail on the performances by the many student participants. That post would have easily taken eight hours to write, but after your discouraging February 27, 2012 Facebook message, I chose to not write the post, as I didn't want to be criticized a second time for my writing. I also didn't want to irritate a bunch of smart lawyers, so I censored myself, for which I am embarrassed. I should have written that post. I cannot write it now because I have forgotten too many details to write a quality article.
I acknowledge that I make a lot of guesses in this post. I apologize if I have guessed incorrectly. But even if I missed the mark on exactly what happened and when, my advice that you should encourage press coverage of the Mock Trial finals stands.
The performances I observed at the 2012 Mock Trial finals were the most impressive performances I have ever seen by a group of high school students. That what used to be McAteer High School is now churning out students so impressive gives me hope for humanity. McAteer was a dreadful and simply awful school, and it's only through my attendance at Lab School earlier that I am able to write this blog.
The San Francisco Unified School District should be promoting Mock Trial as well. The district gets beat up in the press, and Mock Trial is so good that it should be featured prominently in the district's public relations efforts.
According to Facebook, Devon Ivie is friends with Jasmine Lee Lee, a freshman at University of California Berkeley. Lee also graduated from School of the Arts. I met Lee in January, as she is the co-founder of an Internet startup headed by my friend Iskander Rakhmanberdiyev. I mentor Rakhmanberdiyev, and Lee has watched me advise Rakhmanberdiyev and others. I mention this news, which I only discovered today while writing this post, to give you a sense as to who I mentor and about what subjects I can advise.
If you or anyone organizing the mock trial did not praise Devon Ivie for her outstanding work in getting me to cover the 2012 San Francisco Mock Trial finals, then please contact her and heap some praise upon her – in writing and by phone if you can spare a moment.
From where I sit, Ivie is a rising star, and her outgoing nature that led her to strike up a conversation with me should be strongly and repeatedly encouraged, for that nature will bring many successes to her in life.
Thank you for reading this and please appreciate I am a huge fan of the success that is Mock Trial. That evening a year ago was one of the highlights of 2012.
Kevin Warnock
PS – My advice for Jayne Salinger applies everywhere impressive adolescents are found. It is wrong for society to try to 'protect' people like these students by keeping their names and pictures off of the Internet until they become adults. For better or worse, the Internet is like a credit report, only more important. People perform searches on other people, and they always will. If new adults have no report because they have no presence on the Internet the day they turn 18, that harms society. Of course, young people need to be educated about the perils of the Internet as well. People should not post material that reflects poorly, since such material has a tendency to last forever. These students at Mock Trial were likely putting their very, very best foot forward, which makes my blog posts about them ideal early installments for their Internet 'reports.'
I write this blog post today, January 31, 2013, with sadness.
Jody Sherman, a rambunctious, ambitious and complex entrepreneur, husband, investor and mentor, died Monday, January 27, 2013.  I learned about Sherman's passing on Tuesday, the day after, and I had trouble sleeping that night.
Jody Sherman's death moved me.
I learned about Sherman's death from my friends on Facebook.
Much has been written about Jody Sherman this week, and I understand why.
Jody Sherman was simply a character — a very memorable and lovable character.
My association with Sherman was brief yet meaningful and intense.
In late 1998 or early 1999, I was gearing up to raise money for Document Automation Systems, LLC, my startup at the time. I later renamed it Hotpaper.com, Inc.
I met Jody Sherman by chance.
The commercial Internet was young, I was young, and I was not connected. There was no Hacker Dojo, Linked In, Friendster, Facebook, Meetup or Twitter.
One day my friend from 2nd grade John Lin asked me to pick up and ship to him a Bang and Olufsen top load audio cassette deck that he had won the bidding for on the auction website EBay.
Jody Sherman was the seller.
At the time he worked at BuyDirect, an earlier e-commerce pioneer that would later be sold for USD $140M. Sherman's office was on the waterfront near Pier 39 in San Francisco, California, USA.
My Internet company was tiny, but I had an impressive customer list — Coca Cola, Intel and the US Marine Corps, among dozens of similarly well known organizations. My company's revenue was tiny, but I had big plans for growth.
I was sitting in Sherman's office getting ready to hand him the cash for the stylish stereo deck, shown above.
In his office, Sherman appeared to be working at an energetic pace, doing deals for his employer, where he was vice president of business development.
Sherman asked me what I did, and that query prompted me to give my well oiled elevator pitch. At the time, I had no idea who Sherman was — I had not typed his name into Alta Vista, the dominate search engine of the day.
While I was still pitching, Sherman tapped his keyboard and visited my company's website and drafted a document from a template. Hotpaper was the first LegalZoom or RocketLawyer. Hotpaper created legal documents by asking users questions to then build a custom document on the server, in Microsoft Word format.
Talk about my company quickly dominated the rest of my few minutes with Sherman that day, yet I did pay for and collect the Bang and Olufsen deck for Lin.
Later, Sherman offered to help me raise financing to expand my company. He suggested I raise USD $500,000, which he said he would help me raise by getting ten of his friends to put in $50,000 each.
Sherman drove a BMW Z3 at the time, and I vividly remember him picking me up at my office at The Russ Building in San Francisco so I could introduce him to my lawyer Eric Jensen, in Palo Alto. I had never been in a Z3 and I was impressed — Sherman had a flair about him to be sure.
I concluded that Sherman was likely correct when he confidently said he could round up ten of his friends to allow my company to close a $500K angel round.
I never closed that round, because Sherman asked for a finder's fee that I found objectionable — he asked for 'non diluting' stock among other things. I was shocked when he fell silent for several long seconds, got up and walked out of my office without a word when I asked him about the non diluting stock he was asking for. Sherman was the first and only person to walk out of a meeting with me. It rattled me.
Even though no transaction happened, I am still grateful to have met Jody Sherman, for he spurred me to greater accomplishment.
This agitation I felt in retrospect was fantastic for me.
I was mad Sherman had walked out on my deal.
I wanted to show Sherman that I was a talented entrepreneur. I wanted to show my (now late) friend Stan Pasternak, who rented my company an office in his suite, and who saw Sherman walk out on me, that I was a talented entrepreneur.
In June, 1999, my company closed a $2M round from two venture capital firms and some angels. The only fee I paid was to attend a 'meet an venture capitalist' event put on in part by my friend Tom Cervantez, which cost me $75. I met Redleaf Venture Management venture capitalist Robert von Goeben there, and he introduced me to Bob Bozeman, the partner at Angel Investors LP that agreed to put in 5% of the round.
Sherman deserved to profit from his advice and expertise. Had he asked for common stock with standard vesting terms, instead of what he asked for, I probably would have brought him on board as an advisor, since he represented the best chance I had at the time to get my company funded.
I still don't know why Sherman didn't negotiate with me instead of walking out, and sadly, now, I will never know.
I should point out that Sherman did well by walking out, because the investors I ultimately raised money from lost most of their money they invested in Hotpaper in the aftermath of the Internet bust in 2000, after I sold Hotpaper.
I wrote this post to give Jody Sherman credit for his small but important role in my life.
I knew him perhaps a month, from start to finish, yet Jody Sherman moved me to write this post a dozen years later.
It has been reported that Jody Sherman took his own life. I feel so bad for Sherman and his wife, family, employees and friends.
Life as a startup CEO is extremely challenging. There are unbelievable highs and lows, far more dramatic than what I experienced as an employee, and I've had some interesting experiences as an employee, including getting suspended for insubordination and laid off because my job was eliminated.
Sherman raised millions of dollars for his latest Internet company EcoMom. The pressure must have been intense, particularly because it appears lots of the money came from his wealthy and connected friends. I know nothing of the details of the pressures Sherman was under at work or elsewhere.
Depression is an insidious illness, because it can cripple.
One could argue that I suffer from depression, and that's why I am not running a company or doing anything substantial in life right now, despite my having days of tremendous enthusiasm to change the world. Overall, I am happy and optimistic, but when I consider my age and that I haven't started a family yet, I am sad. I worry my time for a family has already irrevocably passed.
Don't worry though, I am not going to kill myself.
I have been close to people that suffer from depression, and in one case, I had to cut ties so as not to risk substantive harm to myself, the situation got so intense. Sherman's widow Kerri  must be feeling crushing pain, and my heart goes out to her, even though I have never met her.
When I learn of a suicide by someone I knew, even if only in passing, like Ilya Zhitomirskiy, I get emotional and have trouble sleeping. I battle with myself over what, if anything, I should do about the people I know that are depressed. Should I tell their parents? Should I tell their close friends? Should I mind my own business? Should I speak to the people themselves, even those I cut contact with? I have cut contact with many people, especially in the last six months, as I continue to recreate myself into a more vibrant contributing citizen, but by doing so, my burden over what to do increases.
Mark Suster, a partner at the venture capital firm GRP Partners knew Jody Sherman well, and two days ago, on January 29, 2013, Suster wrote on his great blog an amazing goodbye to Sherman. Suster colorfully describes Sherman just how I remember him — as shown here from Suster's goodby post:
"I remember when we met years ago. I think Michael Kantor introduced us. You were pitching me an online business selling other people's baby food. I told you what a dumb idea it was.
You came back. You had a new plan. You had renegotiated your way out of that agreement. Now you wanted to merge with a broader-based business and sell all products. You got to keep the name of the new company – ecomom. You were so proud of that name and what it stood for. You wanted good in the world.
And in turn the world wanted good for you. But the world made you fight for it. And I did, too.
I told you to go away again, you crazy, wiry, non-stop pitching fool.
What? You back again? Who let you in here? Oh, you want to tell me about how your business is now scaling? You have repeat orders and high gross margins? Go away, I say! It's mom stuff. We didn't do so well in that category in the past.
Review your deck? Ok, Jody. You sure do push the envelope. But I kinda like your chutzpah. Sure, bro. Come on in. But … could you button up the shirt a couple more notches when you come to my office? I think you might have scared a few folks last time. Ha, just kidding. No, seriously. Just one more button.
Wow. Your deck looks great. Are those growth numbers real? Impressive. No. No I can't meet for breakfast. I don't think we can fund in that category, Jody.
Ok. I'll have the egg-white burrito. I have to eat something healthy around you or I'll feel guilty. Is it true that you have 3% body fat? I know, I know. I shouldn't eat the carbs. But this is Lemon Moon – at least we know it's healthy.
Fine. Fine. I'll write you an angel check, then. As long as you promise to stop pitching me! Yes, Jody. I really believe in you. I always did. But when I got home and I told my wife that I had just committed $25,000 that she should just consider it a mitzvah. I didn't so much want to see a baby products company make money as I wanted to see you succeed. You had some magic dust.
Ok, Jody. We have to have a heart-to-heart. You gotta stop pitching Sand Hill Road VCs. Look at their entrepreneurs – they are 28, computer programmers and they went to Harvard or Stanford. Now go look in a mirror. You have "weird hair." Yes. weird hair. My cousin calls it JewFro. And you have it. And instead of hiding it you wear it Kramer style just to scare people. I think you like looking at them looking at you. Don't you? Focus on raising money from outsiders. From people eschewed by the typical system. Raise money from underdogs like you.
You told me that was some of the most honest and best advice you had ever gotten. That most people were too scared to say that to you. And raise money you did. Millions of it."
Suster simply brought Jody Sherman to life with this above passage, so much so that tears came to my eyes as I write this.
Jody Sherman was a hustler and a good soul. I can only imagine how many thousands of entrepreneurs he helped over his 47 years of exciting life. I pray that he rests in peace, and that his loved ones find comfort in the outpouring of sweet thoughts that have been expressed since his too early death.
Life is so precious and short.
Please do not take your own life, dear readers.
Last week I was doing some research on my first Internet company, Hotpaper.com, Inc. I discovered a report I had never seen before, from PrivCo Media, LLC. According to PrivCo's report, I sold my company for USD $11,750,000.00, which is more than I knew. The published price was $10M, but I always knew the actual price was technically higher because the acquiring company didn't cancel the stock options of my employees. I never really found out the exact value of that part of the compensation, since I left the company soon after the deal closed, and I never went hunting for the number.
This evening, January 21, 2013, I had the great pleasure to tour the brand new SFJAZZ Center, at 201 Franklin Street in San Francisco, California USA.
The SFJAZZ Center is an ambitious center to advance jazz music.
I think the corner of Franklin Street and Fell Street is an outstanding location for the Center — it's in the trendy and safe Hayes Valley neighborhood, and it's just two blocks from the Van Ness MUNI station and Market Street.
There was a ribbon cutting ceremony in the morning, which I missed.
I went to one of the official tours, in the evening. Attendees got to roam around the facility and admire the building, constructed in 2011 and 2012 to be the new dedicated home for SFJAZZ.
The formal part of the evening featured prepared remarks by Randall Kline, the Executive Artistic Director and Founder of SFJAZZ.
Rebeca Mauleón, the Director of Education, also spoke.
The SFJAZZ High School All-Stars performed in the large music hall, named the Robert N. Miner Auditorium, which features steeply set seats designed to allow the musicians to see the faces of the audience members. This Auditorium also features a glass wall that looks out onto the busy street, which will drum up interest in the performances because passersby will be able to catch a glimpse for free as they walk or drive past. I've always thought it is good marketing for martial arts studios and dance studios to have large glass windows at street level. SFJAZZ Center is taking a page out of their public relations book, and I predict good things will happen as a result of doing so.
I was exceptionally impressed with the High School All-Stars. I introduced myself to the members and invited them to read my blog.
I was given a lushly produced magazine/program for SFJAZZ during the tour this evening. SFJAZZ Founder Randall Kline had this to say, on page 7:
Welcome to the first season
After 30 years of presenting music in a variety of rented venues throughout the Bay, it is with great joy we begin our first season in our new home, the SFJAZZ Center. It is the first freestanding building for jazz in the country — designed, from concept to concert hall, to create an enhanced setting for experiencing what the esteemed jazz write Whitney Balliett calls "the sound of surprise."
The SFJAZZ Center is home for all that we do: concerts, education programs for adults and youth, our award-winning SFJAZZ High School All-Star Ensembles, the world-renowned SFJAZZ Collective, and the new SFJAZZ Monday Night Community Band.
Over our three decades, SFJAZZ has grown to become a vital part of the cultural fabric of San Francisco. And in the broader context of the jazz, we have been recognized as one of the top presenters in the world — helping to place San Francisco, with its rich jazz history, among the vanguard of cities where this American-born art form can be best heard.
Kline continued his remarks — I have not typed all of them here — and concluded with:
Jazz has a home in San Francisco. The first season begins. See you at the Center!
Sincerely,
Randall Kline
Executive Artistic Director and Founder
The new Center shows a lot of promise. I am intrigued, so I plan to return soon to the Center to see a show.
I took the pictures that accompany this post with my Canon 5D Mark II camera. I uploaded these images at full resolution of 21 megapixels. Click on them to see the full size versions.
Today was a busy day in the United States of America.
Outstanding.
[Edit on January 23, 2013 -- I added two names to the caption of the group photo of the All-Stars, above, once I got the correct spellings.]